Through Litecoin core 0.17, end users will enjoy cheaper transactions as Tron work towards a point of sale system via their incentivizing TronCard Beta. Overly, the market is vibrant. And after months of lower lows, the rejection of lower lows is important for investors keen on reversing steep losses.
Let's have a look at these charts:
EOS Price Analysis
In the era of smart contracts, one maybe duped into believing everything is ideal, safe and secure just like the blockchain is. But, that is not the case especially for EOSBet, a gambling platform that make use of EOSIO smart contracting platform. If anything, it has been a soft target and a victim of malicious attacks.
And though it churns thousands of dollars, gamblers are feeling the pinch. Within weeks, hackers made away with 100,000 EOS of which 60,000 EOS "disappeared" in the latest attack. To prevent future siphons, creators took the dApp offline and told users that there will be a third party audit and review of its smart contract.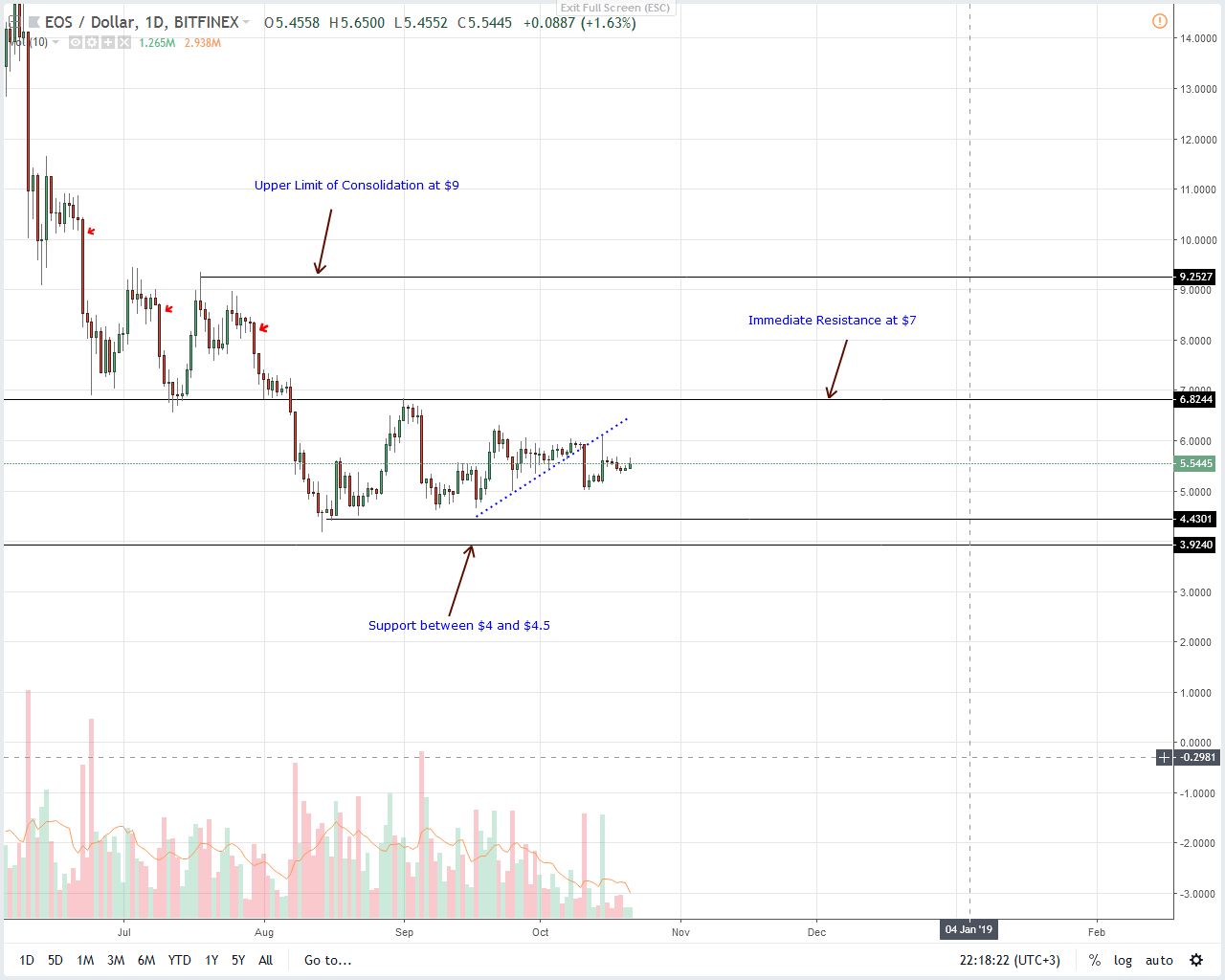 Back to price and EOS is stable and up four percent in the last week. As a result, bulls seem to be in charge and going forward, what we would like to see as per our previous iterations are gains above $7 triggering both set of traders aiming at $9.
Notice that prices are still trending inside Oct 15 high lows and as long as prices are moving this tight $1 range, buyers have an upper hand simply from an effort versus result point of view. Losses below Oct 15 lows mean our upbeat bull projection will be null as sellers build momentum towards breaching $4 or $4.5.
Litecoin Price Analysis
It's a plateau as far as Litecoin price is concerned. This is despite Litecoin developers announcement that Litecoin Core 0.17 will bring with it cheaper transactions beneficial for end users—but not miners. Anyhow, since LTC is stable in both the weekly and daily chart, we retain an upbeat view as long as it is trending above $50.
Going forward, risk-averse traders would enter this trade once there are surges above $70 as per our last mention. In the mean time, aggressive traders can load up at spot with stops at Oct 15 lows at $50. First targets remain at $70 and later $90. Conversely, losses below $50 hitting stops nullify this bullish projection.
Stellar Lumens Price Analysis
On a weekly basis, Stellar is up roughly 13 percent and this is just the beginning. Rumor has it that Fidelity, the hedge fund that administers over $7.2 trillion may end up using the Stellar blockchain to move digital asset. Earlier, it Facebook rumors were doing rounds.
Cumulatively, this demonstrates the confidence corporations have on the Stellar blockchain. While rumors abound, XLM is now available at Coinsuper crypto exchange. Besides, Hyperion and Stellar did strike a partnership.
Because of last week's impressive gains, we retain a bullish outlook on XLM despite lack of movements in the daily chart. From last week's Stellar Lumens trade plan, all we need is conclusive gains above 25 cents triggering the first wave of buyers eyeing 30 cents, the main resistance line in our XLM price analysis. However, this didn't print out over the weekend meaning we are back to neutral. Until there are clear moves that meet our trade conditions we shall stick to our previous XLM trade plan.
Cardano Price Analysis
Finally, news is IOHK's Icarus Project is safe after an audit by Kudelski Security, a third party security firm. Icarus Project, complements Daedalus project, and is an open-source platform where users can build their light wallets from straight from their mobile devices. ADA light wallets doesn't sync with the Cardano blockchain and instead they can connect with full node wallets saving time since users can still check their balances and manage their funds straight from these wallets. Technically, these light wallets are an extension of Chrome. It bears with it speed advantages as it uses a copy of the blockchain from Cardano servers to function.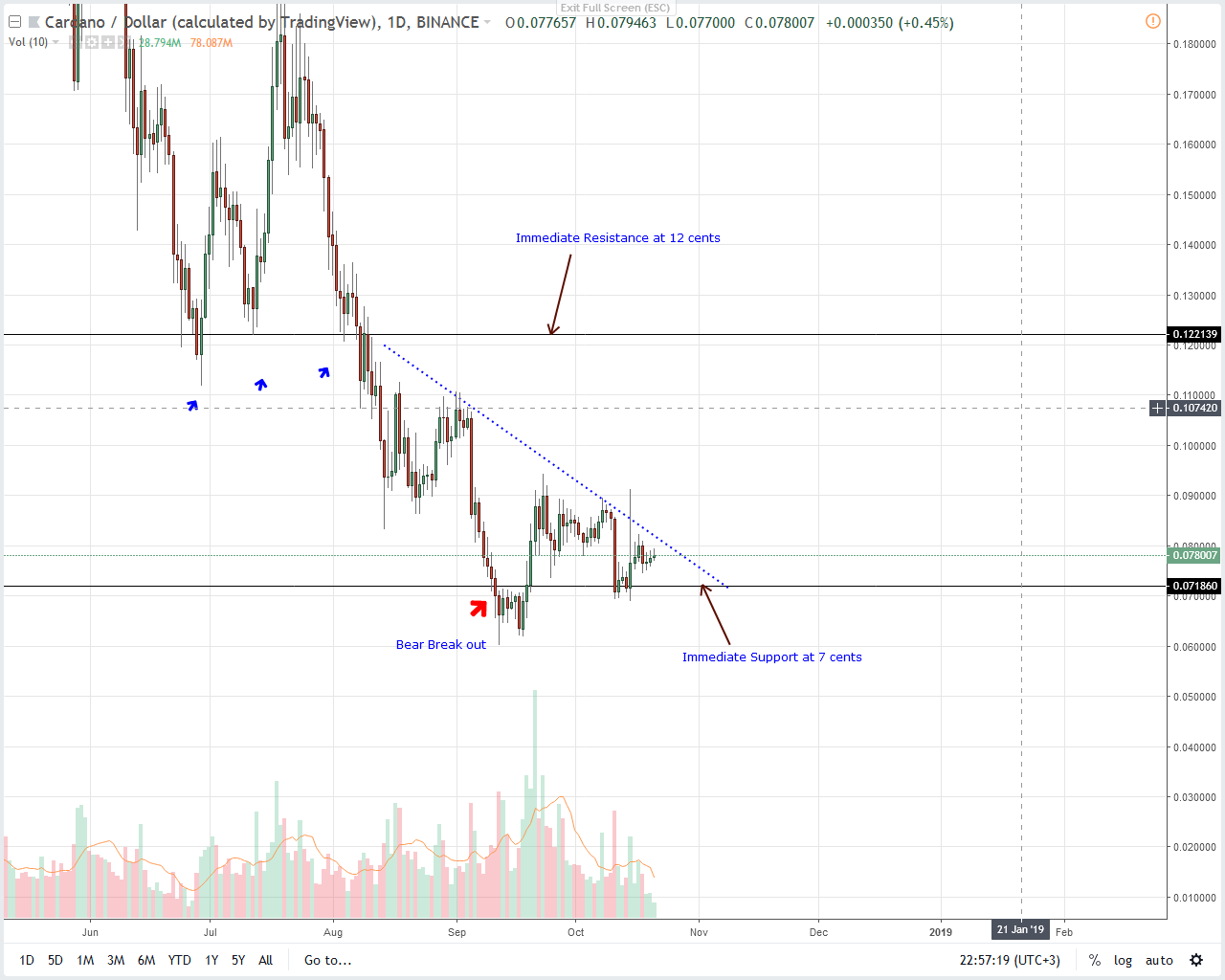 Still, the lack of activity as far as ADA price action means our last Cardano price analysis stand. All things constant, ADA trade position is neutral and as we wa
it for gains above the minor resistance trend line now that ADA is down 95 percent from 2017 high low, we expect ADA buyers to join in and confirm Oct 15 bulls.
Ideally, aggressive traders should begin loading up on dips in lower time frames subject to gains above 9.5 cents. However, should we see unusual trade activity lifting prices above the minor resistance trend line at the back of high trade volumes, then traders are free to buy on dips with stops at around 7 cents to 7.5 cents. We would also exit this proposal if ADA declines below 6 cents.
Tron Price Analysis
Courtesy of Sesameseed, the TronCard Beta is now accessible to SEEDGerminator contributors. SEEDGerminator is simply a platform where contributors can create TRX dApps, tokens and similar technologies.
Poppy is a community project that will provide an easy $TRX payment integration into retail sales. They are inviting the community to join the beta program to test TronCard, a fully functional payment method at @PoppyPOS retailers. Learn more here! https://t.co/bMeV2U2nEk pic.twitter.com/EIWW9g1VxS

— TRON Foundation (@Tronfoundation) October 20, 2018
Now, through this SEEDGerminator, all contributors of Poppy, a point of sale payment processor for the TronCard Beta program shall receive 5 Poppy tokens per SEED aside from 1 Poppy token per TRX for every contributing user.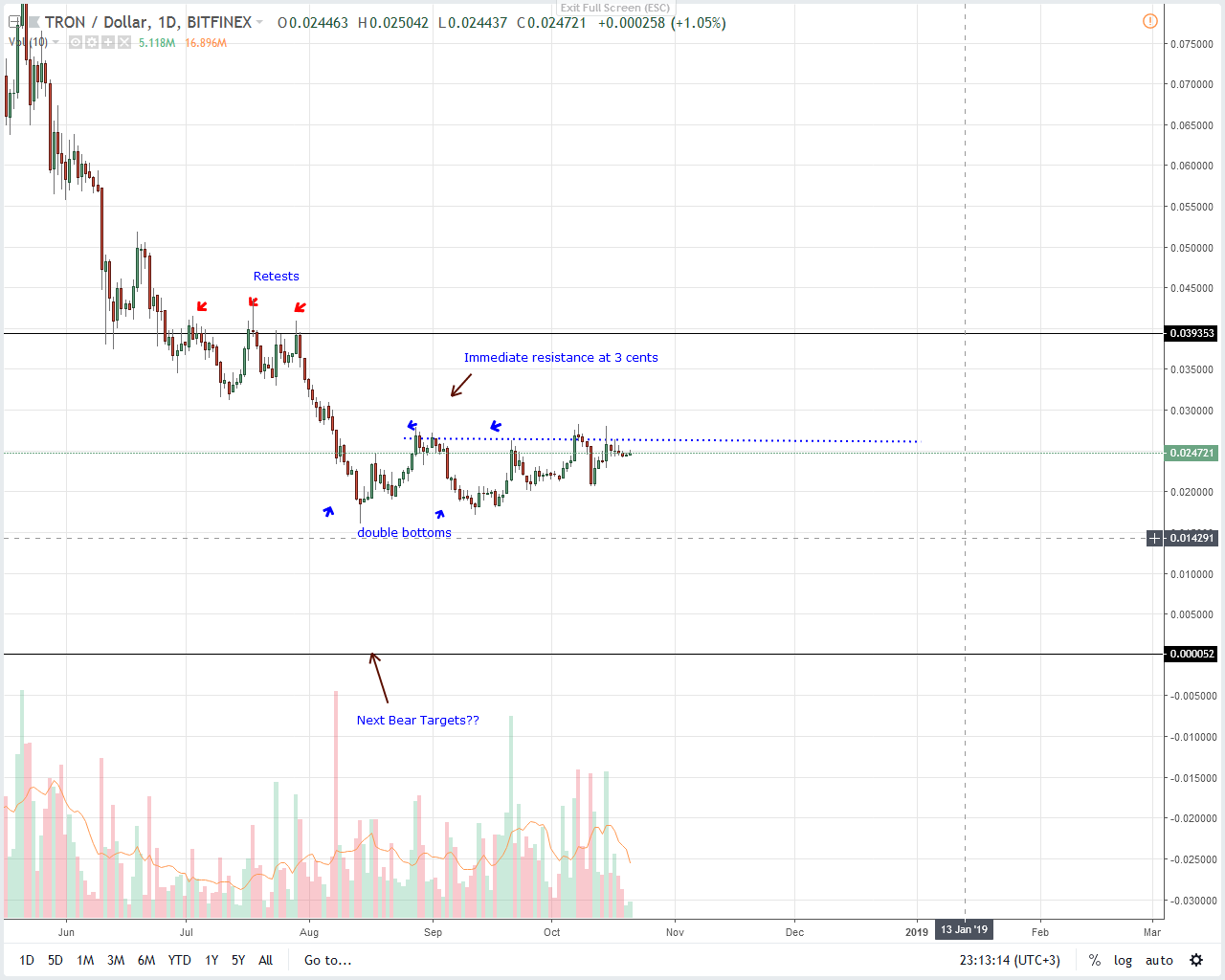 Even at the back of strong fundamentals and bullish sentiments, TRX is still trading inside Oct 15 high low. Technically, that is bullish and we shall maintain the same Tron price outlook unless there are declines eroding Oct 15 gains when prices melt below 2 cents.
Going forward, we recommend patience until after there are strong break outs above Sep highs at around 3 cents. That shall trigger our first wave of buyers aiming at 4 cents.
Disclaimer: Views and opinions expressed are those of the author and aren't investment advice. Trading of any form involves risk and so do your due diligence before making a trading decision.