Stellar Lumens (XLM) battered, slides 14.5 percent
Even with IBM, bears are relentless
Coinciding with Jesse Lund and CTO Yang exit, XLM prices are in a downtrend. Presently, XLM is at a precipice with traders aware that losses below 7 cents could see bears aim for new lows. Meanwhile, the coin is down 14.5 percent from last week's close.
Stellar Lumens Price Analysis
Fundamentals
Despite seamless communication, finance appears to be lagging. However, the introduction of a new layer, a web built on top of the internet is where future generations will flourish on. Blockchain is the anchor block for a distributed and free internet of value.
Good news is, Stellar is right in the middle, carving out market share at this definitive juncture. Support from heavyweights as IBM is also significant. Understandably, the clamor is for good reasons.
The global remittance is on the rise. For example, statistics from the World Bank show that by close of the financial year 2018, outflows to developing countries surged to $529 billion, an increase of 9.6 percent from $483 billion of 2017.
IBM involvement is bullish for Stellar considering their ties in traditional banking and their influence. Because of IBM commitment to the blockchain, six banks are planning to launch stable coins on the network.
Then again, thanks to World-Wire Stellar, right out of the gate supports 42 different fiat currencies from 72 countries. However, the exit of Jesse Lund and CTO Yang sent shock waves which encouragingly, Stellar is recovering.
Candlestick Arrangement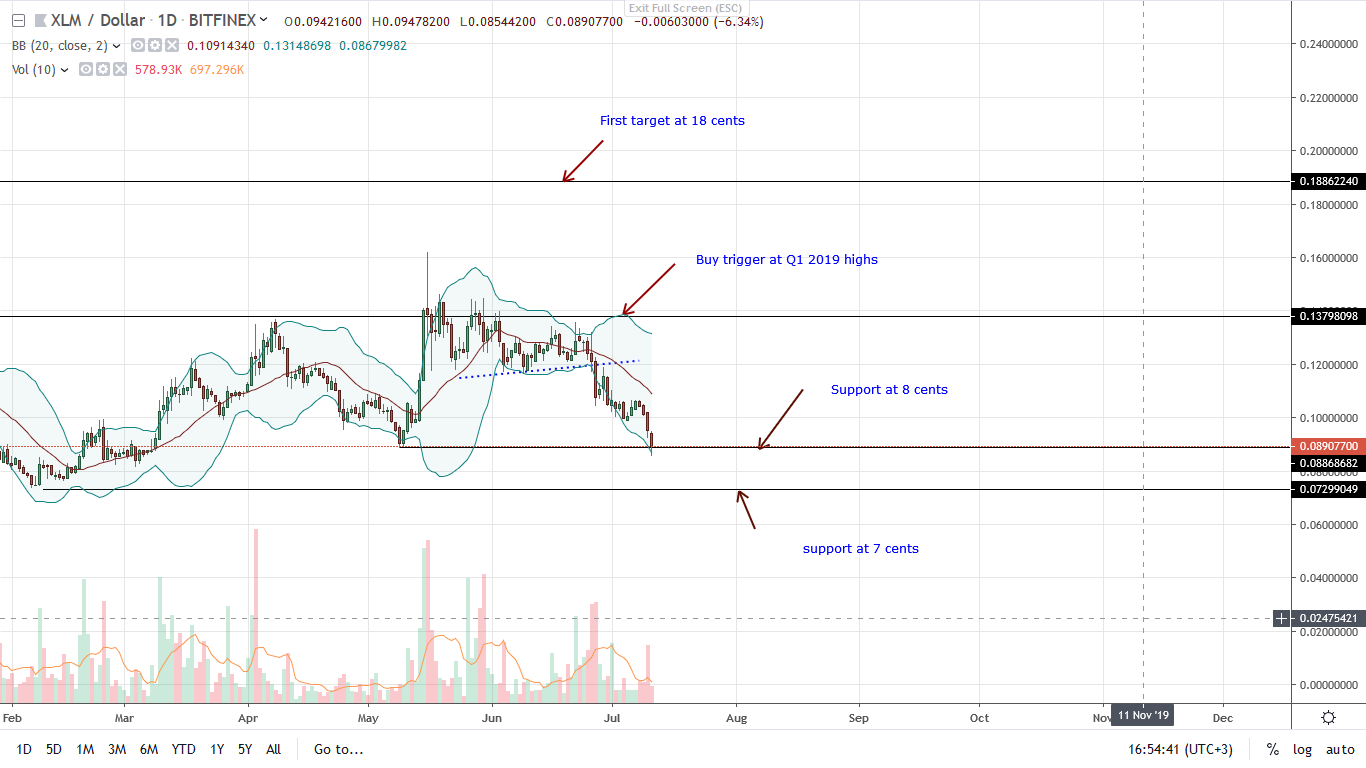 At the time of writing, XLM is down 14.5 percent week-to-date and 8.2 percent in 24 hours. From the chart, it is clear that bears are in the driving seat. Even though price action is bullish, candlestick arrangement and other technical factors point to weakness.
First, notice that not only is XLM printing lower with increasing volumes but the banding along the lower Bollinger Band (BB) hint of fractures. Add that to price divergence from the middle BB and odds are XLM will likely tumble below the second layer of support at 7 cents.
That will wipe out gains of the last six months while simultaneously setting the pace for further draw down as XLM print new lows.  Even so, support from spot rates could see bulls aim for Q1 2019 highs of between 13 cents and 14 cents.
Technical Indicators
XLM is at a precipice. With a meltdown threatening investors, May 16 bear candlestick leads this trade plan. If there is support with high trading volumes exceeding 5.45 million of May 16, XLM may snap back to trend as buyers aim for 14 cents. Conversely, losses below 7 cents at the back of increasing participation spells doom for XLM.
Chart courtesy of Trading View. Image Courtesy of Shutterstock