Stellar Lumens up 11 percent from last week
IBM and six banks sign a letter of intent for World Wire stable coin issuance
Transaction volumes double in eight days
With IBM single-handedly bringing on board six banks, XLM prices are surging and up 11 percent in the last week. We expect prices to edge higher in days ahead. If prices close above 15 cents, Stellar Lumens (XLM) could double to 30 cents
Stellar Lumens Price Analysis
Fundamentals
Similar to Ripple, Jed McCaleb's Stellar is a low-cost platform that enables cross border fund transfer aimed at the unbanked. It is the latest to receive support from CoinBase three months after the exchange placed the asset under consideration.
Coinciding with this liquidity boosting development is the announcement that IBM has successfully drawn six banks to World Wire. By signing a letter of intent, these banks are committing to use with three of them having received regulatory approval. As a result, they are ready to issue a stable coin pegged to fiat via the IBM's World Wire enabling fast and cheap settlement. The Stablecoin will complement Stronghold that is unfortunately unavailable to US citizens due to regulatory hurdles.
All the same, Jesse Lund of IBM is ambitious, and in this era of stable coins, this is what he had to say:
"As more stable coins come on board, the whole notion of FX changes over time. We are working very hard to expand the ecosystem of stable coins that will include many more banks and many more fiat currencies – so digital representations of fiat currencies – and even, eventually, the central bank issued digital currencies. "
Candlestick Arrangement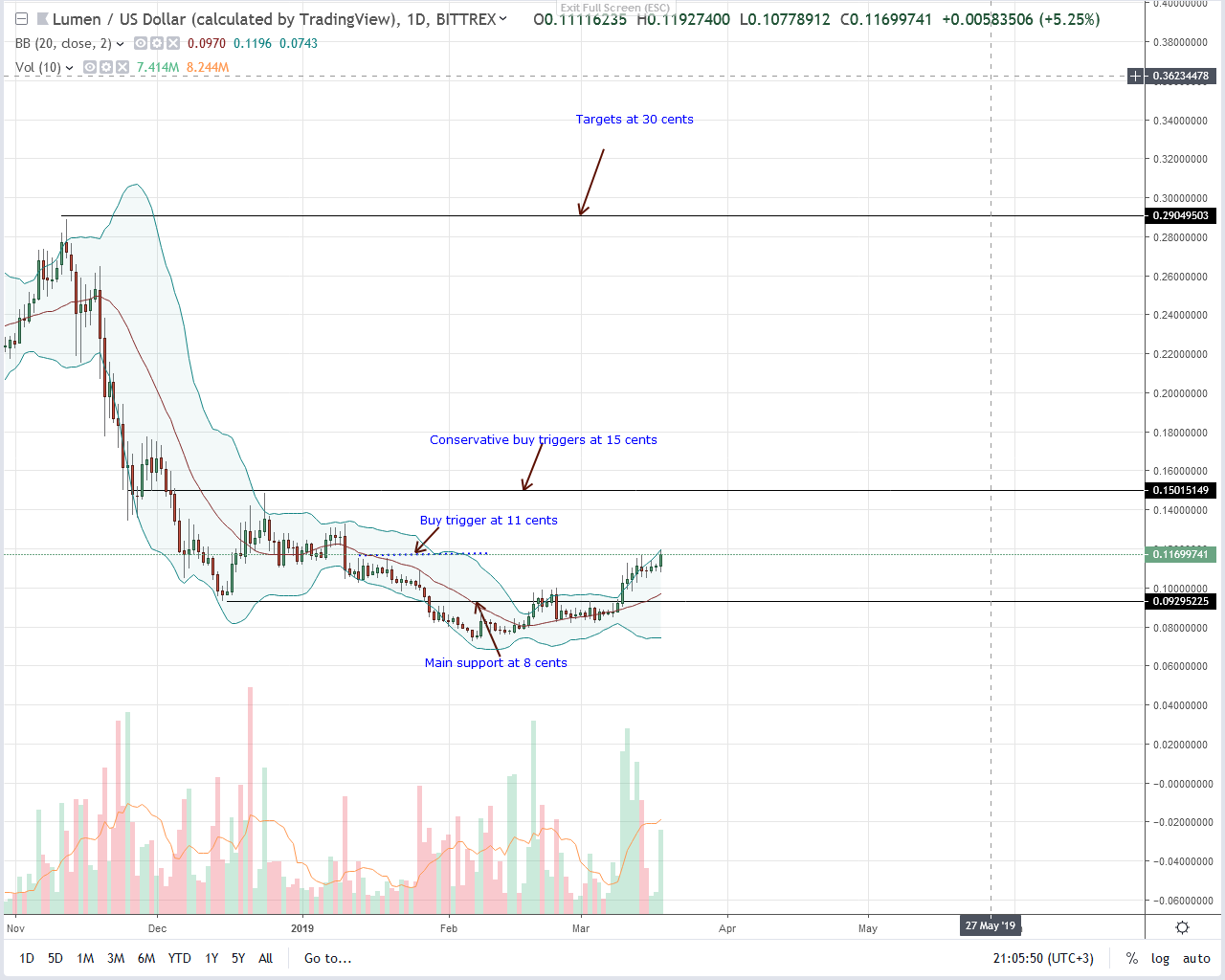 Like Bitcoin Cash, Stellar Lumens (XLM) is the top performer adding 4.3 percent and 11 percent in the last day and week. We expect prices to expand as these new banks get approval from their respective regulators. With IBM strong ties with banks, their single effort to expose six banks at once is a big move for Stellar and would eventually help support XLM prices.
From the chart, it is clear that buyers are in charge and trading within a bullish breakout pattern. As mentioned in our previous trade plans, risk-off traders should fine-tune entries in lower time frame, take advantage of the strong bull momentum—prices are banding along the upper BB, with targets at 15 cents.
Meanwhile, risk-averse traders should ramp up once prices print above 15 cents. After that modest targets would be 30 cents or Nov 2018 highs.
Technical Indicators
Volumes are picking up as momentum increase. After breaking above 8 cents, average volumes have doubled from 4 million of Mar 10 to 8 million by Mar 18, hinting at demand. However, prices above 11 cents should be with high volumes exceeding 16 million of Mar 11