Ripple price stable and ranging
Partnership with Forte is beneficial for XRP because of ILP integration
Transaction volumes up averaging 25 million
Even with CoinBase listing and plans of venturing into the multi-billion gaming industry via Forte, Ripple (XRP) prices are flat. Nevertheless, our XRP/USD is bullish, and with springs from 30 cents, XRP could rally above 34 cents and 40 cents.
Ripple Price Analysis
Fundamentals
Ripple (XRP) performance has been dismissal and lagging in the last few days. On the one hand, there are expectations that prices will head higher once Bitcoin recover. But it is this correlation that Brad Garlinghouse seeks to break. Even so, the influence of Bitcoin cannot be understated. It is one of the most capitalized coins, has the endorsement of the SEC as an independent coin and most importantly, it is one of the most widely known crypto assets.
Late Dec and after pressure from the XRP Army, Changpeng Zhao made XRP base at Binance. Regardless, the flat-lining price movement and dropping demand despite listing at CoinBase is a source of concern for traders as well as investors.
As a result, trackers are focusing more on fundamentals. By partnering with Forte and shifting gears to gaming, it is likely that the demand for the third most valuable asset will increase after launch.
Candlestick Arrangements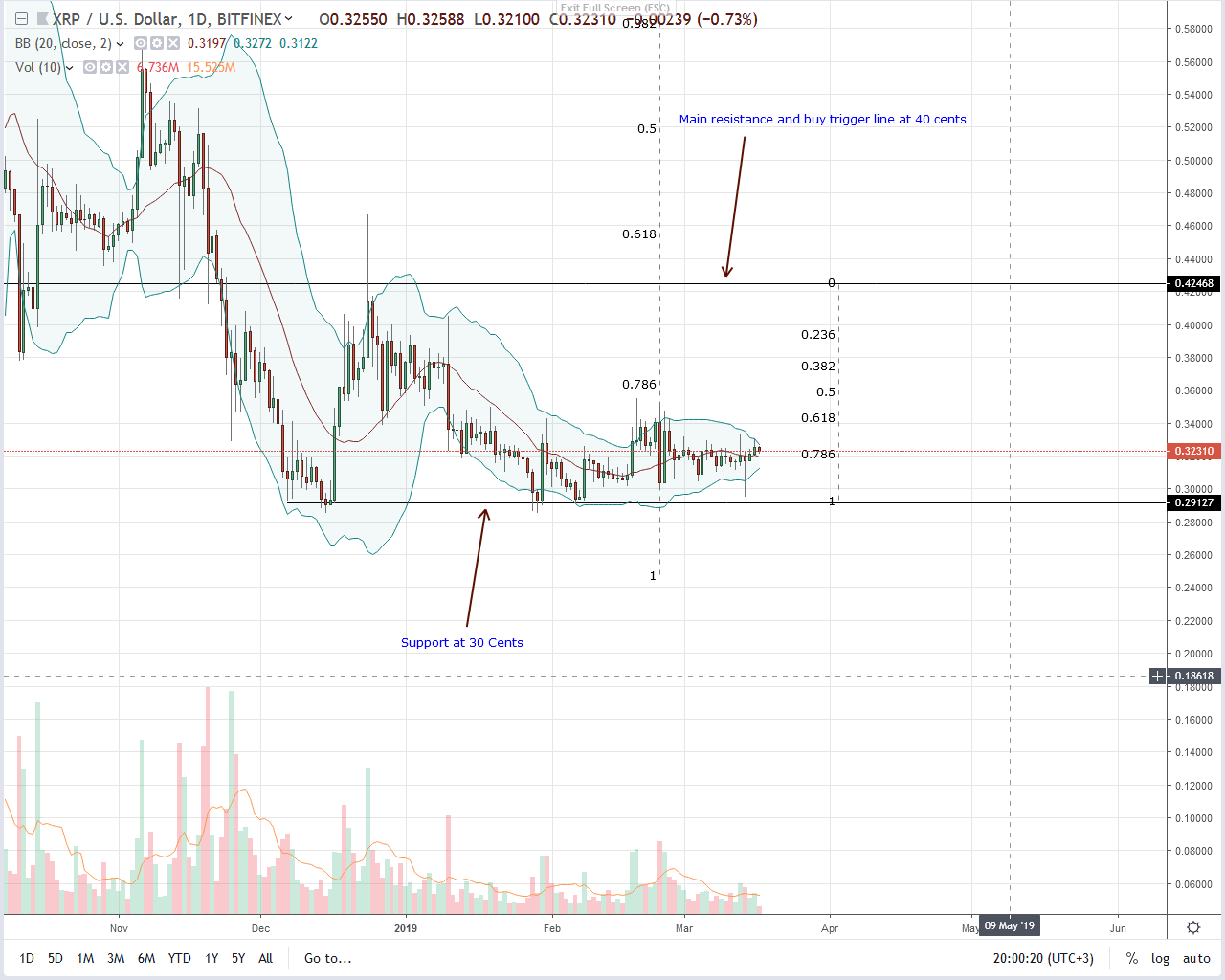 Overly, we are optimistic expecting prices of XRP to print higher in days ahead. However, pouring cold water on that are ranging prices and the lack of activity in the last few months. When CoinBase announced their support, we expected prices to rally, but that wasn't the case. After that, prices dropped as volumes dried.
What we have now are small price movements with floors at 30 cents and ceilings at 34 cents. Because the former is our buy trigger flashing with the 61.8 percent Fibonacci retracement of Dec 2018, traders must be patient. At the back of this is the knowledge that the longer the accumulation and BB squeeze, the stronger the breakout.
That may trigger the much-anticipated rally that could drive prices above 40 cents and later 60 cents as XRP breaks off this 4 cents accumulation. If not and prices drop below 30 cents, then our XRP/USD trade plan would be null and void. In that eventuality, XRP could meltdown to 25 cents.
Technical Indicators
Participation level is low averaging 25 million. Because our triggers are at 34 cents and 30 cents, any break above these levels must be affirmed by high transaction levels exceeding 25 million or ideally 61 million of Feb 24.