Because of today's Tron Virtual Machine launch, traders should to capitalize on positive vibes around this event and Tron prospects in general. We are already seeing support not only on Tron but in all coins under our focus. As a matter of fact, the former is four percent in the green in the last 24 hours and odds are buyers might build up on yesterday's gains. I recommend Tron buys with stops at 6.5 cents or there about whenever you initiate long trades.
EOS Price Analysis
It's only a few days before the EOS-Ethereum split which would see EOS becoming independent and not syncing with the ERC-20 standards. So, before this happen it's better to remain cautious and play by what EOS is advising. Currently, we have a list of exchanges that shall support the new EOS coin. That's fine but the safest route you can take before this happens is to store your coin on the blockchain itself through plugins as MEW. From there, everything will be easy, just find the Binance EOS deposit address and move your EOS tokens from MEW to that specific Binance/BitFinex address. It's that simple and there are plenty of guides to help you out.
Yesterday's price development is but an assertion that EOS often leads market resurgence. What we have now is a double bar bullish reversal candlestick in the midst of steep bearish pressure. Now, before June 2 mainnet launch, I need to see confirmations of buy pressure and today should be a perfect litmus test. Whether EOS will test $32 or not depends on participation and that's what we are reliant on.
The McAfee Short Term Predictions: pic.twitter.com/AVrKmkevLz

— John McAfee (@officialmcafee) May 22, 2018
A bullish candlestick today floating prices back above $13 is but a sign of strength and you should opt in with the recovery and aim for $22 or EOS ATHs as the first target.
Litecoin (LTC) Price Analysis
There is a lot of effort going on at the Litecoin Foundation and this is pretty nice. After their rather successful social media campaign, there have been some noteworthy conversions. One of them is iPayment INC which shall from now going forward process their payments via Aliant Payment. Aliant is a third party that works with merchants to facilitate seamless transactions.
There are pockets of bull pressure after yesterday's rejection of lower prices at around $110. If indeed that was support then today we have to see a bullish candlestick with relatively high volumes pushing prices past $130. On the flip side, any dip and bear trend continuation below $110 and the next sell target would be $90.
Stellar Lumens (XLM) Price Analysis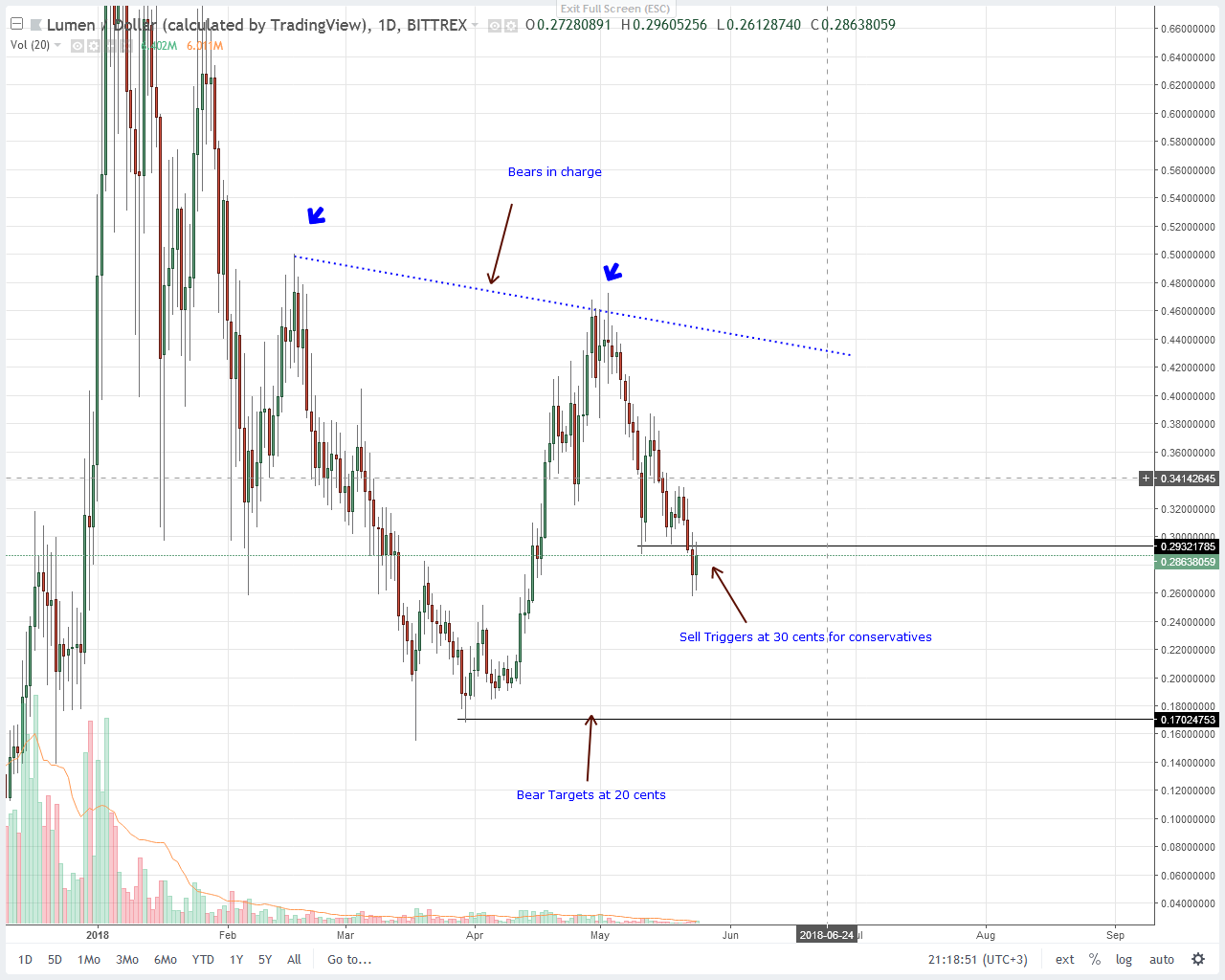 Unlike yesterday and despite strong participation, sellers don't have an upper hand over Stellar Lumens prices. There is basically a stall with buyers rejecting lower prices but still moving within May 23 bear candlestick. Because of that bear candlestick, chances are we might see a follow through with sellers finding shorting opportunities around 30 cents. However, if there is appreciation past 30 cents or 35 cents accompanied by above average volumes, then you should buy.
Tron (TRX) Price Analysis
Like EOS, Tron is but an ERC-20 token that complies with Ethereum standards. Now, while they are launching a gateway that would allow Ethereum DApp developers to easily switch camps from Ethereum's EVM, TRX holders need not to worry.
During this launch, there won't be any effect on TRX tokens. However, come June 25, 2018 when they shall officially split from Ethereum and launch their own coin, that's where movement must happen. It must be done before the split or else coin holders risk losing their coins. What I advise now is shifting your coins-from a web, exchange or hard wallet-to reliable exchanges who they have announced would support the coin before June 20, 2018.
Currently, we are seeing TRX prices getting support. Our expectations were that prices would sink below 6.5 cents and perhaps find support at the lower limit of our mid range consolidation following May 23 depreciation.
In my view, today may see bulls building on yesterday's rejection of lower lows and blast past 7.5 cents. In any case, today is special scenario.  It's better to take chances and take advantage of the positive vibes surrounding today's event. If prices edge past 7.5 cents, then buy and aim for 10 cents as before.
IOTA (IOT) Price Analysis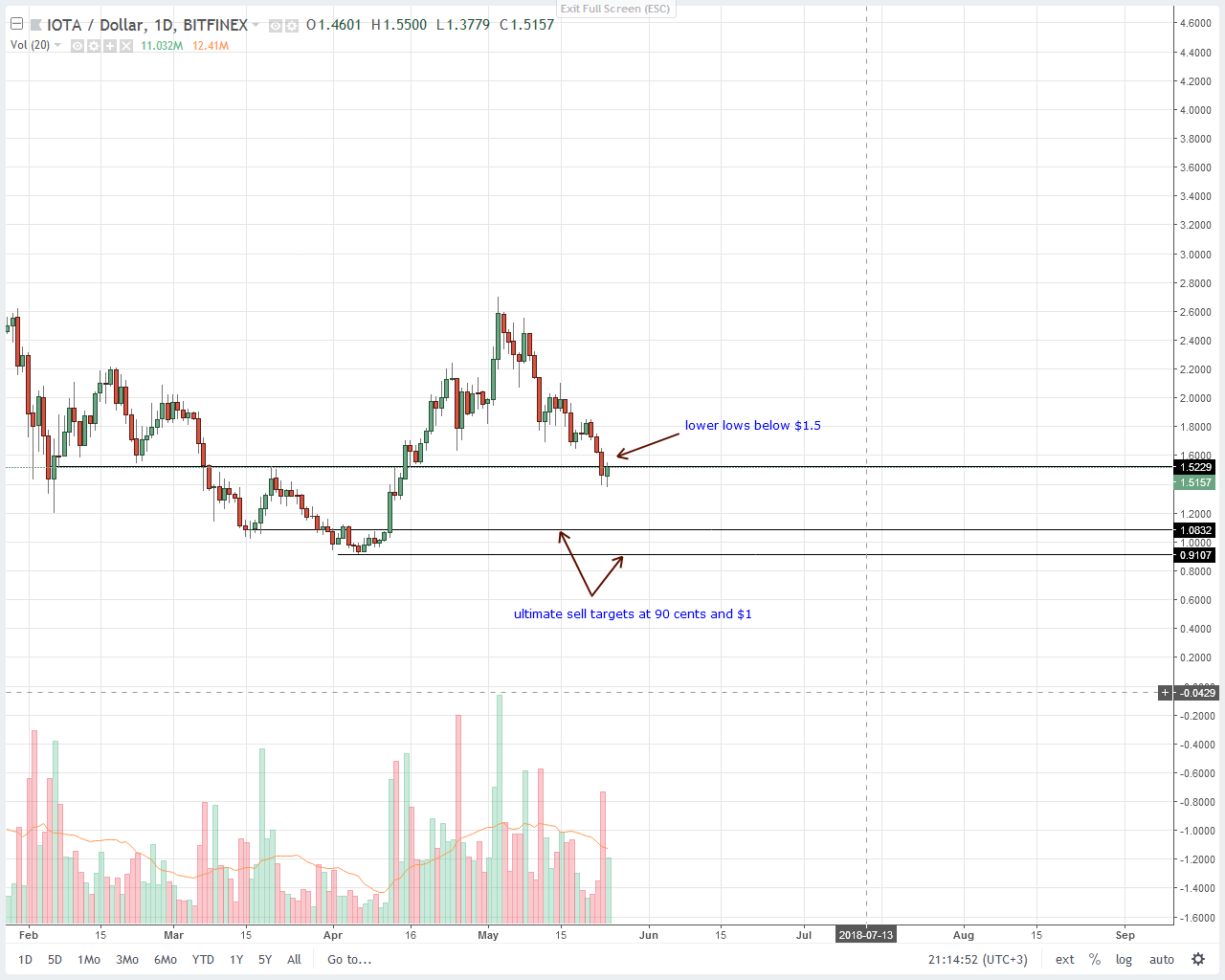 In the last 24 hours, IOTA is up 5 percent but for sure that doesn't mean sellers should exit their trades. It will mean nothing if there is no confirmation and at least a buildup and a close above $1.5 main support line. That's my take on IOTA and if it goes through, we should be better placed to gauge the strength of recovery and rejection of lower prices.