In a run up to price explosions, counter trend moves are usually rampant. That's what we have been seeing in the last two days or so. Long coverings and reversal of gains have been the order of the day. At the moment though, prices seems to be snapping back to shape and that's why we are seeing pockets of buy pressure in different coins under our focus.  IOTA, Tron and of course EOS are exhibiting signs of reversal. However, of all coins, Stellar Lumens is but a prime candidate which I recommend buying because of technical developments in the 4HR chart.
Let's have a look at these charts:
EOS Analysis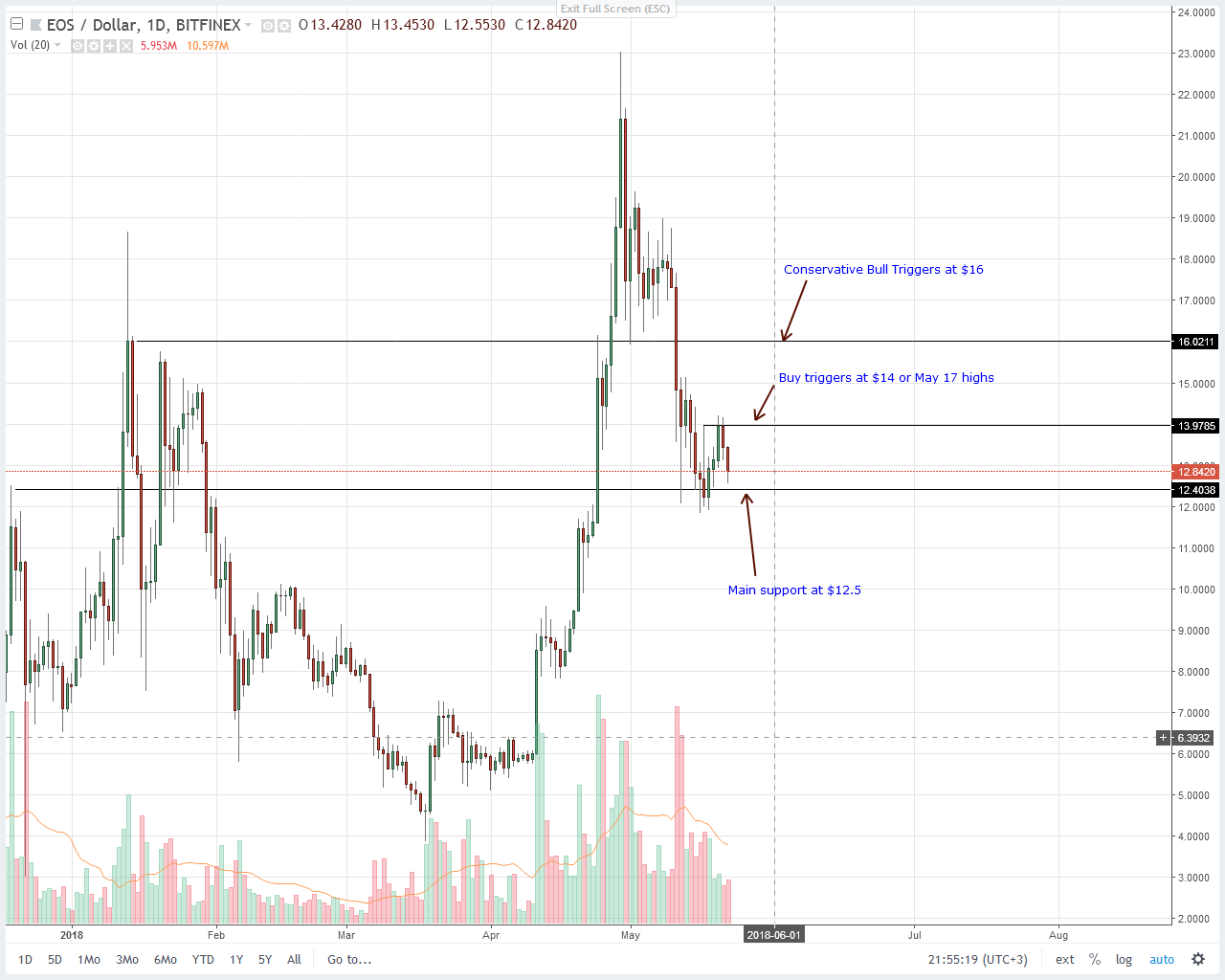 After dedicating $3 million to Virginia Tech, EOS is now assigning all EOS wallets with unique 12 character global identifiers prior to its mainnet launch. In a blog post clarifying these additions, EOS said that these short user names would pave way for extra user case applications and benefit the community in the long run. To demonstrate, the new user name would serve two functions. Act as a public address and applies during sending or receiving payments.
EOS updates – Hackathon, User names, Wallets… https://t.co/ZnsNZsYrsG via @YouTube

— james (@james212212) May 22, 2018
On the chart though, price changes are slow. However, we are still positive. Its a few days to mainnet launch and unless it's a dismissal launch with lags and/or utter disappointments, from Block One prices might tank. All I'm seeing is long coverings with rejections of bears especially in the 4HR chart. Because of this, buying at current prices and trading per our previous trade plan can offer better risk reward opportunities. Stops are at May 18 lows at $12.
Litecoin (LTC) Analysis
Believe it or not, cryptocurrencies and Litecoins adoption is catching up in Africa. After Harare, we have a couple of Litecoin, Bitcoin and Ethereum supporting ATMs at Djibouti, Nairobi and Johannesburg. All this is according to data aggregated by Business Insider Africa. While cryptocurrencies are illegal in most of these states, you can still buy LTC, BTC or ETH in a one way transaction using fiat.
If you want to see clear price action past this congestion in the daily chart, the 4HR chart provides a clear picture. There are pockets of buy pressure and rejection of the past two-three days bears if we consider that bull pin bar at $130 in the 4HR chart. Of course this is interesting but rather than jumping in right away, waiting for a confirmation past May 20 highs at $140 can be a good trading idea.
Stellar Lumens (XLM) Analysis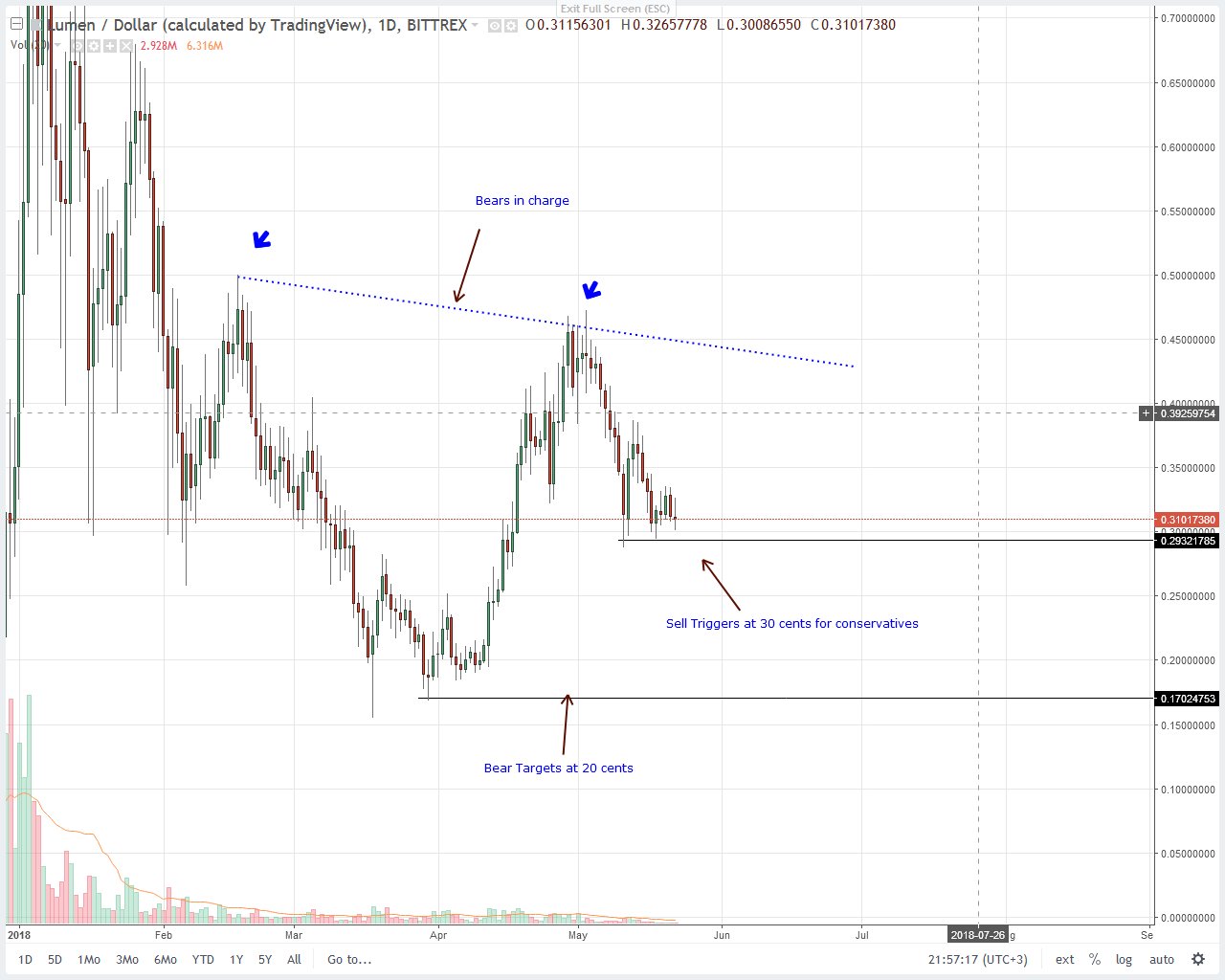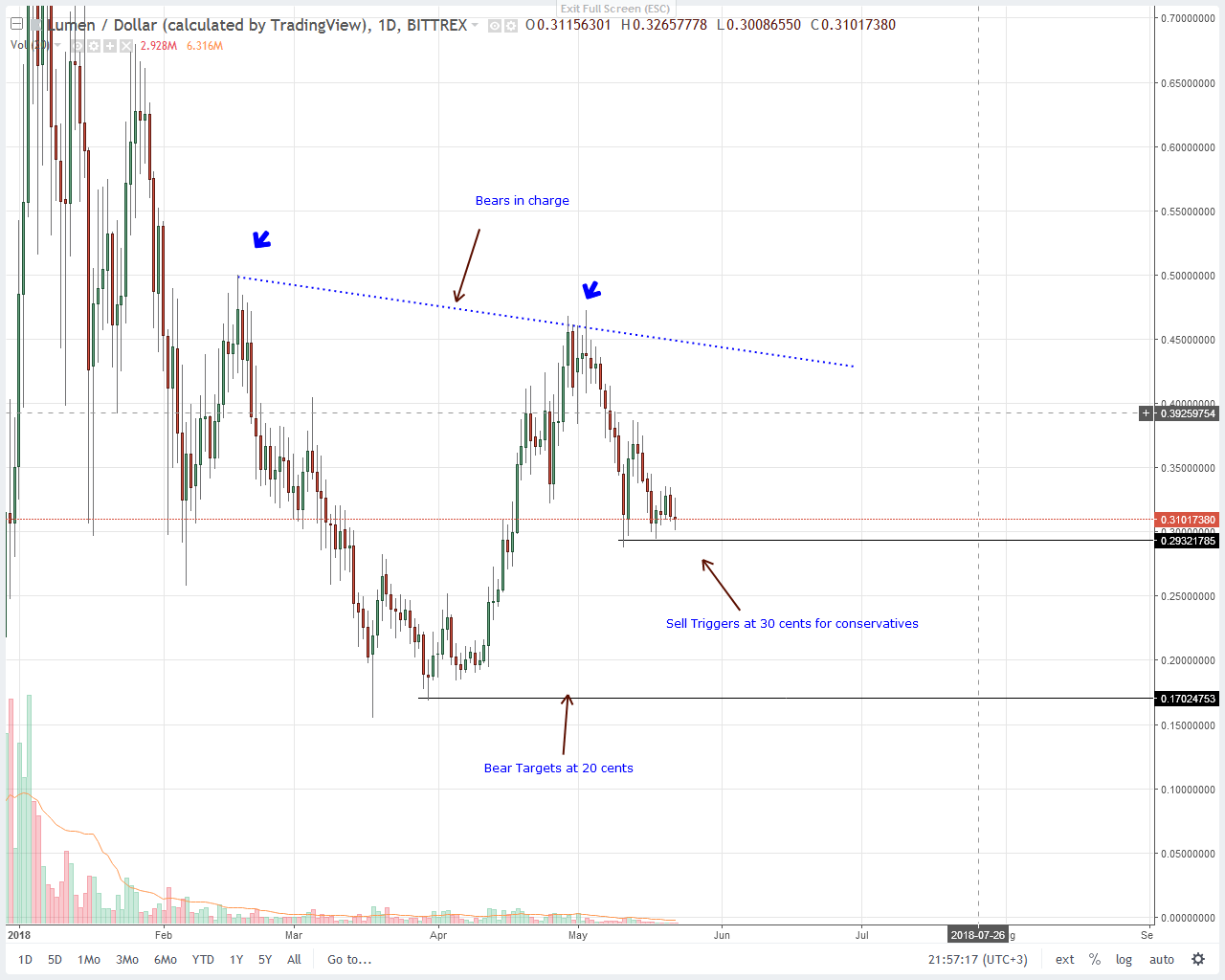 Zoom in to the 4HR chart, check out that strong bullish engulfing pattern that is screaming buy and heed! Buy Stellar Lumens with stops at 28 cents. On upside, immediate or short term buy targets would be at 40 cents and 50 cents.
Tron (TRX) Analysis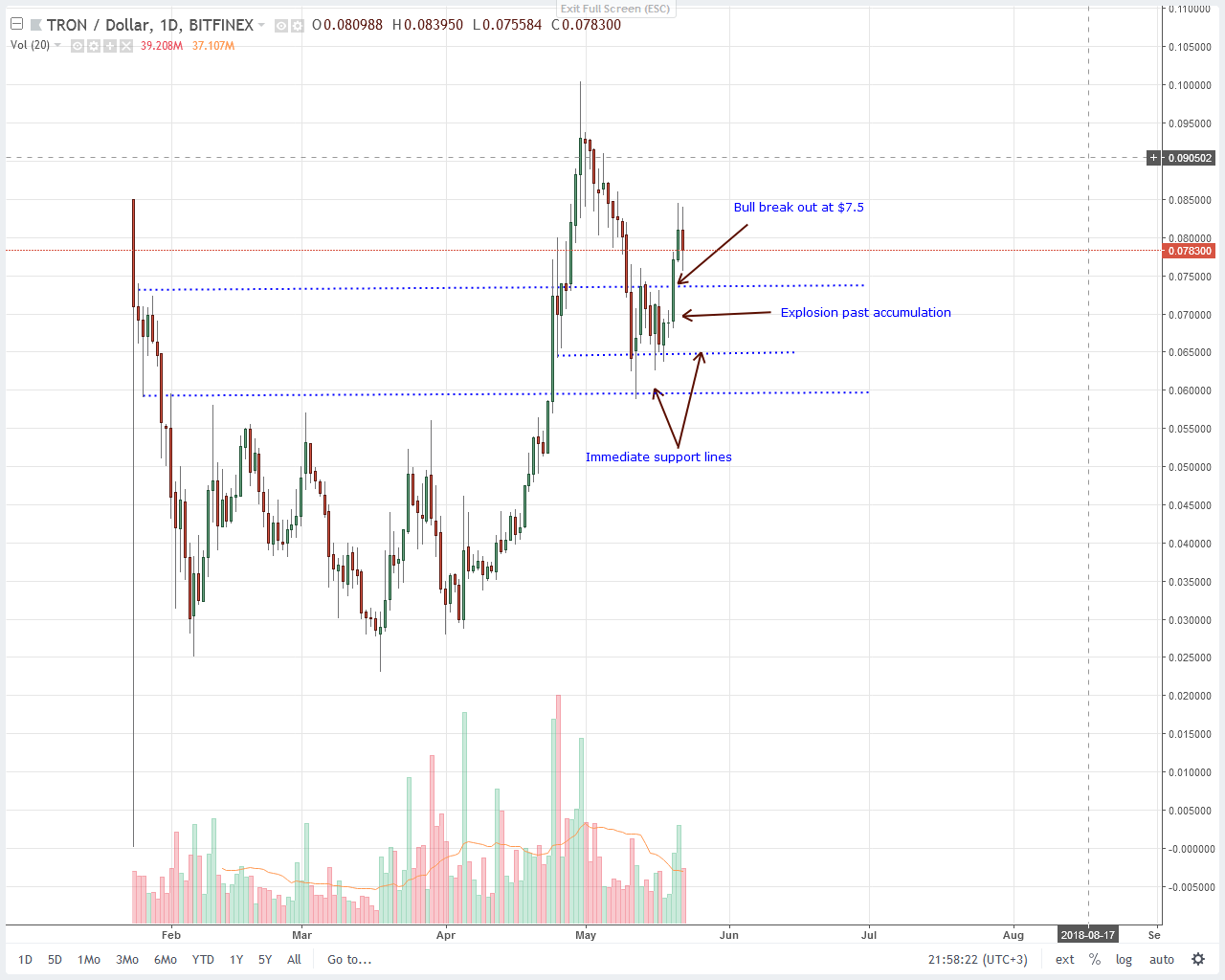 It's about 34 days to go before the main super Representative election is held by Tron. By then, the network would have its own blockchain and hopefully, faithful members. Considering the laid down rules of Super Representatives, the main thing we should pick out is that they are the guardian of the network and chosen out of the good will of the people. Simply put, these 27 SRs shall maintain, validate and push transactions within Tron and that's why they are important.
? Want to keep up with the latest Super Representatives updates? Visit our new Explorer https://t.co/t8LzYz2QQx and click on Open team page ? Already more than 20 #TRONSR candidates have listed!

— TRON Foundation (@Tronfoundation) May 21, 2018
Because of this, we need valid companies with good intentions to develop blockchain technologies as representatives of Tron and blockchain proponents they bid for.
Like the rest, buying Tron at current prices reduces downside risks because stops would be at 7.5 cents while increasing upside potential. It's trading with the trend and following though May 20 surge and break above the consolidation whose upper limit were at 7.5 cents. So, in line with yesterday's preview, continue buying on dips—it's a clear buy in the 4HR chart—and aim for 10 cents or higher. After all, there is a positive event on May 25, TVM launch, that's exciting market participants who view it as a long spring board.
IOTA (IOT) Analysis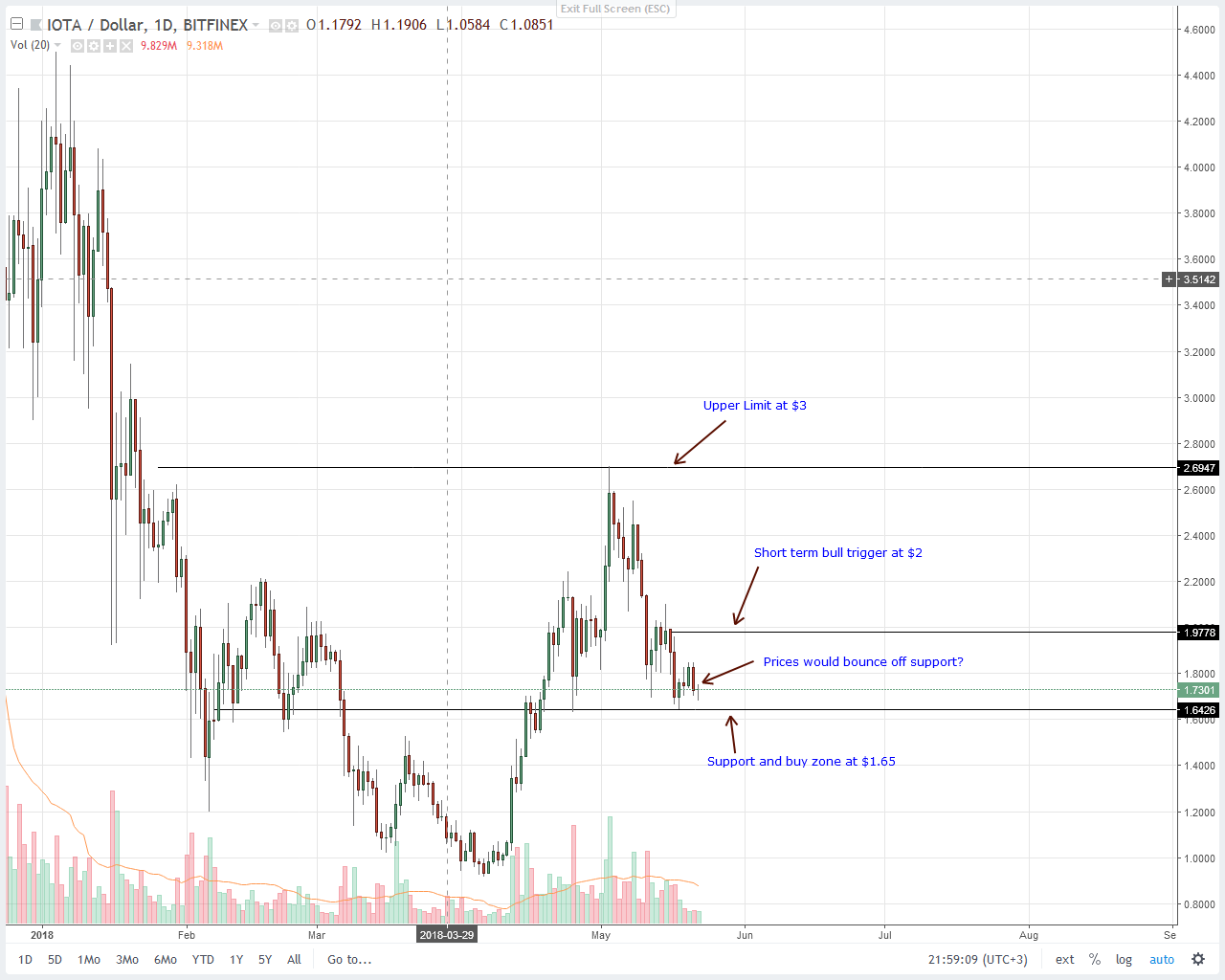 What I like about IOTA is that their founders are not doing this for the money. They had a zero percent allocation during the crowd sale. Yes, they might have bought IOTA coins and that's expected but then again, prices are reflective of their zeal and IOTA user case application. I'm eye balling the user case bit they are positioning themselves for the future. And yes, they are now working with the UN after collaborating with their Project Services, the UNOPS.
"Shared ? problems require shared ? solutions." We've partnered w/ @iotatoken to explore how innovative data management tech can enhance the efficiency of humanitarian & development operations. | #distributedledger https://t.co/GHbbB2Pm9d

— UNOPS (@UNOPS) May 22, 2018
Notice those rejections below $1.6? Those are the precise reasons why buying at current undervaluation is but a good idea. You can take risks today and ramp with tight close below $1.6 but waiting for close above May 20 is safer.