Besides EOS that have subtle hints of higher highs following May 16 bullish pin bar or spring, other coins including Tron are printing negative gains in the last 24 hours. Of note is how Stellar Lumens prices are behaving despite good news. Despite everything, it is engaging the sell gear and slowly aiming for 30 cents, a key and important support line in our analysis. Overly, we remain bullish on EOS and Tron and all we should be doing is waiting for timely entrants with minimum risks to ramp up longs with targets at $22 at EOS.
Let's have a look at these charts:
EOS Price Analysis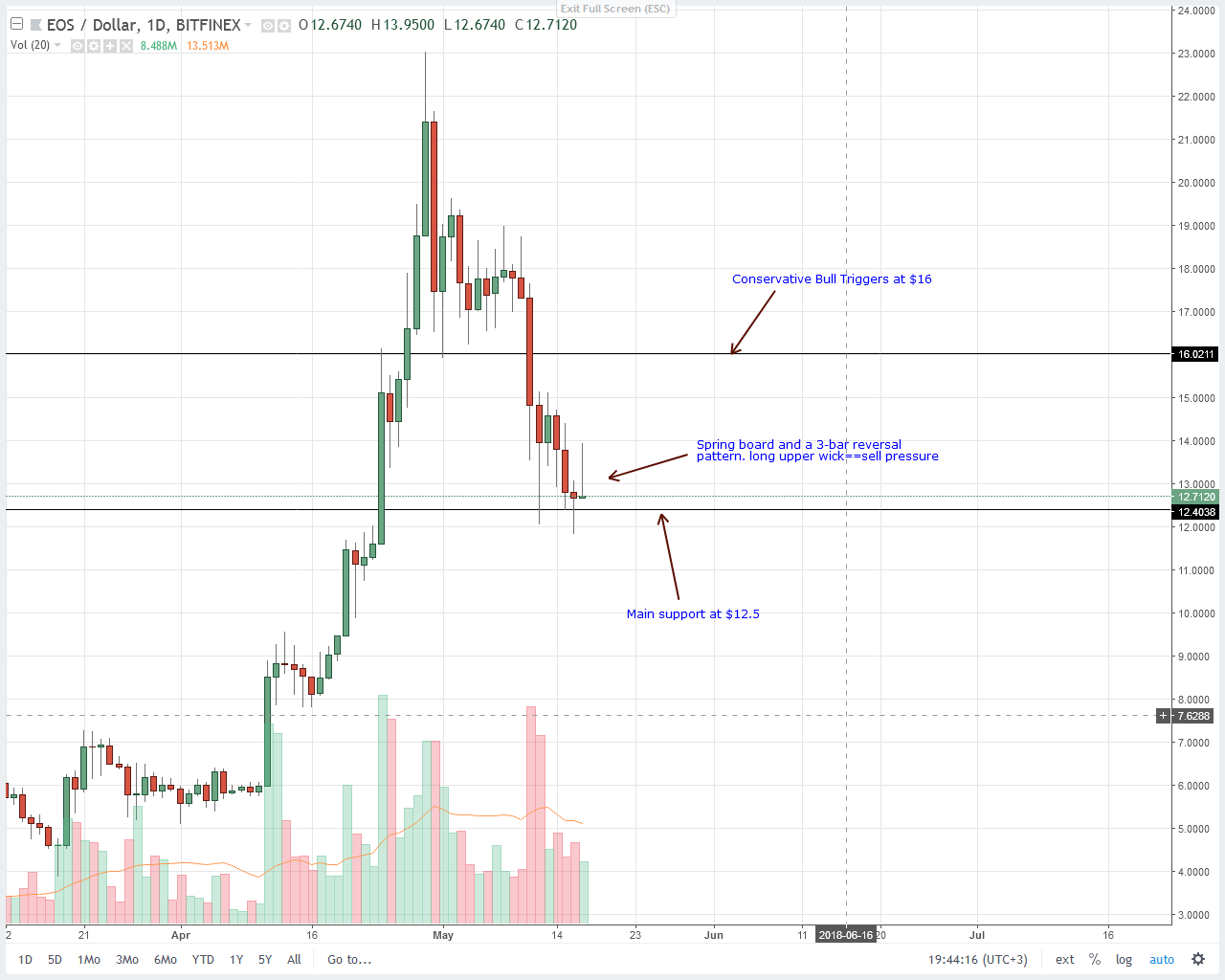 There is nothing much going on in the fundamental front of this coin. All we do know is that Dan and Vitalik would work together to make the blockchain community better for everyone. After all and unless Quantum computing becomes a reality, blockchain shall remain dominant in the coming years. Now, EOS blockchain launch is what investors are talking about and this is a good thing. Will the positive vibe seep through, prep buyers and help pump EOS prices? Well, that's what I'm angling for now that EOS is up six percent in the last 24 hours.
Price wise, there are hints of price reversal especially if we pull May 16 candlestick. Then we saw EOS buyers rejecting lower prices because while the trend is negative, prices don't follow suit. Instead it moved within a tight price range and yesterday's candlestick was but a mere confirmation of those buyers. Yes, we have a long upper wick signaling sell pressure but if today's close end up above $14, there is a valid reason to go long.
Litecoin (LTC) Analysis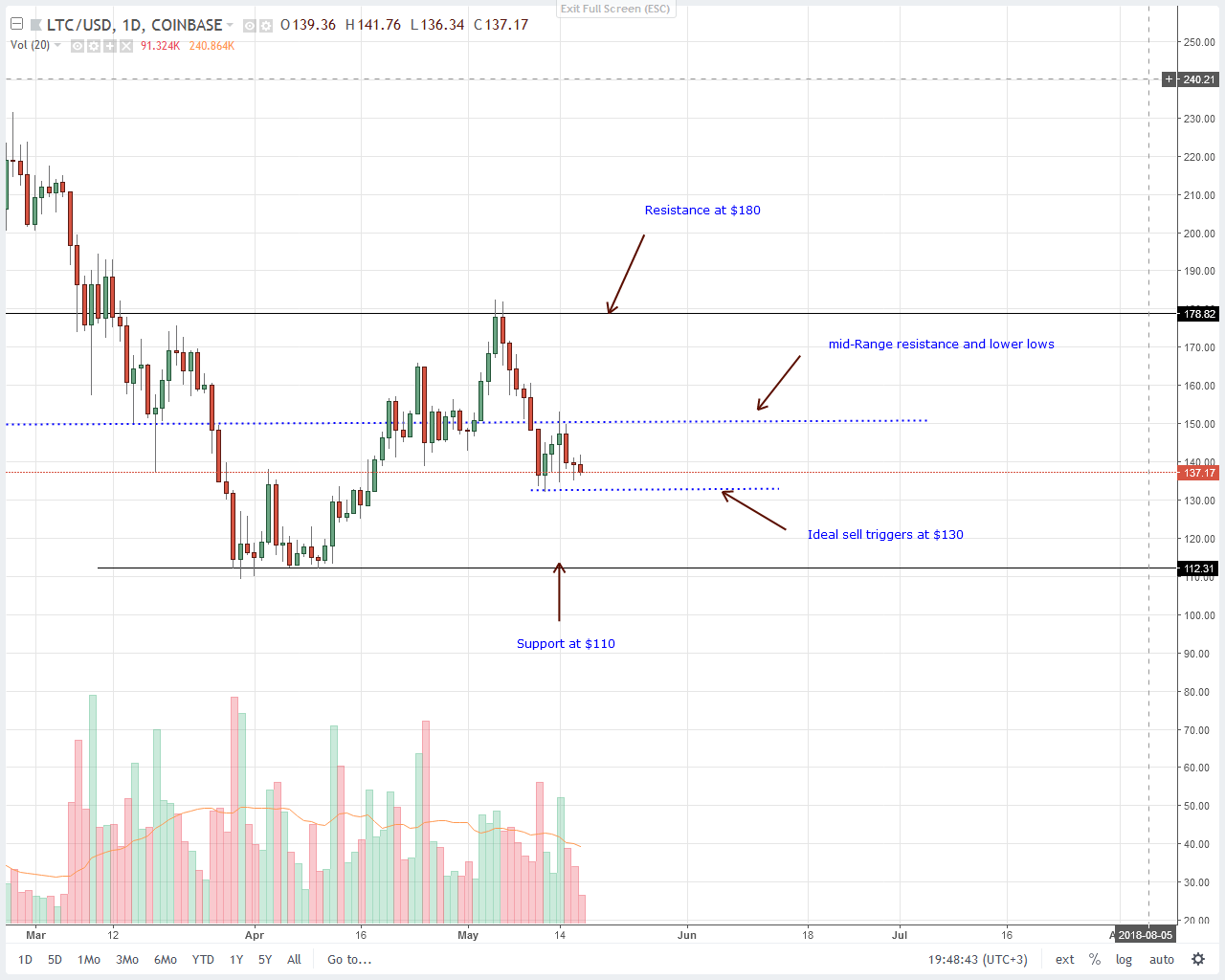 Now everybody, Doge/Litecoin atomic swap is now possible! Thanks to Komodo's HyperDEX, traders would in the future transact seamlessly using the two coins without fear of extra fees or going through an exchange. HyperDEX runs on Barterdex core and promises to bring those cross chain atomic swaps experiences to common merchants or traders. On the retail adoption drive that's in line with their social media campaign, there is conversion.
PetBay shall integrate and accept Litecoin as payment going forward.
Literally speaking, Litecoin prices are slow if not completely negligible. Zero movements in the last 24 hours and we remain bearish in line with our previous projection. Now, as long as Litecoin is trending within this May 11 high low, chances of a break below $130 is high. So, we remain neutral for now until after our sell triggers are hit.
Stellar Lumens (XLM) Price Analysis
Successful coins often chart up the liquidity list if it finds utility. In the case of Stellar, IBM is their main supporter and already, they are using their network for cheap and secure cross border payment. Even though we had that announcement between IBM and Veridium Labs aimed at fighting global warming as they save Indonesian rain forests, there is nothing much to talk about in the last 24 hours.
Like most coins, Stellar is down and inching closer towards 30 cents towing with our previous price trajectory. For now, all we have to do is wait. Should prices recover and close above 40 cents then we shall see the level of demand before drawing conclusions.
Tron (TRX) Price Analysis
Following December 2017 successful campaign in collaboration with Binance, the Tron Foundation now plans on gifting new homes to Tron's holders. When the campaign will begin remains sketchy but chances are it is designed to coincide with May 31 mainnet launch.
Last year it was a Maserati and a Mercedes-Benz. This year we're taking our giveaway to a whole new level — your dream home! Stay tuned. #TRON $TRX #TRX

— Justin Sun (@justinsuntron) May 16, 2018
This means it shall take place in roughly two weeks and if last year's market behavior is anything but guidance, expect Tron's trading volumes to rise as demand increase.
So, Tron is down five percent in the last 24 hours and still prices are moving within an accumulation. Well, we cannot initiate inconclusive set ups and reiterating, we shall only go long and expect Tron prices to recover if and only if there is a break above 7.5 cents. For buyers to cement that then it must be accompanied by above average volumes and a wide daily range exceeding range bound candlesticks.
IOTA (IOT) Price Analysis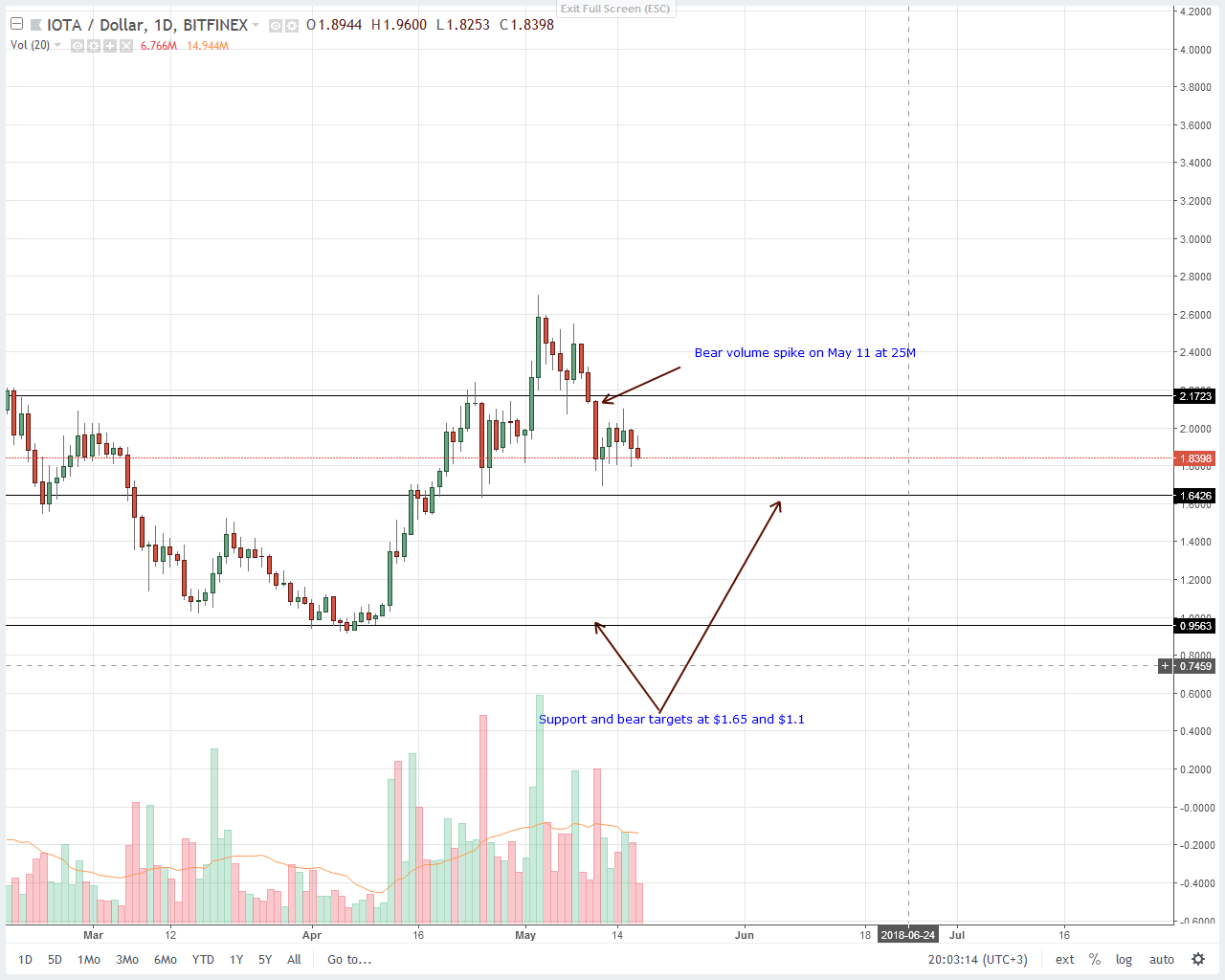 It's without a doubt that IOTA remains one of the fastest growing and interesting Internet of Things solutions around. There are speculations that prices are in the process of bottoming up and while this may be true by all accounts, its market participants or supply-demand dynamics that shall give us a clearer market direction.
In line with our projections, IOTA prices are trickling and syncing with May 11 directions. Because that candlestick was bearish we expect nothing more than lower lows maybe until there is a retest of May 12 lows at around $1.6. Before then, conservatives should be patient while aggressive traders can short and target that support line at $1.5 or better still $1 assuming there is further depreciation.