Over all, yesterday was a pretty good day for alt coins. Fact is we saw higher highs in most coins under our radar and spearheading this recovery was Tron. At some point, Tron was up 20 percent and this comes some five days before Tron's mainnet launch which like others often come with dip in prices. But, if yesterday's momentum continues and most importantly this week end up bullish then it's most likely that TRX would edge higher.
Let's have a look at these charts:
EOS Technical Analysis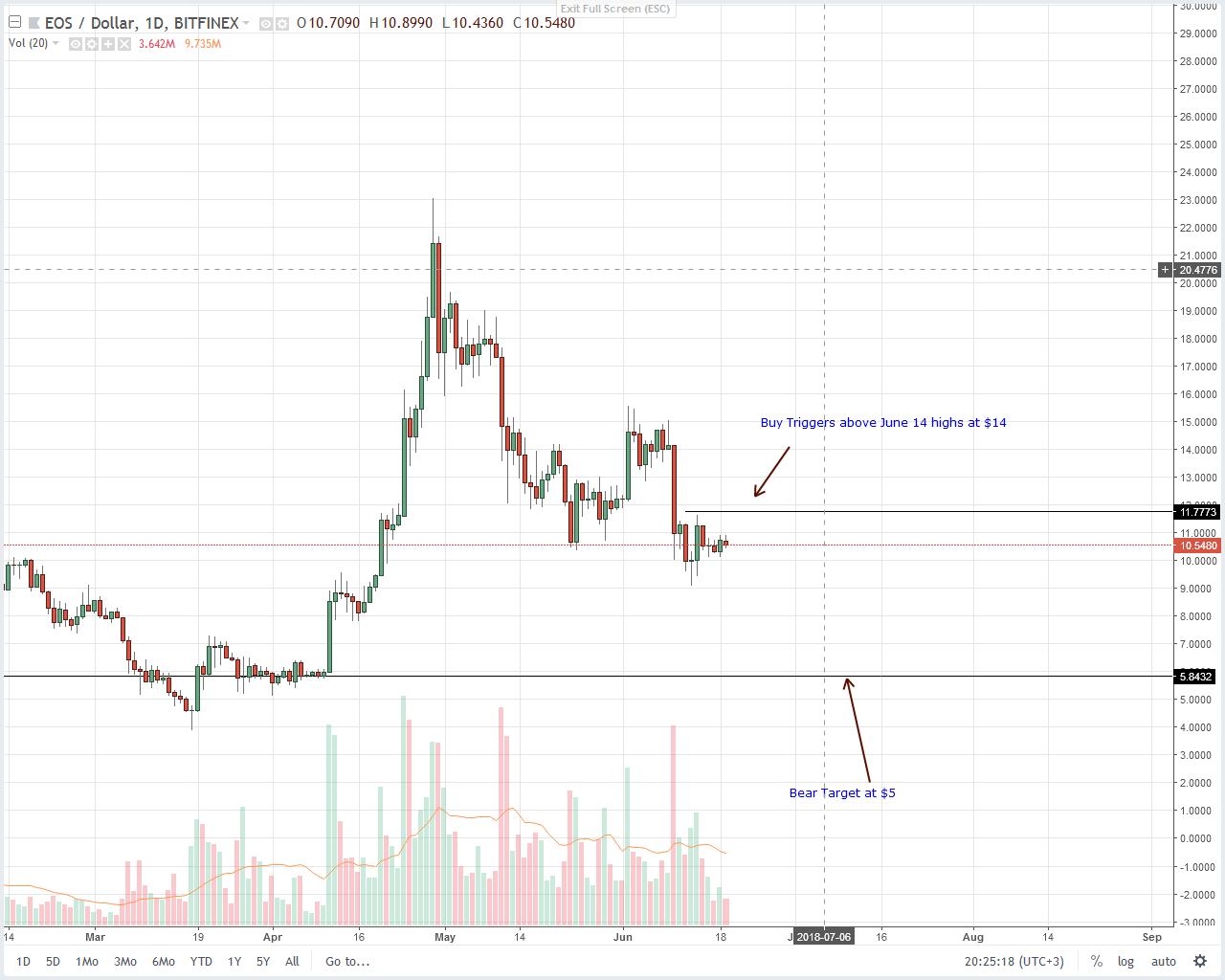 All things constant, it's easy to point hands and even thrash EOS for their efforts. Yes, there was a glitch on Saturday but it was resolved-quickly and that's what counts. It's not EOSIO fault either as their protocol demands an emergency protection mode when low hanging bugs threaten to destabilize or even fork the system.
By all accounts, the response from Block One was swift. Even after patching up the system, proposing new updates and flagging off normal operations, Block Producer (BP) voting continues. EOS Canada and EOS New York are front runners but that doesn't mean BitFinex, who were so influential during coin staking don't stand a chance. What we know though is that the list of 21 BPs keep changing and before the final tally is out, we shall be watching EOS price stability closely.
"Block Producers are required to follow a candidacy process that involves submitting informational documentation. In addition, ensure Block Producer's various communities like TG, FB, Meetup, and more are consistently active."
On to the charts and even though EOS is up two percent in the last 24 hours, buyers are equally rejecting lower prices. Our main support stands at $10 while buy triggers are at June 14 highs at $13. Before we conclude on short to medium term trend direction, let's wait and see where price action will lead us to. Generally speaking, odds are bears might come on top but June 18 bullish candlestick seems to neutralize sell pressure. In fact, overly there is a little bit of altcoins positive sentiment. We might even see a bullish confirmation as prices race and break above our short term consolidation triggering our buys.
Litecoin (LTC) Technical Analysis
Despite this two month LTC price slide, we cannot overlook the fact that LTC adoption is across the board and global. Even the Litecoin Foundation can attest to this saying support from businesses has been nothing but "incredible". We can attribute this directly to their social media campaign urging coin holders to pay merchandise from LTC supporting outlets. To boost this, there is a website dedicated to spread awareness and market LTC accepting merchants all over the world.
We're making it even easier for companies to integrate #Litecoin. Ask your favorite brands to let you #PayWithLitecoin today! https://t.co/aYwQqoSFOT ?? pic.twitter.com/1cXmjSf1QO

— Litecoin Foundation (@LTCFoundation) June 5, 2018
Encouragingly, LTC might be bottoming. So, at current valuation, it's but a good time to ramp up this coin. In the last 24 hours alone, LTC is up five percent and with yesterday's close, there was a perfect follow through buoying sentiment as a result. While we are generally bearish from a top down approach, buying on this pull back with stops at $100 or June 14 lows can be a good trading strategy. However, should you take a conservative stand and wait for our official buy triggers at $110 to be hit, then the better.
Stellar Lumens (XLM) Technical Analysis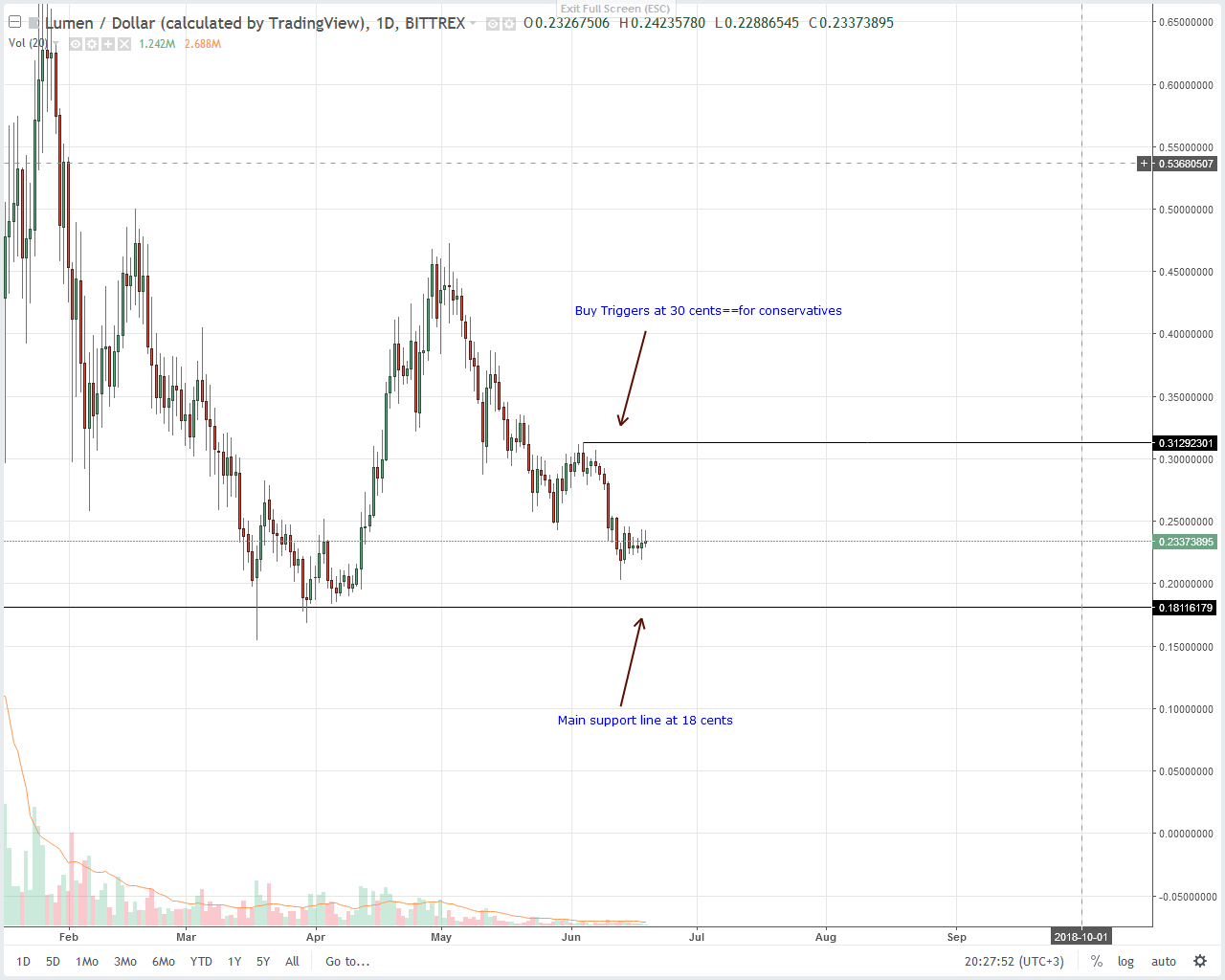 Apparently, there is a resuscitating crypto tide sweeping through the markets and after June 18 support, Stellar Lumens stands a chance of recovering previous losses. It's already up six percent in the last 24 hours and is slowly lifting itself from the 20 cents dredges sellers threatened it with last week. If anything, risk-off traders are free to buy and trade in the direction of yesterday's participation.
In another way, waiting for up-thrusts above 25 or 30 cents would be conservative but solid. Like before, Stellar Lumens bull targets stands at 50 cents. Overly, both trade plans are optimistic and could easily be over rode by bears angling for 7 cents.
Tron (TRX) Technical Analysis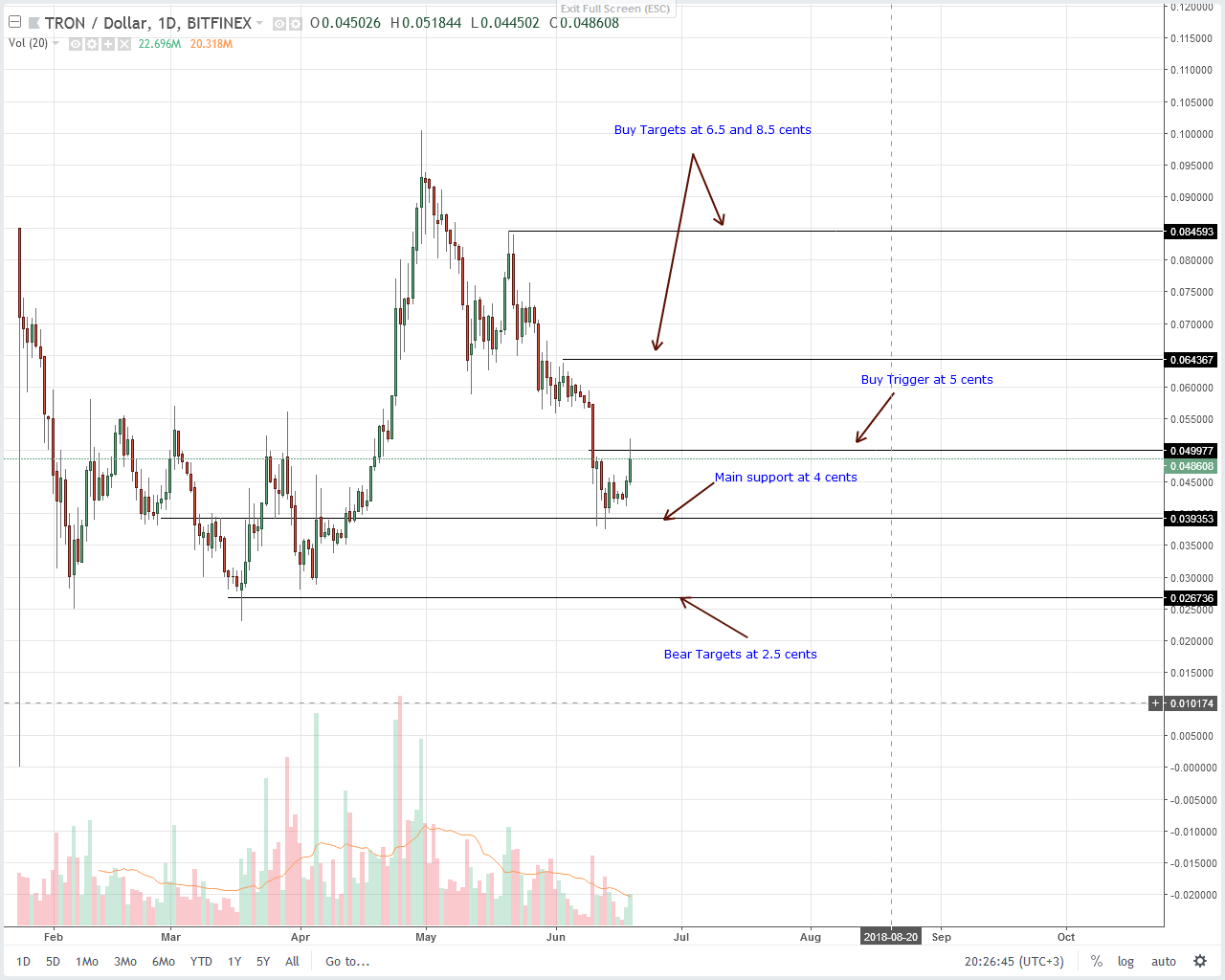 It is five days before the official Tron mainnet launch. But the question remain: will the mainnet bug strike and reverse possible gains? It has been the case and we saw that when Tron began checking its network for bugs and later it struck shortly after EOS mainnet launch.
Thanks for the amazing video made by @TronDotLive. TRON Independence Day is on June 25(UTC+8), see you there. https://t.co/rZNk3e3061

— Justin Sun (@justinsuntron) June 19, 2018
Anyhow, we can take relieve expecting further gains today now that TRX despite trending in the midst of strong bears is the top performer in the last 24 hours. It's up seven percent and today we might see buyers inching closer to 5 cents triggering our buys. Because of this, our buy targets is at 6.5 cents, 8.5 cents and later 10 cents.
IOTA (IOT) Technical Analysis
In the chart, IOTA is up roughly two percent in the last 24 hours and even though we had these nice higher highs yesterday confirming that bullish pin bar of June 18, we shall be in the sideline until when we see strong push above $1.3. Before then and like yesterday, IOTA sellers are still in charge.