Tron prices shrink ahead of Feb 11 BTT airdrop
Book hotels through Travala and pay using TRX
Transactions volumes low, prices could drop towards Jan 21 lows
Despite increasing adoption and upcoming BTT airdrop, TRX is yet to print above BTT Pre-ICO levels. Nevertheless, TRX stands to weather strong sell pressure and resume their uptrend in the third stage of a classic bull breakout pattern.
Tron Price Analysis
Fundamentals
Through Travala, you can now pay your accommodation using TRX in 82,311 Destinations across 210 countries. What's more, by settling your bills using TRX and other supported coins, you will be saving. To quantify, paying using TRX in this Next-gen Online Travel Agency (NOTA) is often, 15 percent cheaper and more convenient. It is so because the network is blockchain powered, decentralized with incentives. Developments as these are steps in the right direction as it guarantees demand stemming from increasing adoption.
While Travala increases their payment options, Poppy–a Point of Sale System funded by Tron is already undercutting Visa and other payment processors. As a better alternative to traditional payment systems, Poppy's objective is to "transport digital currencies into the retail space." All a merchant or a retailer has to do is to update their point of sale system and install the Poppy app.
Candlestick Arrangements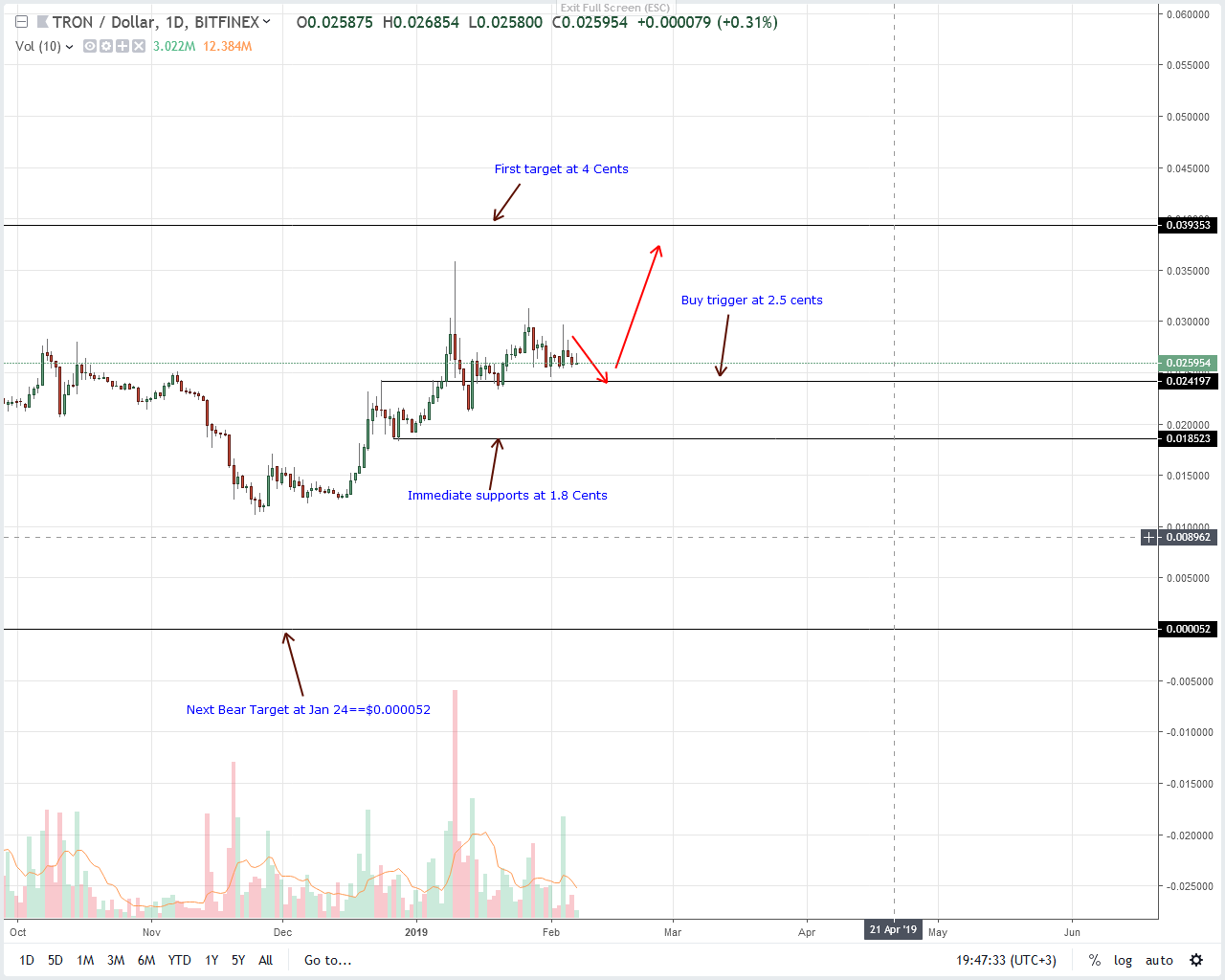 There is resistance for higher high, and as liquidation prevents further upsides, prices are relatively unchanged. In the last week, for example, TRX is down 4.7 percent but stable. All the same, we retain a bullish stand.
For aggressive traders, every low is technically a buying opportunity. That is only applicable as long as TRX prices are trending above 2.5 cents. Note that TRX/USD is trading within a bullish breakout pattern with clear supports at 2.5 cents.
As breakout patterns dictate, following an upsurge is a retest. Therefore, in line with this projection, we expect TRX prices to shrink back to 2.5 cents. After that, subject to participation levels, TRX may resume trend as prices race above 3.1 cents towards 4 cents.
However, this largely depends on BTC performance and the demand of TRX ahead of Feb 11 BTT airdrop.
Technical Indicators
Our trade trajectory is clearly defined. TRX is bullish. However, for trend resumption, participation levels must exceed Feb 4 volumes of 42 million. Spikes as such will reaffirm bulls, paving the way for 4 cents as laid out in previous TRX/USD trade plans.