Tron price is down 5.2 percent a few days after BTT launch
Like CoinBase, Binance will soon allow Visa and MasterCard purchases
Participation level shrink by more than half from 25 million to less than 15 million
After days of impressive performance, TRX is now slowing down. It is down 5.2 percent at the time of writing. Even so, bulls have a chance as long as prices oscillate above 2.5 cents.
Tron Price Analysis
Fundamentals
Binance, the largest cryptocurrency exchange by trading volume, will in days ahead allow crypto traders and other investors to buy a wide range of digital assets using their Visa and MasterCards. The two US-based multinational financial service providers are the world's leading payment gateways serving millions of people from all over the world. If anything, this is very positive for digital assets.
It is a U-turn after events of late 2017 and 2018 when regulators and banks blocked users from buying "volatile" crypto using their cards. Ultimately, this new corridor will no doubt draw extra demand for cryptocurrencies. As a crypto-to-crypto exchange, the move comes as a surprise and would in coming days attract buyers driving asset prices higher.
While making the announcement, Changpeng Zhao said:
"We want to provide Binance traders with fast and easy access to crypto, in the most secure way possible. With most of the world's money still resting in fiat, building fiat gateways is what we need now to grow the ecosystem and create more long-term opportunities for crypto."
Candlestick Arrangements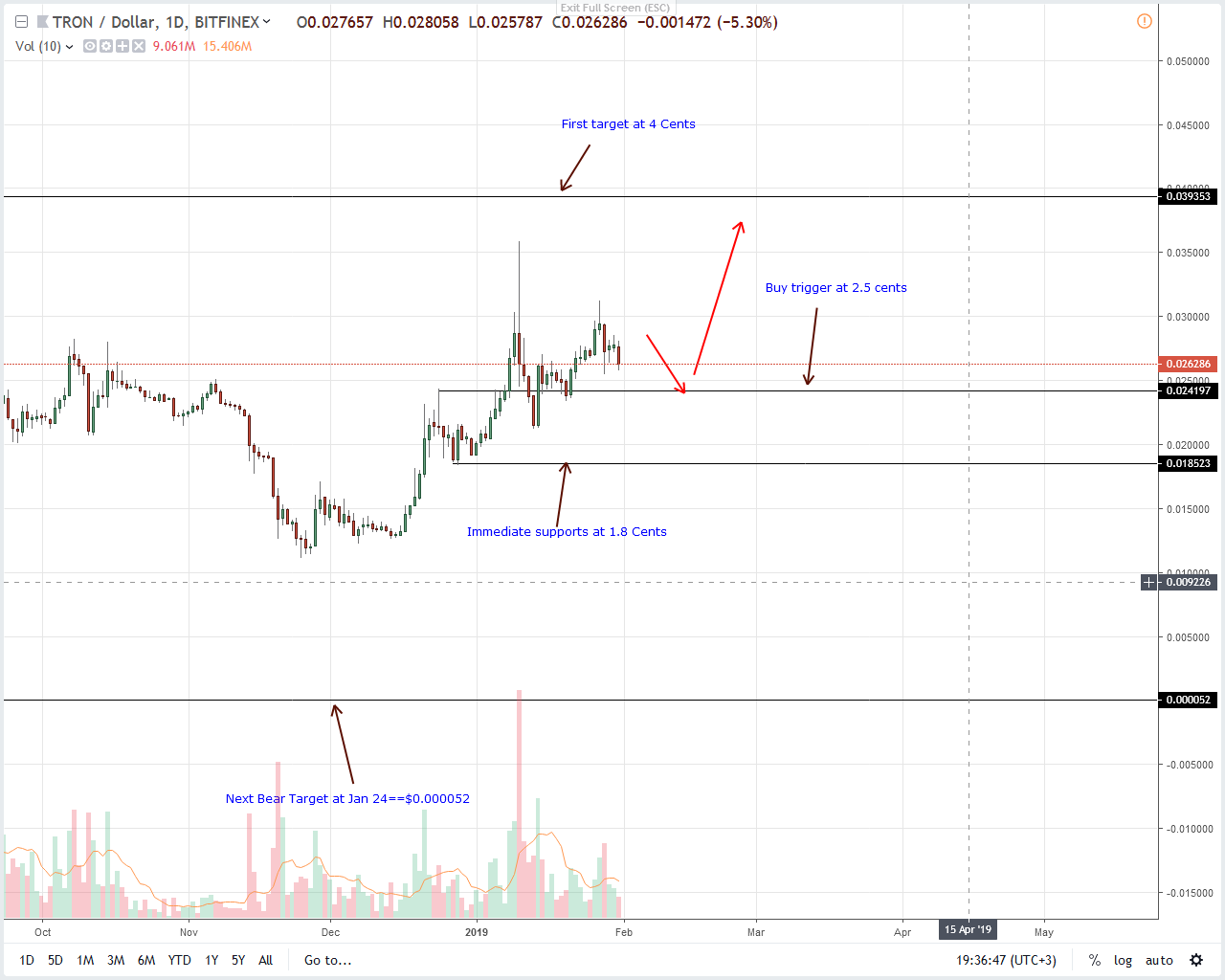 Like it has been the case after every significant announcement, TRX prices are free-falling. At the time of writing, the coin is down 5.2 percent. However, prices are still oscillating within Jan 28 high-lows. This means there are high chances prices will drop towards our main support line at 2.5 cents.
Even if they do, our TRX/USD trade plan will be unaffected because the only time bulls will be in charge is when prices rally above 3 cents. That is Jan 27 highs which marks the tops of the inverted hammer sparking sell-offs of Jan 28. Moving on, we recommend patience knowing that bulls have a chance above 2.5 cents. Technically, every low should be a buying opportunity for risk-off traders.
Technical Indicators
Volumes are dropping, and although we are net bullish, we need prices to rally above 3 cents. That will completely reverse losses of Jan 28. These higher highs should be at the back of high trading volumes exceeding today's averages of 15 million.  Most importantly, they should be above 31 million of Jan 28.