Tron (TRX) under pressure above crucial Q1 2019 support
Cred and Tron collaborates
After acquiring BitTorrent and successfully tokenizing the world's largest peer-to-peer file sharing platform, Tron now has a partnership with Cred that will see TRX holders lend out their funds and earn up to 10 percent in interest.
Tron Price Analysis
Fundamental
The thing is, there is nothing to take away from Tron or their aggressive co-founder, Justin sun. Although critics may say his marketing style deems the asset security, the fact is, Tron is a competing and could even topple Ethereum as the go-to smart contracting platform.
Nonetheless, Tron's objective is clear, to decentralize the web, correct the "original sins" and to begin with, they acquired and tokenized BitTorrent as they bid to take over and transfer entertainment to the blockchain.
However, they are not relenting. Three months after a successful token sale and recouping their acquisition costs, Tron wrote to Bakkt, arguing their case on why their asset should find similar support like Bitcoin.
Laying out their claim, Misha explained that the token is liquid, available in more than 60 cryptocurrency exchanges with the capacity to outdo Ethereum and competing platforms. Stating their high throughput and their under-utilization, Tron has a plan in place to launch side-chains as they look to improve the capacity of the network.
Tron is a success story and their partnership with Cred is positive. With Cred, TRX holders can now lend their stash earning "up to 10 percent APR on TRX and other TRC-based virtual currencies using Cred's LBA token."
Candlestick Arrangement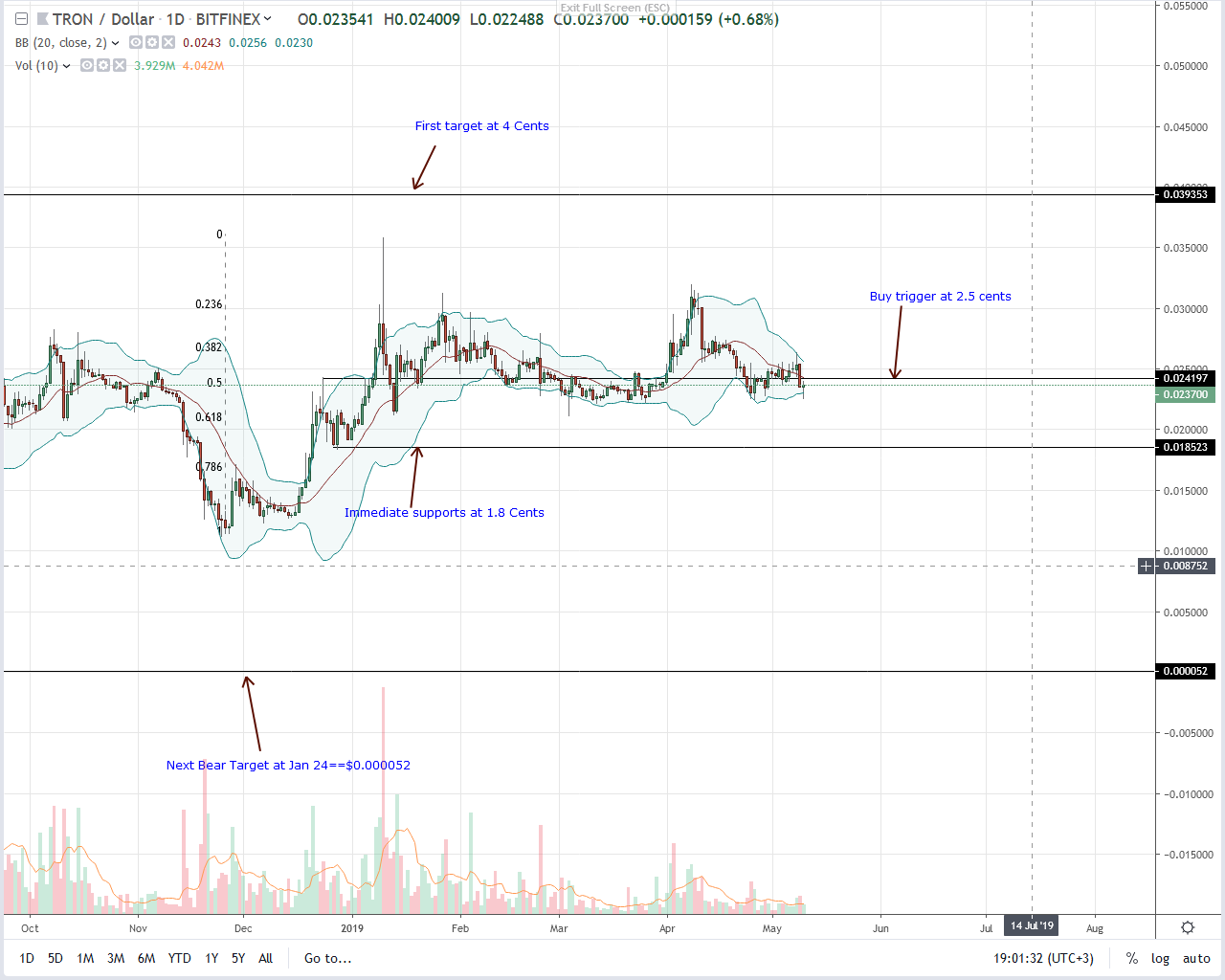 Meanwhile, Tron (TRX) prices are under pressure. Like in our previous TRX/USD trade plan, 2.1 cents mark a vital support level of Q1 2019 lows. Even though candlestick arrangement points to bulls as price action trend within a bullish breakout pattern thanks to upswings of late Jan 2019, prices are mainly consolidating.
At the moment, TRX/USD is within a 1-cents trade range with caps at 3.1 cents. All the same, should price find support from spot levels as buyers flow in reversing losses of May-9, odds are TRX will expand to 2.7 cents.
In a minor breakout pattern allowing risk-off traders to load up on dips, the resulting momentum shall contribute to the next leg up above 3.1 cents that will eventually see TRX soar to 4 cents. On the flip side, losses below 2.1 cents may trigger panic sells. After that, TRX may sink to 1.1 cents invalidating bulls of late Jan.
Technical Indicators
Unless otherwise, bears take charge, Apr-25 bar is our anchor candlestick. It has high trade volumes—13 million against 5 million. Therefore, if a bull bar prints, then it is preferable that it has high volumes exceeding averages of 4 million and more importantly rewind losses of May-9.
Chart courtesy of Trading View