Tron (TRX) range bound but up 4.5 percent
Justin Sun could invest in BitFinex IEO
The integrity of any blockchain team lead them to success or failure. Therefore, the decision of Tron's co-founder Justin Sun to contemplate investing in an IEO of a trusted exchange headed by a questionable team should under ordinary circumstances raise red flags. At spot rates, Tron (TRX) is up 4.5 percent from last week's close, and bulls are aiming at 4 cents.
Tron Price Analysis
Fundamentals
BitFinex is under siege. Apart from the mess around Tether (USDT) several sources referring to a billionaire's comment said the exchange, after everything plans to crowd fund through an Initial Exchange Offering.
According to @zhaodong1982 there's a high possibility that @bitfinex is going to do an IEO, and some big whales already reserved $300m of the allocations in #USDT pic.twitter.com/oXfbrGk2Cg

— Zirui ⛰️ (@zirui_z) April 29, 2019
Well, there are issues with IEOs and BitFinex is, after all, not be a perfect candidate. First, their team is questionable, and according to Artur Boytsov, the Vice President at Priority Token, a top-tier team makes or breaks a project.
Secondly, their entanglement with the NY OAG as well as their "outing" by their lead legal counsel did expose rotten tomatoes that pours cold water on investors, better informing their decisions and forcing them to pull out.
However, that didn't deter Justin Sun, whom according to Crypto Briefing had "engaged in discussions with BitFinex about participating in the IEO" but wouldn't nonetheless confirm the amount even though their discussion did conclude without a deal to invest:
"We had had some discussions with BitFinex in the last month on investing in a BitFinex IEO. Those discussions ended without investment or any agreement to invest. As before, we are closely following events with BitFinex and Tether as they relate to our interest in seeing a viable and vibrant stable coin market."
Candlestick Arrangement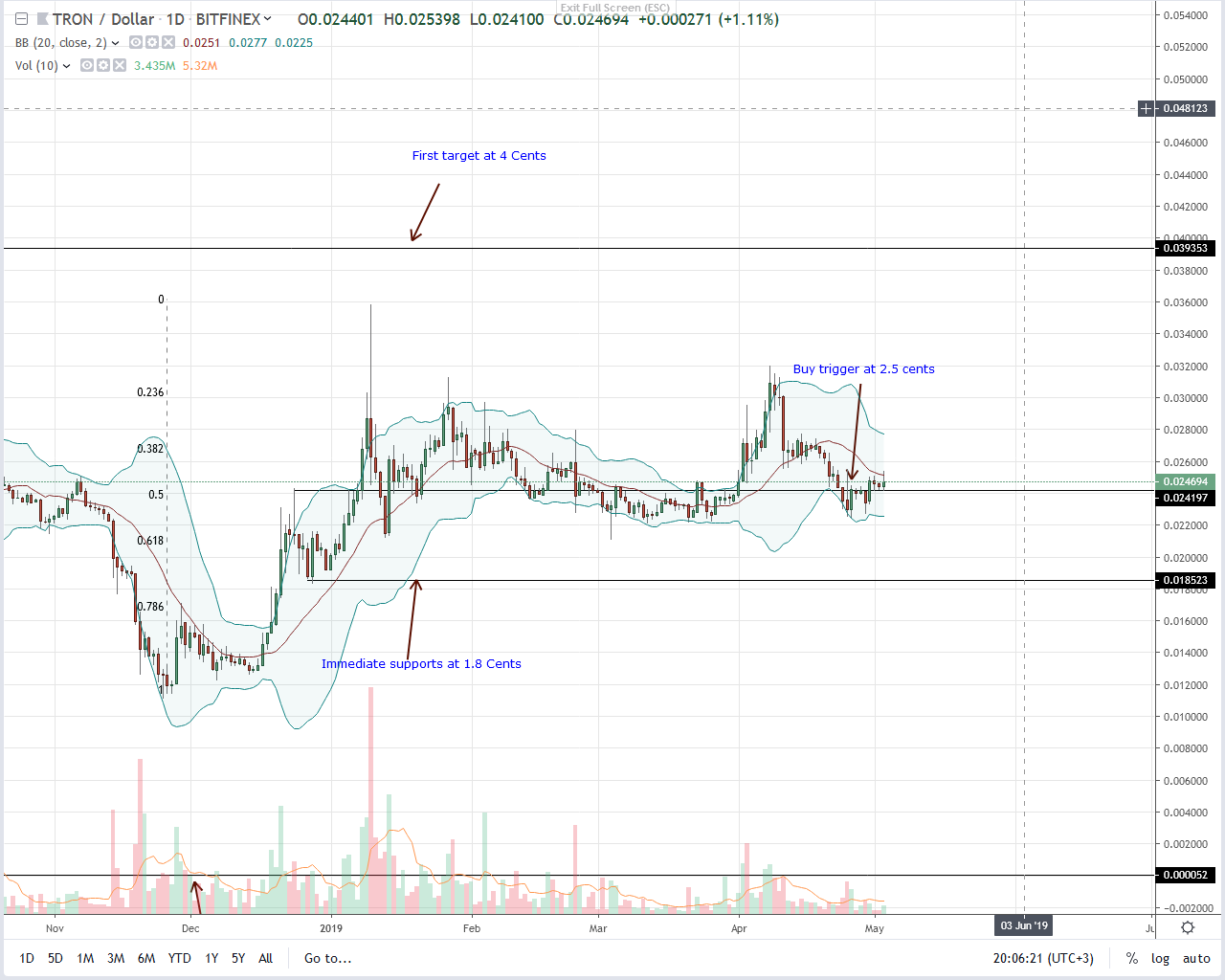 At spot rates, the coin is up 4.5 percent from last week's close. Regardless, price action is tepid as the TRX bulls are yet to test resistance levels at 2.7 cents and 3.1 cents. Even so, we are bullish on TRX and expect the coin to close higher against the USD by close of this week.
Notice that TRX is trading within a bullish breakout pattern after sharp upswings of early Jan. However, following BitTorrent IEO, TRX prices slid lower as supply-demand forces kicked in fairly valuing the 11th largest digital asset by market cap.
Presently, any rally towards 4 cents is reliant of buy pressure, satisfactorily reversing losses of Apr-25 that would open up doors for further gains towards 6 cents. On the flip side, any drop below Jan-14 floors of 2.1 cents could see TRX retest 1.8 cents or even 1.1 cents marking Dec 2018 lows.
Technical Indicators
Despite today's movements, Apr-25 anchors our trade plan. It has above average volumes—13 million against 5 million. Therefore, break above its high low at 2.5 cents and 2.2 cents must be with equally high volumes exceeding 13 million or 30 million of Apr-3 confirming or nullifying our TRX/USD trade plan.
Chart courtesy of Trading View