Tron (TRX) reacts from 3.1 cents, adds 6.2 percent
After Justin Sun's efforts, Tron is dominating in terms of dApp activity
Reaffirming the presence of buyers, yesterday's support at 3.1 cents is a mark of bulls. It is an intervention and the basis for a TRX possible expansion to above 4 cents reflecting buyers of May 2019. At the time of press, TRX is up 6.2 percent from last week's close.
Tron Price Analysis
Fundamentals
The era of smart contracting is all thanks to Ethereum. By building the frame works and open sourcing the technology, there have been improvements. Distinctive from Ethereum, competitors are charting their paths. Tron and EOS do have the same consensus architecture in dPoS, introducing master nodes and a new governance style.
In both cases, there is voting. However, just like in any democratic process, there are accusations of corruption. Such calls are loud in EOS.
Nonetheless, the strides in Tron are noticeable. By prioritizing speed and scalability, the platform is active from a dApp point of view. Because of a spike in the number of dApp related activity, Tron is now raking in more revenue than Ethereum.
Besides, the number of transactions and users is on the rise, eclipsing Ethereum. By mid-March, Tron's daily transactions shot past the $100 million reflecting increasing utility and preference by project launchers.
Regardless of these impressive statistics, TRX prices are flat-lining and quite literally underperforming. Perhaps to catalyze participation, the Tron Foundation introduced a $20 million buyback plan. Chiefly, the objective of this plan is to stabilize the market and boost market participation.
Candlestick Arrangement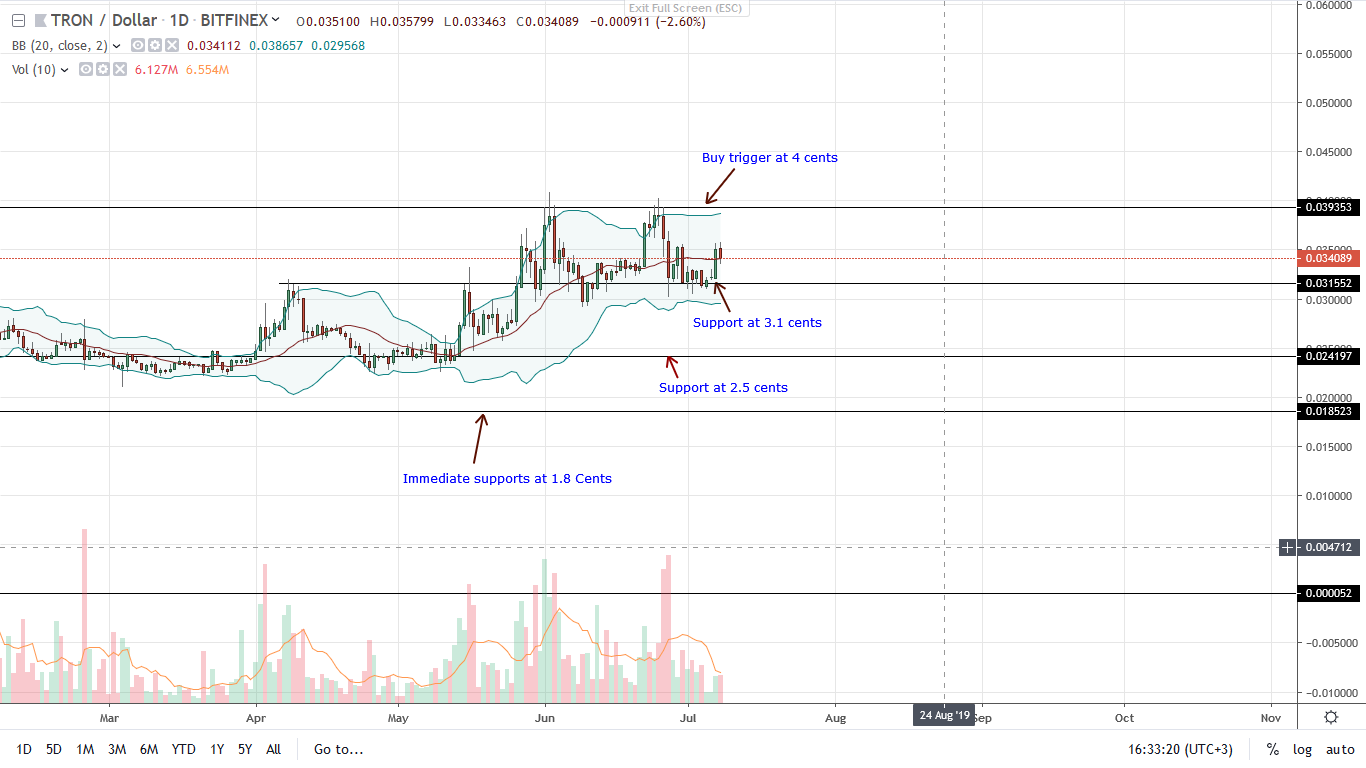 Aside from Monero (XMR), TRX is one of the top performers. Surpassing ETH and BTC, TRX is up 6.2 percent in the last week. In a bullish breakout pattern, TRX buyers have the upper hand. However, it all depends on the confirmation of yesterday's upswing. Because of a double bar bull reversal pattern, the retest phase is over.
All the same and as aforementioned, there should be a marked improvement in trading volumes as prices expand from 3.1 cents to 4 cents. In that case, consequent confirmation ought to be with high participation completely reversing draw down of June 27.
Such a move will print a three-bar bull reversal pattern, confirm bulls of May and set the tone for buyers aiming at 4 cents.
Technical Indicator
As a result, June 27 bear candlestick leads this trade plan. Distinct with high trading volumes of 32 million, it is extensive. Furthermore, the price action of the last few days is trending within the bar's trade range. Therefore, if bulls are in control, any breakout above 3.6 cents should be with high participation above 32 million.
Chart courtesy of Trading View. Image Courtesy of Shutterstock