Tron (TRX) add 5.2 percent
Application to Bakkt calling for TRX inclusion is a show of intent
With Bakkt and argument that Tron's potential is unexplored, investors are bullish. Nonetheless, before 4 cents, there must be evidence, and that demands a rally above 3.1 cents with a spike in participation levels. At the moment, Tron (TRX) is up 5.2 percent but could sink if buyers fail to breach 2.7 cents.
Tron Price Analysis
Fundamentals
There is building, network improvement and marketing as team leaders vouch for their projects. While the smart contracting sphere is unexplored, projects as Tron are strategically placing themselves. The aim here is visibility, and that is crucial now that the platform leaders have one key objective: that of being Ethereum killer and replacing it as the king of smart contracting.
Already, there is movement. According to the CCID, Tron is superior to Ethereum, only trailing EOS although both platforms are scalable with high throughput. However, the primary differentiator between these two dApp kings is their approach.
Tron is aggressive, and their letter to Bakkt is an indicator that they not only want Tron (TRX) to be coin within a specific ecosystem but want institutional involvement. In readiness for institutional taps, their last hard fork was ideal for HNWI since Tron now has privacy options with multi-sig capability.
A @Bakkt listing for #BTC or #TRX has yet to occur, but TRON has come a long way in less than 6 months since the #TRON community made our voices heard to Bakkt:

niTROn$BTT Launch
Multi-sign
Privacy option@Travala
Fastest growing DApp platform in Q1 2019#IAmDecentralized$TRX https://t.co/A3tVaLSTXc

— Misha Lederman (@mishalederman) May 5, 2019
Add that to their incentives like Tron Arcade and numerous contests, and it is easy to see why Tron's future is bright. Although they are yet to break back into the top-10, judging from their milestones, the resulting demand will found the next wave of higher highs that would see TRX surge above 4 cents and back into the top-10.
Candlestick Arrangement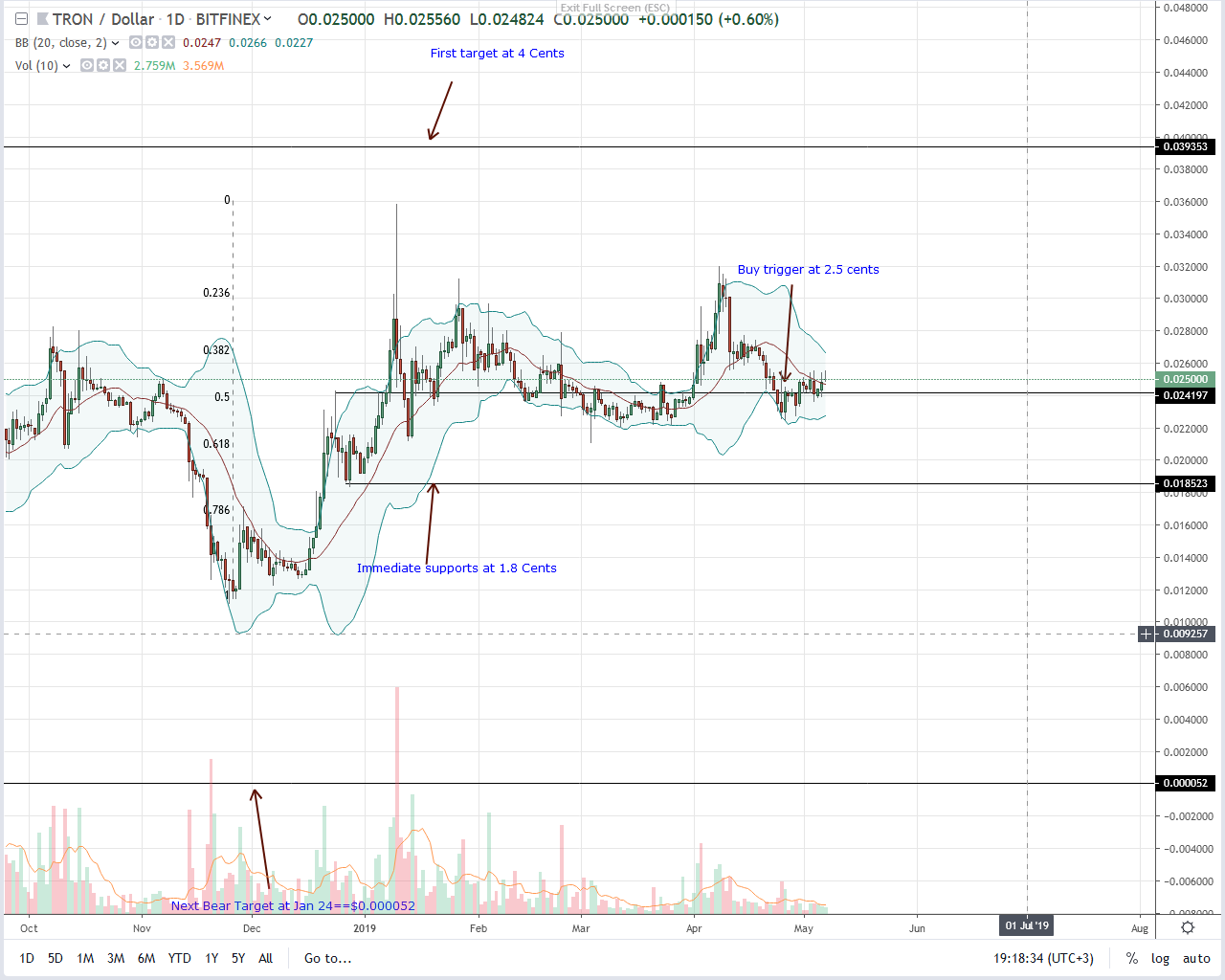 Up 5.2 percent in the last week, Tron (TRX) performance is not as impressive. Even so, we expect demand in days ahead. Note that TRX is trading within a bullish breakout pattern against the USD. From the chart, it is visible that the main support level lies at 2.1 cents, marking lows of Jan 13-14 double bar bull reversal pattern.
Nonetheless, before the next wave of higher highs propels TRX back into the top-10, it is preferable that bulls reject lower prices. To do so, they have to build enough moment and clear the minor resistance line at 2.7 cents as prices break from the 1 cent trade range with caps at 3.1 cents and 2.1 cents.
Before then, traders should refrain from initiating long positions aware that any drop below 2.1 cents could see a breakdown towards 1.8 cents and even 1.1 cents.
Technical Indicators
Our anchor bar is Apr-25—13 million against 5 million. The bar is wide-ranging with a long lower wick pointing at sellers. Therefore, unless there is an upswing that would drive prices above its highs, sellers are in control. However, an up-thrust towards 2.7 cents must be with at the back of high participation levels exceeding 13 million and May-6 average of 3.4 million.
Chart courtesy of Trading View