Tron (TRX) slides 29.1 percent week-to-date
The launch of TronClass will aid in Tron's global reach and general awareness
For their global outreach, the launch of TronClass is beneficial for the cryptocurrency and blockchain space as a whole. Even so, that is not enough to tame sellers pushing TRX to the edge. At press time, TX is down 29.1 percent from last week's close.
Tron Price Analysis
Fundamentals
That Tron has been grabbing headlines in recent days is true. From accusations of shilling and rumors of a police raid, the Tron foundation is unwavering as they trudge towards achieving their objective.
The goal is to ensure that Tron is a go-to platform from where project managers keen on realizing speed and scalability can quickly launch their dApp. Its dApp ecosystem is therefore active, contesting with EOS for the top position.
Nonetheless, the network's creators are keen to see the platform change lives across the world. To that end, the launch of the Online TronClass will chart the way as far as awareness is concerned.
Our little workshop: #TRONClass is here! The purpose is to introduce and explain #TRON & #Blockchain related terms to those who are new to this area. In today's #TRONClass, we are going to explain what is #TRX. Check it out! #TRON $TRX pic.twitter.com/w9zNEleAjw

— Justin Sun (@justinsuntron) July 14, 2019
In a 20 seconds video explaining what TRX is in a simple to understand language, the foundation plans to release similar videos distilling some aspects of their platform for everyone to comprehend their overall objective.
Candlestick Arrangement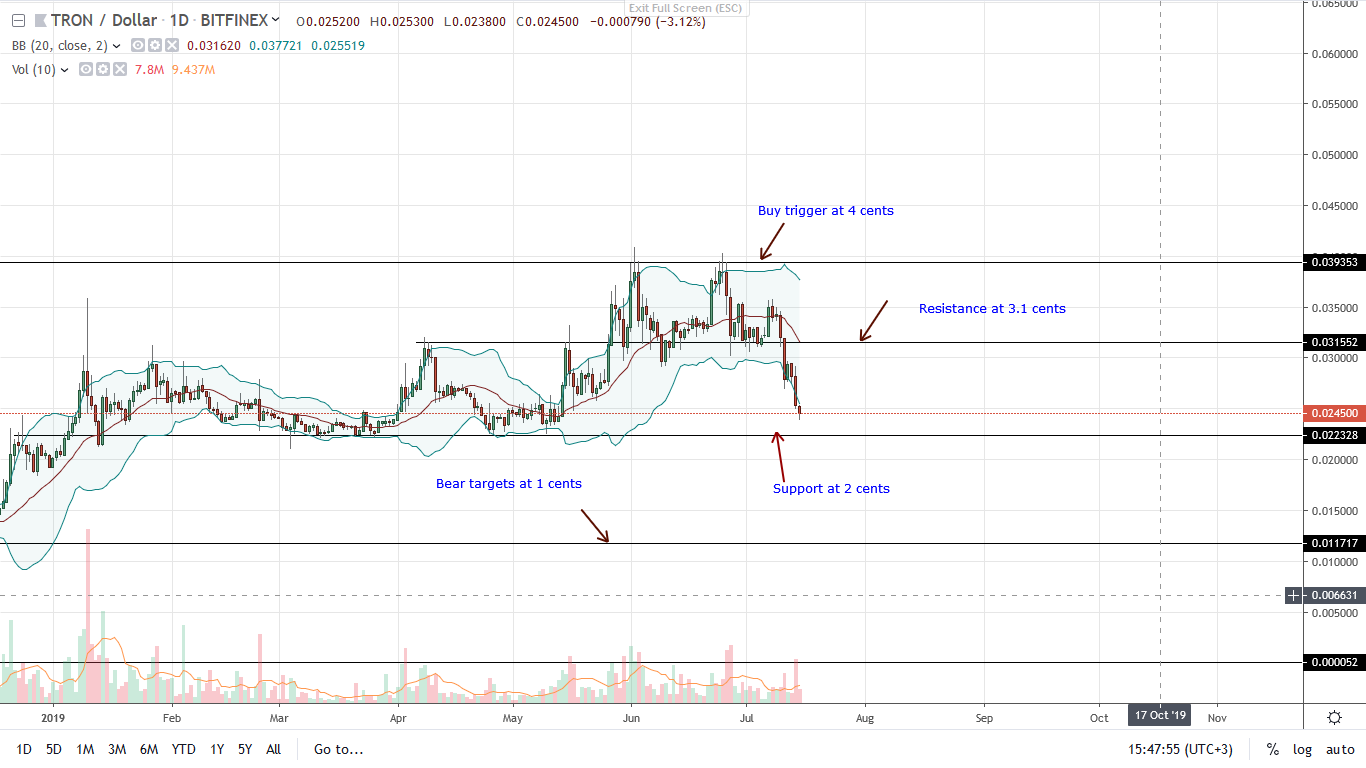 Like most altcoins, TRX is down 29.1 percent in the last week and back to the critical support line. By nullifying buy proposals following the breach of 3.1 cents, bears are in the driving seat.
Even so, while traders are positive of a price recovery, it all depends on the reaction of asset prices at 2 cents. Presently, sellers are pressing lower, and as bear momentum builds up, TRX bear candlesticks are banding along the lower Bollinger Band (BB).
All the same, 2 cents mark Q1 and 2 primary support and significant in this TRX/USD trade plan. Therefore, it is imperative that TRX prices find support at this level. If not, chances are prices may slide to all-time lows of 1 cent in a bear trend continuation.
Technical Indicators
Because of the above candlestick arrangement, June 27 bear candlestick correcting the over-pricing of June 23 to 25 leads this trade plan. It has high trading volumes of 32 million. Since 2 cents is the main support line, a reaction that will either lead to price degradation or recovery must be distinct. As such, the leading bar must be with high participation equal to or above 32 million. That will either spark buyers aiming for 3.1 cents or catalyze a dump towards 1 cent.
Chart courtesy of Trading View. Image Courtesy of Shutterstock