In a recent World Bank report, it was found that the Ukrainians received the maximum of remittence money — around $8.5 billion — from its diaspora in Europe last year. The figures, as noted by the National Bank of Ukraine (or NBU), were found to be higher than what was recorded in 2012 — before the Russian conflict took place.
It has been assumed that the Ukrainian diaspora have certainly been focused upon the nation's confrontations with war and recession. Money arriving from foreign locations, to some extent, was helping the nation as it underwent poor economic conditions. It has been a significant revenue for Ukraine in the past few months, indeed.
In parallel to the said political and economical turmoil, there was also a group that was leaving no-stone-unturned to solve these issues. Just two-weeks back, this group presented a multifaceted solution before the NBU, something that promises to improve Ukraine's poor investment climate and degrading remittence sector up to some extent.
As a result, we are now seeing Ukraine taking revolutionary steps towards regulating Bitcoin, a disruptive and decentralized payment technology promising a new dawn for the nation's financial sector.
Changing Vectors
Mikhail Chobanyan, the founder of the aforementioned digital currency advocacy group, the Bitcoin Foundation Ukraine (BFU),  brought up the idea of coexistence between NBU-backed national currency Hryvnia and a decentralized digital currency Bitcoin. In his report to the central bank's representatives, Chobanyan discussed their mounting IT outsourcing figures in the FinTech initiatives, a large part of which is dedicated to Bitcoin, and other banking service applications.
He further described that how with friendly regulation, Ukraine can change the flow towards its end, saying that these developments should not only benefit beneficiaries in foreign companies and governments, but must also focus to "change the vector" towards their own development — technologically and economically.
"Big business and investors are waiting for will clear rules of the game," Chobanyan added. "They are beginning to develop basic infrastructure in the form of stock exchanges, payment service providers, integration with the banks."
Replicating New York's BitLicense
In order to achieve the said objectives, Chobanyan proposed NBU that they should follow the footsteps of New York Department of Financial Services (NYDFS) in sketching out a legal framework for Bitcoin — a very own BitLicense for Ukrainian digital currency sector. He further called on the State Services of Financial Monitoring to support the license.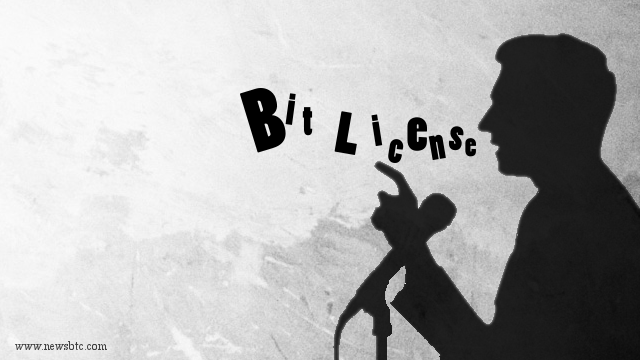 However, Chobanyan asked for a self-regulated environment for the digital currency sector, in which the companies would be allow to establish rules that seems to be drawn only after the consent of the concerned government bodies.
"We propose a self-regulating organization in the face of Bitcoin Foundation Ukraine," he told CoinTelegraph. "So the rules will be created by the Bitcoin community itself and not by the government. Of course they will be coordinated with the NBU, as we require banks to work with the exchange."
BFU has meanwhile published the first draft of this so-called Ukrainian BitLicense. It can be read here. Unfortunately, no translation of this document is available as per now. You are recommended to use Google Translator.
Government Response 
As stated, the proposed Ukrainian Ordinance is almost a replica of New York's BitLicense; and as Chobanyan, it has received thumbs up from the financial sector, mainly the NBU and the commercial banks in Ukraine.
"There are of course extreme libertarian supporters, but they are in minority and usually do not engage in any business," he added.