Pro-bitcoin Senator Cynthia Lummis of the United States is planning to present a comprehensive crypto bill next year that will explain how different digital assets will be classified and taxed.
Pro-Bitcoin Senator Proposes Crypto Bill
Senator Cynthia Lummis, a Bitcoin evangelist, plans to introduce a comprehensive crypto bill in the new year.
Lummis' proposed bill, according to Bloomberg, aims to establish regulatory clarity on stablecoins, instruct regulators on which cryptos belong to which asset classes, and provide consumer protections. In addition, the senator is said to have advocated forming an institution to regulate the crypto market under the joint jurisdiction of the Securities and Exchange Commission and the Commodity Futures Trading Commission.
The bill would be one of Congress' first attempts to create comprehensive crypto legislation, and it would have to pass through a Senate that is divided on the issue. Meanwhile, officials at the Federal Reserve, the Treasury Department, and other agencies are considering their own regulations for various aspects of the cryptocurrency industry.
On Twitter, Lummis urged Americans to contact their senators and encourage them to support the bill, adding that she was looking for bipartisan cosponsors. Despite being a staunch conservative who voted against a commission to investigate the Capitol attack on Jan. 6 and against impeaching the former president, the Wyoming worked with Democrats Mark Warner and Kyrsten Sinema to "fix" the definition of broker in the infrastructure bill signed into law in November.
Welcome bipartisan cosponsors! Please encourage your senator to reach out and consider it. https://t.co/ndIfFAkj0L

— Cynthia Lummis ? (@CynthiaMLummis) December 23, 2021
Any bill introduced in the Senate would need the support of at least 60 senators to be considered for a vote. Democrats currently have 50 of the Senate's 100 seats, with Vice President Kamala Harris acting as a tiebreaker in the event of a tie.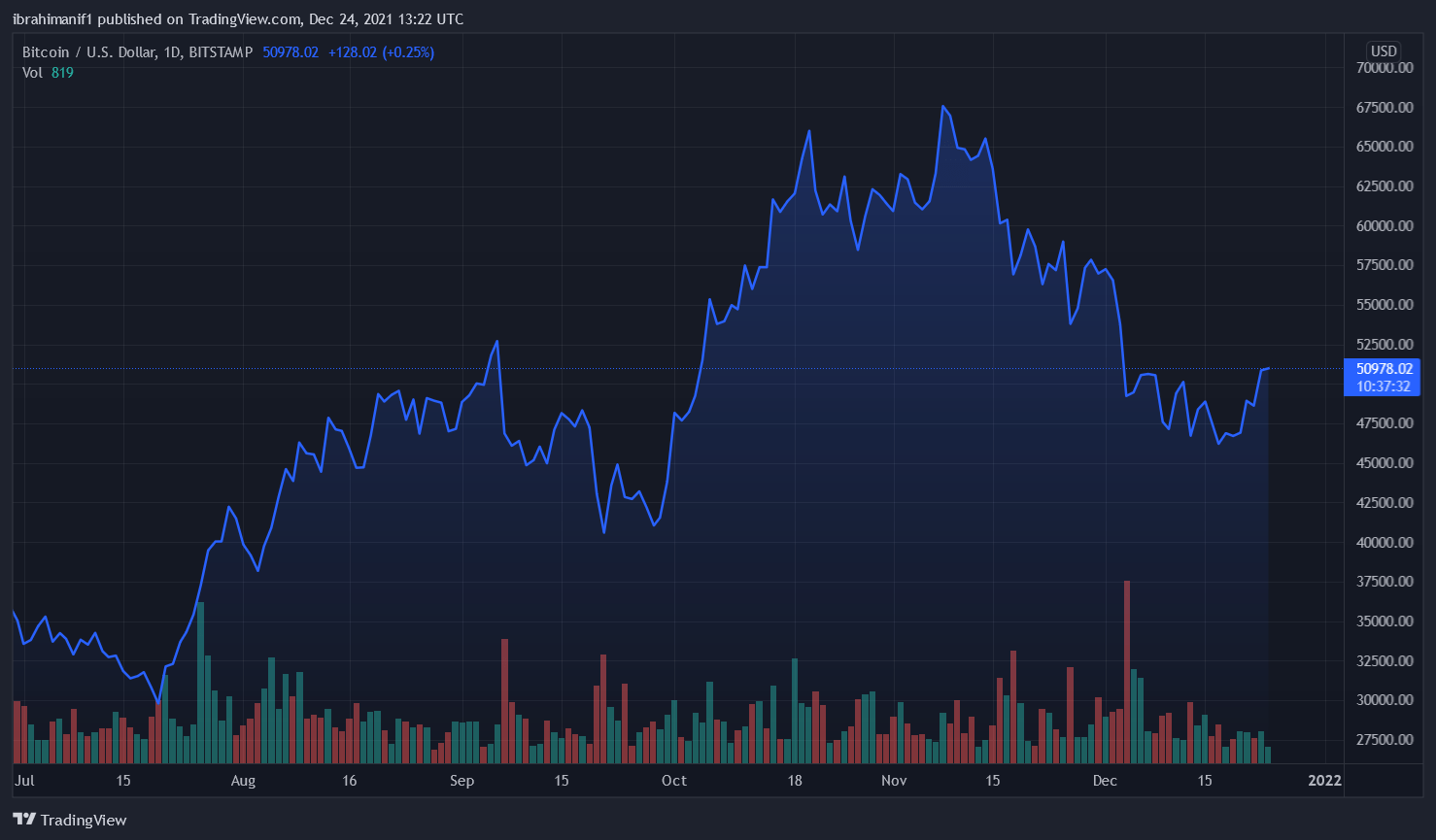 Bitcoin needs to Hold $51k has support. Source: TradingView
Related article | Crypto Needs Regulation If It's Going To Survive, Says SEC Boss
Senator Lummis Owns Bitcoin
Lummis declared she purchased Bitcoin (BTC) worth between $50,001 and $100,000 as part of the Stop Trading on Congressional Knowledge Act, despite being a pro-Bitcoin advocate before being elected to the Senate.
Lummis has been vocal about Bitcoin and its advantages, as well as her support for the technology. In November, the senator drew a line between Bitcoin and other cryptocurrencies, saying that the peer-to-peer monetary network is "fully decentralized" and "clearly a commodity," while "everything else has to be monitored differently," comparing their behavior to that of stocks.
Lummis has previously chastised her colleagues for voting to raise the US debt ceiling by $480 billion, stating that Bitcoin is a gift from God in the face of bad government policies.
Her support for the crypto industry prompted her to write an op-ed for the New York Times, urging Congress to block the nominations of Jerome Powell and Lael Brainard to the Federal Reserve Board of Governors because of their "political approach to digital assets" in her home state, which has passed a number of crypto-friendly laws.
Related article | Paraguay's Passes Bill To Regulate Crypto, Targets Mining Companies
Featured image from Pixabay, chart from TradingView