Former JP Morgan executive Blythe Masters has agreed to become the chief executive officer of Digital Assets Holding LLC, a New York-based Bitcoin trading company.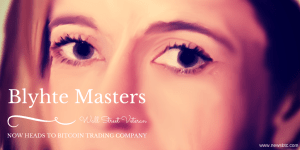 An acclaimed Wall Street banker by profession, Masters, 45, is credited as the creator of modern credit default swaps back in 1994. In her own words, she is not a fan of Bitcoin but do appreciate its underlying technology that emphasis on better transparency.
Basically, it was the 2008-financial crisis that inspired Masters to look beyond the traditional methods of economical trust. Bitcoin was itself born as an answer to the manipulative financial meltdown of 2008, and therefore introduced a mechanism to record every transaction information on a public ledger, known to us as blockchain. This one factor clearly explains the reason behind the unification of a Wall Street veteran and an emerging payment technology, which is to demolish lack of transparency and interconnection from the future financial system.
The introduction of Digital Assets as a platform therefore makes perfect sense. The company, which is scheduled to launch today, has revealed its plan to build a sophisticated trading platform to trade digitally created traditional financial assets, as well as digital currencies. Bitcoin's blockchain technology, as explained by the new CEO herself, will simply shake up the old and outdated centralized finance model. "But it would also retain the audit trails, credit limits and other checks and balances that help secure that traditional system," she said.
Masters also predicted Bitcoin market to extend its existing limitations, once the Digital Assets Holding's financial challenge is met. The digital currency, she added, would be used in a number of mainstream financial assets such as private equities and business loans.
There will however will be certain challenges that would need to be addressed. The first and the foremost is the probability of counterparty risks that had plagued many Bitcoin companies in past, the most notorious being the demised Japanese Bitcoin exchange Mt. Gox. The other, and a relatively minor hurdle, would be to impress regulators to receive a flexible working environment.
Nonetheless, this event has further pushed Wall Street towards the once-ignored Bitcoin sector.