Welcome to the latest edition of the NewsBTC Weekly Bitcoin Recap, where we highlight our top stories of the week. Let's take a look at the biggest headlines for the week of February 8-14, 2015.
1. Hong Kong "Bitcoin Exchange" Mycoin Reportedly Goes Bankrupt – as reported on February 9th.
Hong Kong-based Bitcoin exchange MyCoin.hk is reported to have gone bankrupt, taking away US$390 million worth investors' funds with it. In reality, only 8.1 million was stolen from gullible ponzi scheme victims.
According to The South China Morning Post, the lost money belongs to a total of 3,000 exploited MyCoin customers who all were promised double returns in over a year.
2. Feds Seize $25k in Bitcoin from Software Piracy Racket – as reported on February 10th.
Federal officials recently raided a software piracy racket and seized a wide range of upscale assets, which includes a huge chunk of digital currencies Bitcoin and Litecoin.
Per the available information, the alleged software counterfeiting organization — known as Technolutions — had around 105 BTC and 999 LTC, which were held by its alleged operator Rex Yang.
According to the court documents, Bitcoin and Litecoin are doubted to have been used as a payment mechanism for selling illegal software. A majority of the coins were first bought from Coinbase by accounts held by Yang and other individuals. The document however does not reveal the extent at which Bitcoin and Litecoin facilitated Technolutions.
3. BitX Brings its Bitcoin Services to Indonesia – as reported on February 10th.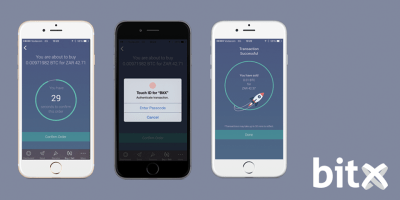 BitX has recently opened an office in Jakarta, the capital of Indonesia, thus bringing its services to a population consisting of approximately 252 million people.
With the move to Indonesia, BitX is opening more doors and looking to heighten its level of service all across Asia.
The CEO of BitX explained the reasoning behind Indonesia, and why it was a prime choice for building new territory, stating:
We believe that the biggest opportunity for cryptocurrencies is in emerging markets… These are markets where financial systems are often inefficient… We believe that cryptocurrency technology can have a huge social impact on these markets by making it easier and cheaper to move money.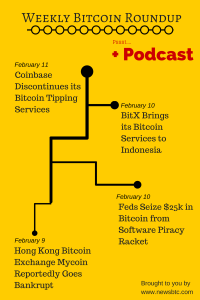 4. Coinbase Discontinues its Bitcoin Tipping Services – as reported on February 11th.
Bitcoin wallet and exchange Coinbase has announced its plan to discontinue its Bitcoin tipping services effective April 1st this year.
As stated in the company's blog, the reason behind their sudden withdrawal from micro tipping business is ChangeTip — another bitcoin tipping service which has been dominating the market.
Coinbase further announced that it would encourage its existing tipping customers base — around 10,000 individuals — to move to ChangeTip. "We'd like to support them instead of competing with them," stated the company's blog while describing how ChangeTip is one of the excellent companies utilizing Coinbase APIs.
That does it for this week's NewsBTC Weekly Bitcoin Recap. Be sure to signup for our newsletter and follow us on Facebook and Twitter for all the latest Bitcoin news. To the moon!