Bitcoin price under pressure
Liquidity to take a hit as Binance undergoes maintenance
Transactional volumes dropping, average at 7k—data streams from BitFinex
Beginning 2 AM UTC, Binance will be under maintenance for eight hours. During that time, Bitcoin (BTC) may come under renewed liquidation that could see it drop towards $3,800.
Bitcoin Price Analysis
Fundamentals
Binance is the world's largest exchange by adjusted volumes, and, therefore, a leading source of liquidity for crypto assets including BTC. Tomorrow, the exchange plans for a scheduled maintenance that from 2 AM UTC for eight hours.
#Binance System Upgrade Noticehttps://t.co/3IFDqDzTVm pic.twitter.com/u2TBaYeVh7

— Binance (@binance) March 11, 2019
While such support is a non-issue in traditional exchanges, it is the 24/7 operation of crypto that forces this choice. If anything, this is a hard choice, a balancing act, which Binance must make to ensure high reliability while simultaneously safeguarding user funds from malicious agents always searching for vulnerabilities.
In that case, we expect a dip in volumes right in the middle of a working day in Japan and South Korea. Japanese and South Koreans are ardent crypto fans, and most trading volumes originate from these locations.
Perhaps the aura of caution is a reminder of the Q4 2018 pains. A few days before the contentious Bitcoin Cash hard fork, Binance was taken offline for eight hours in another scheduled maintenance.
Candlestick Arrangement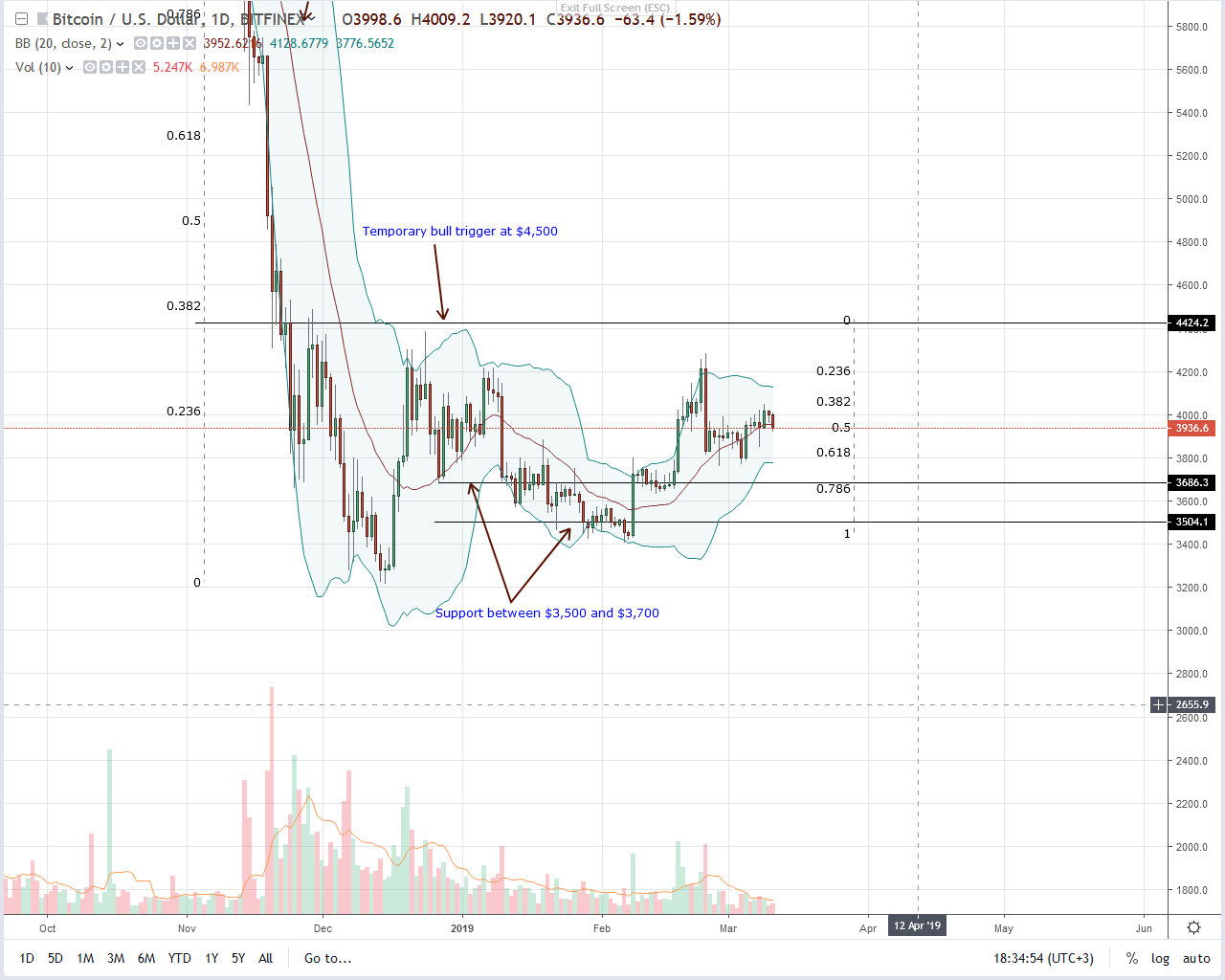 As of this writing, Bitcoin (BTC) is stable and up 1.2 percent from last week's close. Although traders and investors are cautious, our bullish stance is valid. To that end, every low should be another level of readjustment, a loading zone with modest target at $4,500—Dec 2018 highs.
However, considering headwinds of the last few days, bears of Feb 24 may flow back triggering liquidation. That will be the case if candlestick arrangement is our guide. If we paste a Fibonacci retracement tool at Feb 24 high low, then it is clear that bears are flowing in at the 50 percent Fibonacci level, a key reaction point.
Bitcoin (BTC) buyers need to support prices to prevent liquidation towards Mar 5 lows of $3,800. Otherwise, by today's close we shall have a three-bar bear reversal pattern. If confirmed, a drop towards $3,800 will be highly likely.
Technical Indicators
Feb 24 wide-ranging, high volume bar defines our price action. Like we have mentioned above, we need a complete reversal of Feb 24 losses. Accompanying that thrust above $4,500 or Feb 24 highs should be high transactional volumes exceeding recent averages of 7k and 36k of Feb 24.