Though sellers are back, XRP is up 50 percent on a weekly basis. That's down 50 percent from early this week when XRP prices were trading at around 60 cents. Still, we retain a bullish overview expecting buyers to pick up and even drive prices back to 80 cents by the end of the year. When we factor in everything, prices might get a boost during Ripple's SWELL conference. That's when thought leaders and policy makers from all over the world are expected to deliver their key notes.
Latest Ripple News
The excitement in the crypto space can be traced back to the super-performance of XRP from Sep 18 to Sep 21 when it peaked. At one point, XRP prices rallied to 80 cents representing a 192 percent gain after prices exploded from our 25 cents, a key support point in our analysis.
…and we're off! Let's see how high @Ripple can pump $XRP before their Swell conference Oct 1-2. My first $USD target is 43-45 cents. pic.twitter.com/XZwMp9RakX

— The Crypto Dog? (@TheCryptoDog) September 20, 2018
Overly, the same sentiment prevails but with a 20 percent dip in the last day and a simultaneous expansion of Stellar Lumens, XRP might as well slow down. The decline in XRP valuation isn't a fake break out or another shake out.  Rather this should be seen as an opportunity for buyers to add to their positions now that prices are at ideal buy territory between 45 cents and 55 cents.
#Ripple – #Swell conference 10/1-10/2 notable speakers:

Bill Clinton
Gene Sterling
Ed Metzger
Archari Suppiroj
Ross Leckow
RJ Pittman

(Attendees are from SEC, Santander, IMF, EBay, Ex Whitehouse Commander/Advisor)

Who's ready for this event ? $XRP pic.twitter.com/l9dTPrMaSg

— VF (@VisionaryFinanc) September 25, 2018
From a fundamental front, SWELL conference scheduled at Oct 1 and 2 could end up boosting prices. On focus will be Bill Clinton, the former US president, speech. Bill is a visionary who fast-tracked the growth of US economy during his tenure between 1993 and 2001. Another noteworthy attendee is Ross Leckow, the Deputy General Counsel to the IMF. His attendance has overly positive signalling a changing attitude towards cryptocurrencies by the IMF.
XRP Price Analysis
Weekly Chart
In the weekly chart, week ending Sep 23 bullish engulfing pattern did confirm a bottoming market. Not only did XRP prices surge but the fact that volumes were high was enough to signal the entry of bulls and the potential reversal of this year losses.
Though the candlestick ended with a conspicuous long upper wick signaling resistance to uptrend and some overvaluation by the end of the week, buyers did handle the slide rejecting lower lows before close.
Note that XRP, like competitors, has experienced deep losses with prices correcting more than 90 percent before last week's gains. As observed in cryptocurrencies, these corrections are deep and coincides with historical reversal levels. Not surprising, this is where XRP prices flew from.
Daily Chart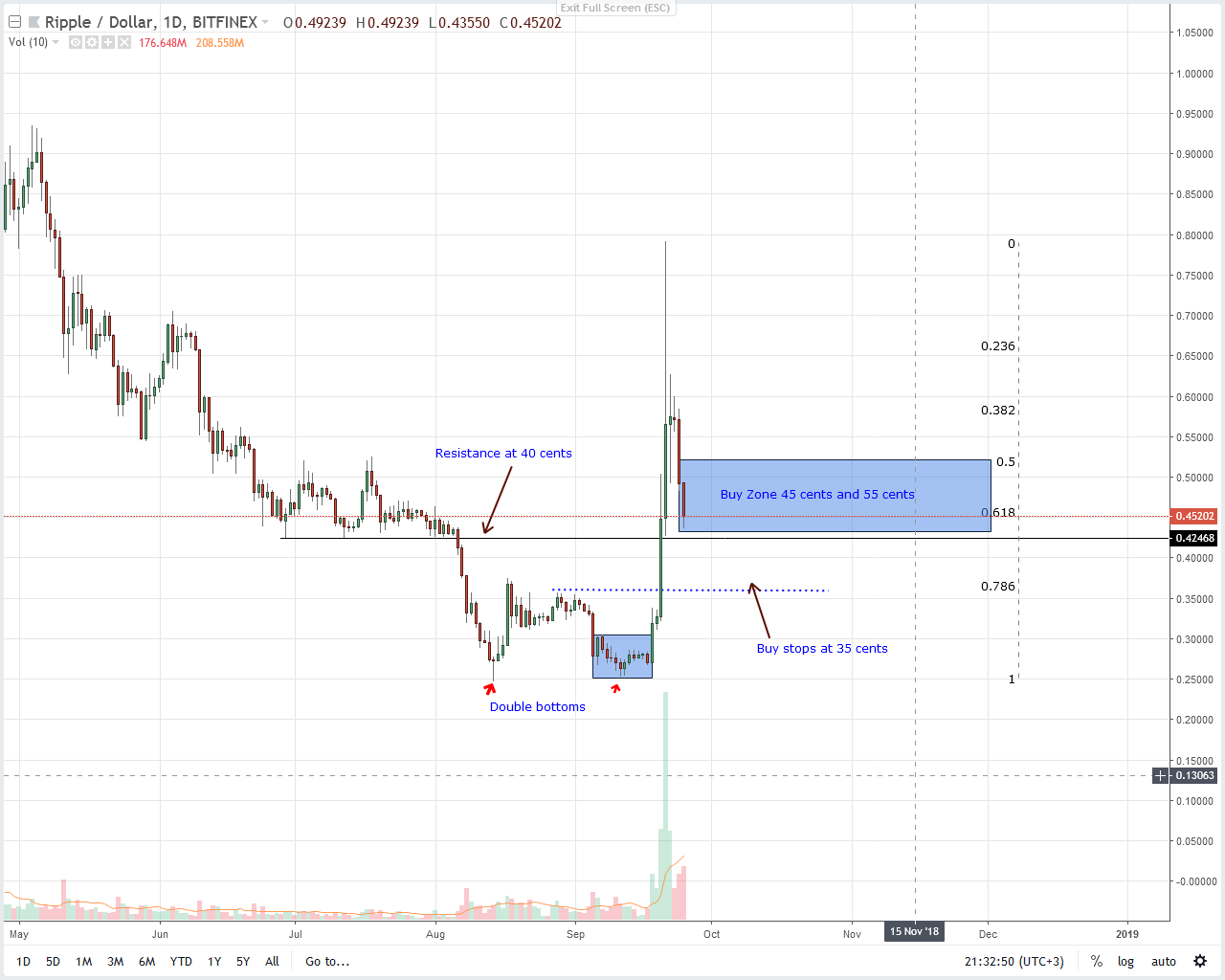 Considering how rapid price action has been in the last week, mapping out potential reversal points was of prime importance. Therefore, when we paste a simple Fibonacci retracement tool between last week's high low, we realize that prices are reversing from our previous resistance zone now support at around 45 cents and 55 cents flashing with 61.8 percent and 38.2 Fibonacci retracement levels.
With this traders can trade in line with last week's trend buy loading up at spot rates. Targets are at 80 cents aligning with previous XRP price predictions.
Disclaimer: Views and opinions expressed are those of the author and aren't investment advice. Trading of any form involves risk and so do your due diligence before making a trading decision.