Ripple is on a partnership spree. Perhaps that's why there are a lot of fundamental developments propping XRP as a viable investment. From Coil, Omni and news of The Bill and Melinda Gate Foundation probable use of the RippleNet as they deploy Mojaloop, the foundation is set for XRP. On a technical front, prices are stable and bullish from a top down approach. Therefore, despite the recent lower lows, bulls stand a chance and could edge higher in days to come.
Latest Ripple News
Ripple as a company has an ambition of creating this internet of value mesh and a platform where financial institutions can easily move funds across the border. In more than four decades where SWIFT, though nothing can be taken away for services is rendered-is slow, expensive and services are not available around the clock.
In the meantime, Xpring an initiative that works towards providing necessary tools for blockchain start ups to flourish as long as they incorporate XRP in their product is working towards promoting a healthy XRP ecosystem. Similarly, Omni, a blockchain startup with operations in the San Francisco Bay area and Portland is the latest to integrate XRP allowing their users to withdraw funds directly to their XRP wallets. It's particularly appealing for crypto curious types who acquire XRP by-passing exchanges.
@coil is working on the #InterledgerProtocol components of Mojaloop to ensure conformance to ILPv4 spec. This unlocks future potential for innovative value transfer use cases over ILP.

— Miller Abel (@MillerAbel_) October 19, 2018
While Omni is live, Coil another creation of one of former Ripple executive Stefan Thomas will be partnering with the Bill and Melinda Gate foundation. Their object is to successfully deploy Mojaloop. Mojaloop is an open source platform that promotes financial interoperability and inclusion more so for systems that can scale and serve the poor.
From all these it's clear that Ripple is working hard and perhaps re-calibrating their objectives as they promote the use of XRP through solutions as xRapid. The portal inherently uses XRP for cross border payment processing.
XRP Price Analysis
Weekly Chart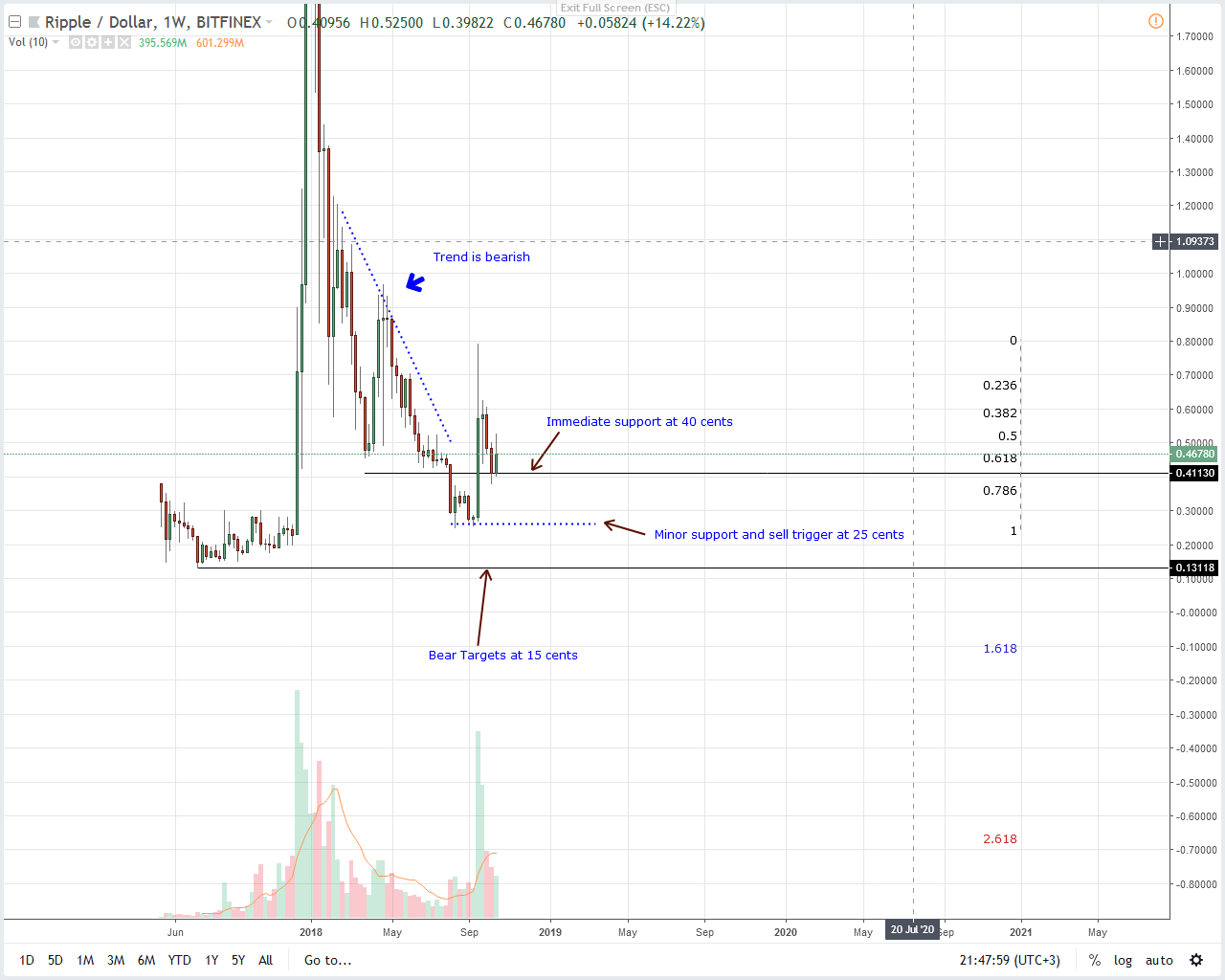 Technically, XRP is bullish and is up 10 percent in the last week. Despite losses, a stand out has been the resilience of buyers. Topping this is their ability to maintain price within our ideal buy zone. The zone, between 55 cents and 45 cents, coincides well with reactive Fibonacci retracement levels.
Like in our previous XRP price analysis, we shall only recommend risk-averse, conservative type of traders to begin loading on every pull back once XRP rally above 55 cents.
Conversely, price retracement that sees XRP drop below the 35 cents to 45 cents support area invalidates this bullish projection. Remember, from an effort versus result scenario, bulls are in charge. This is all thanks to the new-found trend definition set by week ending Sep 23.
Daily Chart
Back to the daily chart and XRP is a stable. Not only are prices consolidating inside Oct 15 high low but the range is so tight. In fact prices are tapering inside Oct 16 bull confirmation bars. Technically, this is bullish for XRP even when we take a top down approach.
Unless otherwise, risk off, aggressive traders can begin loading up at spot prices with tight stops at around 43 cents.
That's just below the 61.8 percent Fibonacci retracement level of September high low. To reiterate,  first target will be at 80 cents and later $1. But $1.65 is not farfetched if we employ a Fibonacci extension tool.
Disclaimer: Views and opinions expressed are those of the author and aren't investment advice. Trading of any form involves risk and so do your due diligence before making a trading decision.