If we may ask a legitimate question, what is draining crypto valuation and XRP in particular? With every new low, there is saturation of theories—flimsy and authoritative. No matter the explanation, it doesn't really matter because at the end of the day, prices are down and your investment in XRP is taking a rather painful hit.
Today we summarize why, despite all the down turns, there are valid and encouraging reasons to stay put and wait for the next big XRP bullish run:
First, let's talk about the welcoming Malta. It's quickly becoming a paradise shedding cryptocurrencies from all regulatory hostilities. While we realize how country's leaders are positioning themselves to potentially tap the next wave of shaping technology, we also recognize that the country overtook South Korea. Malta is now the largest purchaser of XRP according to the latest Q2 Ripple Report.
Secondly, for once let's ignore market cap because that doesn't measure interest from investors. Rather, instead focusing on market liquidity and what it means for XRP is worthy. XRP is a high liquid, on demand crypto that is available in many exchanges all over the world. Quidax is the latest in Africa to list XRP. However, what is catching my attention is how most as Bitrue realize the benefits of making XRP base. Of course, it's unique but the prospects of fast settlements and cost savings is irresistible and sways decision makers.
Thirdly, with liquidity comes independence and we have seen how XRP market participants did sync with Bitcoin. In fact the correlation is waning and that's what the CEO of Ripple Brad Garlinghouse desires. We project that as XRP finds stability and becomes mainstream, its prices shall be moving independent from Bitcoin (BTC).
XRP Technical Analysis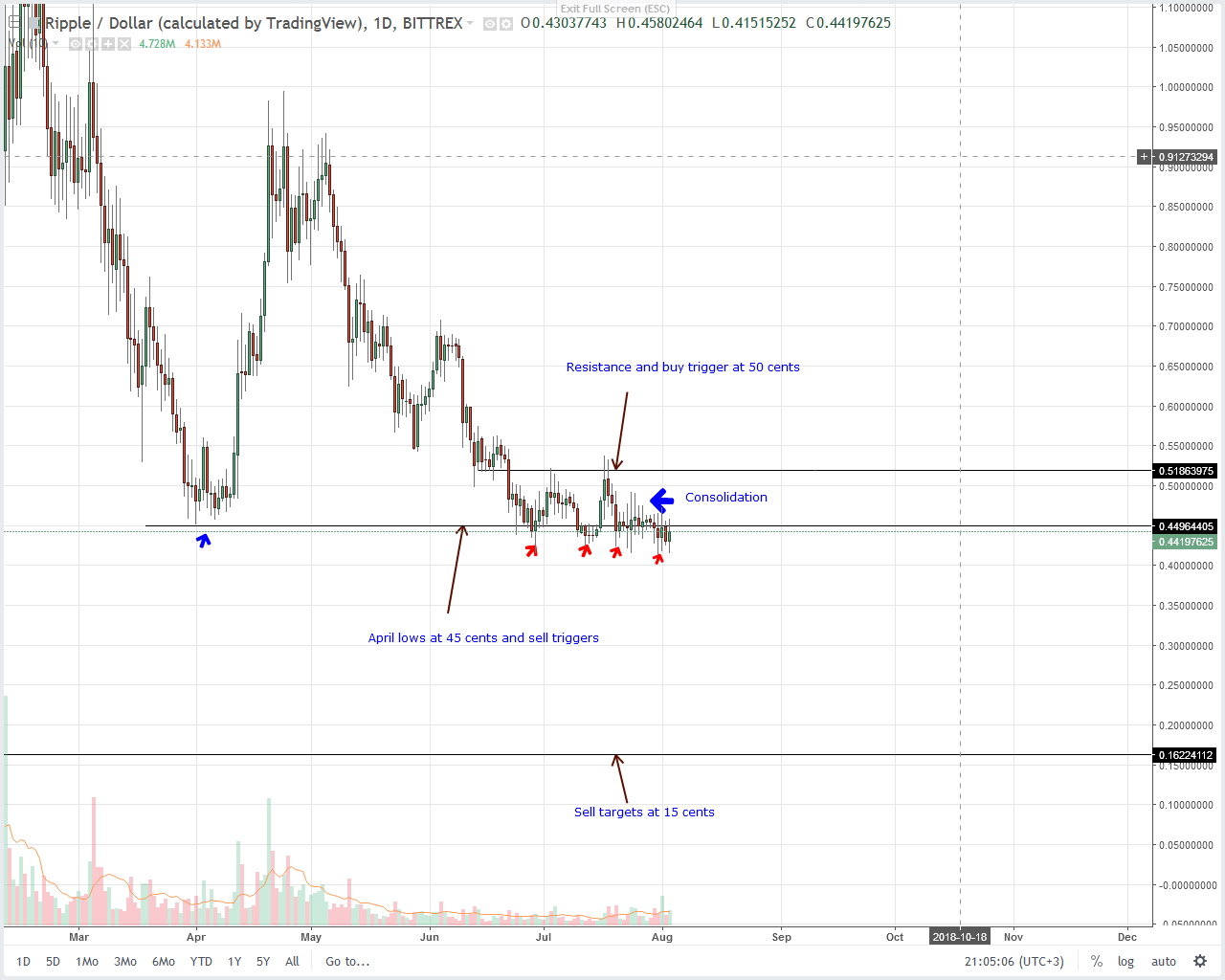 Overly, without sounding too repetitive, XRP traders are literally struggling to turn a profit-either long or short. It has been so for the last 61 days following that strong bearish engulfing pattern of June 22. From a technically angle, we have been treating that bar as a bear break out and why not? Its trading range is wide and volumes high.
But, for confirmation of that trade pattern and in line with our previous XRP technical analysis, we need strong break below 40 cents. The area between 45 cents and 40 cents marks our support and only then could we begin initiating shorts with targets at 15 cents. We were anticipating that to happen before the weekend but XRP for some reason found support and is up back and trading within a tight trade range. This means we are back to neutral.
All I'm saying is that we should be positive until after we see strong, convincing breaks above 55 cents. That's when we should begin ramping XRP longs. Remember: the longer price accumulates, the stronger the break out, we have seen this happen many times before.
Disclaimer: Views and opinions expressed are those of the author and aren't investment advice. Trading of any form involves risk and so do your due diligence before making a trading decision.