Latest Ripple News
From recent events, the US SEC is definitely alert and "hunting". Days after news emerge that the regulator had settled with Floyd Mayweather and DJ Khalid for promoting a security token, the regulator tried to issue a preliminary injunction against Blockvest.
Read: FBI Arrests AriseBank CEO for $4 Million Crypto-Related Fraud
However, their efforts were thwarted by a San Diego Judge, Gonzalo Curiel, who ruled after a series of court hearings and supporting documentations from both the coin issuer—Blockvest and the SEC—who sought to freeze assets and demonstrate that Blockvest were selling investment contracts and lying to investors that they had the approval of the SEC while illegally using the logos and seal of the CTFC and the National Futures Association  (NFA)—that the latter did not supply compelling evidence to indict Blockvest.
Wait, woah, court denies preliminary injunction in SEC v. Blockvest. Says test BLV tokens were not securities based on evidence b/f court. Reading opinion. More to follow. pic.twitter.com/sLlF62KfOY

— Palley (@stephendpalley) November 28, 2018
Well, this is important especially for XRP investors. Remember, back in 2015 Ripple Labs was fined $450,000 for selling XRP without registering with FinCEN and for failing to implement KYC rules. Then again, Ripple–despite their attempts to implement a decentralization strategy—still holds a majority of XRP.
Also Read: UK's FCA Investigates 50 Firms Suspected of Unlicensed Crypto Operations
So, it doesn't matter if the plaintiff expects compensation or not, it all depends on the how the judge interprets the Howey Test and if investors were "expecting profits" for their "investment".
https://twitter.com/codetsunami/status/1008163939408998400
If it is found that Ripple and Brad Garlinghouse did sell XRP urging investors to expect profit, then the SEC won't hesitate to swing the hammer, crashing hopes and dreams in the process.
XRP/USD Price Analysis
Weekly Chart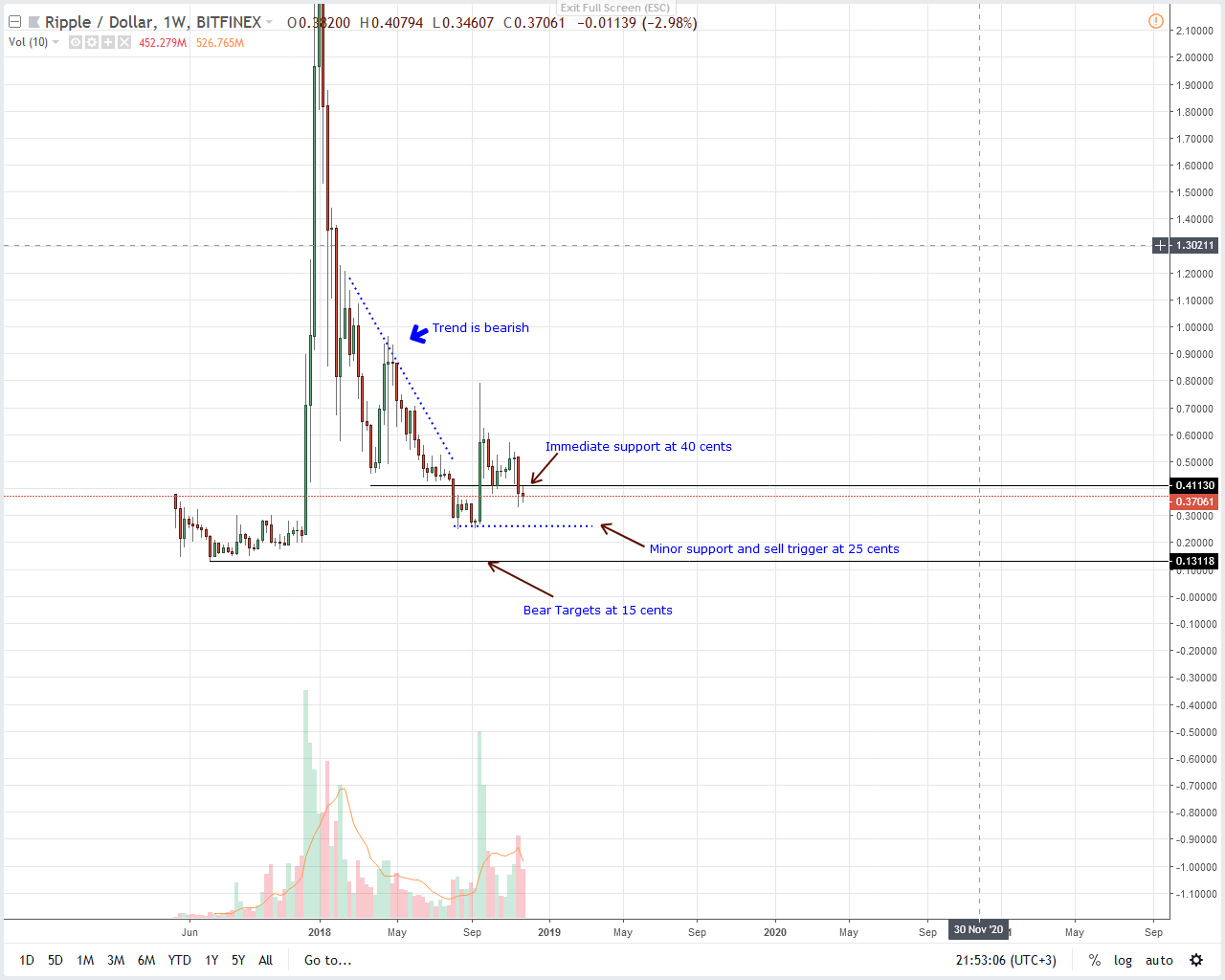 At second, XRP/USD is steady to say the least. Though we retain a bullish outlook expecting prices to snap back and rally above 80 cents, week ending Nov 25 could pour cold water on our forecast.
This is so because for conservative traders to load up then we must first see satisfactory gains above 40 cents and later 60 cents—marking Oct and Nov highs. Before then, bears are technically in control. Besides, the more prices gravitate towards 35 cents, the higher the chances of a break below 25 cents—or Sep 2018 lows.
From the XRP/USD candlestick arrangement, we expect bulls to reign as long as prices are trending above 35 cents—the lower limit of our support zone.
Daily Chart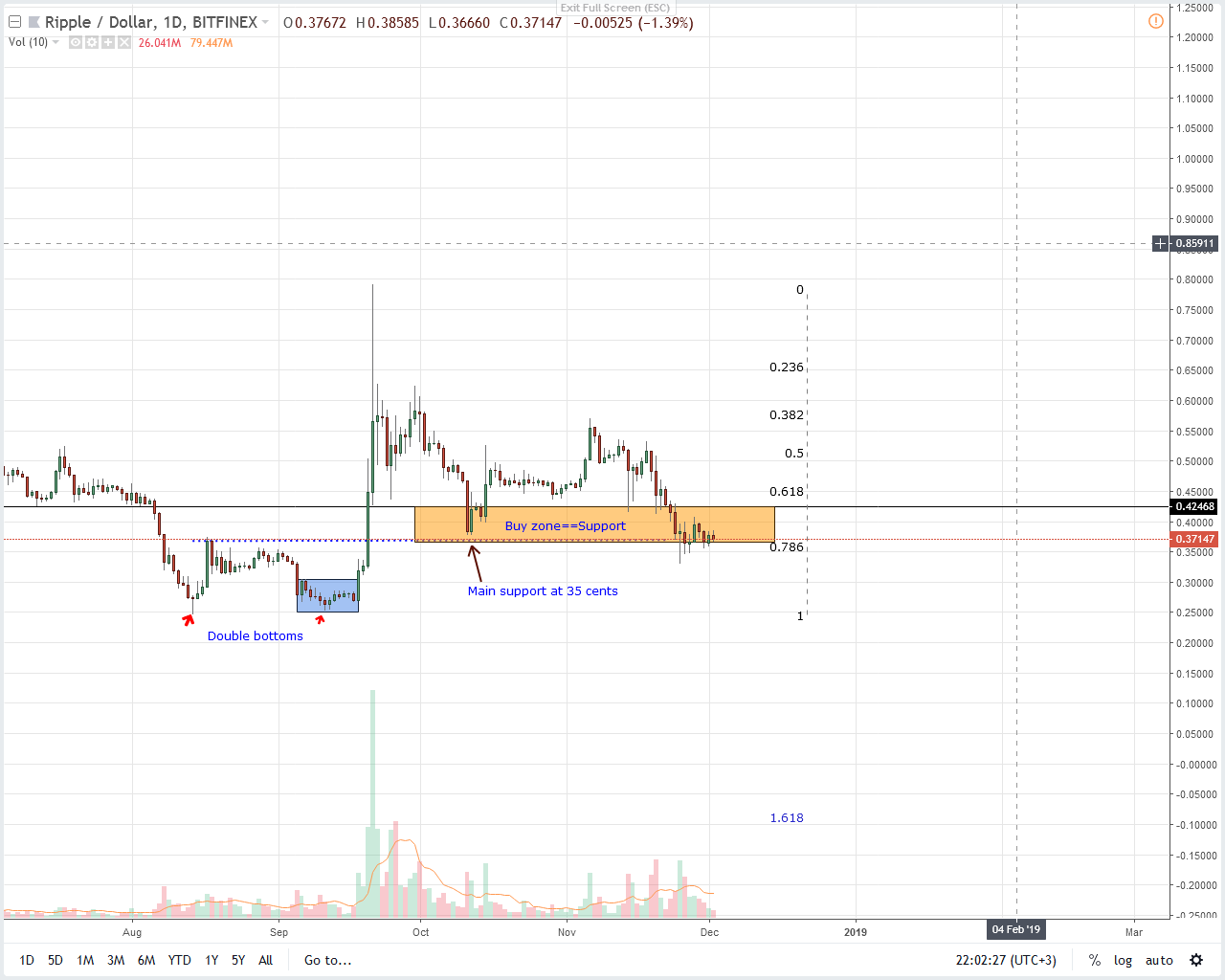 In this time frame it is clear that buyers are in charge and 35 cents is an important support level. We can notice this all because of the failure of bears to break below it despite numerous attempts. Furthermore, XRP/USD price action is still trending inside the high volume pin bar of Nov 25.
Now, since we are net bullish on XRP despite recent lower lows, we shall consider every low a buying opportunity but ideally for assurance, we must see gains above 40 cents or the 61.8 percent Fibonacci retracement level of Sep high low.
Once prices explode above this level, then our first bull target will be 60 cents and later 80 cents in line with our previous XRP/USD trade plans.
All Charts Courtesy of Trading View
Disclaimer: Views and opinions expressed are those of the author and aren't investment advice. Trading of any form involves risk and so do your due diligence before making a trading decision.