Data shows the different Altcoin Indexes in the crypto market have taken a beating during the past week as investors have been flipping alts for Bitcoin.
Bitcoin And Stablecoins Dominance Rises As Altcoins Struggle
As per the latest weekly report from Arcane Research, the cryptocurrency market has observed a correlated decline recently, but altcoins have taken a more substantial hit. The "Altcoin Indexes" here refer to groups of altcoins divided on the basis of market cap. The most popular indexes include the "large caps," the "mid caps," and the "small caps." As their names already imply, they cover coins from different-sized segments of the sector.
Here is a chart that shows how these market-cap weighted Altcoin Indexes, as well as Bitcoin, have performed during the last month:
The values of all these assets seem to have gone down in recent days | Source: Arcane Research's Ahead of the Curve - December 20
As you can see in the above graph, the cryptocurrency market has shown a strong inner correlation recently, as the altcoins have mostly maintained a close rhythm with Bitcoin during the last 30 days. This correlation was especially apparent in the selloff during the past week, as all the Altcoin Indexes sharply fell in tandem with BTC.
Following this latest decline, the large-cap index is 2% underwater for the month, while BTC is still slightly in the green during this period. Both the mid-caps and the small caps have taken on large losses, as their returns in the last 30 days stand at -7% and -9%, respectively.
This disparity in the performance between the altcoins and Bitcoin suggests that investors have been rotating their investments from the risky alts, back into a relatively-safer option in BTC. It would also appear that the largest altcoins still saw some interest from holders, as their returns haven't been too far off from BTC.
The data for the "dominance," a metric that keeps track of the percentages of the total crypto market cap currently being contributed by the various coins, shows that the combined share of Bitcoin and stablecoins has gone up recently: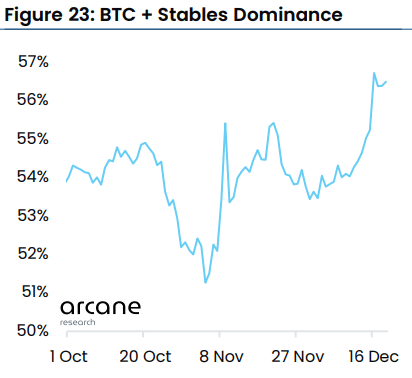 Looks like the value of the metric has sharply surged recently | Source: Arcane Research's Ahead of the Curve - December 20
This 1.2% growth in the combined dominance of these two sectors provides further evidence that investors have been preferring to move out of alts lately.
BTC Price
At the time of writing, Bitcoin is trading around $16,800, down 5% in the last week.
BTC has displayed a stale price action during the last few days | Source: BTCUSD on TradingView
Featured image from Art Rachen on Unsplash.com, charts from TradingView.com, Arcane Research