Small cap altcoins have continued to perform the best out of all the indexes recently, while Bitcoin has accumulated the least returns.
All Altcoin Indexes Managed To Outperform Bitcoin Recently
According to the latest weekly report from Arcane Research, the small caps' outperformance has been fueled by Asia-related tokens. The "altcoin indexes" refer to groups of alts divided based on their market caps.
The indexes, three in total, are based on the Bletchley Indexes and together they represent the top 70 coins in the sector. The "large caps" index is made up of the 10 largest tokens, while the mid caps are the next 20, and the small caps account for the remaining 40.
The main advantage of grouping altcoins like this is that the combined performance of the different sides of the market can be easily compared against each other this way.
Now, here is a chart that shows how the three altcoin indexes (and Bitcoin) have done during the last 30 days: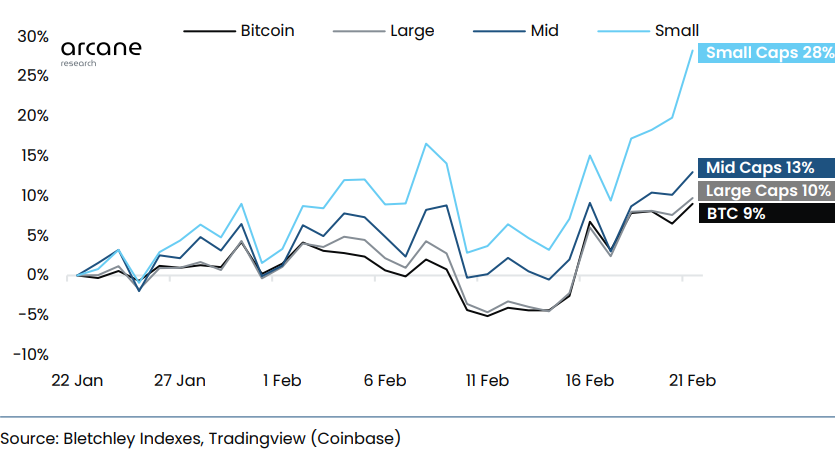 Looks like the small caps have done significantly better than the rest in recent days | Source: Arcane Research's Ahead of the Curve - February 21
As displayed in the above graph, overall, all altcoin indexes have performed well in the last month as they have all amassed double-digit gains during the period. But the performance has certainly not been even across these groups.
The small caps have maintained the greatest returns throughout the last 30-day period, but the gap between them and the rest has especially widened during the past week or so.
Currently, these alts stand at 28% in the green for this period. The next best, the mid caps, have managed gains of about 13%, which are, while still pretty significant profits, much lower than what the small caps were able to get.
The report notes that the strong performance of VeChain (VET) during the past week is one of the main driving factors behind the mid caps ending up as the second-strongest performer in the market.
The large cap altcoins and Bitcoin were the worst performers in the last month, as they were only able to accumulate profits of around 10% and 9%, respectively.
A big reason behind the small caps outdoing the rest has been the strong upside of Asia-related tokens during the past week. For instance, Neo (NEO) has observed massive gains of almost 58% in this period.
The report explains that this strong performance from the Asia-related coins has come after Hong Kong gave signals of more cryptocurrency-friendly regulation, something that has created a narrative of increased participation from Asian traders in the market.
BTC Price
At the time of writing, Bitcoin is trading around $24,100, up 9% in the last week.
The value of the crypto seems to have declined during the past day or so | Source: BTCUSD on TradingView
Featured image from Art Rachen on Unsplash.com, charts from TradingView.com, Arcane Research