Is there a chance of LTC prices testing $420? Well, it depends on how you look at it.
Technically, LTC is reversing  from our expected area of support as shown by the Fibonacci retracement levels drawn from last week's high low. IOTA is also replicating the same set up following that close above the middle BB on December 18.
The question is: Will this continue? What will happen if say IOTA find resistance at $5.56? Do you think this Q3 alt coin rally will continue?
What are your thoughts?
Let me tell you what I think about these crypto-pairs:
NEM SHORT TERM TARGET IS $0.93 BUT PRICE MUST FIRST CLOSE ABOVE $0.80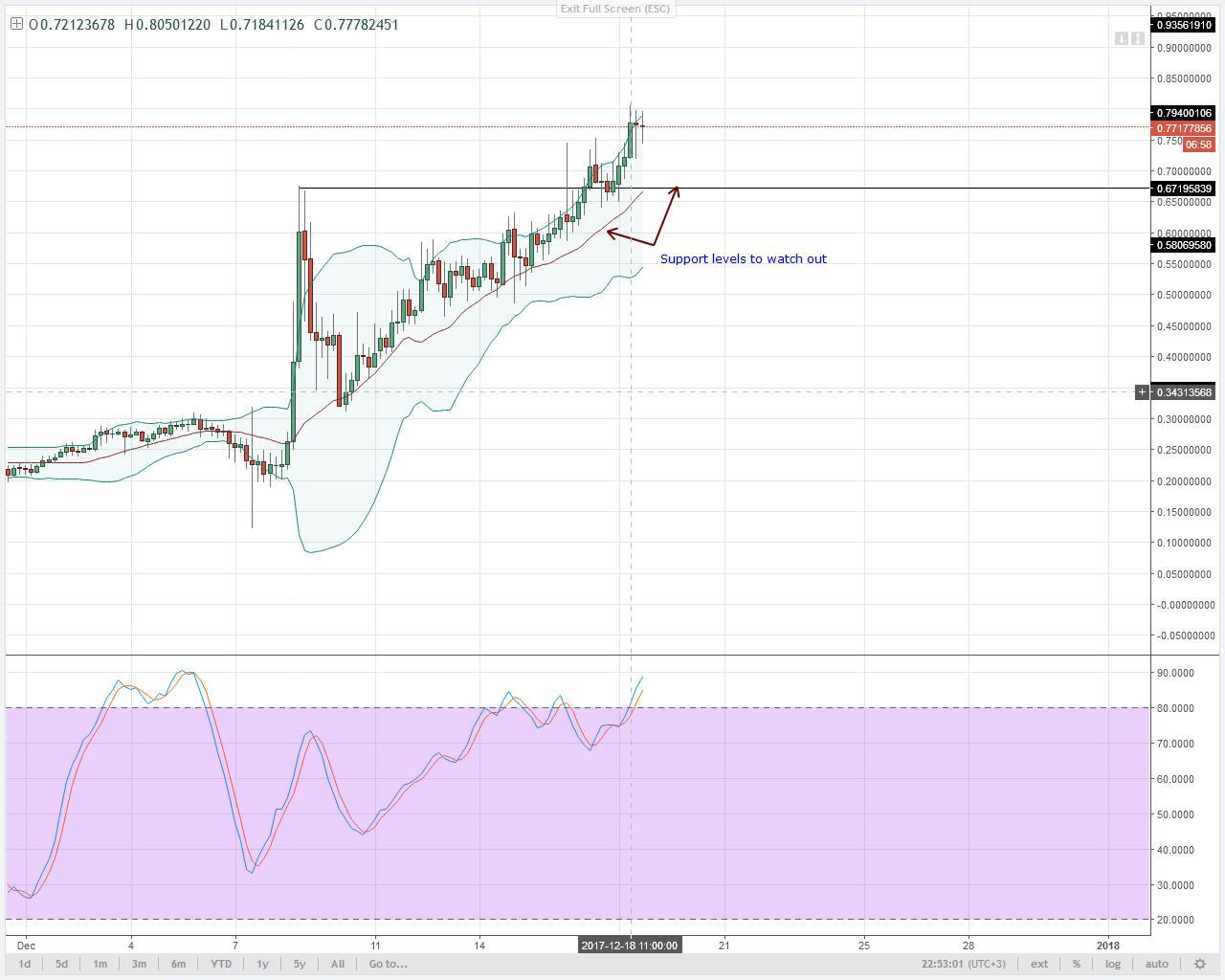 It's no doubt that NEM is rallying and if it this is maintained, then it is likely that NEM valuation will continue rising with the "tide" as they say.
Personally, I will place my first "minor" resistance at last week's highs at $0.80 and that is my mini trigger for going long in case there is a surge. A close above $0.80 will also mean a stop loss below December 8 highs of $0.67.
That $0.13 safety net is a bit tight considering the recent trade range of about $0.20. If this intra-day plan pans out, then I remain hopeful that $0.93 target will be feasible.
CONVERSELY, if bears jump in and nullify this projection, then I will stay out until I'm convinced of a realignment as per the weekly chart trend.
WHAT'S HAPPENING TO DASH?
I was really hoping DASH bears would take over at least momentarily and push prices to even $1000 or below. Well, it didn't and from my own personal judgment, DASH demand is high.
I pasted a Fibonacci retracement tool in the direction of trend between last week's high low and guess what? This minor consolidation is happening at around 23.6%.
It's a Tuesday yes and I  think if there's a trend resumption, the proper and "comfortable" reversal zone should be between 38.2% and 61.8% Fibonacci retracement.
Historically, if prices shoot from there, then we buyers or sellers whatever the case can enter and trade as per the trend.
Now this? I remain doubtful. We are seeing some minor bear divergence but DASH continues to inch higher.
NOW WHAT? IS IOTA PREPARING FOR A LIFT OFF?
Guys, do you believe in contrarian theory? If not, then good! Continue hodling! Hodling even when IOTA seemed to be crumbling can be nerve wrecking especially if you bought at the peaks.
That's after $5.5. See that drop from $5.56 printed on December 12 and yesterday's double bottoms at around $3.4? That's $2 off IOTA and well, you could as well cash out and take a loss like a man.
Technically, I'm convinced sellers are out of the frame and IOTA demand is picking up especially after that double bottom yesterday.
There's a confluence of technical indicators that support our buys. Stochastics are turning from overbought territory and after our middle BB was broken and confirmed on December 13-ooohh what a bad day.  December 18 was the first time in 5 days for IOTA prices to close above this support line.
Lest we forget, there's a close above the minor resistance line which I drew as a support trigger line. Now, we buy IOTA. Play safe and aim $5.5. Limit your losses with a stop loss at $3.5. If you were out, enter and recoup your losses-hopefully!
MONERO IS RALLYING BUT DON'T PULL THE TRIGGER NOW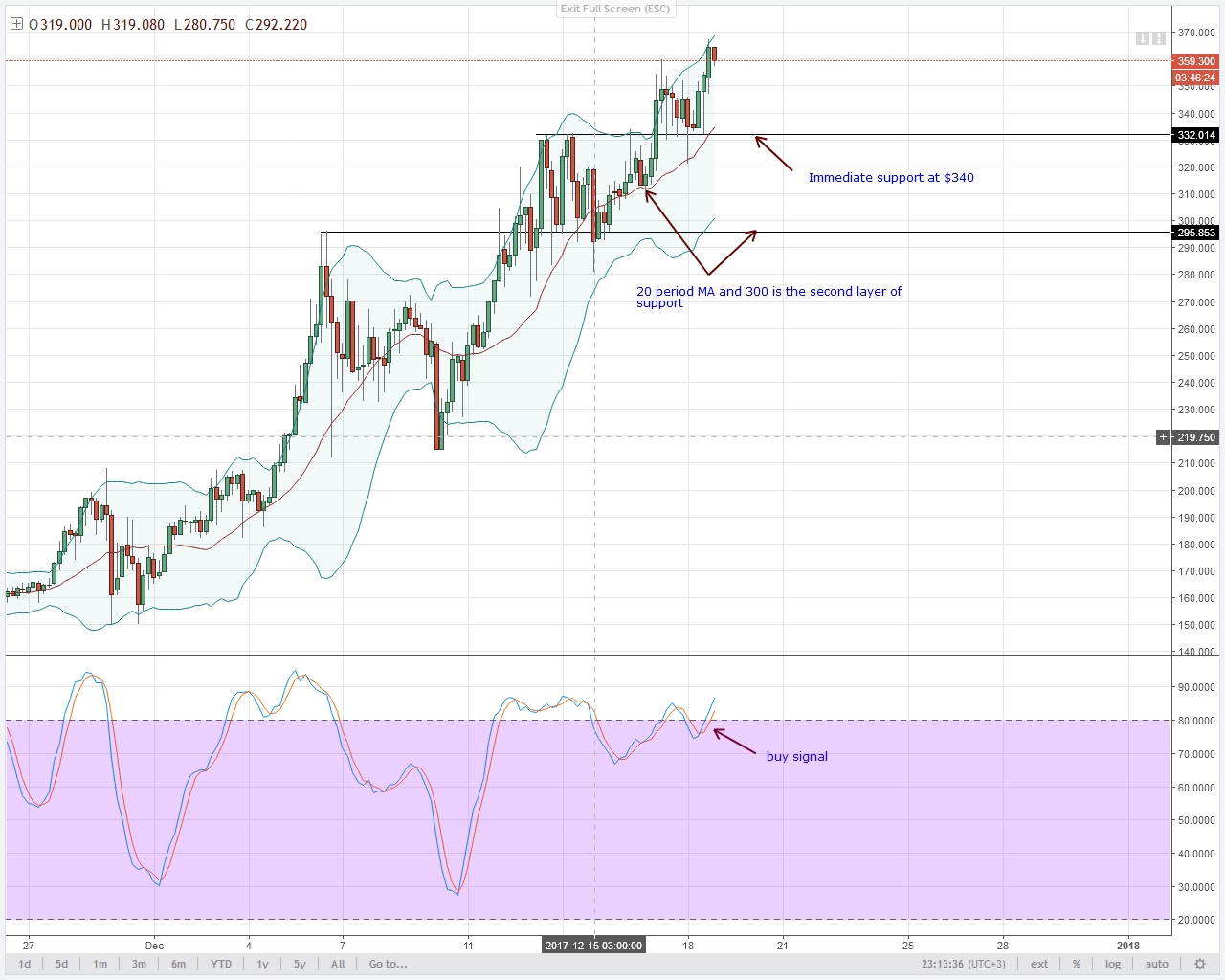 You cannot be sure about Monero, one time you are ecstatic and actually believe that it is heading to the moon only for prices to crumble like a sand castle.
If it's anonymous then today we hope this retest 20 Period MA will actually confirm longs-many traders are long by the way. My interest is around $360. That is last week highs. It no longer holds but the week is still young. Highs like these are often hard to clear or unless I'm missing something.
What I know is, before prices clear $400 -it's only $40 away, the middle BB has to be tested at least thrice. Refer to last week's price action and check out the trend.
Buyers are in charge in the long time frame but with current Monero set up, I will not advise longs unless we have a stochastic buy signal at the oversold territory.
The last time that happened was in October 28 and November 2. They are rare but profitable when it shows.
I'M NOT A SEER BUT THERE'S a 75% CHANCE OF LTC PRICES TESTING $420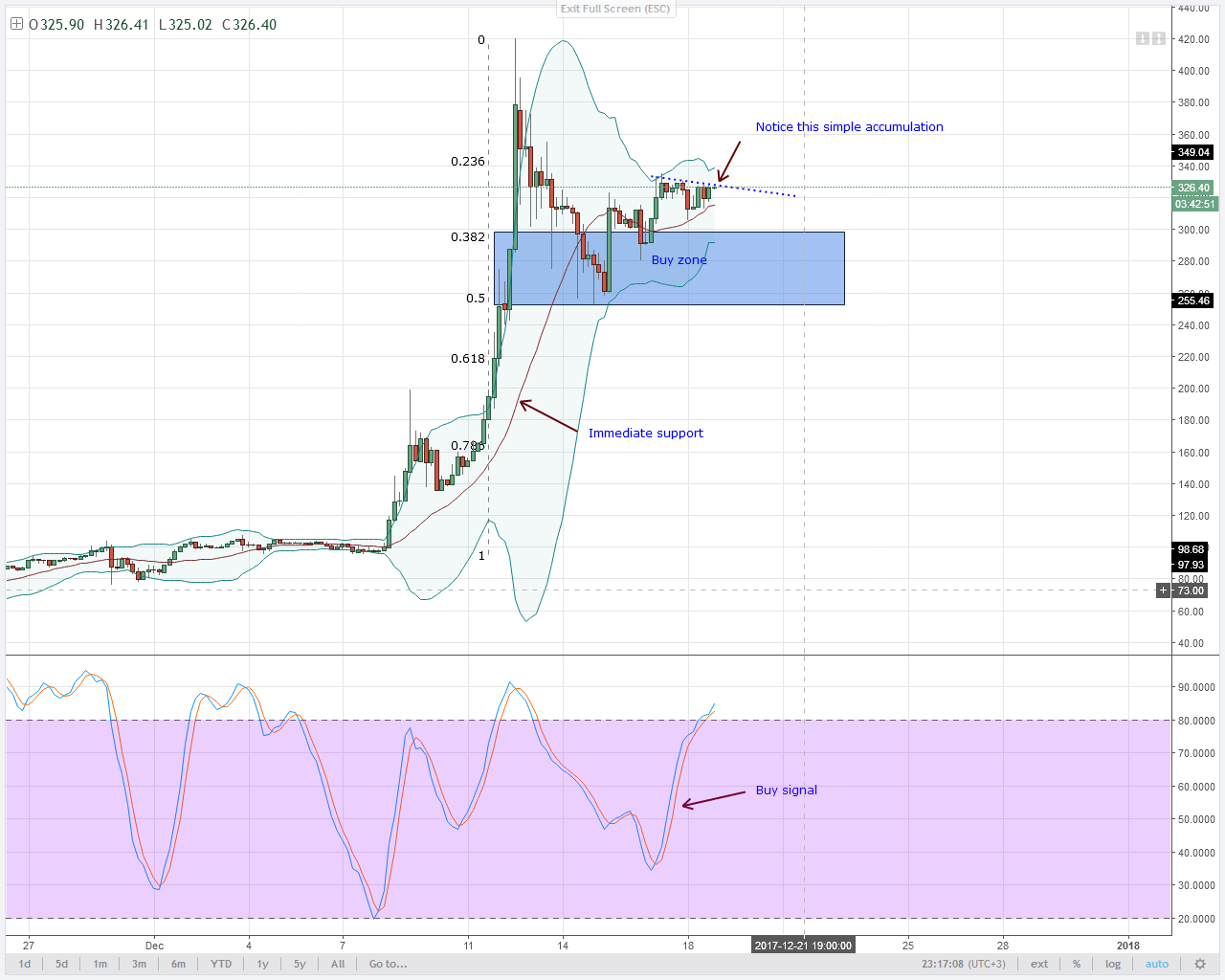 When you are a trader-or pretending to be one, patience is an asset. Right now, you can as well as buy LTC not because momentum indicators have signaled it, but because of Fibonacci retracement.
After lower lows last week, LTC demand is picking up from our ideal reversal levels at around 50% and 38.2%. It's not a 100% buy signal but chances of a retracement to below $250 is low now that the middle BB looks like a reliable support.
I will give it a 75% chance of LTC higher highs towards $420 but trend with caution.
All charts courtesy of Trading View