Litecoin appears to have gained some visibility despite its lackluster price action. The eighth-largest cryptocurrency in the market took the spotlight after Grayscale Investment announced that regulators have given the green light for the sale of shares of its Litecoin Trust to the public.
The new FINRA approved stock will trade under the symbol LTCN within the next month. The move is set to provide investors exposure to the underlying asset while avoiding the pitfalls of buying and storing Litecoin.
"There will be no trading volume in the Shares' public quotations until the respective Shares are DTC eligible, which [LTCN is] expected to receive soon. Investors will be able to buy and sell freely-tradable LTCN shares through their investment accounts in the same manner as they would other unregistered securities," reads the press release.
Following the announcement, a substantial number of old Litecoin tokens began to exchange hands, which could be a sign of incoming volatility.
Idle Litecoin on the Move
Santiment's Token Age Consumed index registered a significant spike in idle Litecoin moving between addresses over the past 24 hours. This on-chain metric measures how many coins have recently changed hands, multiplied by the number of days since they last moved.
"Spikes in Token Age Consumed can sometimes signal changes in the behavior of certain long-term holders, and tend to precede increased volatility in the coin's price action," according to the behavior analytics platform.
For over the past year, there has been a certain level correlation between old tokens changing hands and the price action of this altcoin.
In mid-October 2019, for instance, LTC took a 16% nosedive after Santiment recorded a considerable amount of idle tokens moving between addresses. Earlier this month, Litecoin surged nearly 14% when the ratio of old tokens changing hands began to increase.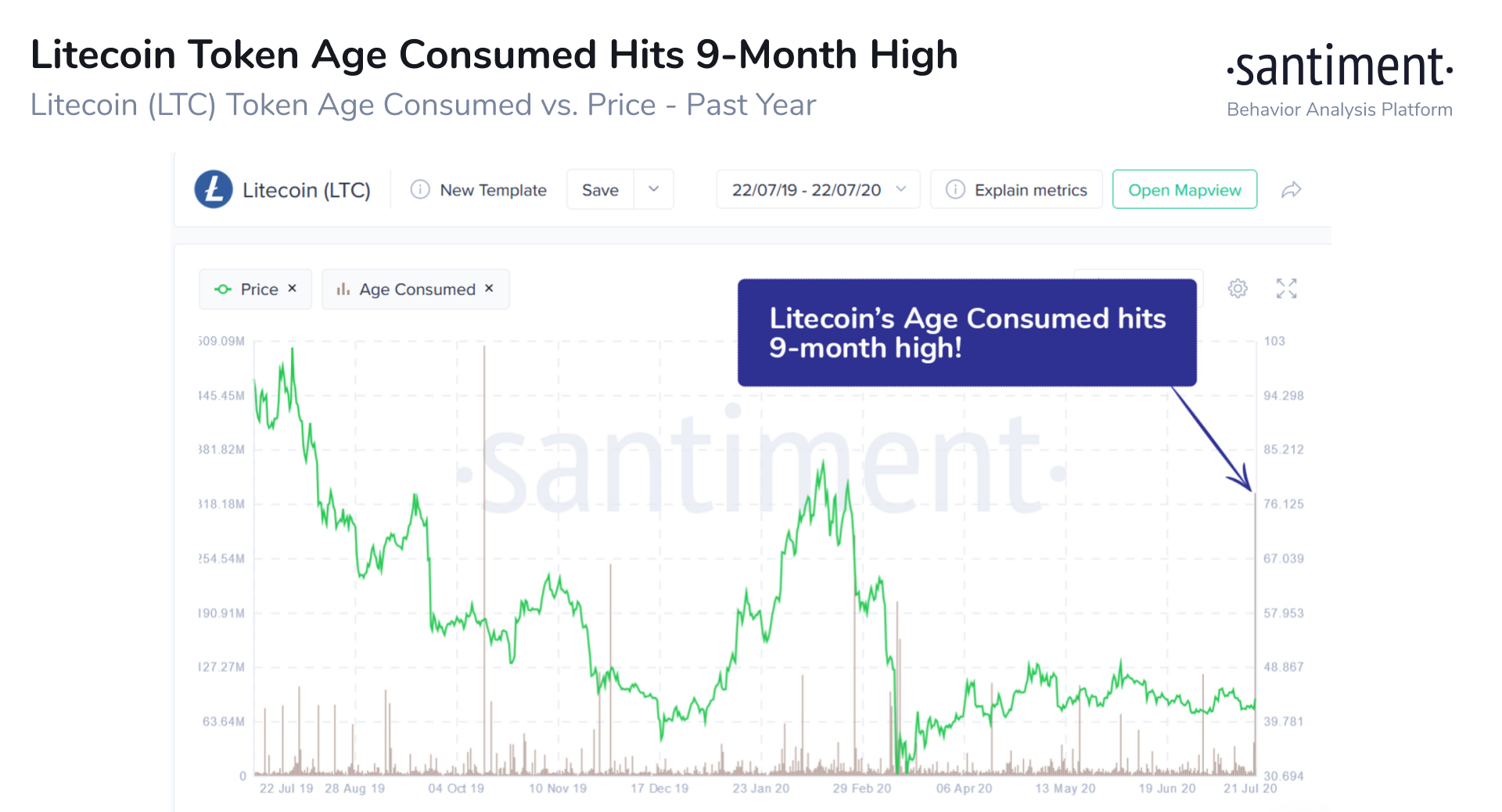 Substantial Number of Idle Litecoin Tokens Exchange Hands. (Source: Santiment)
Now that LTC's Age Consumed spiked to a nine-month high, history could be about to repeat itself suggesting that a major price movement is underway.
An Ambiguous Outlook
A look at Litecoin's 1-day chart may provide some clarity about where its price is headed next given the high probability of incoming volatility.
Within this time frame, it seems like LTC's price action developed a descending trendline since late April. A horizontal trendline was created along with the swing lows while a descending trendline formed along with the swing highs.
This type of technical formation is considered a continuation pattern in a downtrend. However, it has developed in an uptrend presenting an ambiguous outlook. By measuring the distance between the highest points of the triangle, one could estimate that upon the breakout point Litecoin could surge or drop nearly 20%.
Litecoin Presents An Ambiguous Outlook. (Source: TradingView)
For this reason, investors must pay close attention to the $41 support level and the hypothenuse of the triangle. Moving past any of these hurdles will determine the direction of Litecoin's trend.
Featured Image by Depositphotos
Price tags: ltcusd, ltcbtc
Chart from TradingView.com