ADA, the native token of the Cardano blockchain, is on a bullish run. The token has gained over 13% in terms of price movements as it tries to recover its October losses. ADA also boasted significant gains earlier today; however, it is down 1.46% at $0.4046.
Cardano's weekly gains are not the only thing community members are celebrating. The blockchain's NFT sector has also experienced substantial gains. Cardano community members also hope that some big changes will come to the blockchain this November. 
Cardano Gains Over 13% As European Parliament Member Calls It A "Rocket"
Cardano has bagged impressive gains in the last 7 days, leaving traders with an overall gain of more than 13%. The blockchain network's activity in the last 24 hours also shows a substantial increase in trading volume and number of transactions. Specifically, ADA outpaced the market with a 150% increase in trading volume in the last day alone.
The token's weekly chart also showed impressive gains. ADA increased by over 13%, making it one of the top performers among all cryptocurrencies. The ADA/USD pair broke above the resistance level of $0.36, which could be considered a positive sign for investors.
The recent surge in ADA prices comes after a European parliament member called the cryptocurrency "a rocket in the crypto space." MEP Stefan Berger commented on Twitter after his encounter with Frederik Gregaard, CEO of the Cardano Foundation.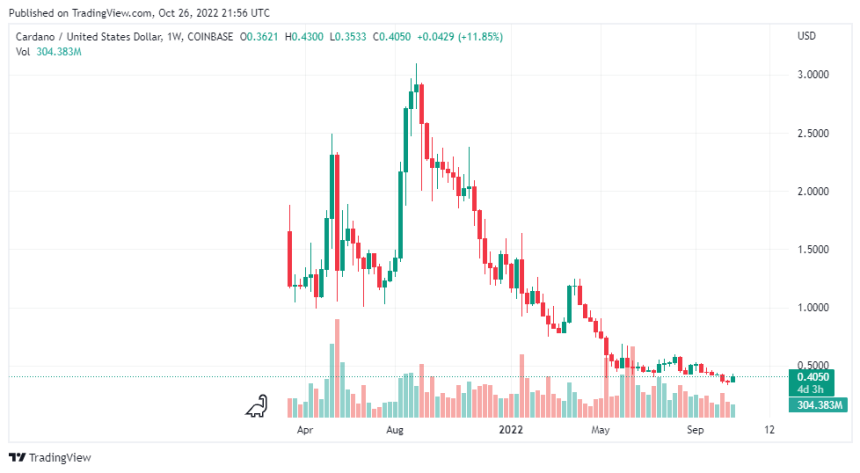 ADA listing On FTX Might Be Disastrous, Cardano Founder And BitBoy Argue
Ben "BitBoy" Armstrong, a crypto influencer, voiced his reservations over ADA listing on FTX on Tuesday, Oct. 24. BitBoy tweeted that FTX might compel bankrupt crypto broker Voyager to liquidate all ADA holdings with the spot pair listing. In response, Cardano co-founder Charles Hoskinson said that Voyager ADA accounts should not be liquidated if FTX begins trading ADA. FTX's CEO, Sam Bankman-Fried, has been silent thus far.
ADA Experiencing A Mini Bull-Run, Cardano Educator
A popular Cardano influencer has remarked that the crypto is in the midst of a bull run. The influencer, known pseudonymously as ADA Whale, made the statement on Twitter yesterday (October 25th) while referring to the network's recent activities. The influencer wrote:
We're in the midst of a mini bull run in network activity with daily txn tending to 100k at a blockchain load of 50%.
The educator noted two factors were responsible for the bull run. "The uptick is mostly thanks to the NFTs bull run, but trading on dexes has also notably picked up in recent weeks," ADA Whale added.
Prior to this, the Cardano educator made bullish predictions about the token. He noted that Cardano would "explode" in the next bull cycle once "DeFi, NFTs, and community engagement" start taking off. The educators mentioned that institutional investors appear to be losing interest in layer one ("L1") blockchains. Therefore, it should provide space for Cardano (with its highly devoted and passionate community) to "thrive."
Featured image from Pixabay and chart from TradingView.com