The founder of the Cardano blockchain, Charles Hoskinson, took to Twitter to inform investors of a new scam scheme that has suddenly emerged focusing solely on ADA holders. According to Hoskinson, the scammers impersonate him to send messages to members of the ADA community.
In the post, the Cardano founder reiterated that he would "never email ADA holders directly." He also disclosed that scammers have been trying different tactics to impersonate him and defraud ADA investors of their funds.
Scammers Target ADA Community Members
Hoskinson discovered the ongoing scam tactic through an unknown ADA enthusiast who contacted him about the malicious scheme. The ADA user reported that while impersonating him, the scammers sent emails concerning a newly launched project, the "Hoskinson Health and Wellness Clinic." 
The scammers wrote that the launch of the medical facility is part of Hoskinson's vision to build a "strong" ecosystem for Cardano. 
They also noted that the medical center, based in Wyoming, will include ADA as a payment option. The scammers' emails mentioned that lives are easily lost when people fail to disclose their medical details on time. 
So, they stated that easy availability and accessibility of medical information through innovative technology like Cardano would help to save more lives promptly.
Further, the malicious email stated that the newly launched medical facility is the first medical multichain on the Cardano network.
It mentioned that the impact of such a project on the blockchain ecosystem and in life could scale quite high once this kind of project reaches its peak.
Finally, the email persuaded ADA investors to research the medical chain project more while increasing their investment holdings in ADA.
Hoskinson Offers Some Tips To Identify Scammers
While notifying the investors about the ongoing scam, Hoskinson laid out some tips on identifying scammers. Hoskinson noted that the tips would help to fish out those impersonating the Cardano founder.
The founder advises members of the ADA community to verify the identity of senders of suspicious emails by requesting them to do so.
To ensure security, the verification process should involve obtaining Hoskinson's Pretty Good Privacy (PGP) key signature. Hoskinson has confirmed that scammers cannot replicate this signature. PGP keys are public encryption keys designed for the specific purposes of encrypting or signing emails, files, and directories.
When you create a PGP key, the system generates a public and private key pair, enabling you to receive an encrypted message and open it. But you can send the public key to the sender and use your private key to decrypt the message when it comes. In that case, someone impersonating you cannot produce your public key, as Hoskinson pointed out.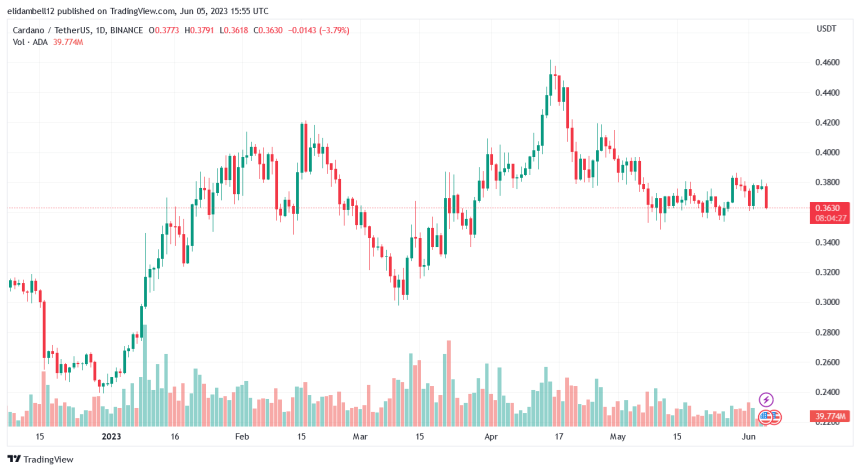 Meanwhile, ADA is trading at around $0.3748 when writing, indicating a drop of 1.78% over the past 24 hours. Data from CoinMarketCap shows that its market cap is about $ 13.07 billion.
Featured image from Pixabay and chart from TradingView.com