After the January 30 rapid slide, altcoin sellers should be a little bit disappointed because there was a general slowdown across most altcoins under our radar.
IOTA, LTC and NEO couldn't muster a close below yesterday's lows and what we are waiting for is perhaps a confirmation of January 30 depreciation. Bear break-out levels will act as our resistance and should NEO close below the middle BB in the daily chart, then sellers are likely to cruise.
Let's dissect these charts:
IOTA Trending Within a Bear Break Out
Time and time again we have seen how break out patterns pan out. At first, prices surge completes the first phase before snapping back and retesting the break out level. We can see the same thing replicating in this pair.
After January 30 fundamental events that saw a wholesale depreciation of digital assets, many traders were expecting a strong follow through as FUD took over. The fact is, the minor support trend line defining the wedge was broken but surprisingly, yesterday's IOTA price action remained muted at best.
We shall trade according to January 30 trend and aim at $1.85 targets especially if bears continue to load their short positions as prices close below $2.26 in the daily chart. Otherwise, a surge back and close above $3 will definitely cancel our short projections.
NEO Slows Down As Price Test Middle BB Resolve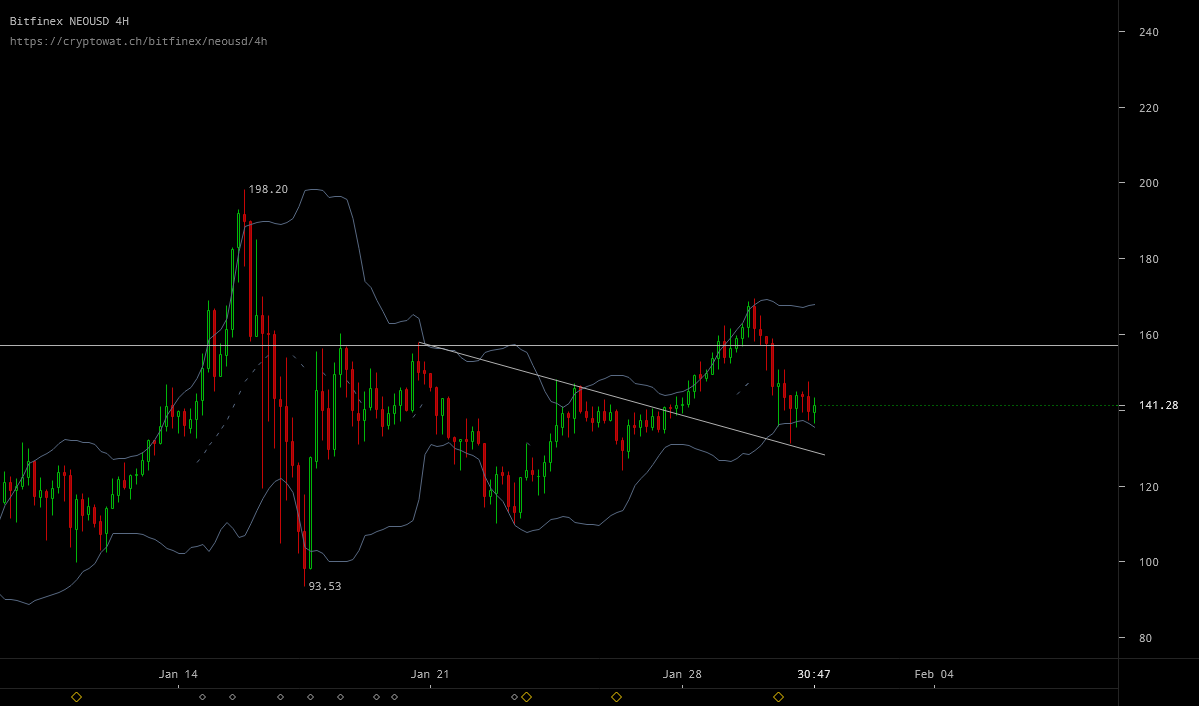 There was a follow through but it wasn't strong like January 30 slide. Because of this largely expected price action, NEO bears should view every price appreciation as another selling opportunity.
Our attention today shall be on the daily chart and how sellers will react at the middle BB and probably at $130.
Remember, this (Middle BB in the daily chart) has been a very reliable support line in previous occasions any close below will definitely signal the start of bear pressure.
For that to happen, we need market participants to decouple from yesterday's minor accumulation and preferably trend lower towards the second support trend line connecting January 17 and 23 lows.
On the flip side, assuming buyers find support, the first layer of resistance shall be the middle BB and any close above that will mean a bounce off the 20 period MA and a possible bull trend continuation with targets above $155.
LTC Sellers Are In Charge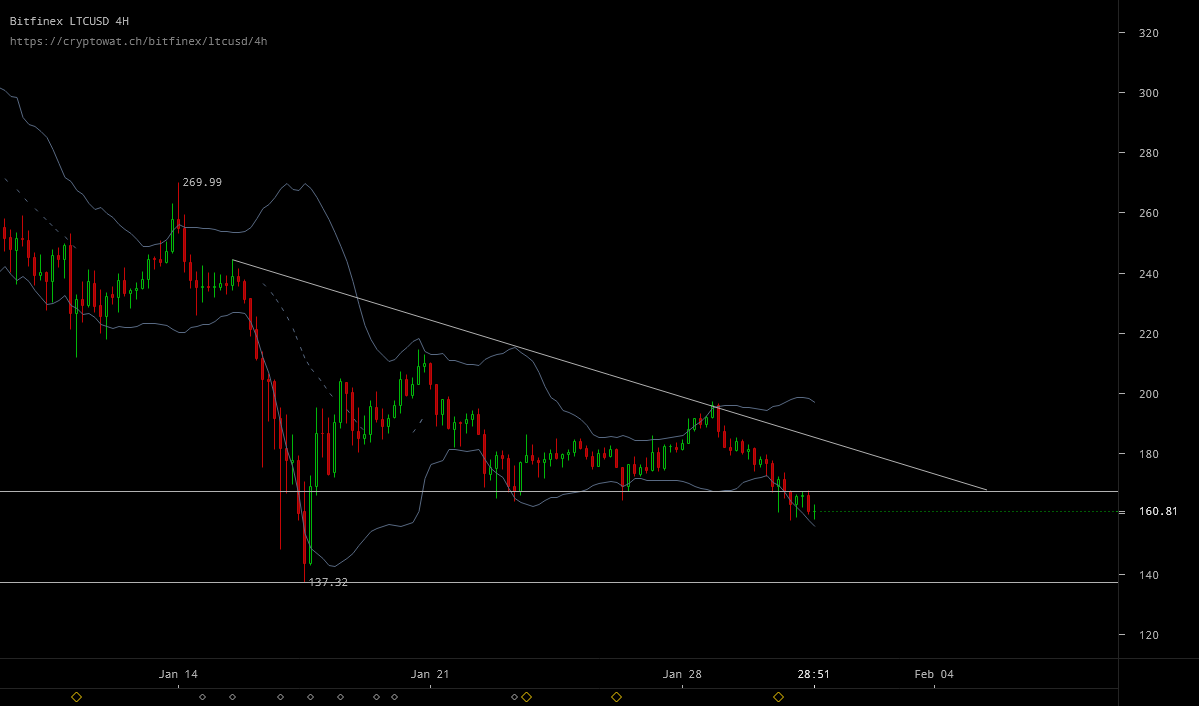 The thing is LTC found support as bears got a little bit over the tops. However, LTC buyers couldn't follow through and we are likely back to a bear trend with strong resistance defined by previous double bottoms at $170.
We must acknowledge the fact that the daily chart is a better angle to view short to medium term trend.
From previous price action the 4HR horizontal consolidation translated into series of bull and bear pin bars printing along the 61.8% Fibonacci retracement in the daily chart.
Since prices broke below this key support level-in the daily chart, sellers should be in charge and after all, bear candlesticks are beginning to print along the lower BB in the 4HR chart.
If you are looking for buy opportunities, wait for prices to trend above $210 because picking out bottoms is a sure way of losing money in a strong bear trend like this.
EOS Bear Pressure Wanes but Prices Are Still Below $12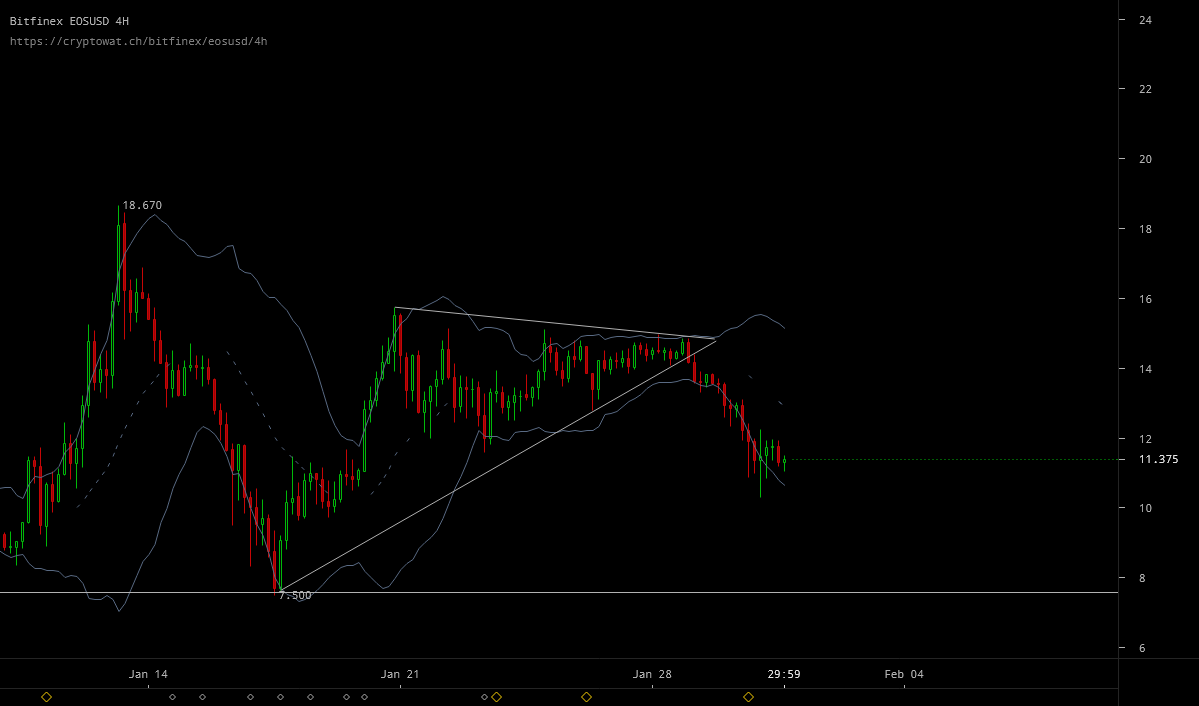 It's a common thing for prices to slow down following an emphatic break out-regardless of direction. Following that surge and close below the middle BB on January 30, yesterday's prices were restricted within a narrow range with buyers and sellers battling out for control.
Of course, at the end of the day as long as prices are below the middle BB in the daily chart, it would be best to short EOS and that is exactly what sellers should be doing in the 4HR chart.
Late entrants can wait for any retracement towards the lower limit of the consolidation at around $12 and short with immediate targets at $7.2 in line with yesterday's recommendation.