There is a wholesome altcoin price recovery all across the board, and that's a wonderful thing to see in this otherwise bearish trend.
If there is a push and close above key Fibonacci resistance levels and the middle BB in most pairs, then the better for buyers.
Let's have a look at these charts:
Alt Coin XLM/USD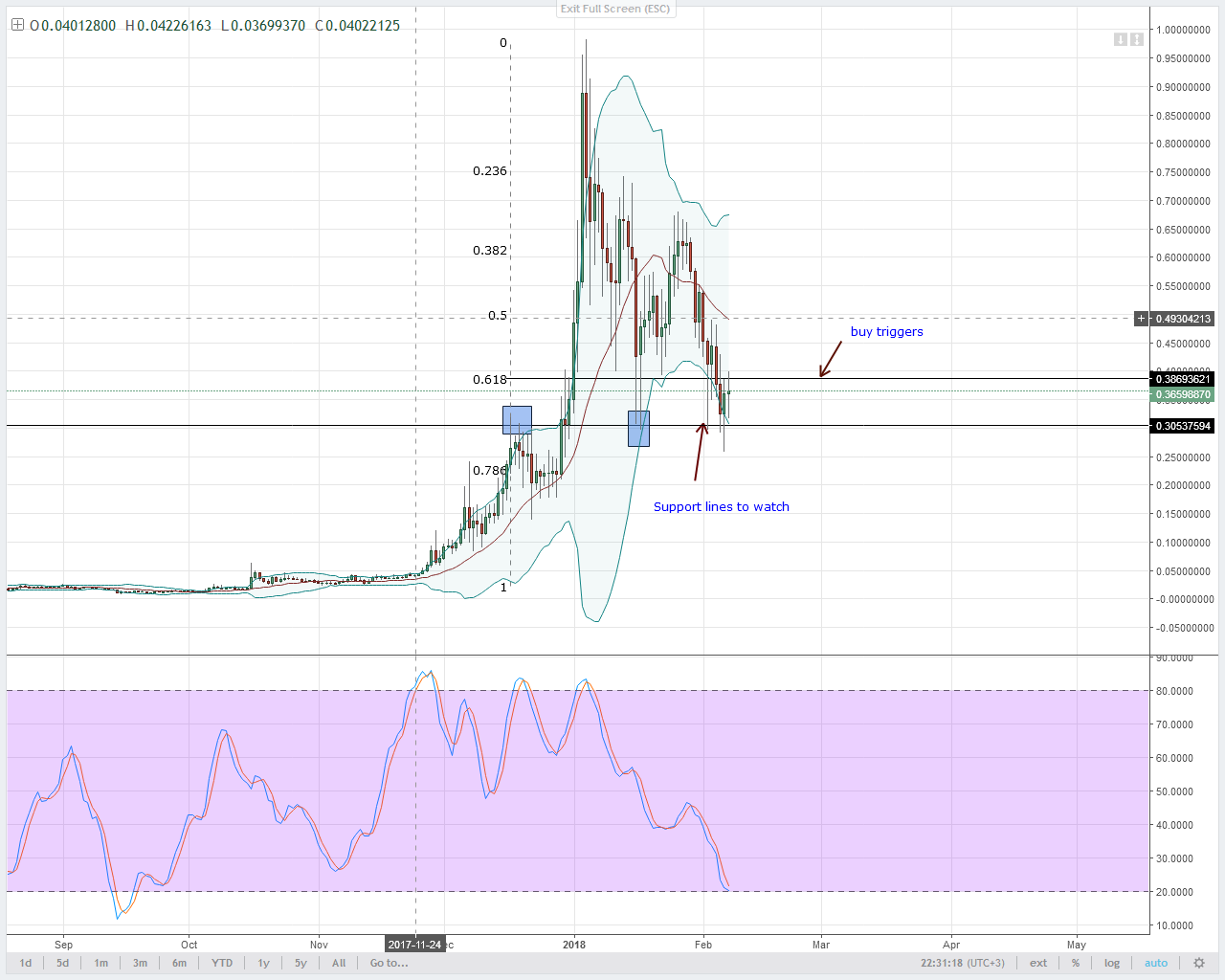 From a buyer's perspective, NEM price action is doing relatively good and it is definitely their desire for prices to close above $0.45 or the 61.8% Fibonacci retracement level anchoring on previous move up.
Of course, we shall reiterate that the general mood is bearish and going forward, the majestic middle BB shall continue being the guillotine of any buy pressure unless of course there are sharps move above $0.50.
In my opinion, February 5 and 6 double bar bull reversal pattern will mean nothing if there are no bullish confirmations in the course of the day.
Alt Coin XEM/USD
For a wholesome perspective, let's introduce the momentum as the stochastics shows.
A single glance and there is a buy signal as NEM prices try to recoup some of their initial losses. Remember, relative to other cryptos, NEM's slide saw it shed more than 95% of its previous gains.
As it is, we shall be watching if there is a follow through of yesterday's buy pressure which saw prices test $0.60.
Scalpers can aim at $0.90 and if there is a convincing break through from around that price tag, we recommend zooming in lower time frames and fine tune our buy entries.
Alt Coin EOS/USD
It's irrefutable that even though the recent trend has been bearish, alt coins including EOS are generally in an uptrend.
Now, to fine tune possible long entries we can see that prices are actually bouncing off $7.2 and after a double bar reversal pattern, all buyers need is a close above $9.5.
After all, bears are slowing down and it's only safe to trade with the trend. Currently, patience is gem because anyway, prices are below the middle BB and it is will quick and a little bit risky to jump in and buy in an overly bearish wave
Alt Coin LTC/USD
LTC is taking a positive trajectory and its cool prices are edging higher. No major movements yet and hopefully today we shall see how buyers react at the middle BB. That's our main resistance trend line right there.
Any surge above $170 and we shall be hunting for long opportunities in lower time frames.
On the flip side, break below $100 and bears would be back in this trade.
Alt Coin NEO/USD
Like what is happening in most alt coins, NEO hasn't been left behind. Following an under-valuation on February 6, yesterday's buyers response was overwhelming and supportive of traders yearning for break even.
One thing that could perhaps pour cold water on this trade is the middle BB and that resistance at $130.
Otherwise if there is a slice through then we can remain positive and bet on the shift of momentum to drive prices towards our ideal take profit at $200.
All charts courtesy of Trading View