Irrespective of your perspective, the only coin you should look to short is NEO.
First, its over-valued compared to peers and yesterday prices broke below the middle BB which as we know was a key support line.
Let's dissect these charts:
Lumens Prices at Key Support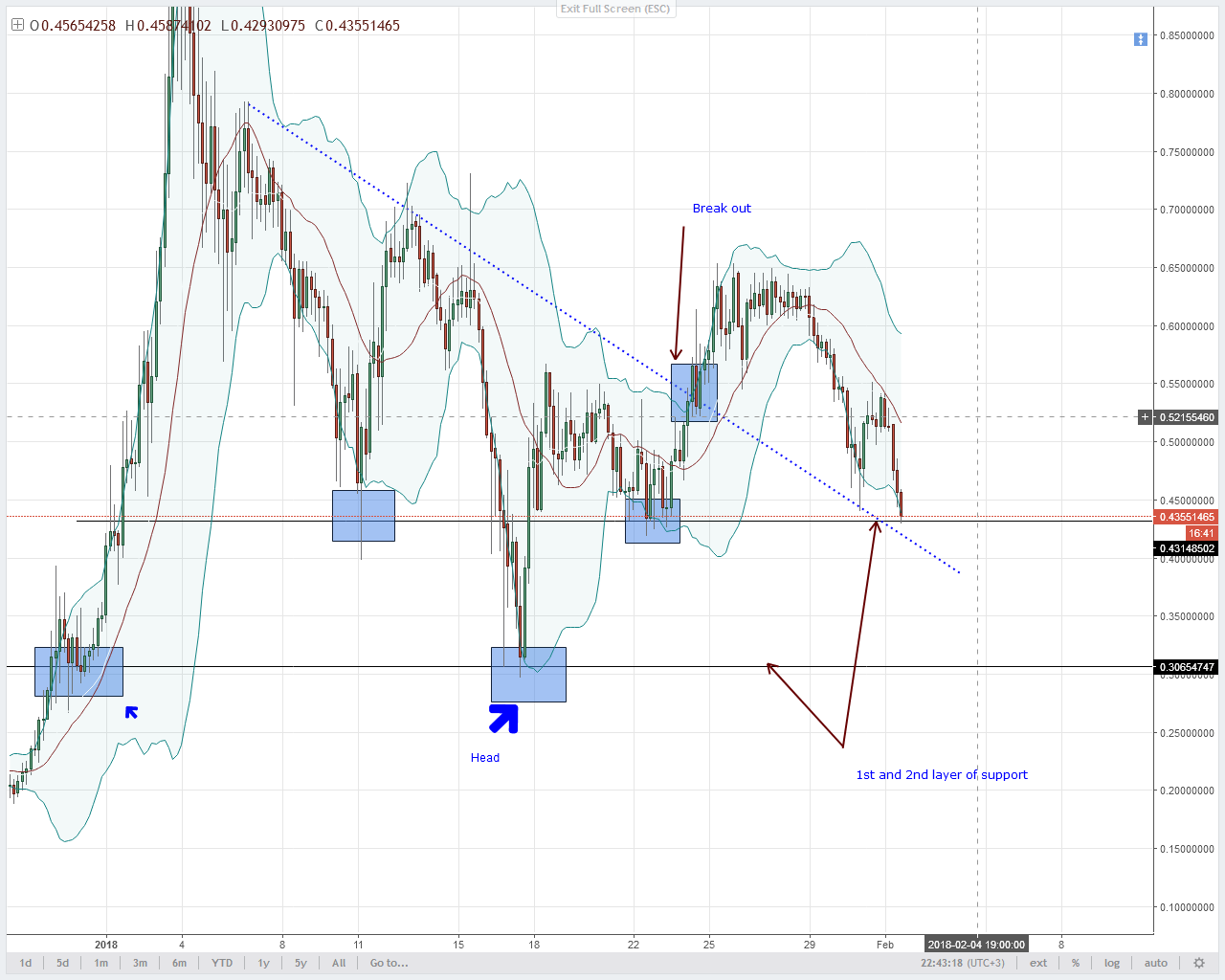 Guys, if for a moment we take a duo approach and view this pair from a higher time frame then we realize that this supposed "blood" on the streets and all the related FUDs is nothing but hogwash. It's but a normal correction which is OK.
OK, yes maybe some few technical levels are down but I must say, price wise XLM is still stuck in a messy consolidation defined by week ending January 21 candlestick.
Unless there is a break and close below or above that week's high lows then maybe we can be confident of further price erosion.
Even though we expect depreciation and a correction of a potential over-valuation, XLM prices need to break and close below the major support trend line in the 4HR chart.
If it does that-and chances are bears will, then a bullish break out trading strategy would have been nullified and prices would be back and square at the "head" at $0.30.
NEM Support at $0.5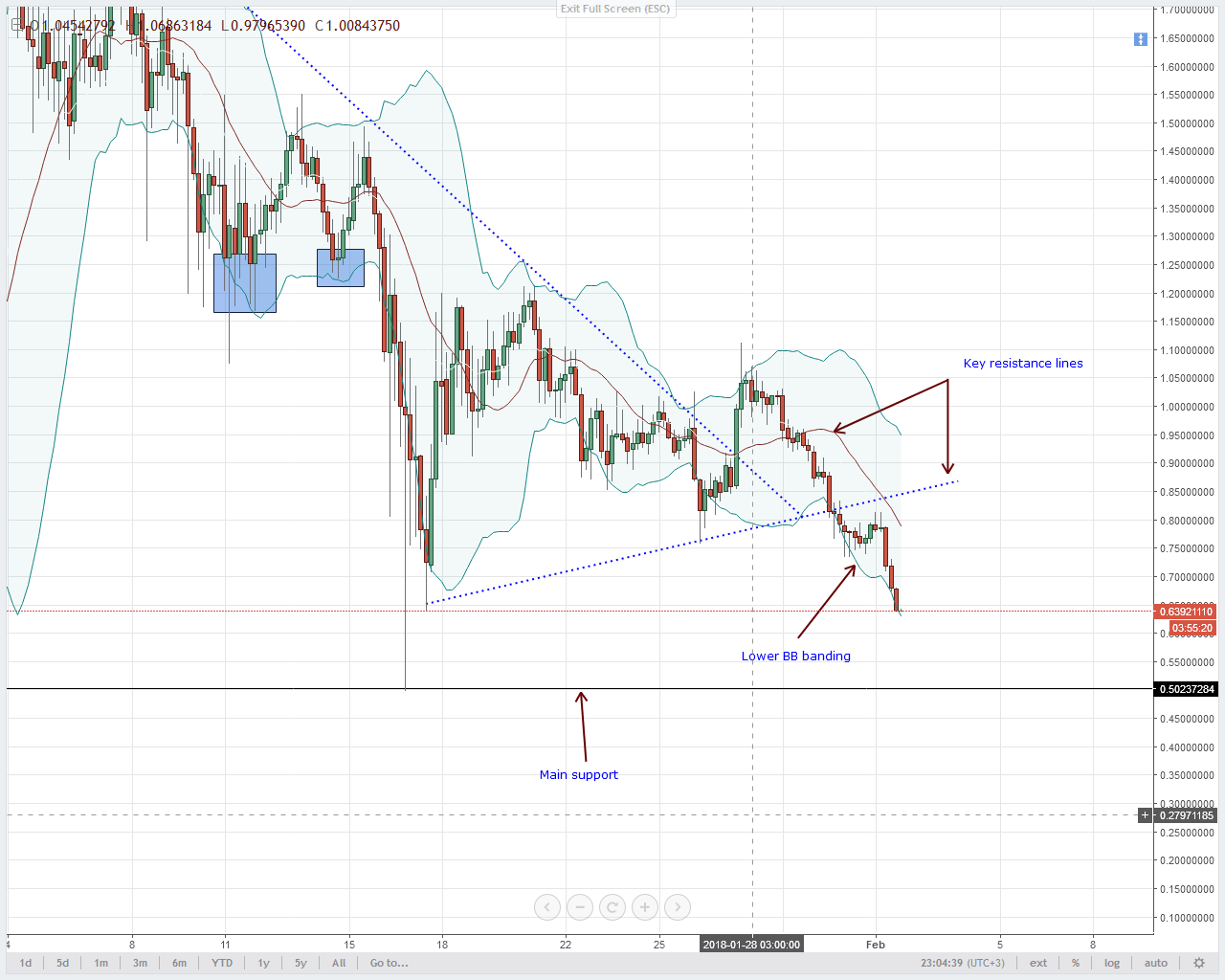 The bear follow through has been impressive and NEM is literally facing the market fury!
Needless to say, bears are in charge and considering the pace of the trickle down, bears might drive towards the 1st Fibonacci extension level at $0.57. If not, support may be found at $0.5 or exactly at the middle BB.
Back in the 4HR chart and we can see candlesticks banding along the lower BB. I'm not discounting buyers from averaging out their positions but if they do, and replicate last week's price action the middle BB will be our immediate resistance.
That means I will place a floor at $0.50 and from there buyers might pick out buy signals and scalp.
EOS Immediate support at $9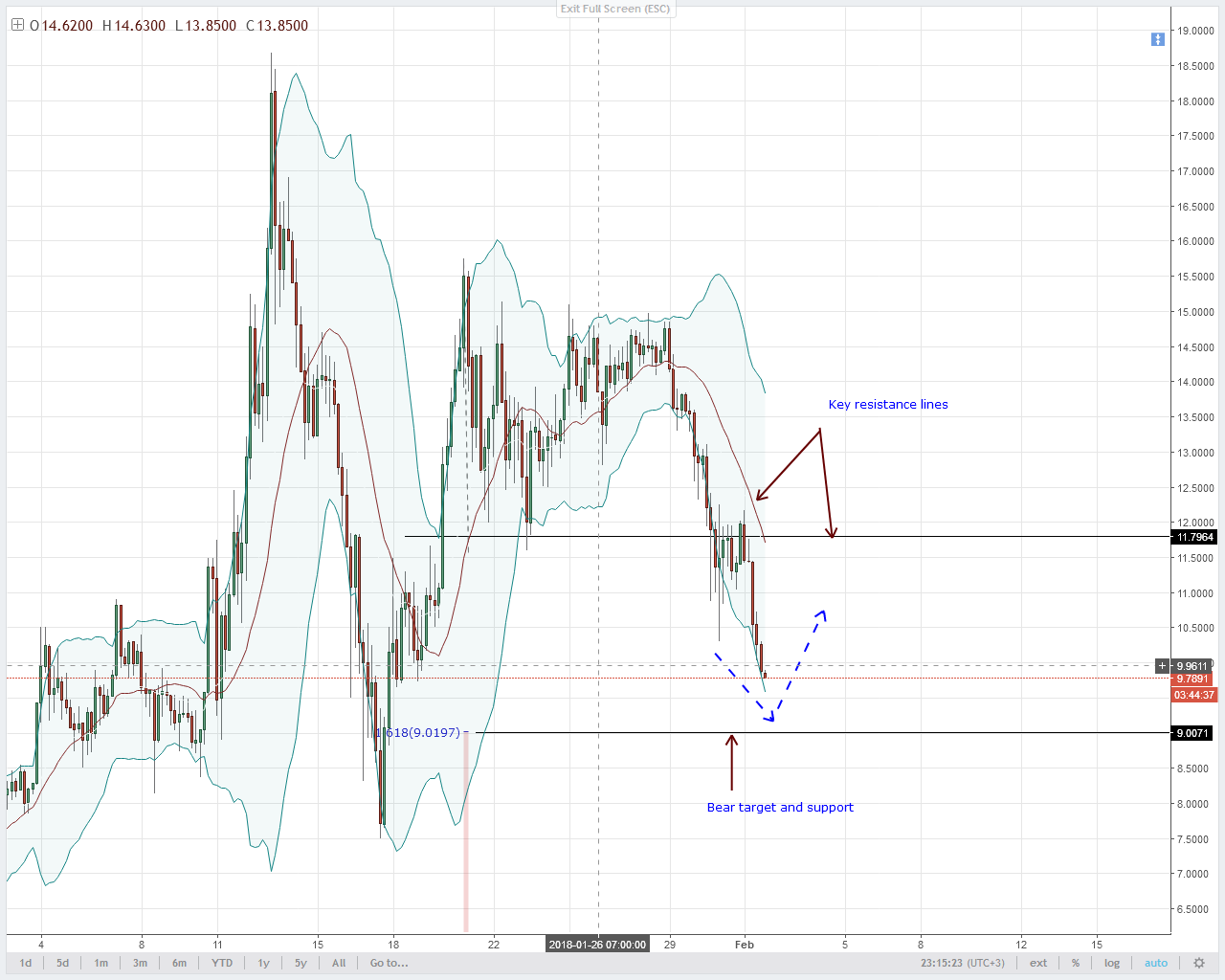 First, if you sell now, you will be burnt! It's better to wait for a retracement next week and short.
Look, irrespective of what happens, EOS sellers are in charge. It is likely that a double bar bear reversal pattern will print out by February 4.
We are assuming prices will continue trickling down towards  $7.5 but first, let's consider what happens at $9.
So you know $9 is the 1st Fibonacci extension level projecting from $12 and $15 consolidation limits.
Despite this super bear move, I expect prices to rebound from there. If it pans this way then a retracement back to $12 would be ideal. Then, the middle BB should act as resistance.
LTC Bears Back to $114?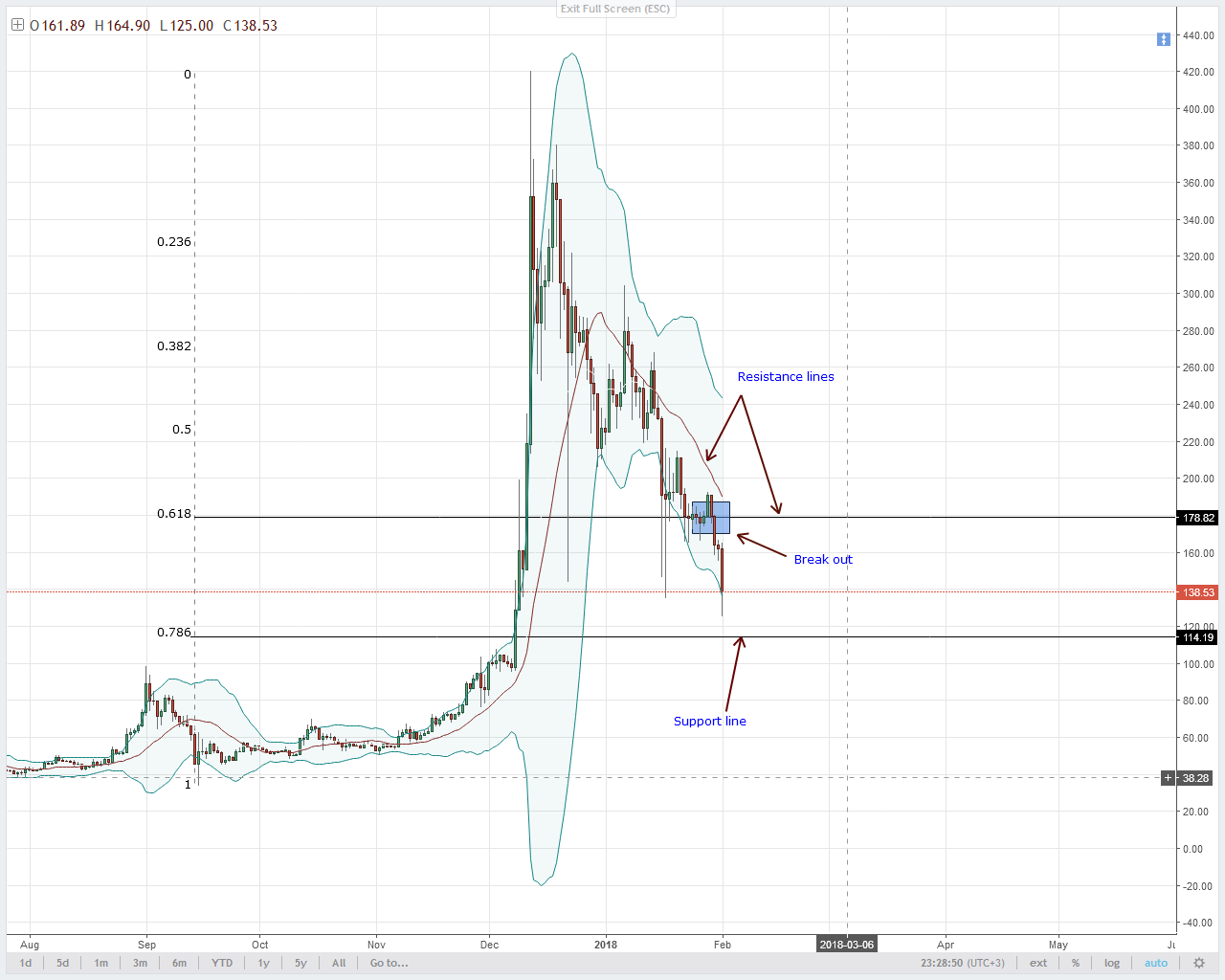 If you want to have a clear picture of price action, the daily chart should be your destination.
From yesterday's view, the 61.8% Fibonacci retracement continues to be a significant level of resistance. However, because of strong bear pressure, we can anchor our break out trade from it.
Now, dealing with a bear break out is easy. You can either catch it early or wait for a retest.
At the moment though, I expect today's price action to be slow as LTC test $114 or September highs confirming a 80% depreciation from LTC's all time highs of $420.
NEO Bear Break out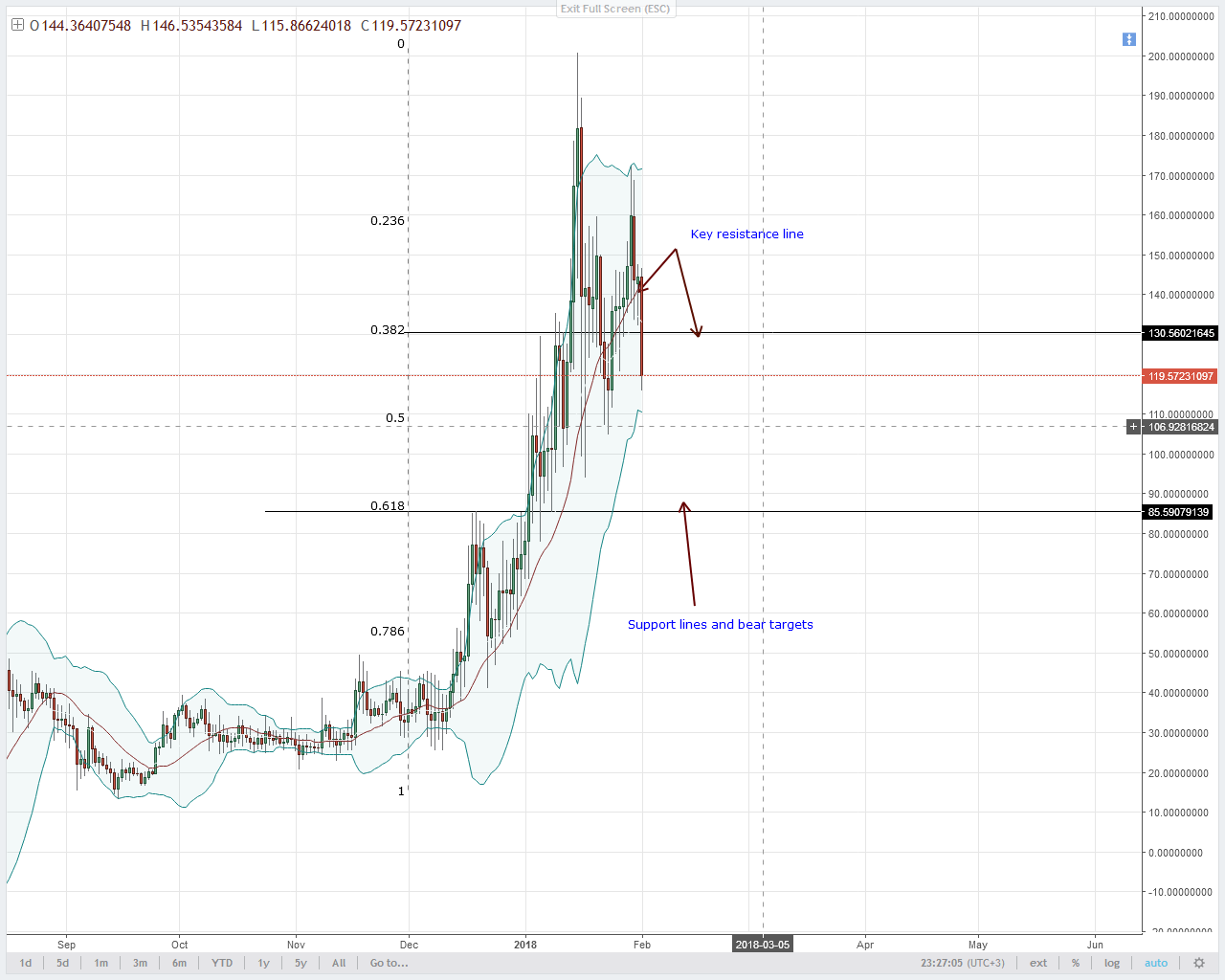 Like LTC, let's all zoom to the daily chart and get a feel of what I'm talking about! Check out that middle BB? That break below should fuel sell pressure in the coming days.
After all, relative to other coins, NEO is down 45% or so while LTC, IOTA and the rest are down 80%.
As such, I will place NEO's price at $85 with immediate resistance at 38.2% supplementing the middle BB.
All charts courtesy of Trading View