Two alt coins are still moving inside a boring accumulation phase: NEM and LTC. While this pattern is important especially for securities or tokens that are bottoming up, the longer it continues the stronger the explosion.
In our case, our focus is on NEM and the key resistance trend line that has been liquidating bull moves in the past 3 weeks or so.
If buyers get the past this wall, then the rally towards and above $1.14 would be on.
Let's dissect these charts:
NEM Moving Inside a Descending Wedge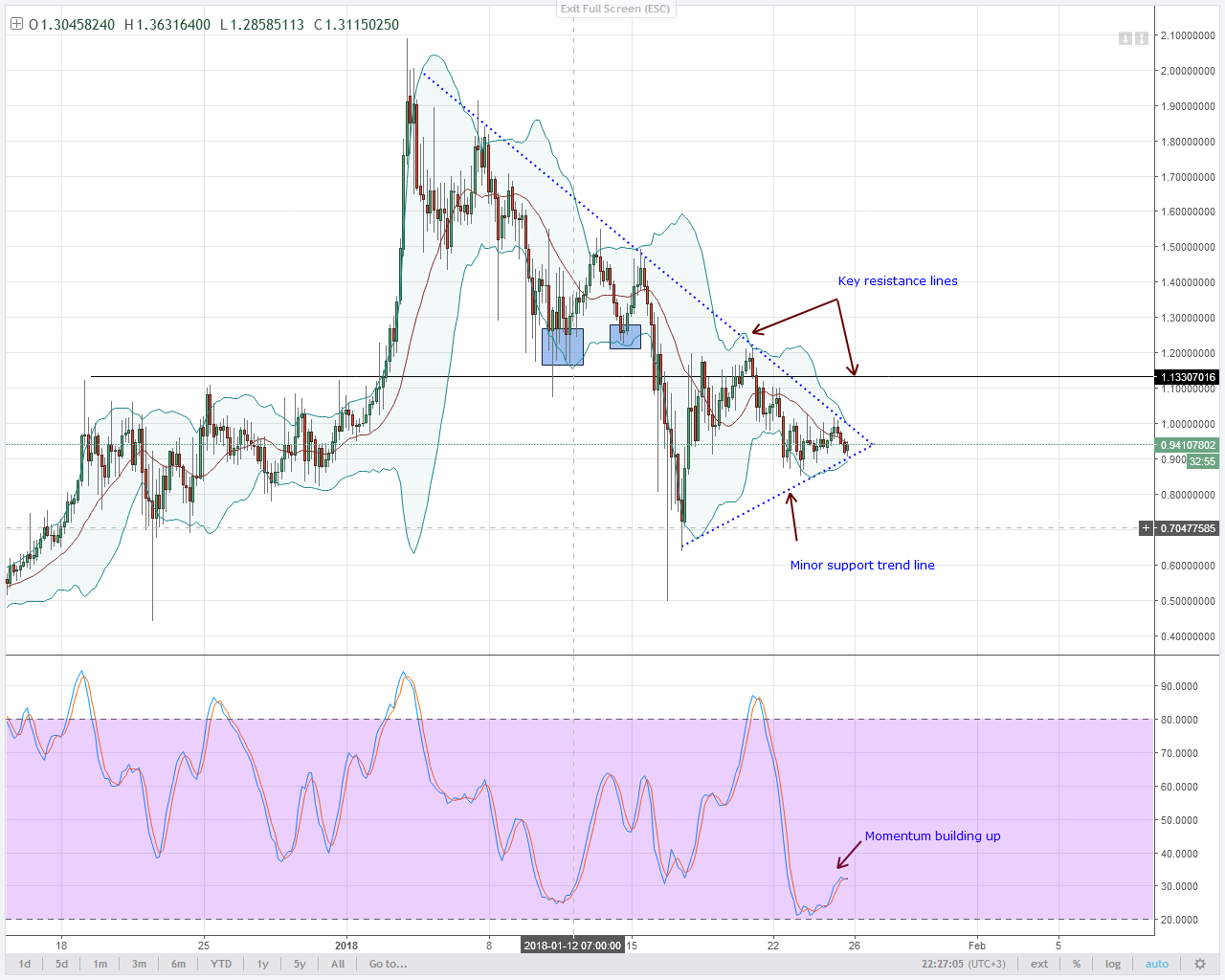 NEM is still moving within yesterday's range and the consolidation continues. This time though, we shall consider the minor resistance trend line connecting the past 3 week's highs as our main buy trigger line.
From a technical perspective, sellers will be in charge as long as prices are below this main trend line.
If prices close below the support trend line of this descending wedge, then we might as well sell and aim at January 16 lows of $0.50.
Lumens Snap Back To Trend after Closing above Middle BB in Daily Chart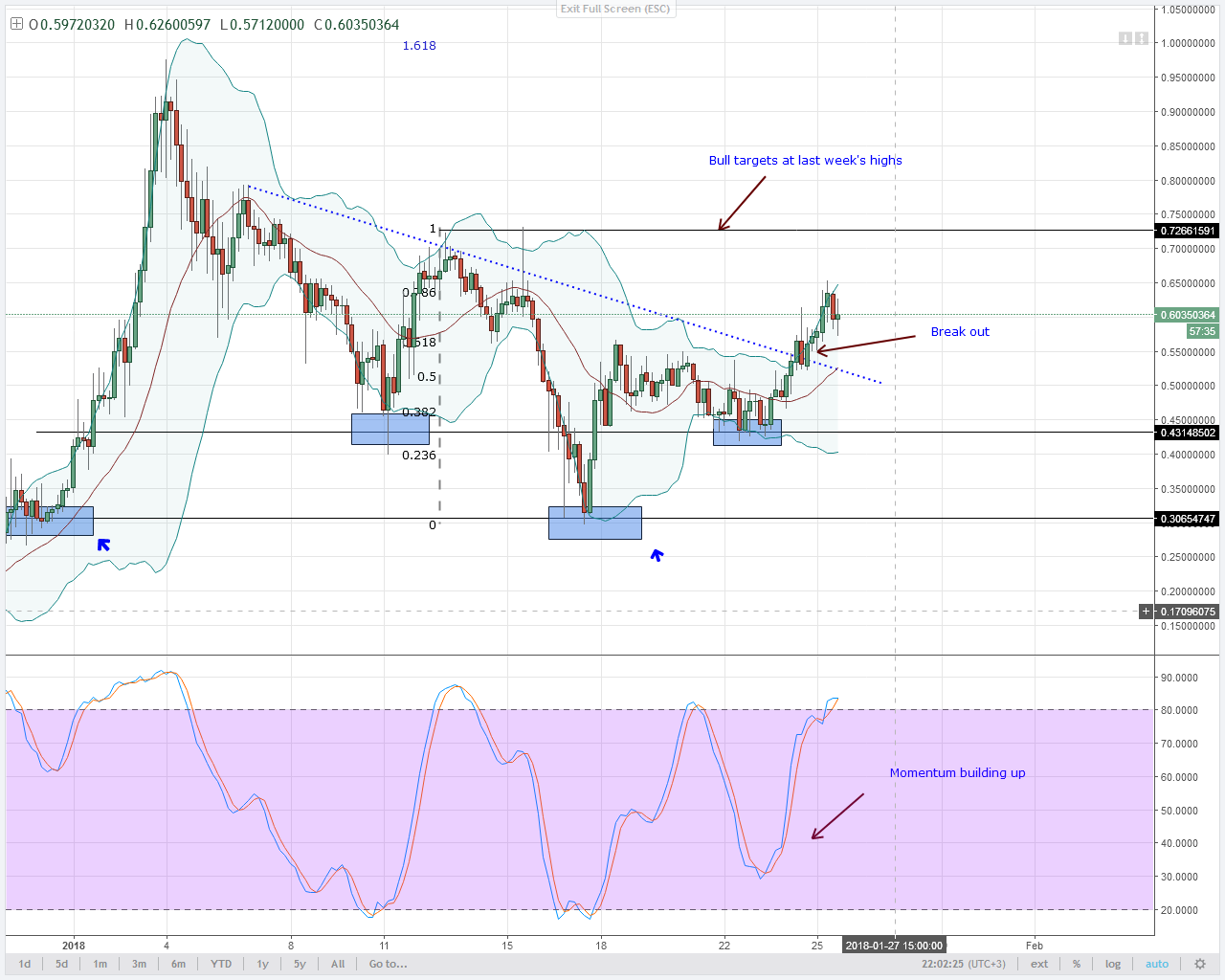 There was a follow through guys and what a statement it was. While we have this bearish candlestick threatening to derail this rally, Lumens buyers should stay put and atleast muzzle out a close above the 38.2% Fibonacci retracement in the daily chart at $0.63.
Besides that, we note that Lumens prices are trending above the middle BB in the daily chart. That is positive for buyers who need a break from these marauding bears.
In my opinion, yesterday's bullish confirmation was key and could even signal changing fortunes for buyers who have been on the receiving end.
From these guides, it is likely that bull pressure could test $0.73 in the coming sessions.
NEO Support is at the Middle BB
Going forward, the middle BB will act as support and as long as NEO prices are above it, then we can be confident of NEO recovery and perhaps recovery above $160.
As mentioned yesterday, price action is general bearish and with last week closing as a double bar reversal pattern, there are more reasons to sell than to buy.
In line with this view, immediate resistance is at $160 but should bears resume normal business and close below the middle BB, then we can invalidate our short term bullish projection.
LTC Still in Consolidation Mode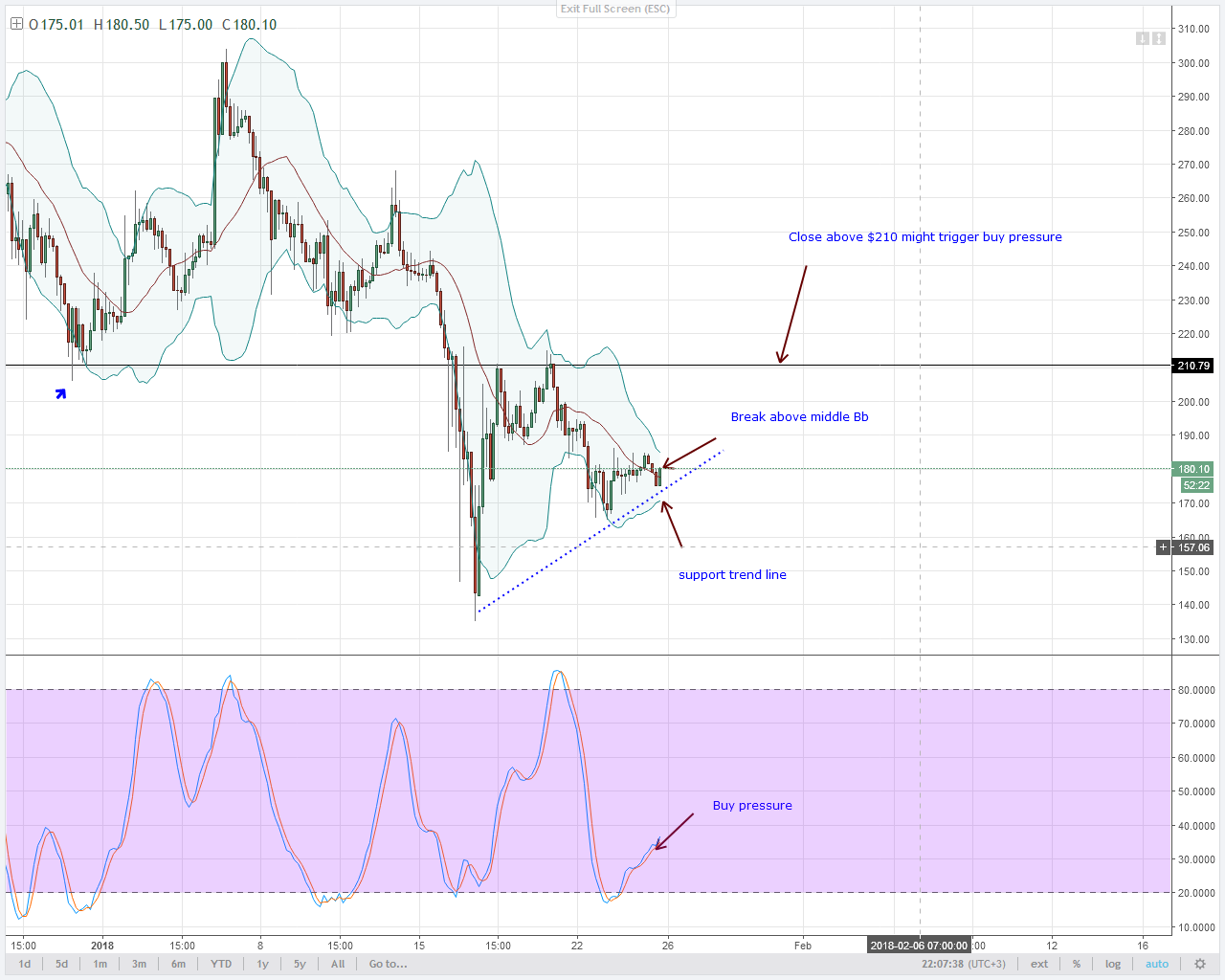 LTC price action is mixed and while we are technically in a strong bear trend, there are small pockets of bull pressure that needs to come through for short term buys to be initiated.
One such move is for prices to close above the middle BB and break above the tight consolidation we have been seeing over the past few days.
Besides that, prices must stay above the minor support trend line as they wave towards $210.
Otherwise, if prices continue to be restricted in this tight price range, sellers and buyers should stay out of this trade until we start seeing movements.
EOS Higher Highs with Middle BB Acting as Support
Fact is, as long as prices are above the 38.2% Fibonacci retracement, EOS buyers are in charge. That's not rocket science because it's easy to trade with the trend than to fade it.
Now, notice how the middle BB is acting as minor support previous resistance following that close above on January 25?
Given the set up and the general rejection of lower prices in the alt coin-sphere, I will stick with my long recommendations as long as there is continuous injection of buyers.
All charts courtesy of Trading View