A bull divergence is what is common across all these alt coin pairs. It is even clearer in Monero and NEO where price action is trending from overbought territory and accompanied by a clear buy signal. Let's review what happened in other alt coin pairs:
BEAR OVER-EXTENSION IN NEM ALT COIN CHART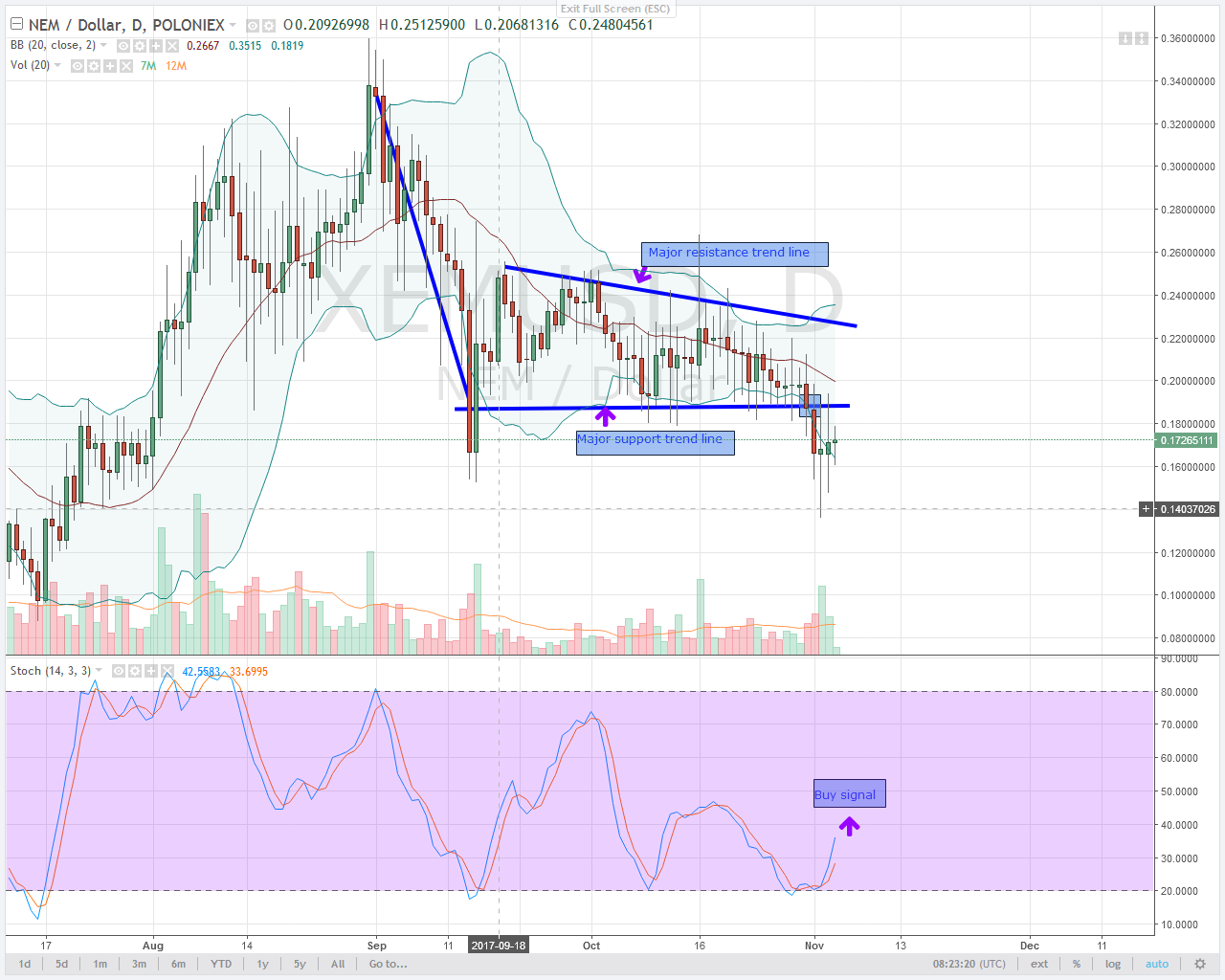 After NEM prices closed below the lower BB on November 2, price was overextended and is now correcting following that slide that begun on October 31.
Because this NEM appreciation might end up as a retest of resistance trend line and a continuation of the larger bear trend as per the weekly chart, I recommend long entries to take advantage of this correction.
There is a buy signal in place and the two previous candlesticks are confirming higher highs relative to the lower BB after that over-extension. Also note the volumes driving this NEM rise is above the daily average. That gives this NEM appreciation some legitimacy.
BULL DIVERGENCE CLEAR IN DASH ALT COIN CHART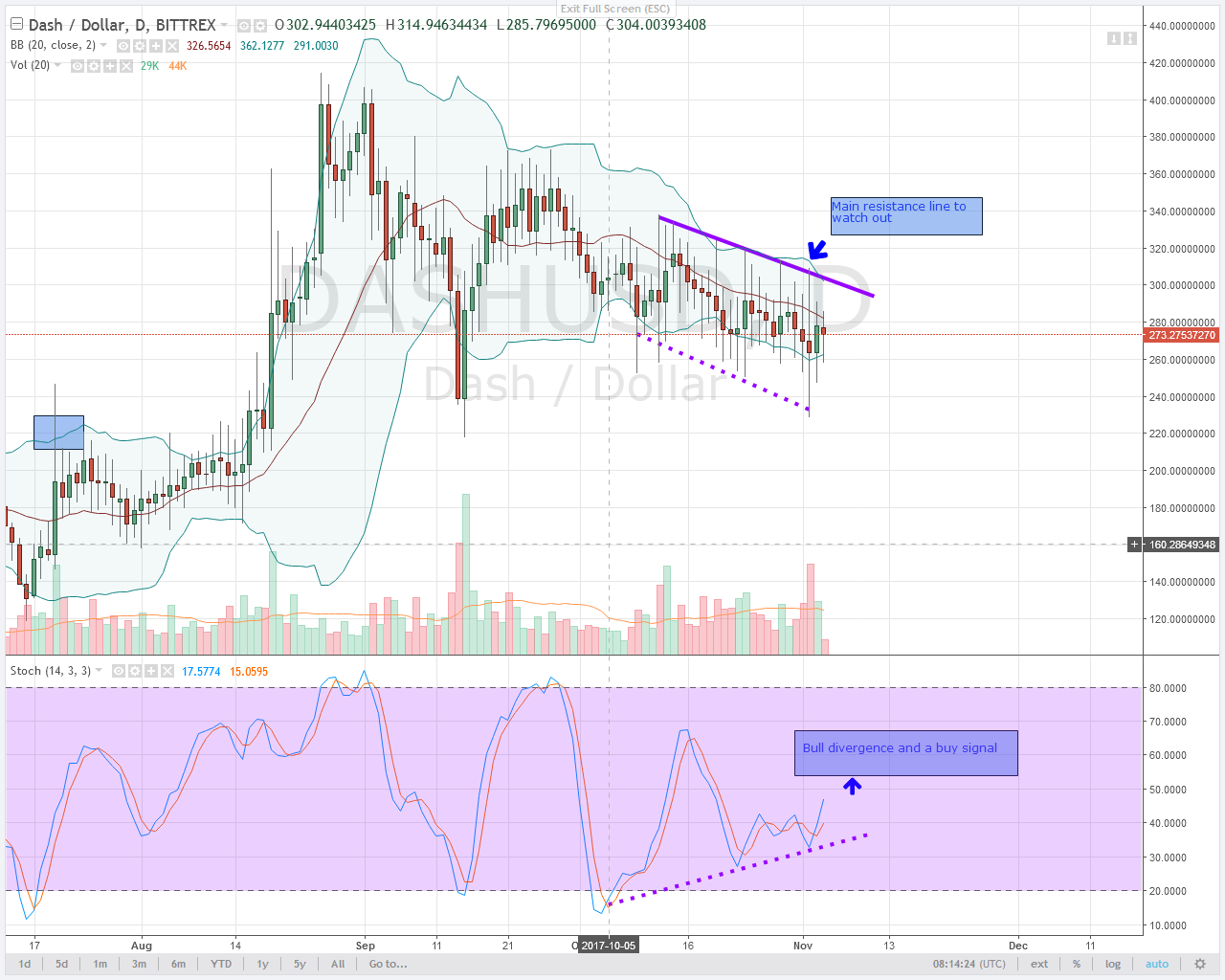 Our main support line at $250 is firm and while DASH sunk below $230 yesterday, its close was above $250 which is important for DASH bulls.
Price action and candlestick characteristics shows that November 1 to 3 forms a morning star pattern. A clear price action relative to stochastics bull divergence pattern is also clear. All these technical patterns hint of DASH pressure which is important for bulls.
Also, note how November 2 and 3 volumes were above the daily averages and drove prices higher as a result.The 20 period MA and the resistance trend line are still significant for DASH bulls. If there is a break above, then DASH bulls should enter long.
SUPPORT RETEST IN IOTA ALT COIN TRADING CHART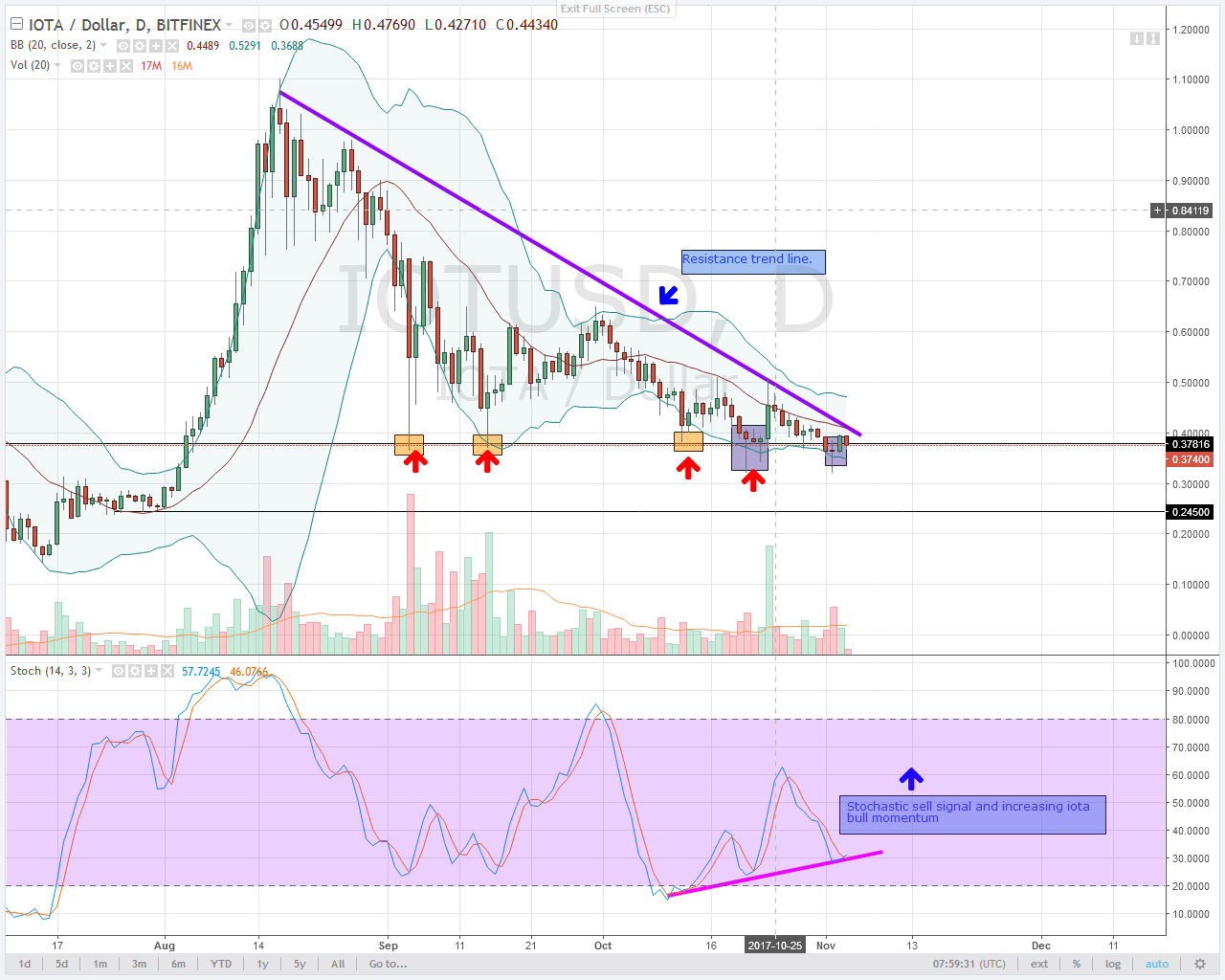 IOTA is barely 5 months old and after testing $1.3 on launching week, alt coin IOTA is trading 77% below its highs. USD bull pressure is driving prices lower below our main support line at $0.38.
Notice that price action have been on this same level 5 times and alt coin IOTA end up appreciating thereafter. Initiating a trade at this precarious point without a break out will be careless. Note those two different Morning Star patterns between October 21 and 24 and November 1 and 3. In both instances stochastics buy momentum is building up.
Price action is trending within a wedge. Therefore, I shall wait for a break and close above resistance trend line and 20 Period MA at $0.43 and buy IOTA.
SUPPORT RETEST IN MONERO ALT COIN CHART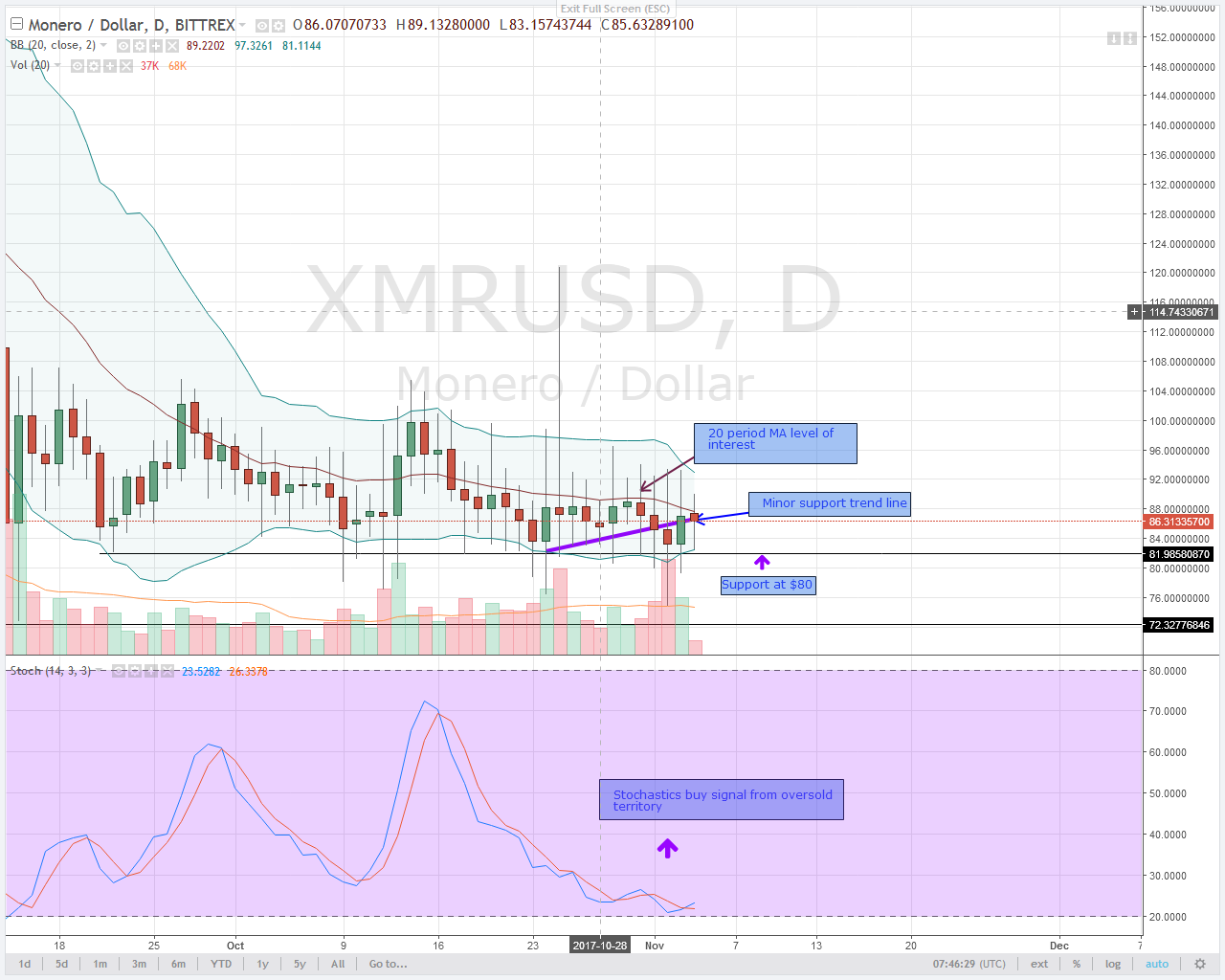 Yesterday, further alt coin Monero depreciation anchored on two things. The first was dependent on the ability of Monero bulls to break and close above the 20 period MA given that stochastics is now in the oversold territory.
Monero did appreciate moving $14 in the process as bull volumes countered November 2 bear pressure. So with these two pin bars closing above $80 support , it looks likely that the BB squeeze shall continue.
Technically, the higher time frame is bearish and a clear pin bar is present after last week's close. That was confirmed by this week's lower lows in the daily chart. However, as it is, the 20 period MA remains a bear barrier and is definitive for USD bulls.
Fact is, that $100 surge in week ending August 21 still confines price action. The base of this bull flag is at $72. It is also a point of confluence with the 20 period MA. So going forward, we pay close attention to candlestick characteristics contributing to any break below $80 in the daily chart.
BULL DIVERGENCE CLEAR IN NEO ALT COIN CHART
From a top down approach, $24 remains a strong support level both in the weekly and daily charts. That level was broken on November 2 and right now, alt coin NEO is retesting the 20 period MA and probably the resistance trend line.
Because of that surge lower and the fact that price action is playing within a break out strategy, USD bulls should wait for short entries. It is a conditional entry. Bear entry will happen as long as there is a stochastics sell signal turning from the overbought territory.
That is not the case now. In fact after that bear pressure eroding $9 off NEO price, a bull divergence followed through with a buy signal.
All charts courtesy of Trading View