After 29.10.2017 above average bull pressure, an across the board alt coin stochastic buy signal is present. This lifted alt coin prices through to today where further appreciation is expected. Leading this resurgence is NEO, IOTA and LSK. Let's review alt coin price action:
ALT COIN LSK PRICE ACTION ANALYSIS
It is highly likely that that 28-29.10.2017 double bar reversal pattern with a stochastics buy signal was a retest of the support-previous resistance line at $5.0. If so, then we expect LSK bull pressure to continue with immediate target at $6.5. For that to happen, there should be a resurgence and closure above the 20 period MA and the resistance trend line at $5.5 or the upper BB.
ALT COIN DASH PRICE ACTION ANALYSIS
Chances of an upside is high after that over-extension below the lower BB on 23.10.2017. Since then, DASH prices have been held steady within an ascending wedge and below the 20 period MA at $290 for the 33rd consecutive day. DASH bulls attempted to push higher on 29.10.2017 but failed to cross above our resistance line. We still remain neutral until there is a surge and close above or below our minor support and resistance trend line triggers. Either direction DASH breaks to, then chances of a trending beyond our $80 wider range is high. When that happens, then trend traders can jump in and capitalize. For now, DASH prices are ranging and in a BB squeeze which is good for intraday traders who can benefit from short term trends.
ALT COIN IOTA PRICE ACTION ANALYSIS
First off, there is a high likelihood of further alt coin IOTA appreciation and this is purely from price action characteristics. Notice the long lower wick dojis higher highs relative to the lower BB. This IOTA bull pressure results to a stochastic buy signal. The morning star reversal candles and the $0.38 support remain our baseline on the downside. To the upside, the 20 period MA and the resistance trend line is our immediate barrier. However, with that IOTA bull push on 29.10.2017, I'm likely that IOTA will continue to appreciate. Let's wait until there is a clear break out in either direction-especially above $0.45 before we enter our positions.
ALT COIN MONERO PRICE ACTION ANALYSIS
Even if Monero is within a $20 range, it is good to notice that stochastic buy signal bouncing off support at $75-80. The middle BB remains significant for Monero bulls. Should there be break above that $90 level, then we expect more USD weakness. As long as price action is  within this BB squeeze then we are still in a trend-less market. This shouldn't last long though, sooner or later, we expect a break out. For intraday traders, I recommend long entries in lower time frames with 1:3 risk reward ratios.
ALT COIN NEO PRICE ACTION ANALYSIS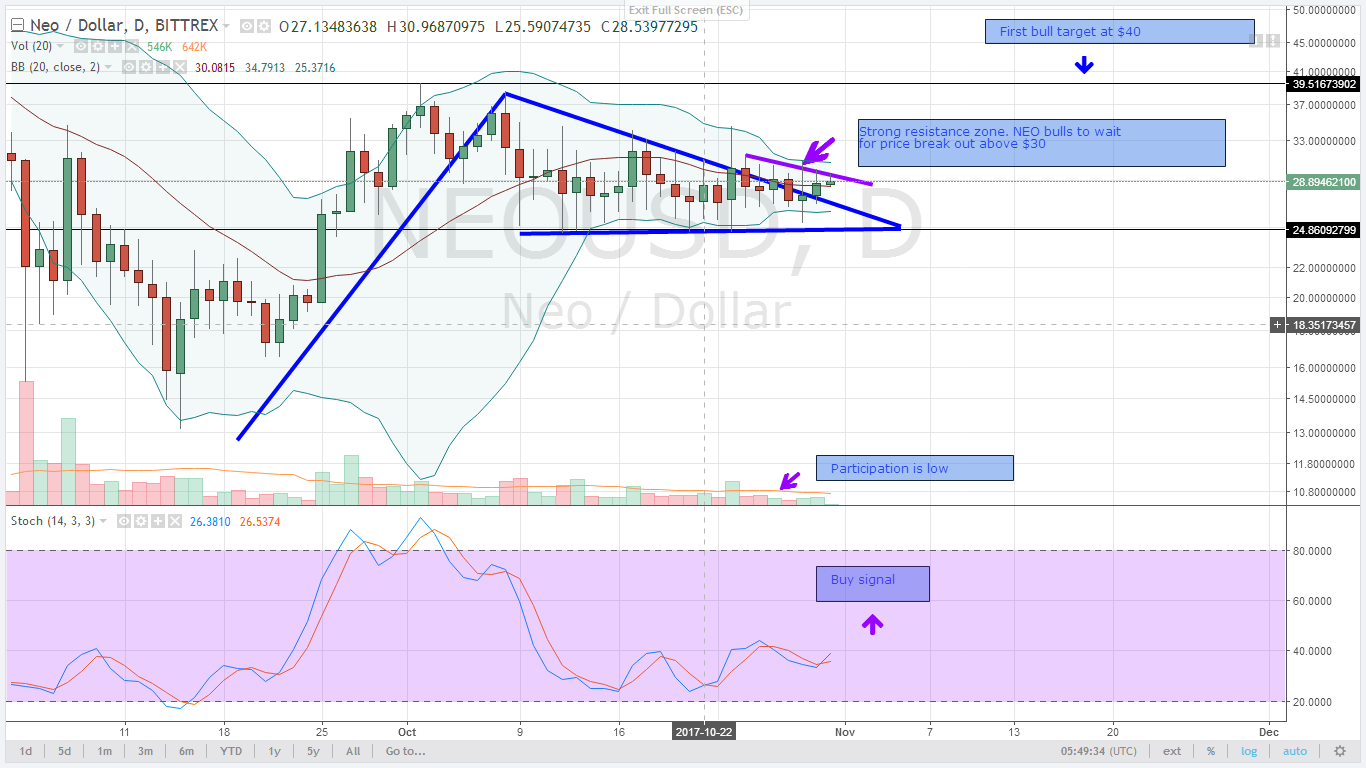 If you are keen and mainly interested in the momentum aspect of this trade then you will notice two things, NEO prices is retesting $30 resistance zone and yesterday NEO closed at $28.50. At the same time, notice how stochastics is turning higher with a buy signal. This is happening even though volumes are below the daily averages of 550K. Yesterday, alt coin NEO prices crossed above the 20 period MA for the first time in 6 trading days. We still take a wait and see approach until a convincing break above $30 then we initiate longs.
All charts courtesy of Trading View