IOTA rally was perhaps November 15 highlight. Price action gained $0.18 by the end of the day. NEM, Monero, NEO and DASH were whipsawing with bull and bear pressure cancelling each other out.
Let's look at the charts:
NOVEMBER 12 HI-LO DEFINES NEM SHORT TERM TREND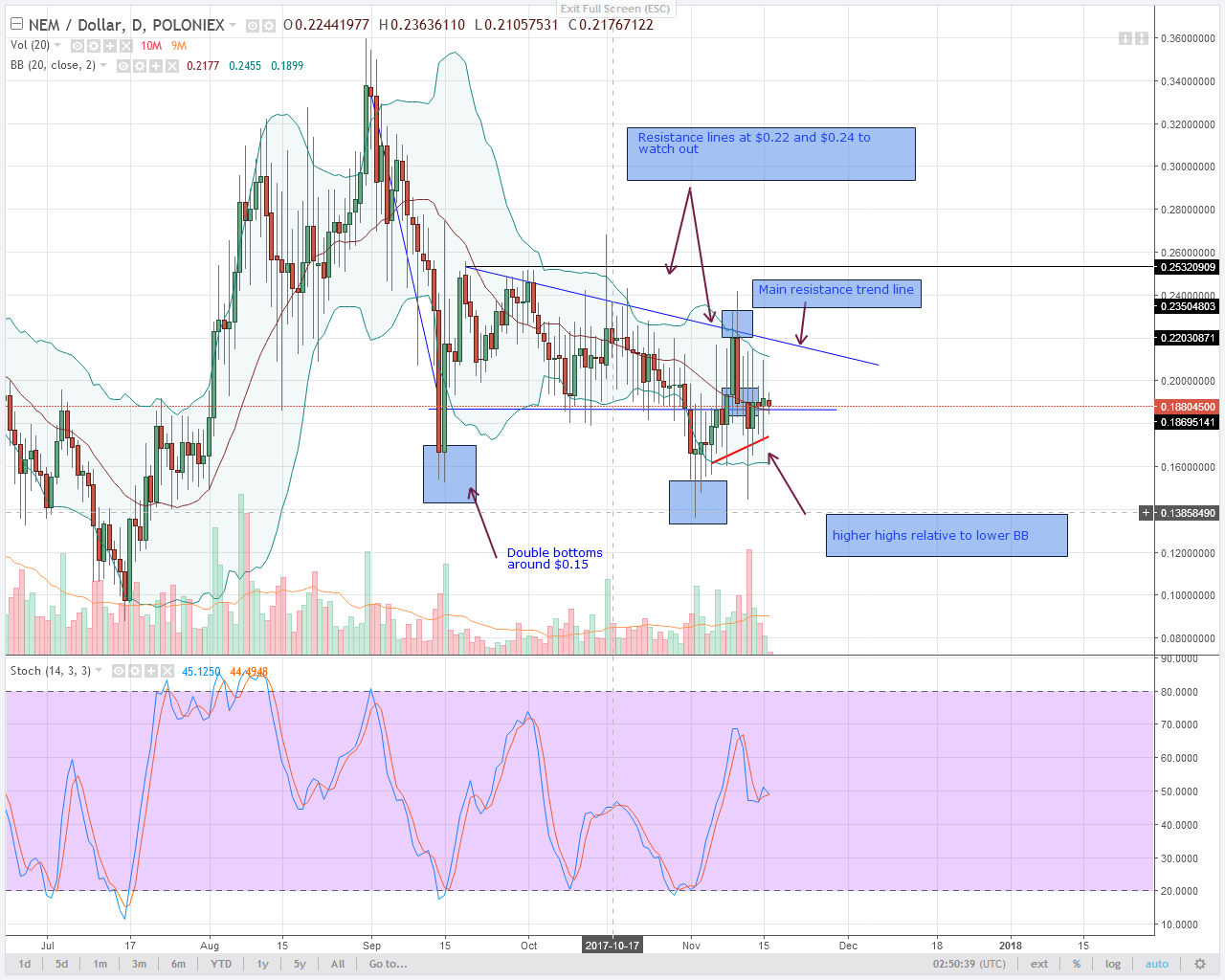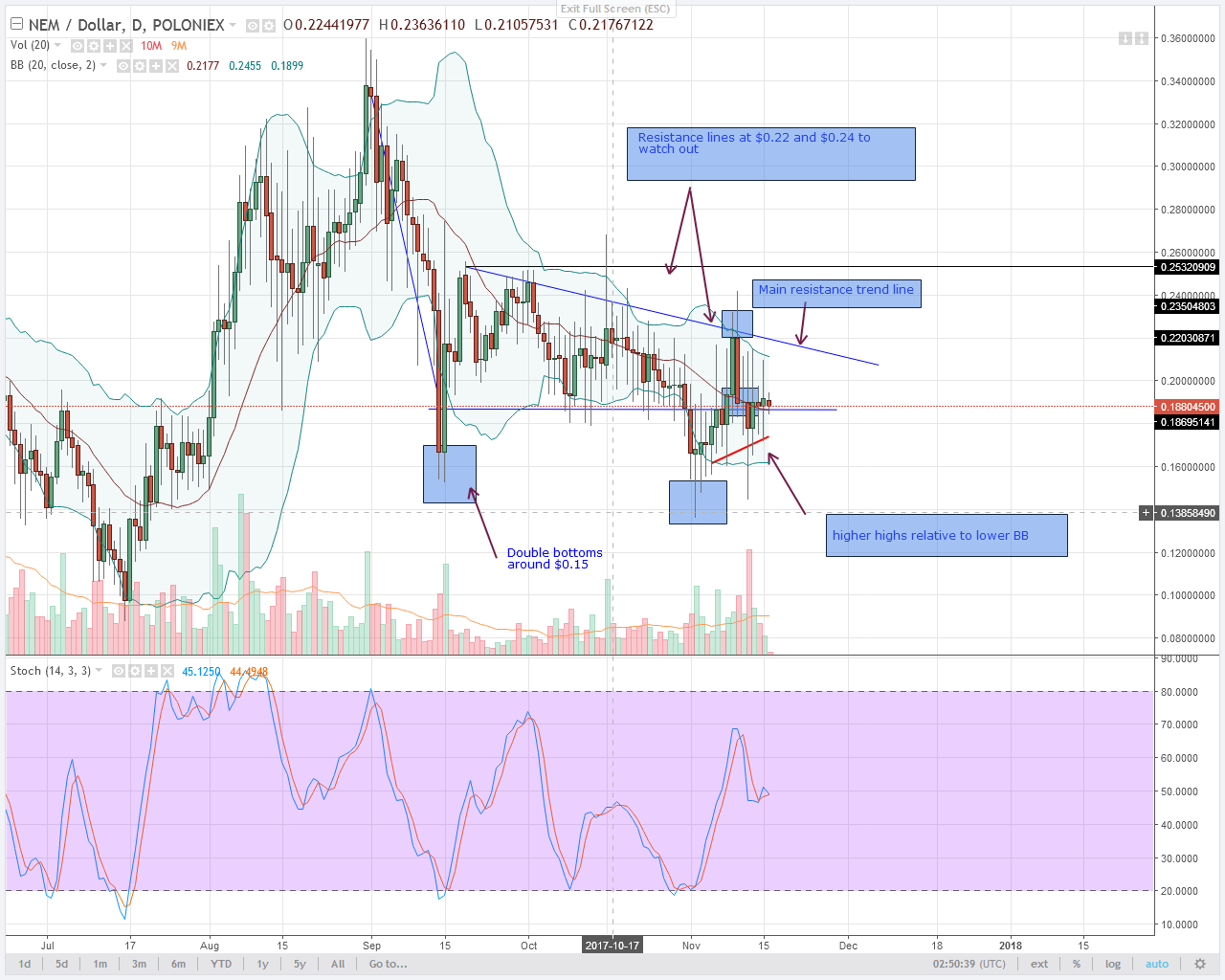 The Hi-Los of November 12 continues to define price action over the last 4 days. In essence, NEM price action around the 20 period MA and the main support or resistance line at $0.20 is important.
So far, there have been a break and close above the two resistances. What will be important especially today is if price action will confirm yesterday's bull candlestick and close above the minor $0.7 range or if it will reverse lower.That has not been made clear by price action.
Nevertheless, intraday traders should continue taking long positions in shorter time frames.
USD AND DASH BULLS FIGHT FOR CONTROL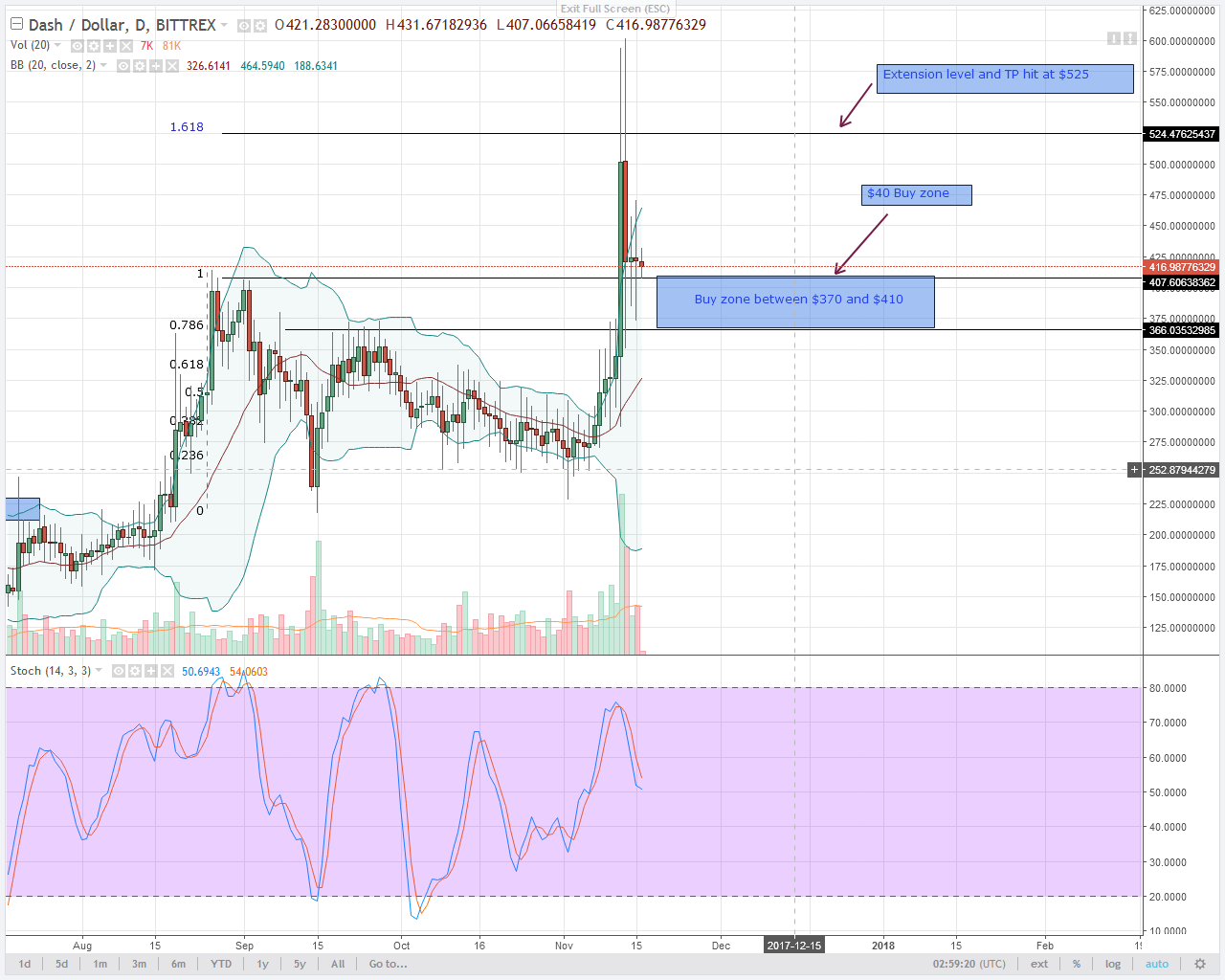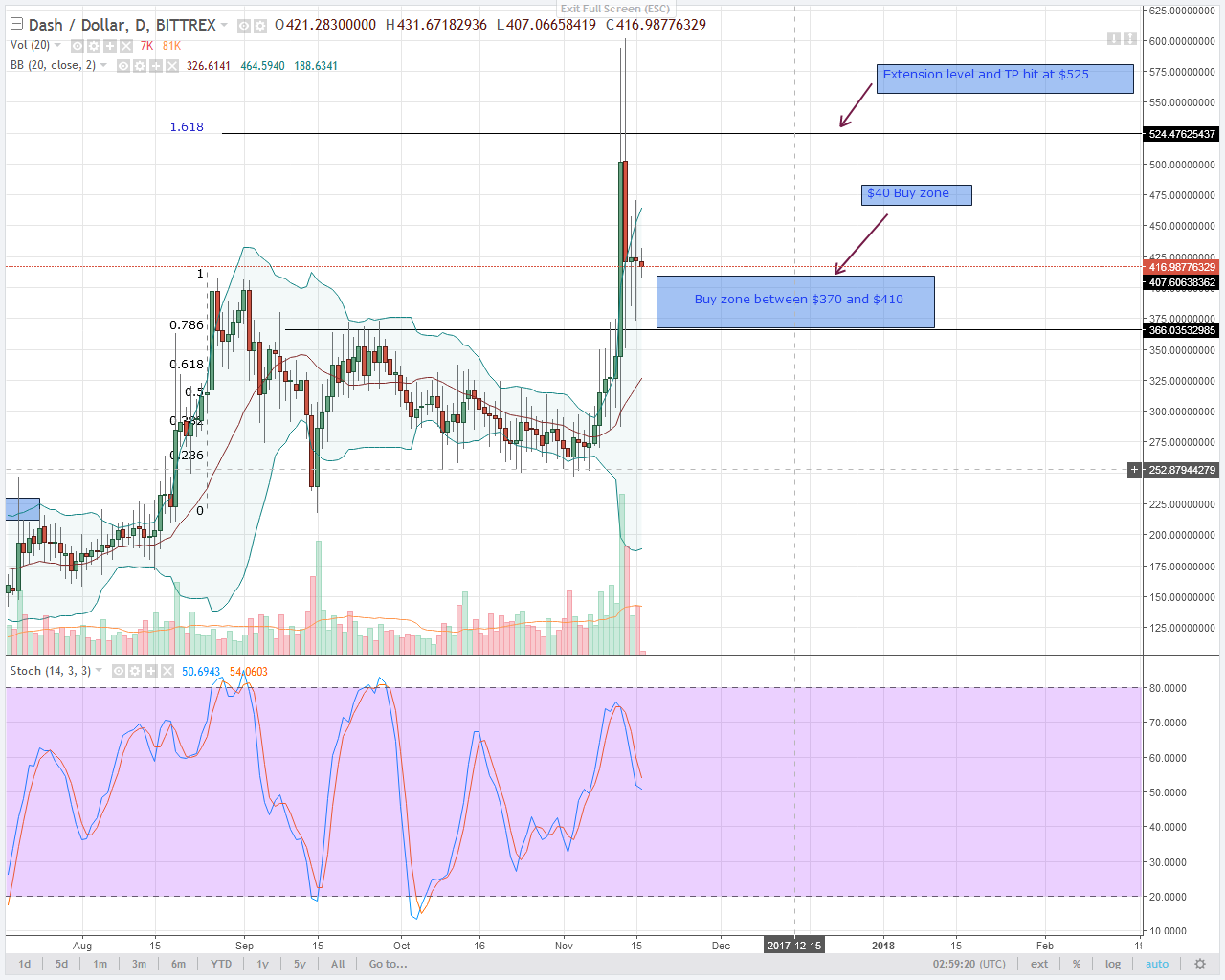 What we are seeing in the daily chart is a balanced price action. DASH and USD bulls are cancelling as revealed by November 14 and 15 dojis. It's worth noting that this is happening at resistance zone with clear lower lows relative to the upper BB.
Secondly, despite the bearish pressure and a stochastic sell signal in place, the support line or August's highs at $405 remains intact. At the moment we recommend patience and if USD bulls push DASH prices below $400, we initiate sells and sync with the short term trend.
However, be ready to buy anywhere around the marked between $370 and $410. Conversely and this is desirable, if there is a break above $435, we go long and be in sync with the main bull trend defined last week.
IOTA RALLY AND GAIN $0.18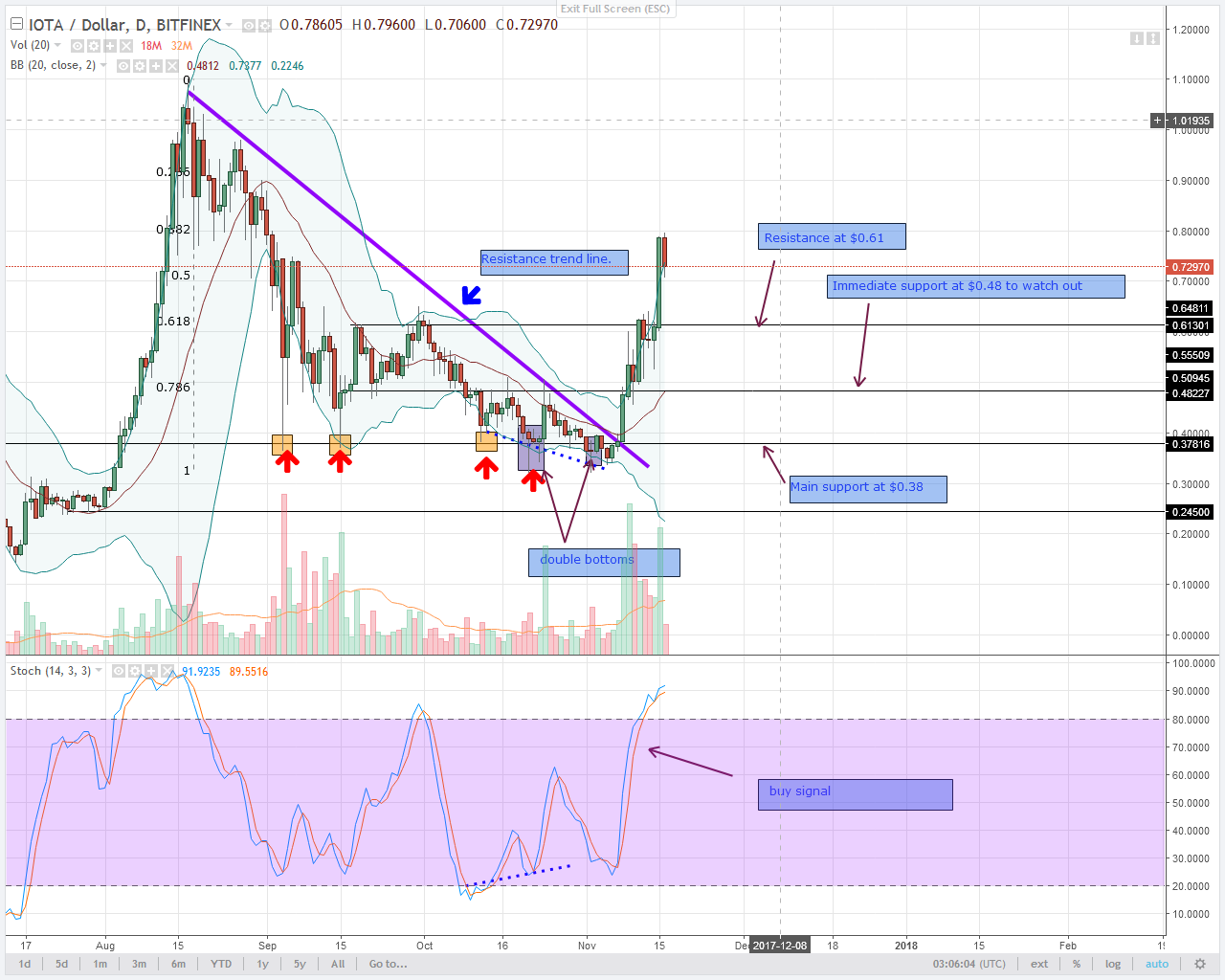 As per our recommendation, IOTA demand triggered our set buy stops. The weekly chart defines our trend according to our stochastics default settings.
It's obvious that bullish momentum is strong but buying IOTA now is buying at  peaks. If you didn't catch the last week's rally, wait until a buy signal is shows say in the 4HR chart. Ideally, that should be at around $0.60-$0.64 support line.
ALT COIN MONERO FINDING BALANCE AT AROUND $120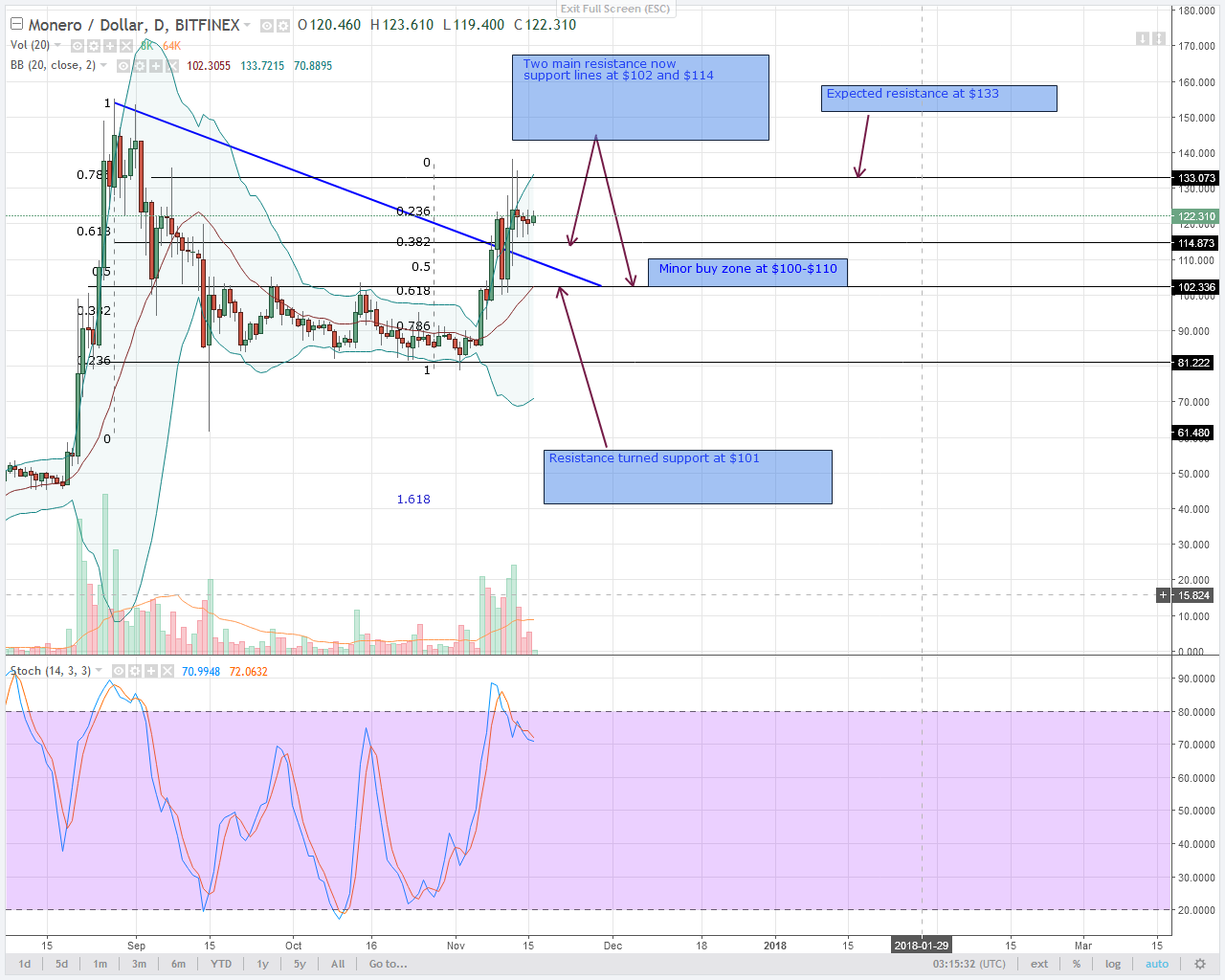 Monero bulls should just wait for a buy signal at support zone and be in sync with the general bull pressure in the weekly chart.
If today's price fails to close below September 14 and October 25 highs of $120, bull pressure is evident. In that case,buy stops should be at $130. Overly, USD bulls are pushing Monero prices towards equilibrium as we can see with these lower highs and minor divergence after November 10.
In a case where Monero trickles lower, the Fibonacci retracement price levels at around $012 and $110 shall form our minor buy zone.
NEO BULLS ARE IN CHARGE AND ABOVE MAIN RESISTANCE LINE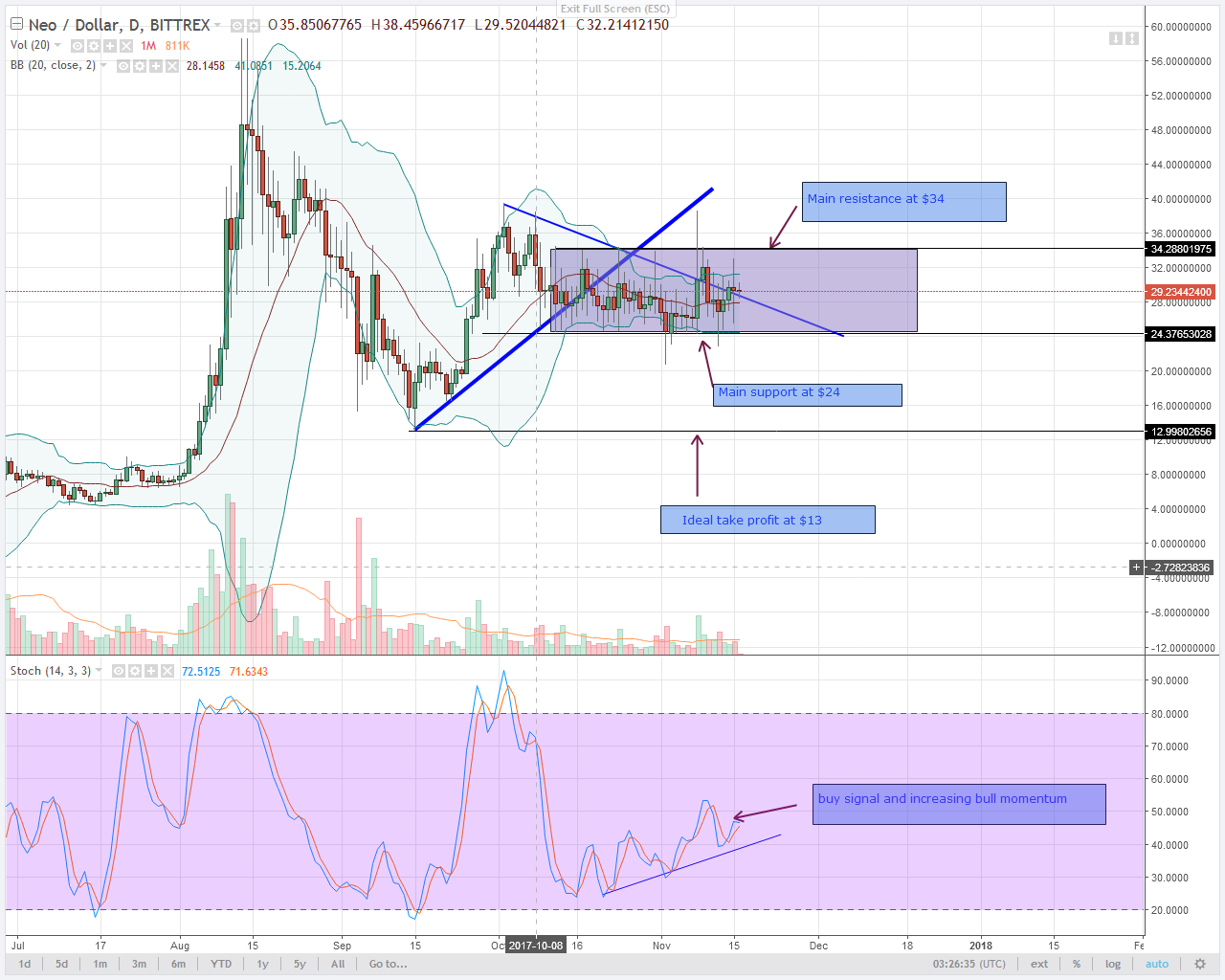 Despite the whipsaws, there are two bullish formations that maintain our bullish skew especially for intraday traders.
First, NEO price is above the main resistance trend line. Secondly, price action is above the 20 period MA with bullish momentum as stochastic shows.
Trend traders should wait for a break away from this $10 range. On the same vein, intraday traders should continue buying as long as price action is above $25.
All charts courtesy of Trading View