Other than that IOTA rally, market moves were largely limited with NEM and DASH especially moving within small ranges compared to recent moves.
Monero is consolidating horizontally while NEO is still moving inside the bull flag after a fake bull break out.
Let's look at the charts:
NEM OSCILLATING WITHIN A $0.01 RANGE
All in all, NEM price movement has been limited to say the least. With an average $0.01 trade range in the past 24 hours, NEM bulls are waiting for a break above the first level of resistance at $0.22.
The 20 period MA and the minor support trend line are acting as support. There is a stochastic buy signal but then NEM bulls cannot initiate any long position until after there is a break above November 26 highs.
WILL DASH SUPPORT TREND LINE AT $590 HOLD?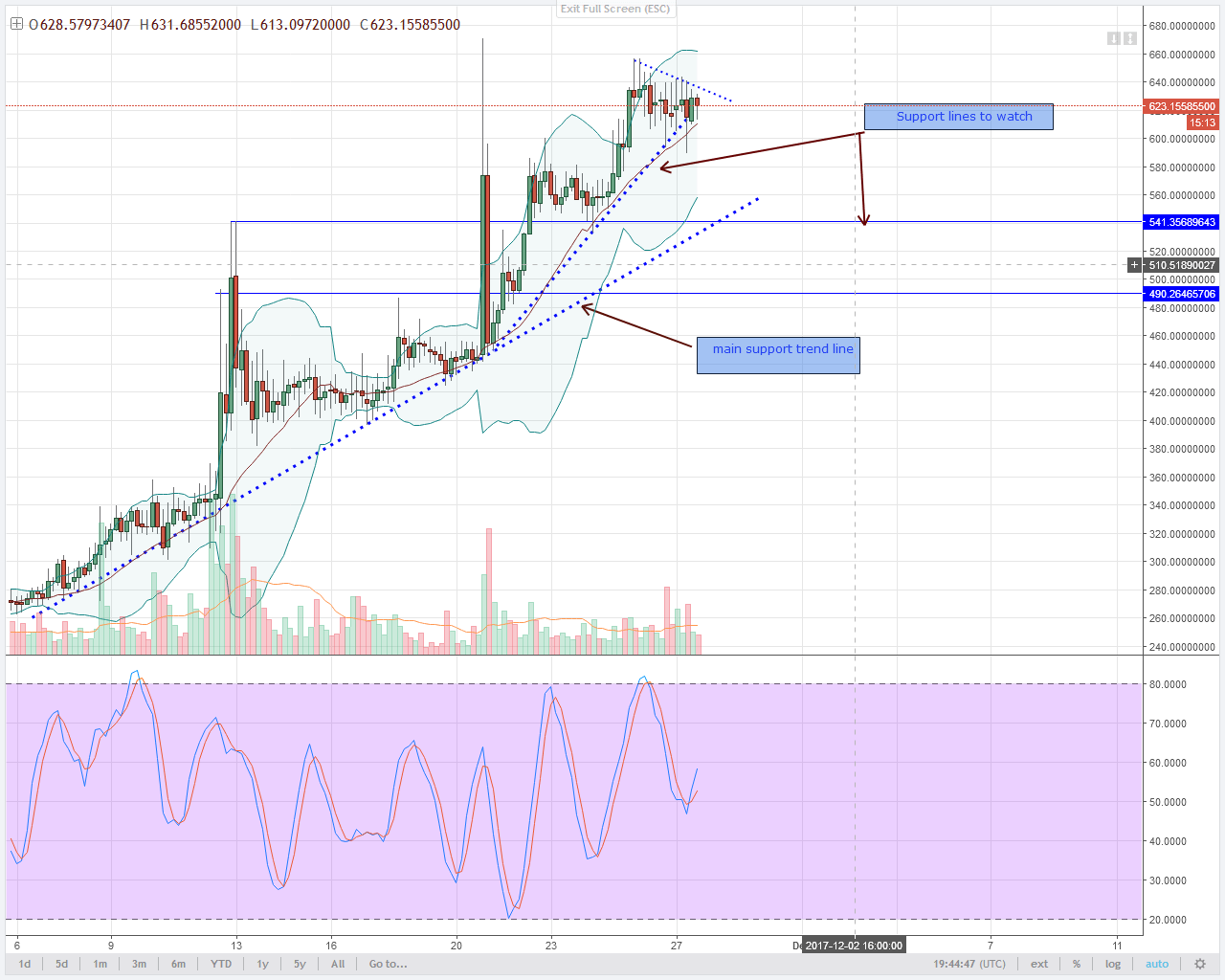 First off, it's clear that DASH bull momentum is waning now that price action is trending lower relative to the upper BB.
Buy triggers are above $630 and the potential of a bull break above our minor resistance trend line is dependent on if bulls will keep prices above $600 going forward.
As we can see, the minor support trend line held price from depreciating and should USD bulls keep pressing resulting in a break below this minor support trend line and the 20 period MA, then we have a reason to enter short and take advantage of a natural correction towards $540.
ALT COIN IOTA RALLY AS BULLS EYE $1.1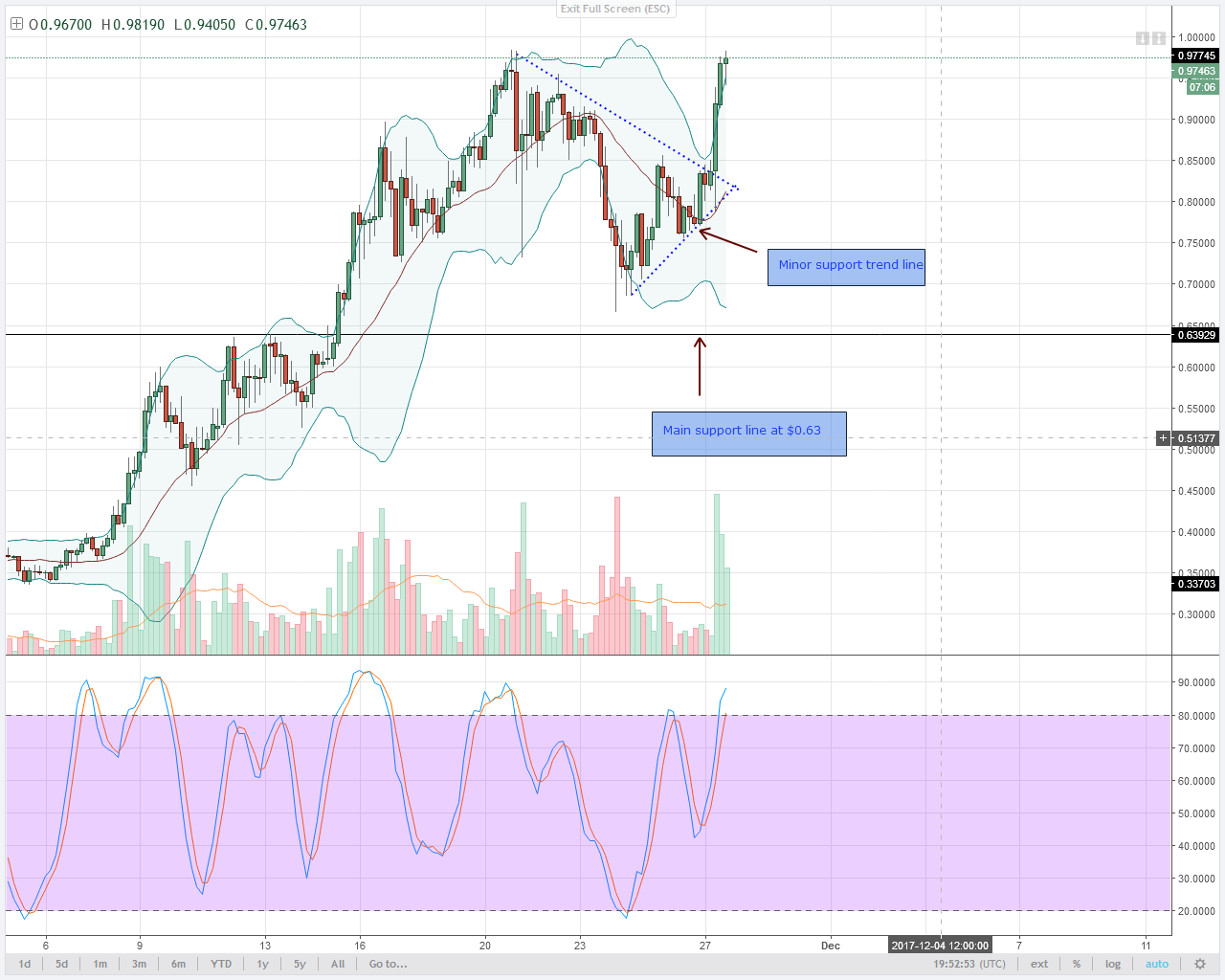 The second leg of IOTA rally is on after price action broke above the bull flag. Notice how the resistance trend line of our bull flag was blasted through as price action went on to retest November 20 highs of $0.98.
Judging from the swing of this bull pressure, it is likely that this resistance line will not hold. It's easy to see why. IOTA candlesticks are literally banding with the upper BB showing the strong bullish momentum in place.
Because this is an important resistance level, we expect a strong close above with above average volumes. Our next target remains at August 17 highs of $1.1.
MONERO CONSOLIDATING AROUND RECORD HIGHS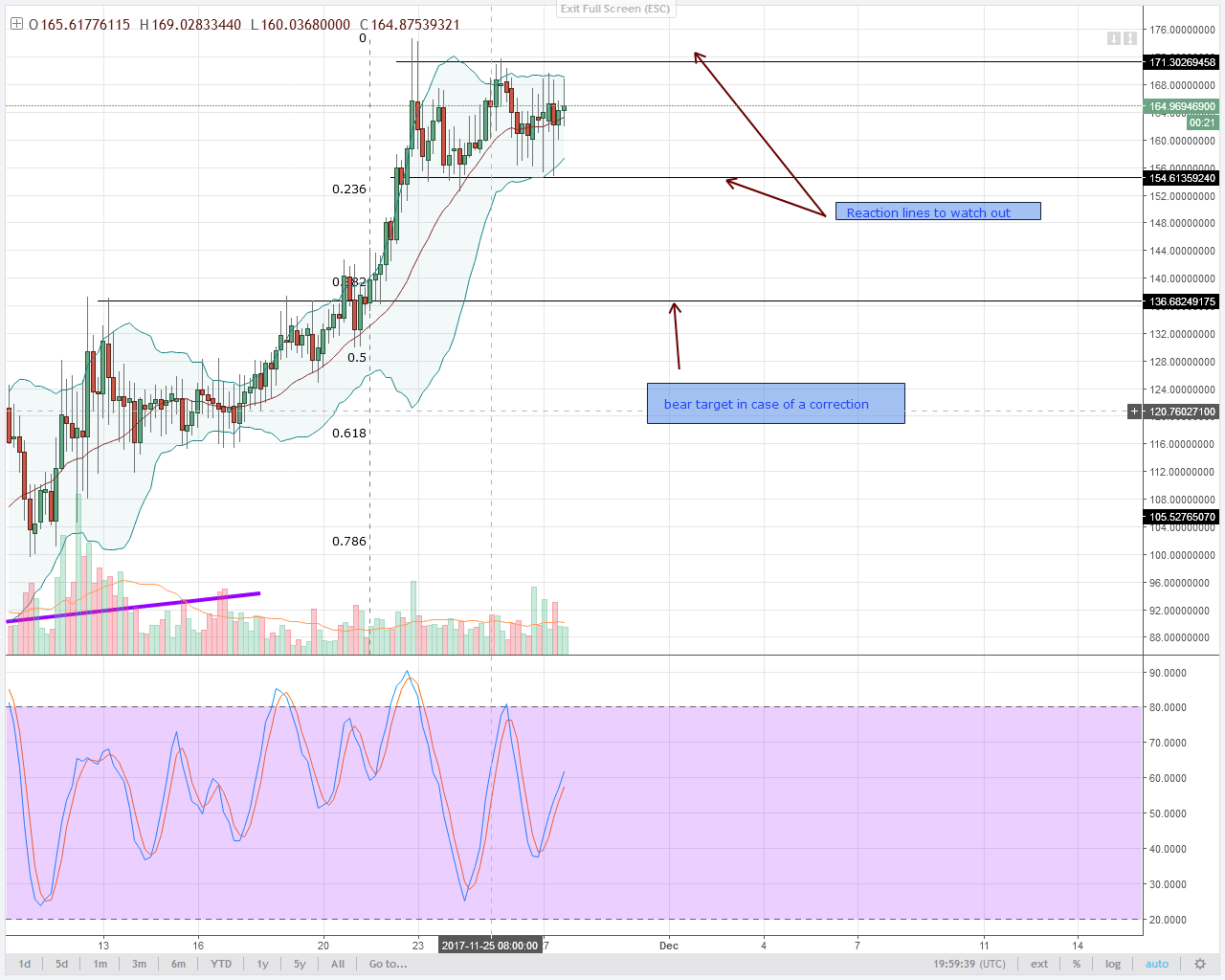 After a long period of breaking records, Monero is now oscillating within a tight $20 range.
As mentioned yesterday, the way price action reacts to the 20period MA will determine our short term trend.
At the moment, the weekly chart is bullish. However, the daily chart and the 4HR chart stochastics are slightly bearish.
Because of that we have a bearish skew. Should there be a close below the middle band then the support line at $154 will be our immediate support line. Consequently, ideal target will be at 38.2% Fibonacci retracement level.
NEO MOVING WITHIN A BULL FLAG
Earlier today, there was a fake bull break out before prices reversed back to the flag.
Anyhow, if you would have used the stochastics to smooth out entries, that would not have been a buy. As you can see, stochastic were turning from overbought territory.
Overly, NEO prices are inching higher with higher highs relative to the middle band but still constricted within the flag.
Bulls should wait until after a buy signal shows from the oversold territory probably at around $35-$37 support level.
All charts courtesy of Trading View