In the coming sessions, NEM and NEO are likely to continue appreciating while IOTA may test main support at $0.63.
DASH and Monero rally seems to be rallying and should price action close below key support levels, chances of further devaluation remains high.
Let's look at the charts:
NEM BULLS HIT FIRST LEVEL OF RESISTANCE AT $0.22
For the past 48 hours or so, NEM bulls are trending above the minor wedge which they broke through on Saturday.
The first resistance level at $0.22 has been hit and despite the stochastic sell signal in place, buy demand is still high.
As a result, the first thing that NEM bulls should do is watch if there will be reversal at the minor support trend line now that there is a double tops and a confirming double bar reversal at resistance level.
Remember, going forward every dip is a buying opportunity.
WILL THE SUPPORT TREND LINE AT $590 HOLD?
First off, DASH bulls managed to keep prices above $600. Because of this high bullish momentum, price action triggered our buy stop at $630. Going forward, there DASH bulls should watch two price levels.
The obvious one is the resistance level and the DASH all time highs of $670 registered on November 20.Secondly we must watch the minor, steep support trend line connecting lows from November 21.
As we can see from the chart, there is a slight over-valuation after three consecutive candlesticks formed above the upper BB that is why we have this correction to the downside.
The question now is if USD bulls will keep pressuring DASH lower as there is a stochastic sell signal in place. That is why the minor support trend line carries more weight going forward with the ultimate support being at $540.
IOTA PRICES WITHIN A MINOR WEDGE
On November 25 IOTA bulls managed to break and close above our bull trigger at $0.798. Soon after wards, price action continued to trend lower.
Because of that, IOTA bulls should close any long positions the buy stop pending order initiated. Entry will be conditional based on two things.
IOTA bulls shall be in charge if and only if they close strongly above the wedge with a stochastic buy signal in place.
At the moment, the condition is void because of that sell signal. Secondly, if there is a bear break out then IOTA bulls should take a wait and see approach until price retest $0.63 main support trend line.
MONERO DOUBLE TOPS AND CLOSE BELOW 20 PERIOD MA LIKELY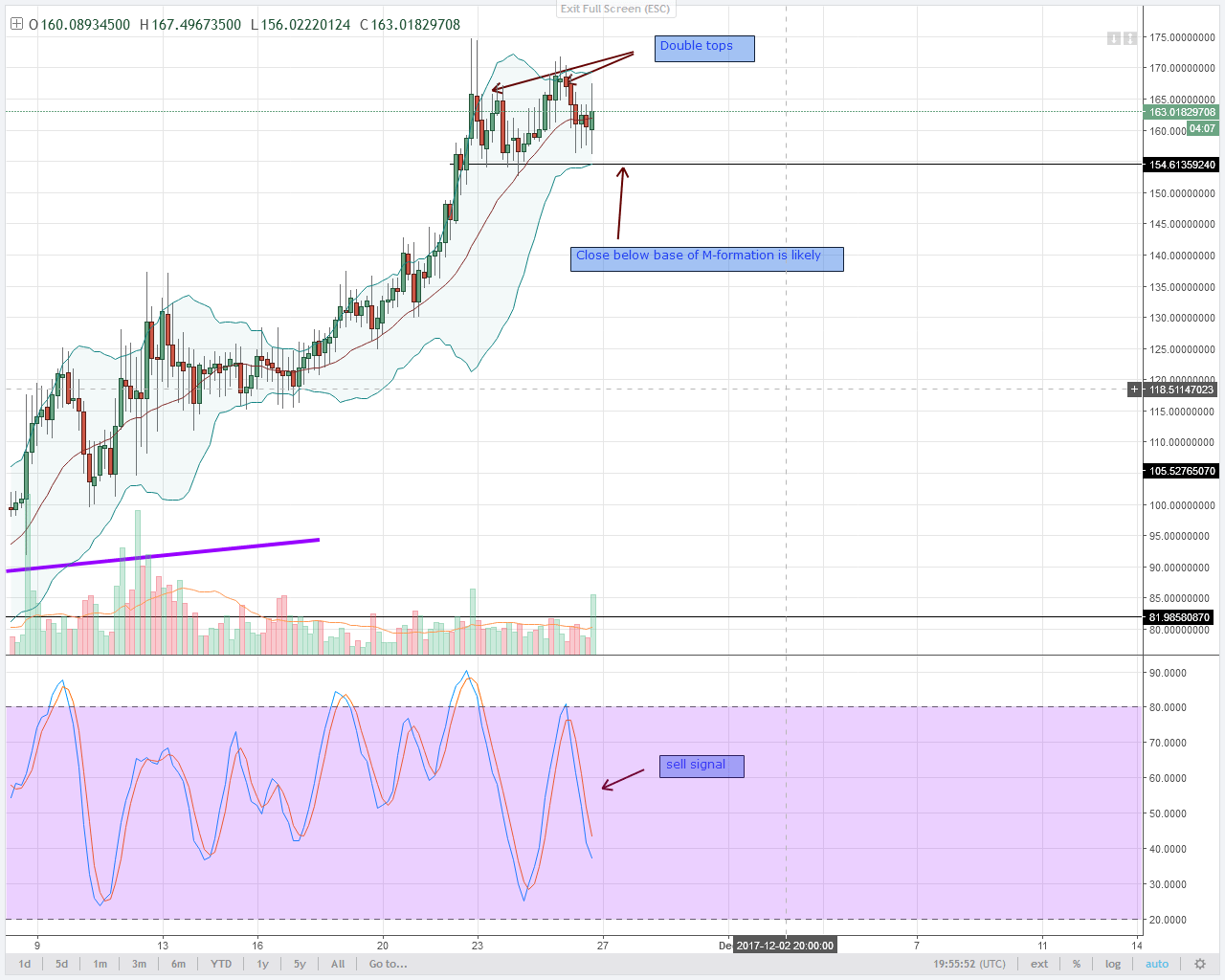 After 10 trading days, a clear double tops and a close below the 20 period MA is clear.
There is a also a stochastic sell signal hinting at bear momentum following that Monero over-valuation on November 23. Trading this pair is easy. All traders have to do is watch what happens at the base of that M-Formation.
Bear momentum is high as stochastic shows. Therefore sellers should gear and wait to enter short with stop losses above $172. That will be ideal especially if Monero prices close strongly below $160.
NEXT FEASIBLE TARGET FOR NEO AT $45 AND $53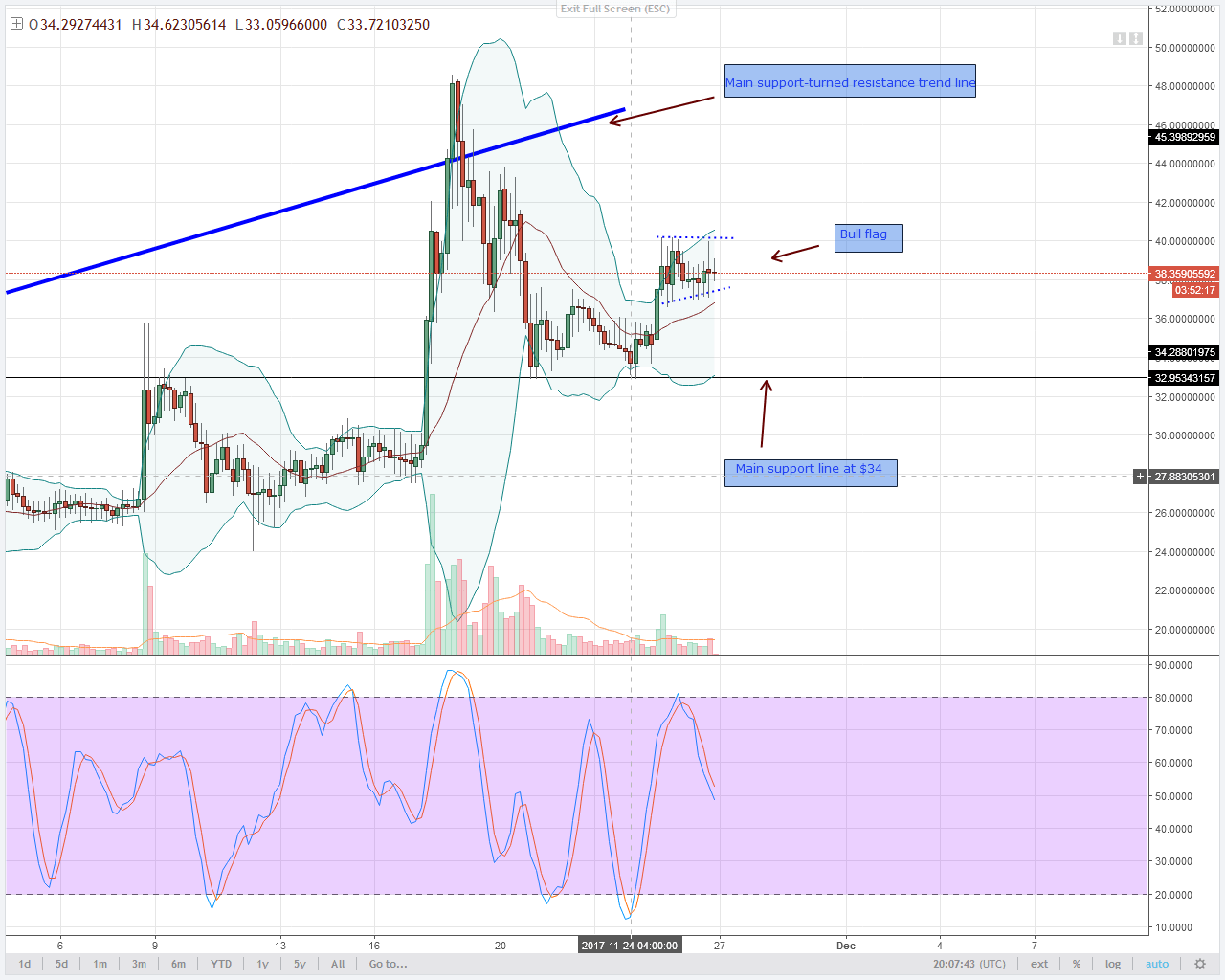 NEO bull forecast is still valid now that prices are above $34. Going forward, if prices close above this current bull flag and clear $40, then NEO bulls are in charge. Feasible targets will be at $45 and $53 all time highs.
Stochastic are bearish but USD bulls are not that strong. In fact prices are bouncing off the support trend line of this bull flag. Traders should only look to enter long.
All charts courtesy of Trading View