In general, it's the beginning of another rally for NEO bulls after that break above $40. This and combination of another bull drive in Monero and DASH should be profitable opportunities in the cryptocurrency realm.
Let's look at the charts:
NEM BULLS KEEP PRICE ABOVE $0.20 MAIN SUPPORT LINE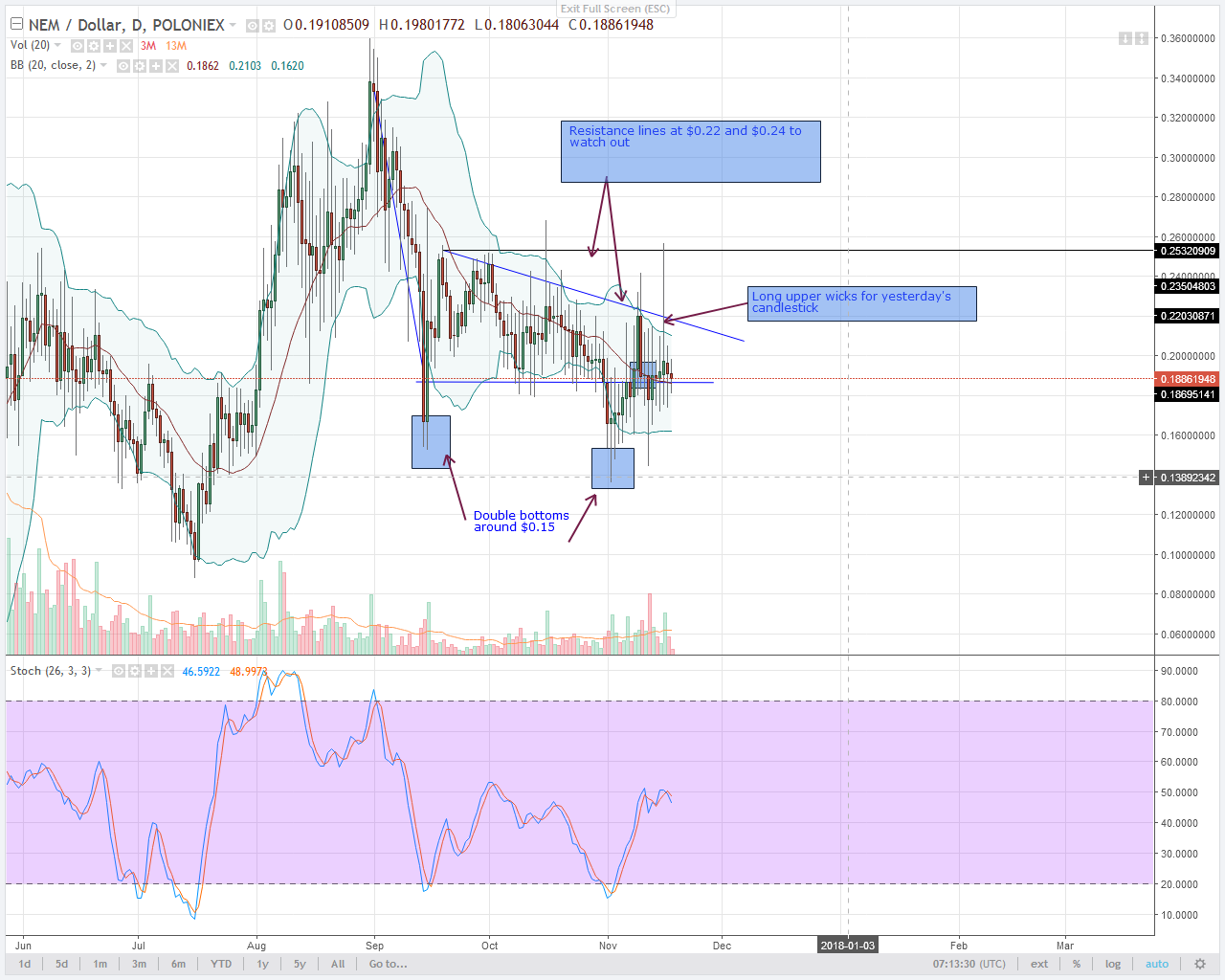 Consolidation is the word for this cryptocurrency and $0.17 support has been common for the past two days.
Secondly, NEM prices are still above the $0.20 support/resistance line, NEM bulls are still in charge unless there is a breakdown of NEM prices strongly below the 20 period MA which has been shoring prices for the past 4 trading days. Notice that this 20 period MA was resistance in October and parts of September.
Therefore, the fact prices are still above that level asserts NEM bull presence. Any close above the main resistance trend line at $0.22 is ideal.
DASH BULLS PUSH PRICE ABOVE $450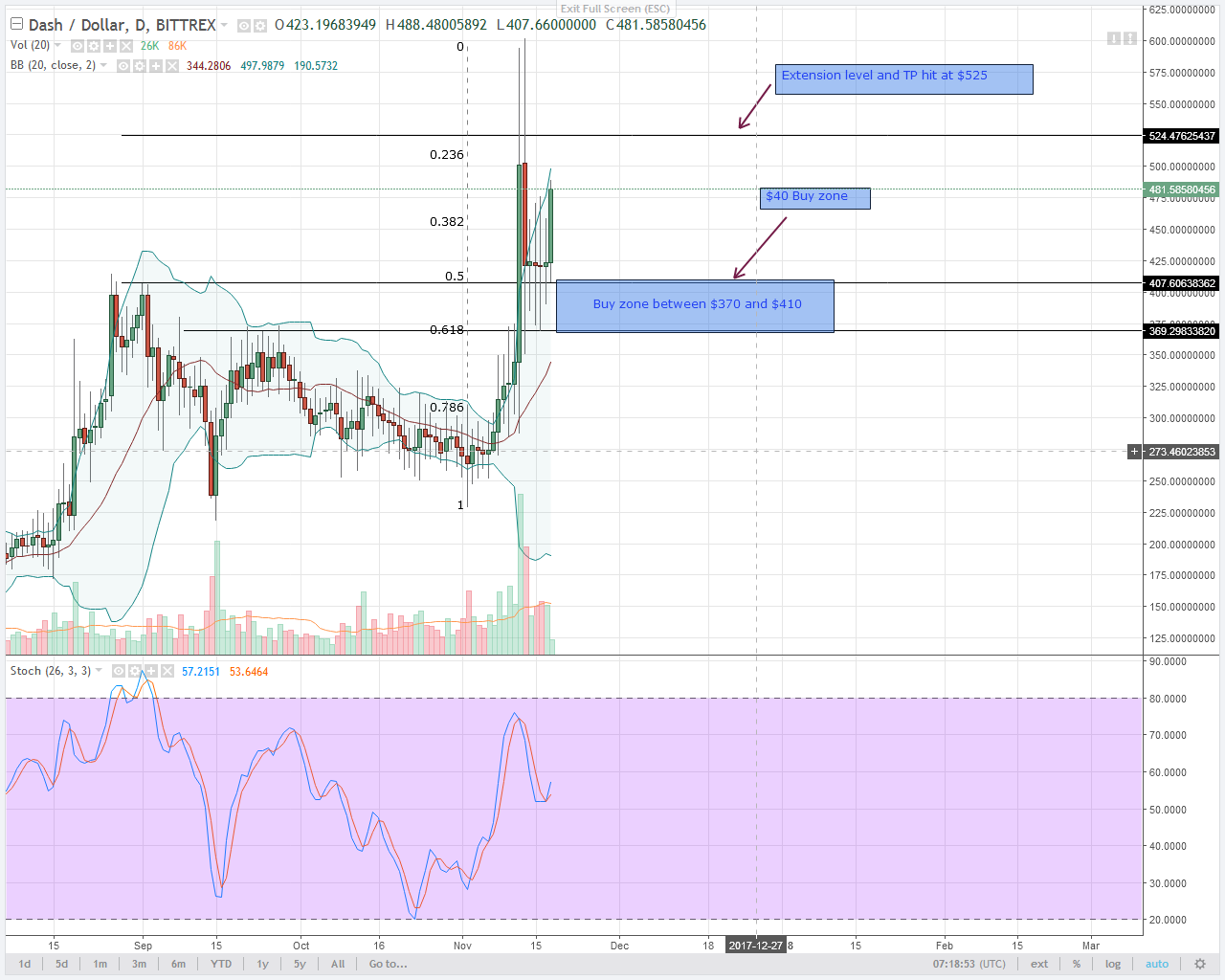 It was important for DASH bulls to maintain their price action above $410 August highs.
Now that our recommended buy limits and buy stops are now live, any DASH trades taken between $370 and $410 or above $450 are profitable after today's strong bullish candlestick.
We shall continue to ramp long positions in lower time frames going forward.
IOTA NOVEMBER RALLY IS ALMOST OVER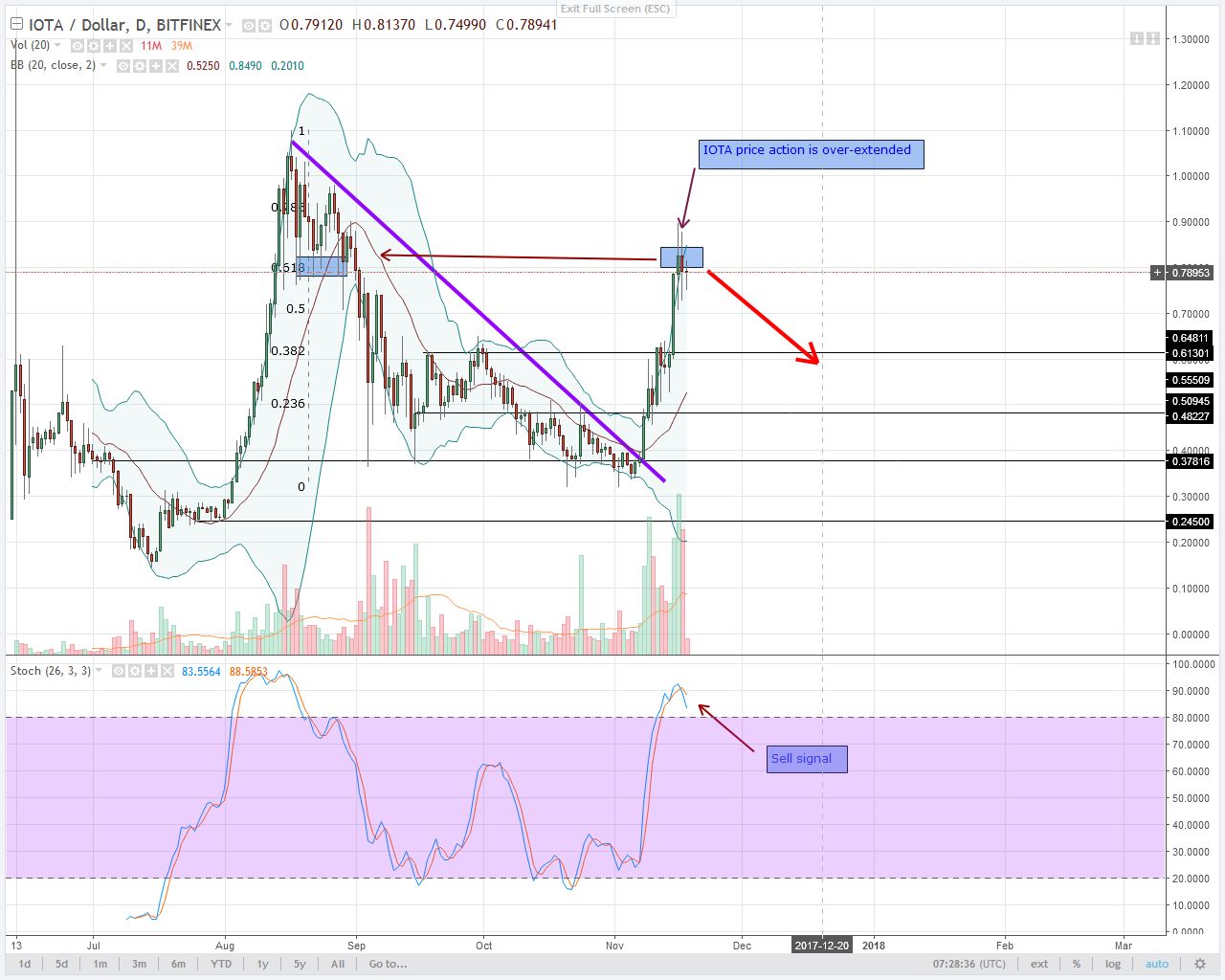 As per yesterday's recommendation, IOTA bulls should have taken their profits. There is a bearish divergence and prices are trickling down after IOTA over-valuation.
Since there is a stochastics sell signal in place, there is an expectation of further devaluation since this reversal is happening at the August 18-25 lows and minor support. Additionally, this region is at the 61.8% Fibonacci level from August-October Lo-His.
This means that in the recent bear run from August to October, prices have recovered almost 72% and correction lower for the second wave looks likely.
MONERO PRICES SWING PAST $120 NOW BULLS AIM $133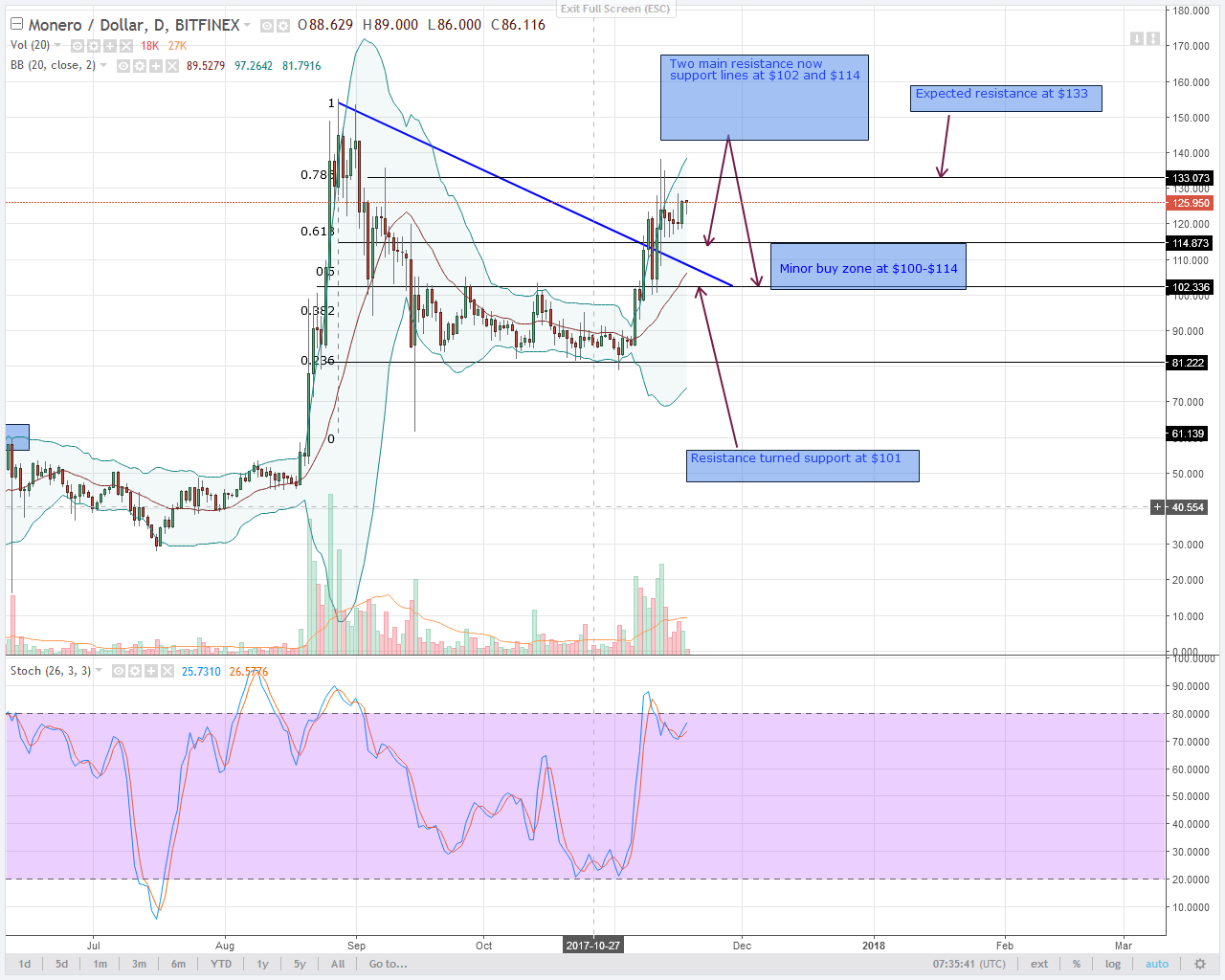 Our technical expectation was for Monero bulls to generally maintain a bullish run even if prices trickle lower towards support at $114 or even the lower limit at $100.
That was not the case. DASH and Monero draw from the same cistern and prices moved up earlier today breaking above $120 resistance trend line.
Bulls should enter long positions and aim for $133 and all the times highs of $153.
NEO BULLS RALLY BREAKS ABOVE $40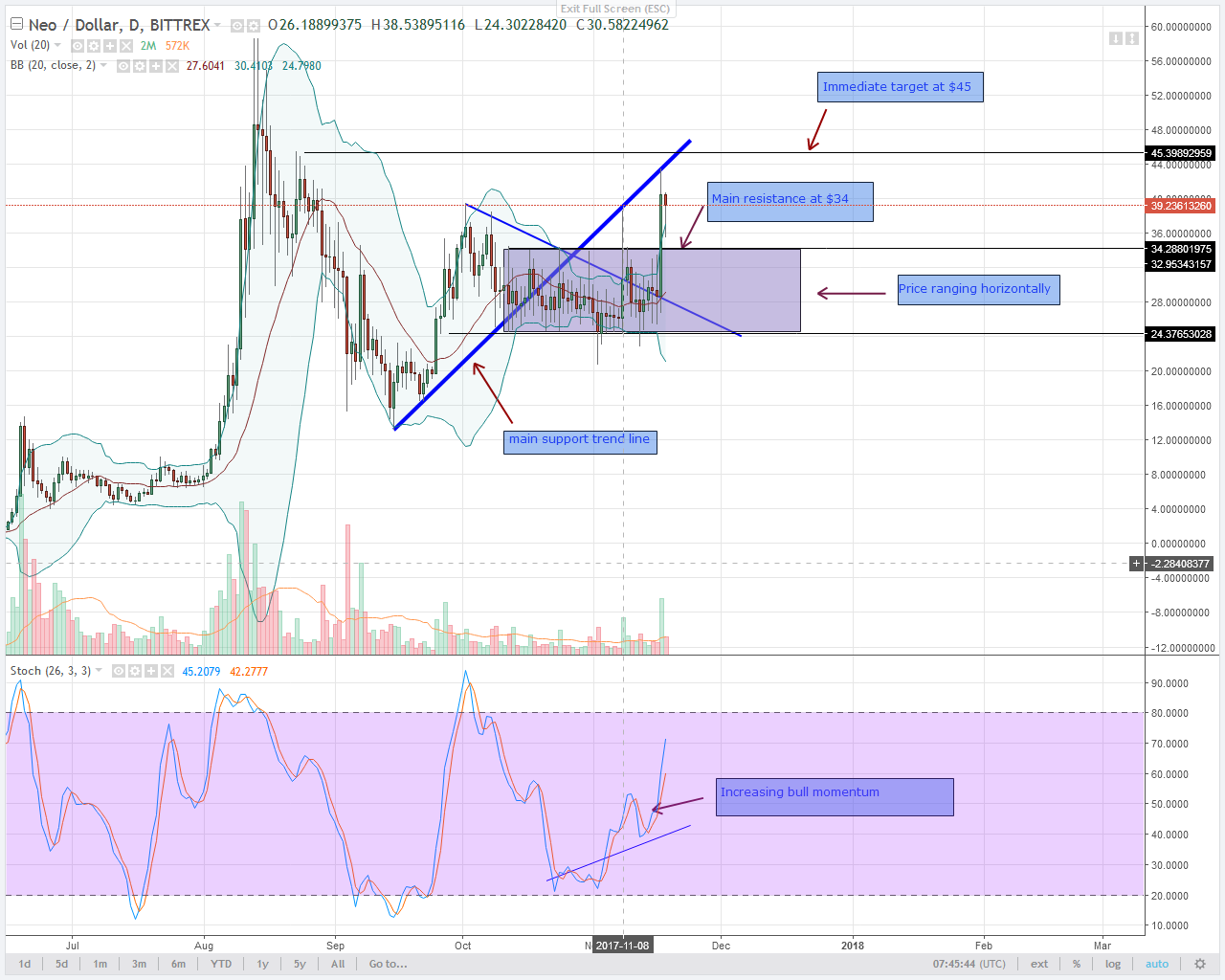 It is common knowledge that NEO is a Chinese brainchild and even if there are all sorts of cryptocurrency crackdown, all lows provide wonderful buying opportunity for this crypto.
Now after period of consolidation, price action broke and closed above $40 for the first time since October 2. Bulls should aim for $45 and then $58 for another 50% portfolio growth especially if price action breaks above the main support trend line.
Overly, NEO bull momentum is building up which is good.
All charts courtesy of Trading View