Before yesterday, alt coin NEO trading charts were "boring". Simply put, volatility remained low and within a $4 range. However, yesterday there price action across major alt coin rallied with Monero and DASH breaking above key resistance lines.
ALT COIN NEM BROKE ABOVE RESISTANCE $0.20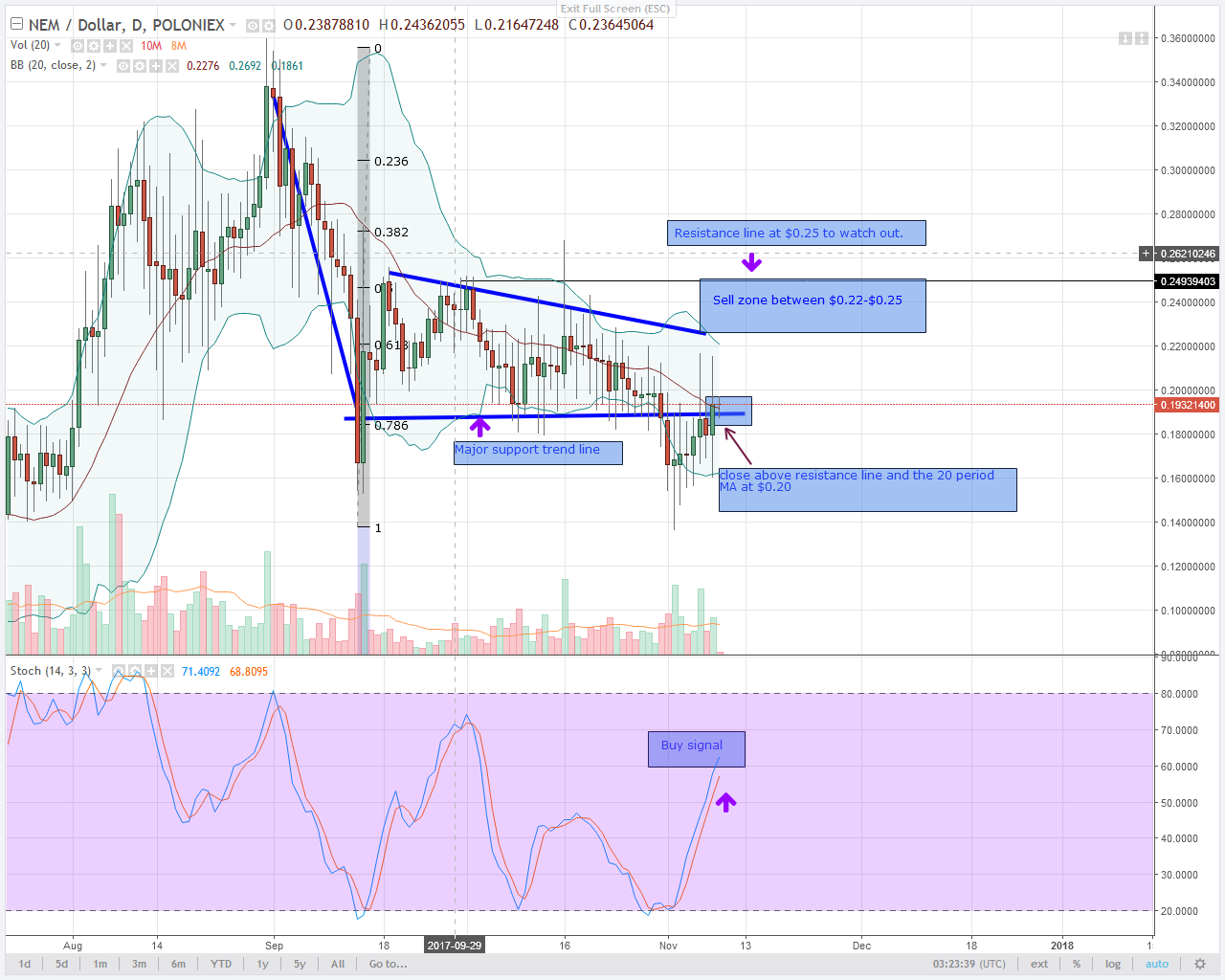 Yesterday, alt coin NEM closed as a strong bull after price action broke above the resistance line at $0.20.
While this was expected given the across the board appreciation of alt coins, it also meant that NEM bulls should benefit in the coming sessions. Since price action closed above the 20 period MA, bulls should enter long.
These long entries mean traders will be in sync with the trend apart from taking advantage of the current strong NEM bull momentum which the stochastics hint. Immediate bull target will be that sell zone marked between $0.22 and $0.25.
ALT COIN DASH BROKE ABOVE MAIN RESISTANCE LINE AT $300
DASH bulls are definitely in charge. Look at how the main resistance line marked at $300 was blasted through following that strong bullish candlestick yesterday.
As mentioned earlier, DASH main resistance was $300. Now that is has been broken with accompanying strong buy volumes, at 109K almost double the daily average volumes at 59K.
These extra ordinary bull pressure pushed momentum and stochastics higher. Because of that, our immediate bull target will be around $335 and $370. These are levels where we expect strong resistance.
ALT COIN IOTA SURGED $0.09 AFTER REVERSING FROM $0.38
Alt coin IOTA bulls are definitely in charge. As advised yesterday, this bullish trend should continue following this break above the bullish flag from the 3rd section of this wedge.
History shows that any breakout near or at the apex of a wedge tends to be strong.
As we can see, by yesterday's close, IOTA had shifted $0.09 to the upside and the buy volumes were above average as the volumes window show.
ALT COIN MONERO IS TRADING ABOVE BULL FLAG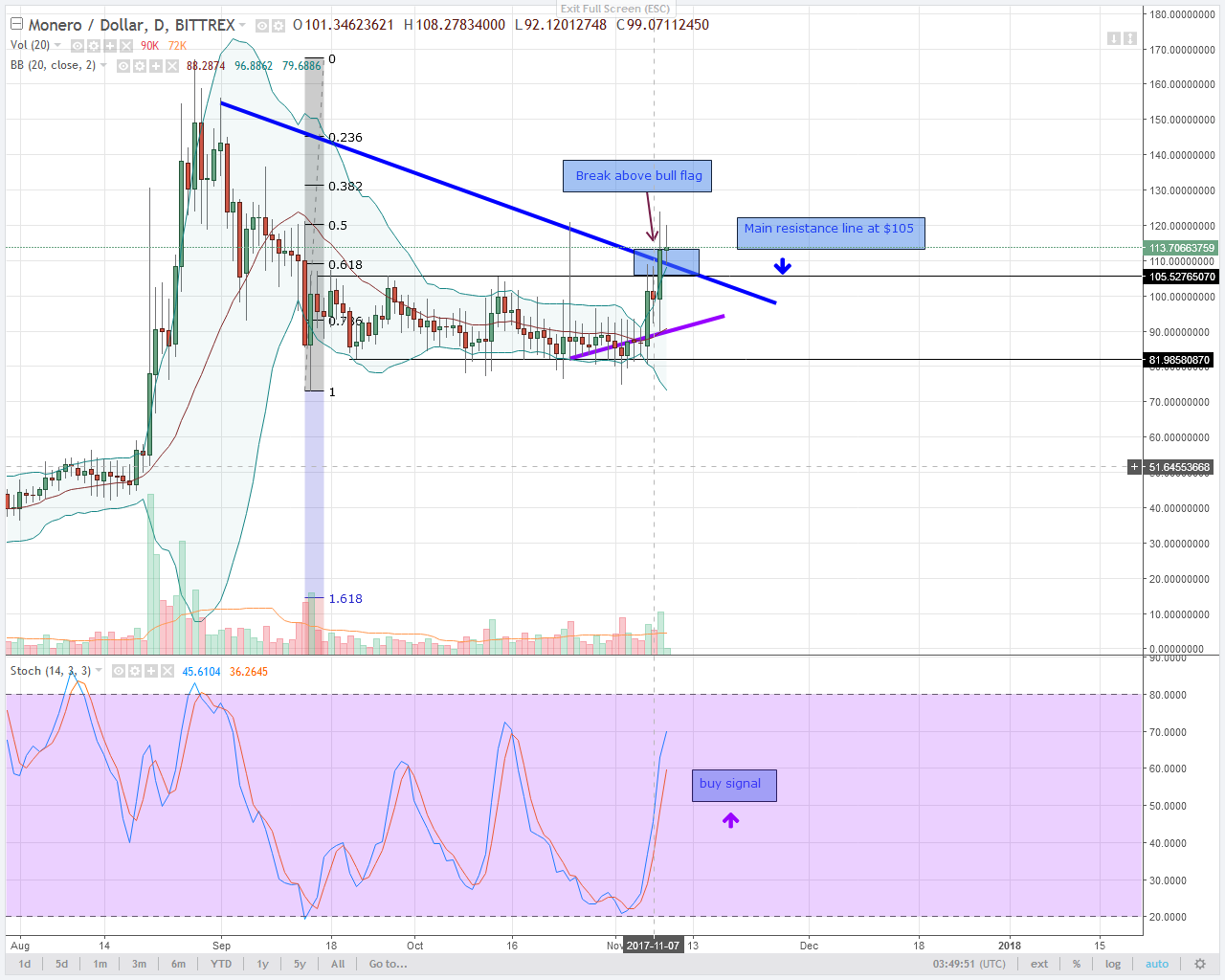 Monero prices didn't correct as expected even after that over-extension to the upside. In fact, Monero price action broke two levels of resistance.
The first was the break above the upper limit at $105 of this 55 days BB squeeze. The second was that break above the resistance trend line at $110. This new development meant price action is now trending outside the bull flag.
As we can note, November 8 trade range at $34 shows that the volatility was high as Monero bulls continue to press prices higher. There is a buy stochastics signal in place and if there is no retest of $105, immediate bull target should be at around $160 August highs.
AFTER PERIOD OF CONSOLIDATION, ALT COIN NEO MOVED $14
As per yesterday's trade recommendation, the 20 period MA and the main resistance line ability to suppress NEO appreciation was important for bulls.
Well, after a bullish divergence, the break out strategy was nullified after alt coin NEO moved $14 to the upside and closing at the upper limit of our resistance zone at $30.
Despite the long upper wick, I expect alt coin NEO price action to inch higher. As evident in the secondary momentum window, %k and %d are diverging meaning there is strong bullish pressure.
All charts courtesy of Trading View