There is a broad based alt coin price appreciation against the USD. As hinted by alt coin price charts, chances of across the board alt coin rally is high. Let's review these alt coins below:
ALT COIN LSK PRICE ACTION ANALYSIS
As the markets opened today, LSK got a shot in the arm. So far, alt coin LSK has move $1.2 and strongly rebounded from support mentioned at $4.3 breaking above the 20 period MA. USD bears are currently retesting the resistance trend line at $5.2. Should LSKUSD close above that area of resistance strongly, the alt coin LSK bulls will drive prices towards our previous resistance at $6.5. Also note that stochastic bull divergence with a buy signal in place. If it remains this way, LSK bulls should be in charge as bull momentum build up from the oversold territory.
ALT COIN DASH PRICE ACTION ANALYSIS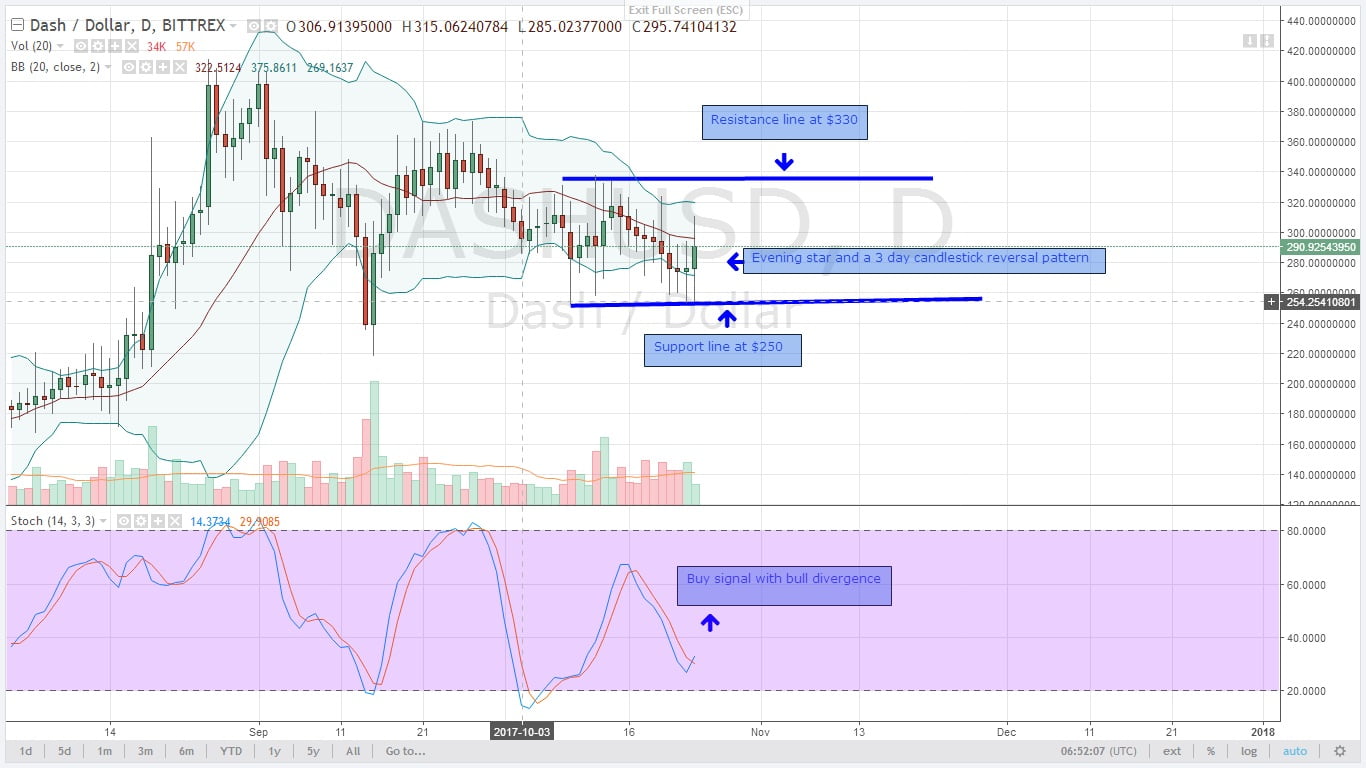 Before today's upturn, the first DASH bears profit level was hit at $250. As you can see, alt coin DASH hit $250 before USD bears pushed DASH prices higher. This is the third time in 15 trading days where the same support is being retested. For now, DASHUSD is oscillating in a channel bounded at the upper limit by $330. There is a high chance of further alt coin DASH rally with that stochastic buy signal and a bullish divergence. For now, if today's candlestick close as a bull then it shall confirm an evening star and a 3-day reversal pattern with a buy stochastic signal.
ALT COIN IOT PRICE ACTION ANALYSIS
Yesterday's IOT bear alt coin prediction depended on IOT restriction below $0.45. Yes it did but with new developments. Now, over the past 3 trading days, alt coin IOT has always closed as a doji with those long lower wick. That signal IOT bullish pressure and surely, a buy signal is in place in the daily chart. IOT bulls pushed volumes above 13M daily average and USD bulls are now cutting their losses. Anyway, that evening star pattern with high volumes and a stochastic buy means IOTUSD will rally in the coming days.
ALT COIN MONERO PRICE ACTION ANALYSIS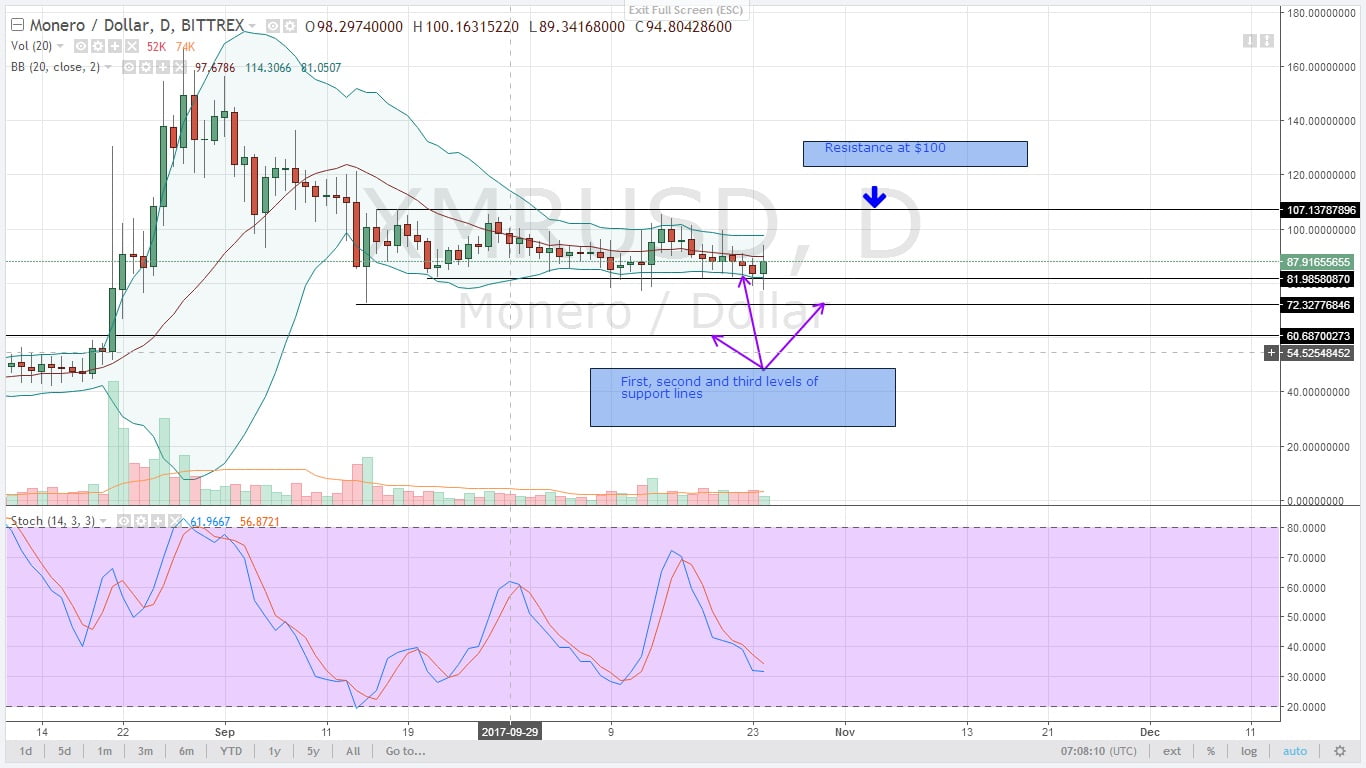 Just like other alt coins, there is a broad base USD weakness as shown in Monero alt coin daily graphs. Monero price chart is showing tendencies of a Monero rally in the coming sessions. For now, there is no buy signal neither are stochastics turning from oversold territory. Currently the value of Monero or XMRUSD depends on the first level of support and the direction where the BB squeeze will break towards. If Monero prices appreciates above the 20 period MA and closes firmly above it as a bullish engulfing pattern, then we go long and aim above $100 with stop loss below $75.
ALT COIN NEO PRICE ACTION ANALYSIS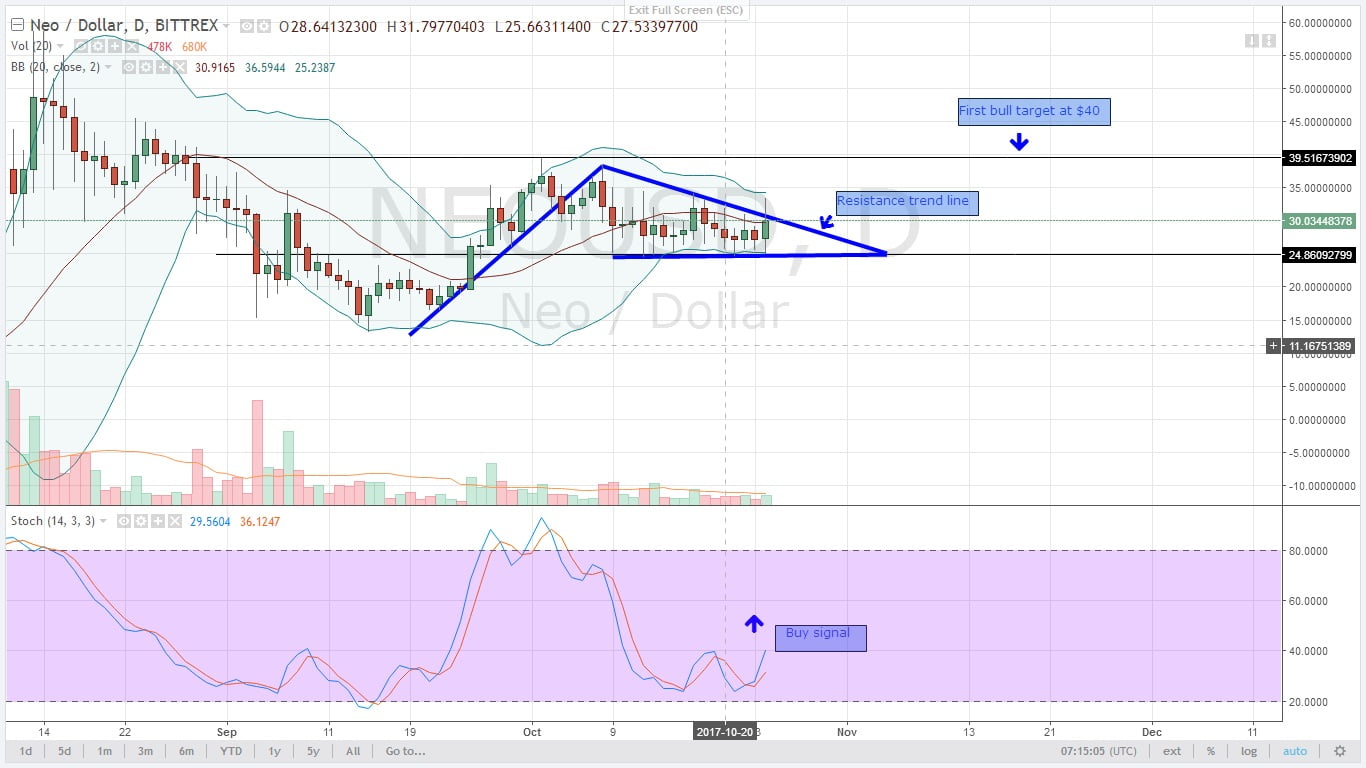 As mentioned earlier, alt coin NEO value depends on how USD reacts at $26 support and $34 resistance levels. Our NEOUSD rally relied mainly on NEO close above $34 and that is what is happening today. NEO prices broke above the 20 period MA and tested $34. There is a NEO buy signal as stochastics are turning from the oversold territory. Sustained USD bear pressure means a buy entry tomorrow with immediate target at $40.
All charts courtesy of Trading View