Analyzing these best alt coins and you notice that there is USD demand across all these alt coin trading chart. In fact in IOTA and NEO alt coins, there is a clear surge from support zones with further price depreciation on the cards. Let's review alt coin price action:
LSK ALT COIN TRADING CHART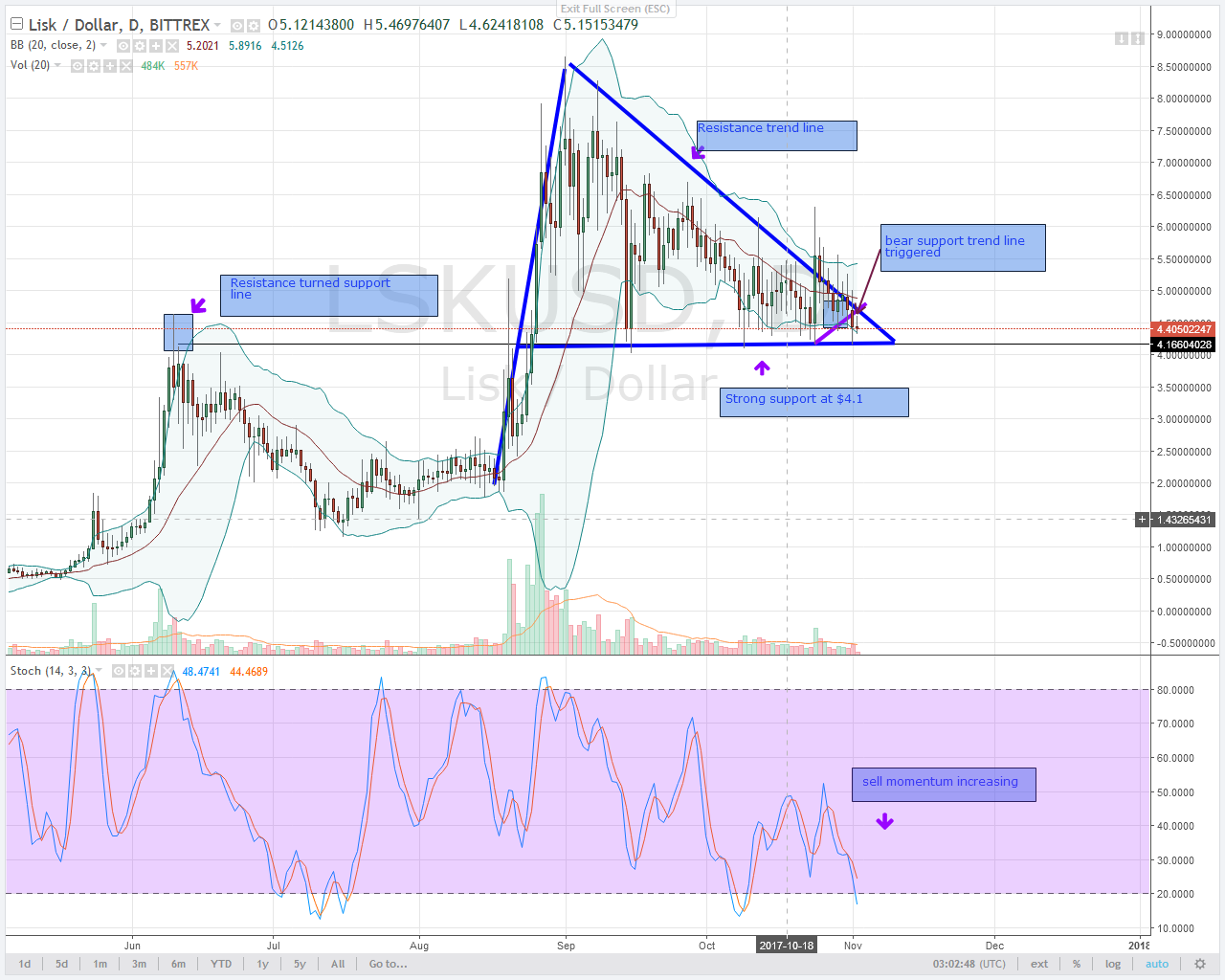 Two important things happened yesterday in this best alt coin trading chart. First, alt coin LSK price has retraced 100% from 24.10.2017 highs of 6.2. This means that the $2.1 range that went into that bullish candlestick has been recovered by USD bulls and the support line at $4.1 retested once more.
Secondly, the minor support trend line at $4.5 has been broken through with sustained USD bull pressure making it perfect for bear LSK alt coin trading. So, with the resistance trend line and the 20 period MA making it possible for those bear soldiers to form over this 9 trading day period, it is imperative to know what happens at the support trend line.
Two things may happen today. Price action may close below $4.1 support line at $4.1 or a strong bullish candlestick may form to complete a bullish-3 method candlestick pattern. Remember, $4.1 is a significant price level so we watch what happens.
DASH ALT COIN TRADING CHART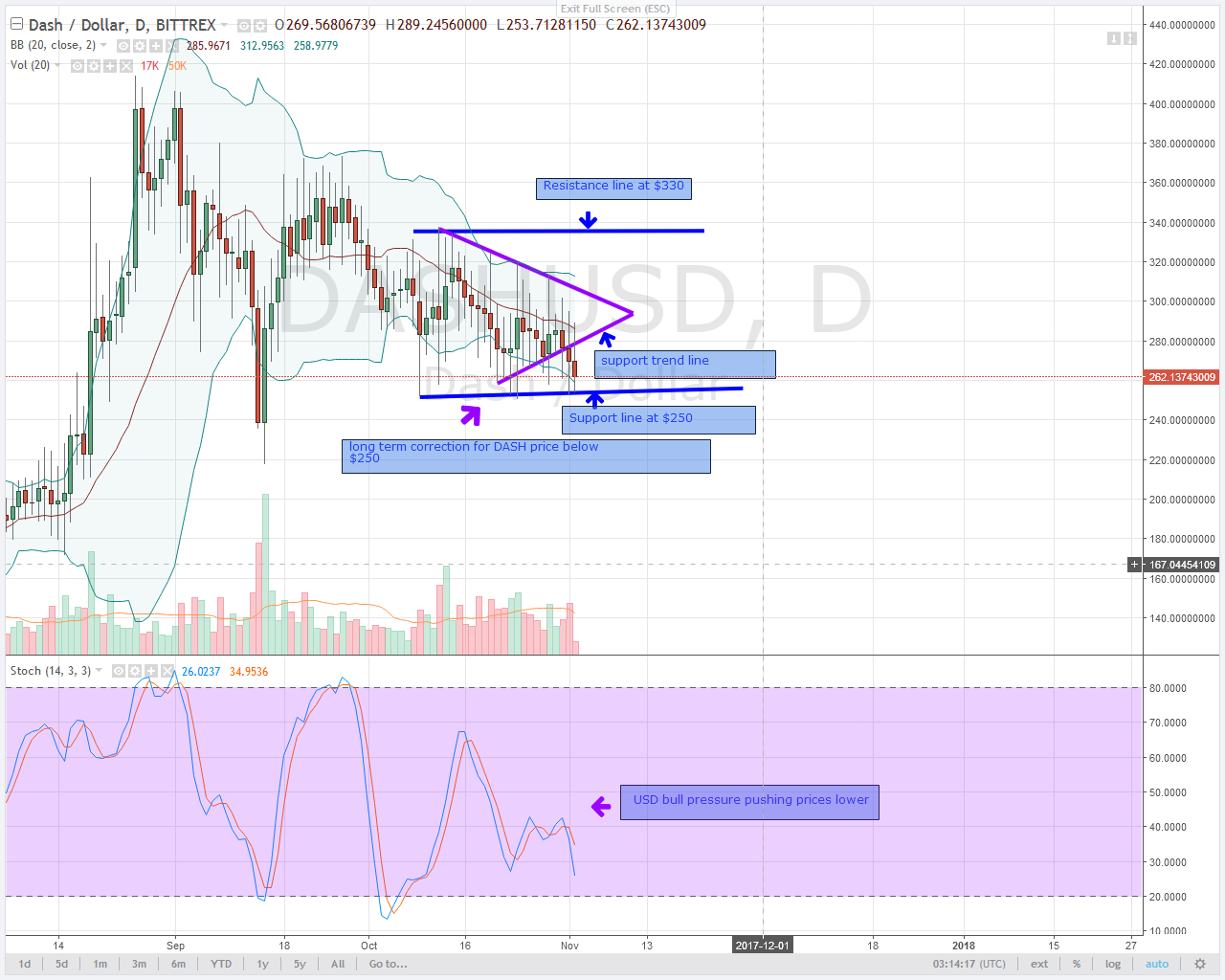 If you consider a top down approach to analyze this alt coin trading chart, then you notice two things. There is strong USD bull momentum in the weekly and daily alt coin trading charts. In the weekly chart specifically, alt coin DASH is testing the 20 period MA but the stochastics are very bearish.
In the daily chart, the 20 period MA has acted as strong resistance line and alt coin DASH price momentum is to the down side according to stochastics. So, considering these two, it will be important for alt coin traders to continue shorting especially if DASH price action in the higher time frame breaches the support 20 Period MA. Notice the strong USD bulls as today's session begun confirming yesterday's minor support trend line break out.
I recommend shorts and any DASH appreciation towards the 20 period MA in the daily chart or the minor support now resistance trend line is a selling opportunity.
IOTA ALT COIN TRADING CHART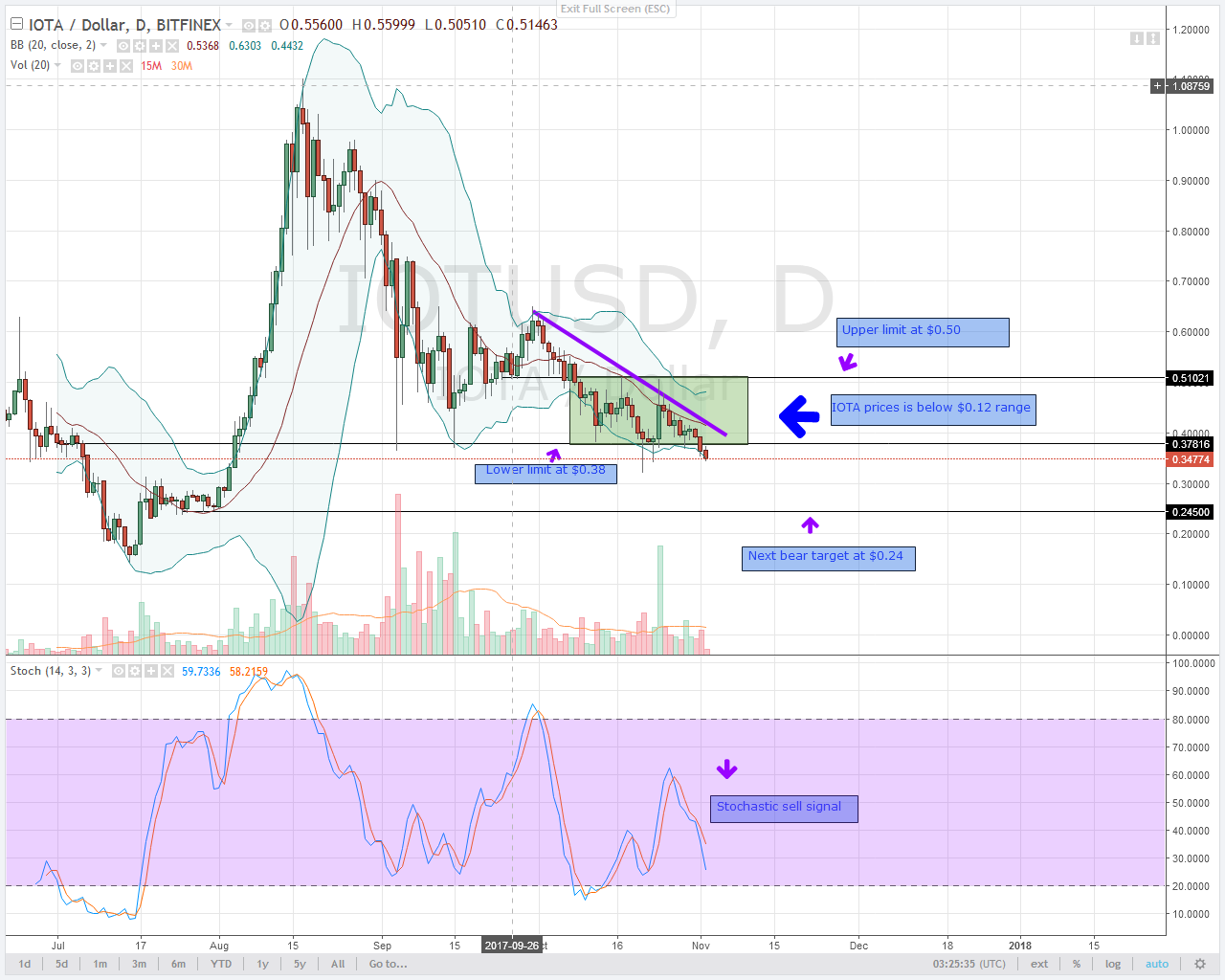 The strong support trend line at $0.38 was finally broken through yesterday. This means that alt coin IOTA prices are now out of the $0.12 trading range. That is where IOTA has been trending at since 07.10.2017 support line break below at $0.50.
In this alt coin daily trading chart, the 20 period MA slope is negative with bearish stochastics meaning selling pressure. I will be watching closely how today candlestick closes vis-à-vis the lower BB for any hint of candlestick hugging.
So far, diverging BB hints at volatility but we want a strong bear candlestick to confirm that $0.38 break out. If so, our next IOTA bear target is at $0.24 with stop loss above yesterday's highs of $0.40
MONERO ALT COIN TRADING CHART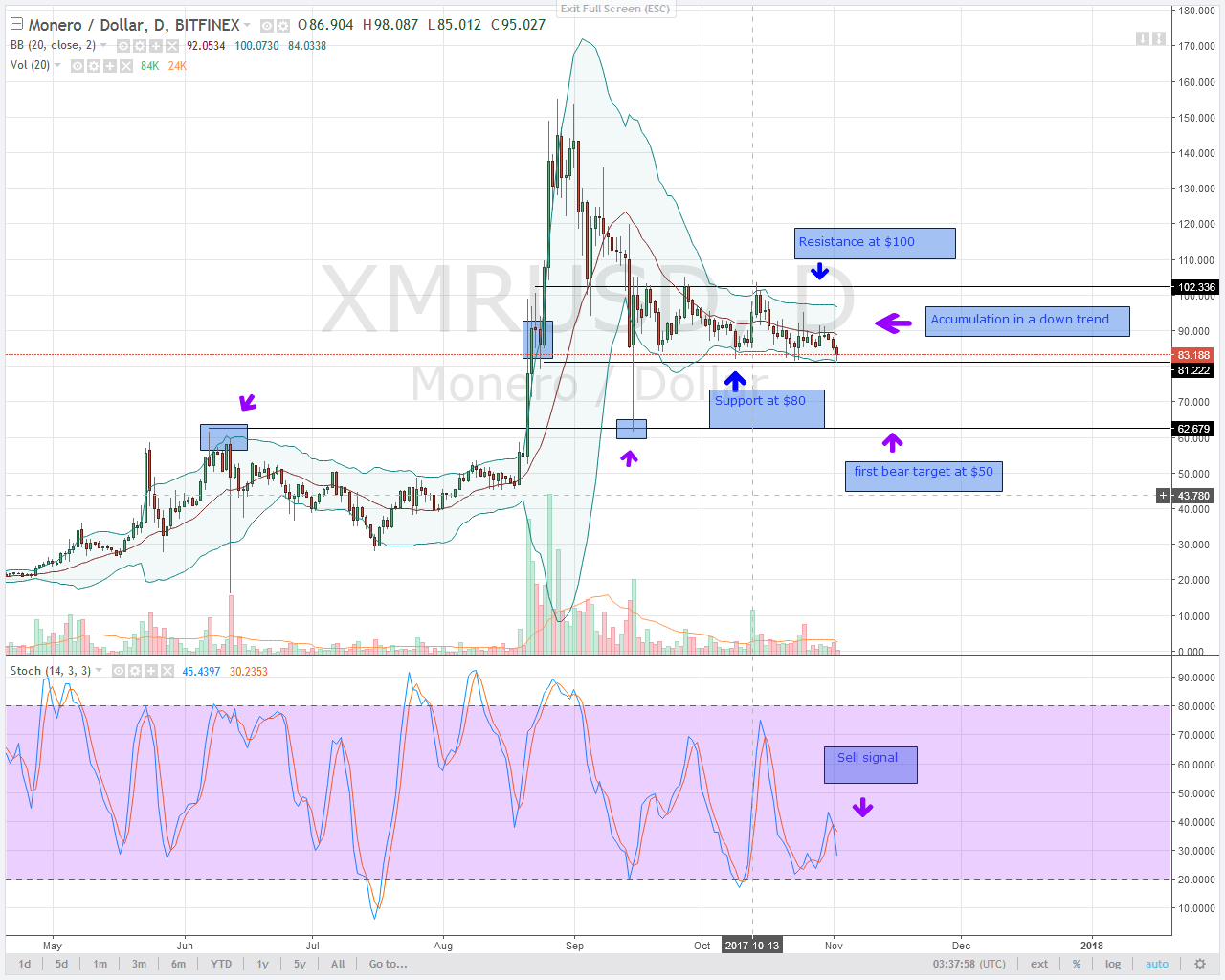 What we are seeing in this alt coin trading chart is an accumulation in a larger down trend. Zooming out from the weekly chart and you notice that candlestick by close of 21.08.2017 is significant.
Unless there is an extra ordinary event today, Monero will likely trend in a larger $98 range with lows of $52. As long as alt coin Monero price remains below our 20 period MA chances of a break out below $80 main support is high.
If USD bulls take over and break free from the 47-day $20 trading range, I recommend short entries. Bear targets will be at $50 support-previous resistance-level.
NEO ALT COIN TRADING CHART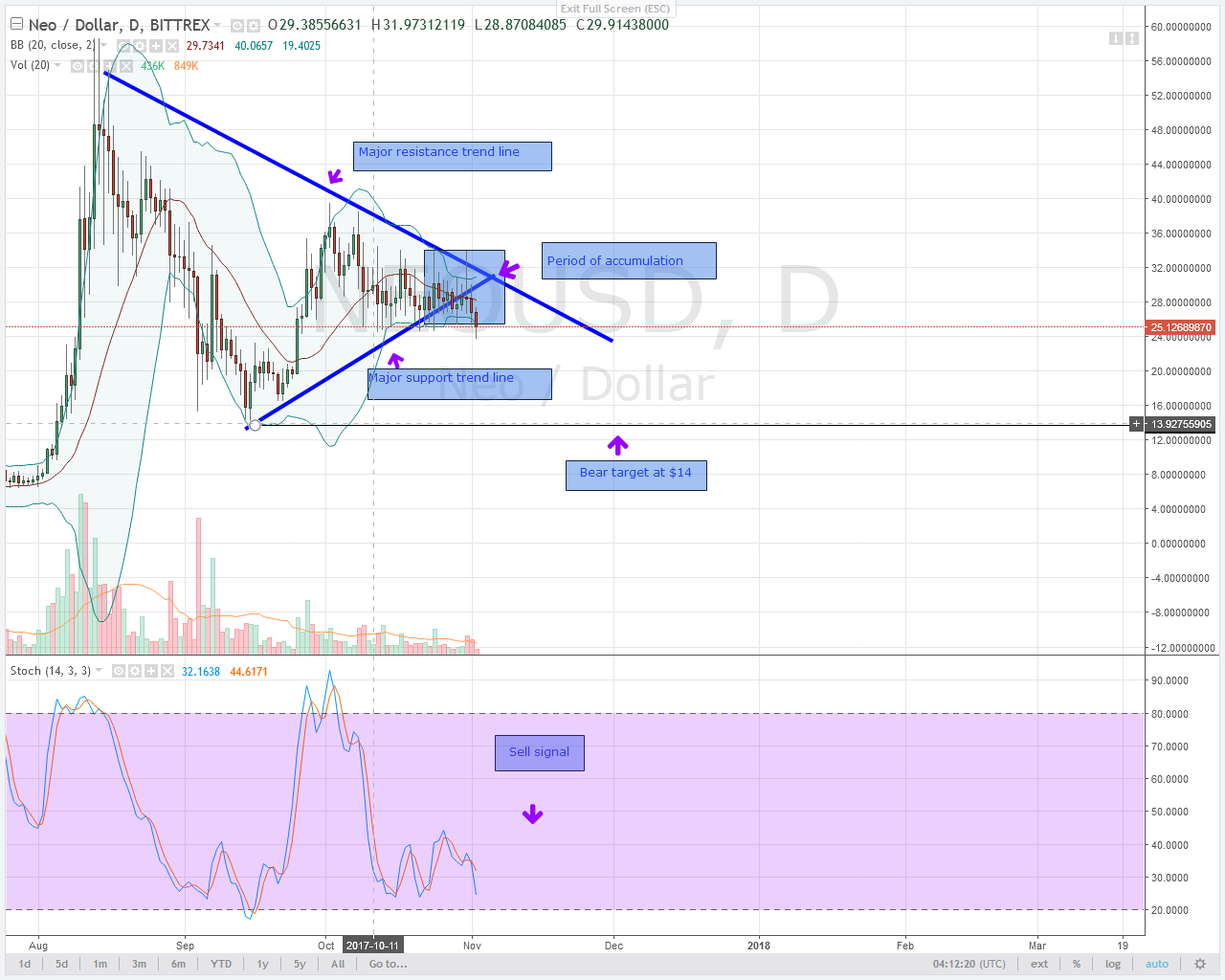 Since NEO prices is now below the major support trend line we now begin buying USD going forward. Like the weekly chart, the daily chart has a stochastic sell signal. It is also clear that bear momentum is high.
From 10.10.2017 to 29.10.2017, alt coin NEO has been trading within a $10 trading range with clear support at $24. After sustained USD pressure, NEO prices closed below the 20 period MA and the major support trend line.
Furthermore, there is a gravestone doji on 31.10.2017 and a a bear candlestick on 01.11.2017 confirming USD demand. I recommend shorts with bear targets at $17-$20 as long as a stochastic sell signal is in place.
All charts courtesy of Trading View