Alt coins are on an uptrend and by that we mean positive moves visible in IOTA-following increasing adoption, EOS and to some degree NEO which despite blasting above our stubborn resistance at $130 remains susceptible to sell pressure at around $150.
For now, buyers can begin loading  these 3 coins and even look for further entries in Lumens assuming prices find support at $0.35 or so.
If Lumens buyers find enough momentum and maintain prices above $0.40, then buyers can find reason to buy on dips in lower time frames.
Let's have a look at these charts:
XLM/USD
Over the past 24 hours or so, we are seeing two clear price movements. The first got to do with the obvious lower lows fading recent recent bullish break out above the middle BB in the 4HR chart.
Secondly, we cannot  ignore the influence of $0.40 which remains our area of strong resistance and a bull trigger in the daily chart.
Our plan is simple. We are trading a bullish break out pattern that sellers might render invalid if they blast below last week's lows of $0.32.
As it is, the 20 period MA may after all be the first layer of support which can prevent that depreciation.
Any form of higher highs back to recent highs may trigger our buy pressure back above the support trend line and $0.40 in the daily chart.
IOT/USD
With that humongous bull candlestick deflating all misinformation and DCI FUDs, IOTA proponents and bulls are upbeat.
Of course, our bullish inclination has come to pass. There is a clear break and close above the middle BB clear in the daily chart and that is obviously important for our analysis.
Now, from yesterday's forecast, our first level of take profit looks likely to be hit and any higher high today means we might have to move our stops to break and consequently shift our consecutive bull targets to $3.
That's right at the upper limit of this $1 tight resistance zone and our bull trigger.
EOS/USD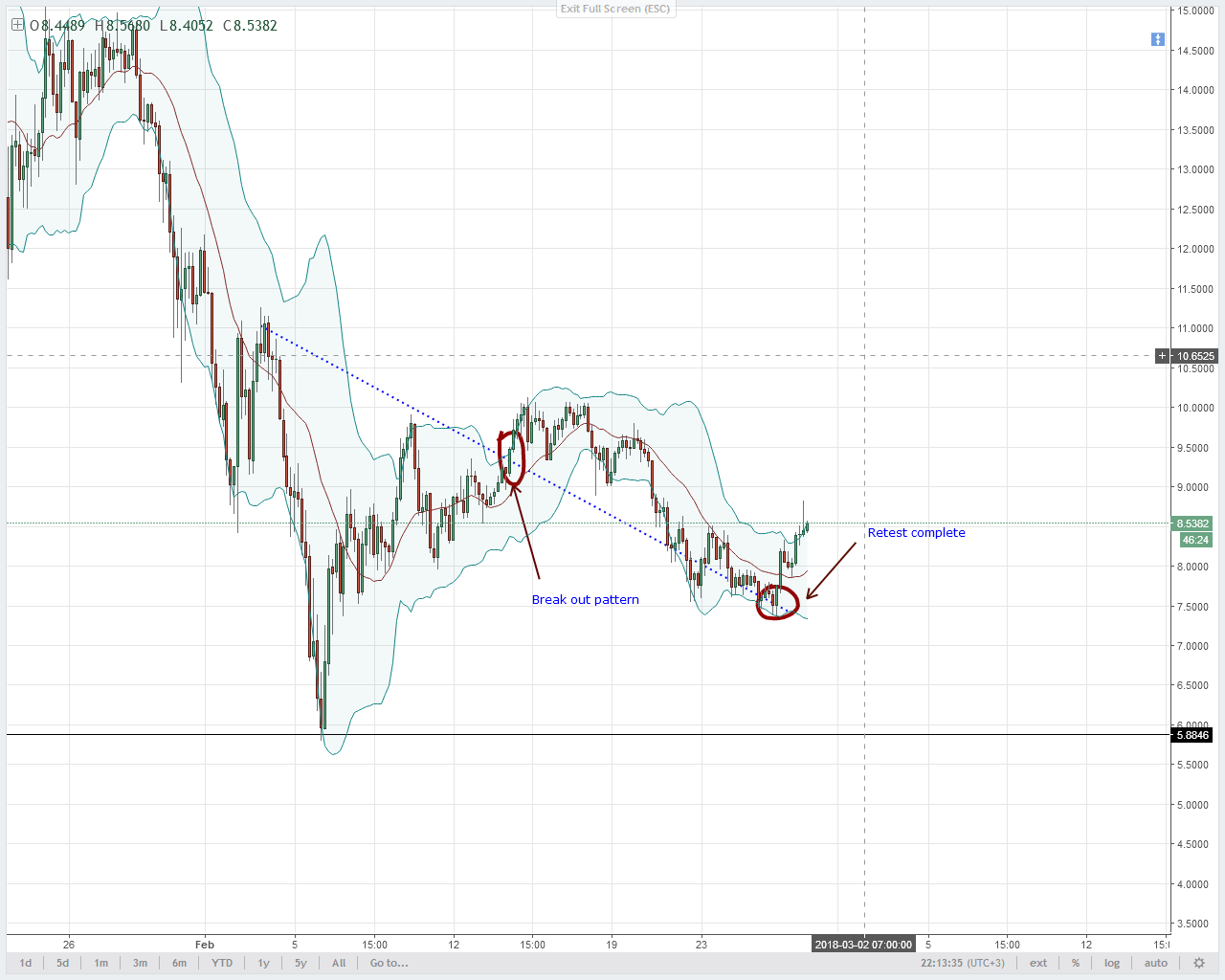 All we are seeing in the 4HR chart is that nice bounce off the break out trend line and nice bull candlestick confirming the initial bounce.
That looks likely to continue today and in that case, February 27 lows at around $7.9 will remain act as our short term support for those who were waiting for EOS bullish confirmation.
Otherwise price action is hinting of strong EOS buyers and our target at $10 remains our in place.
LTC/USD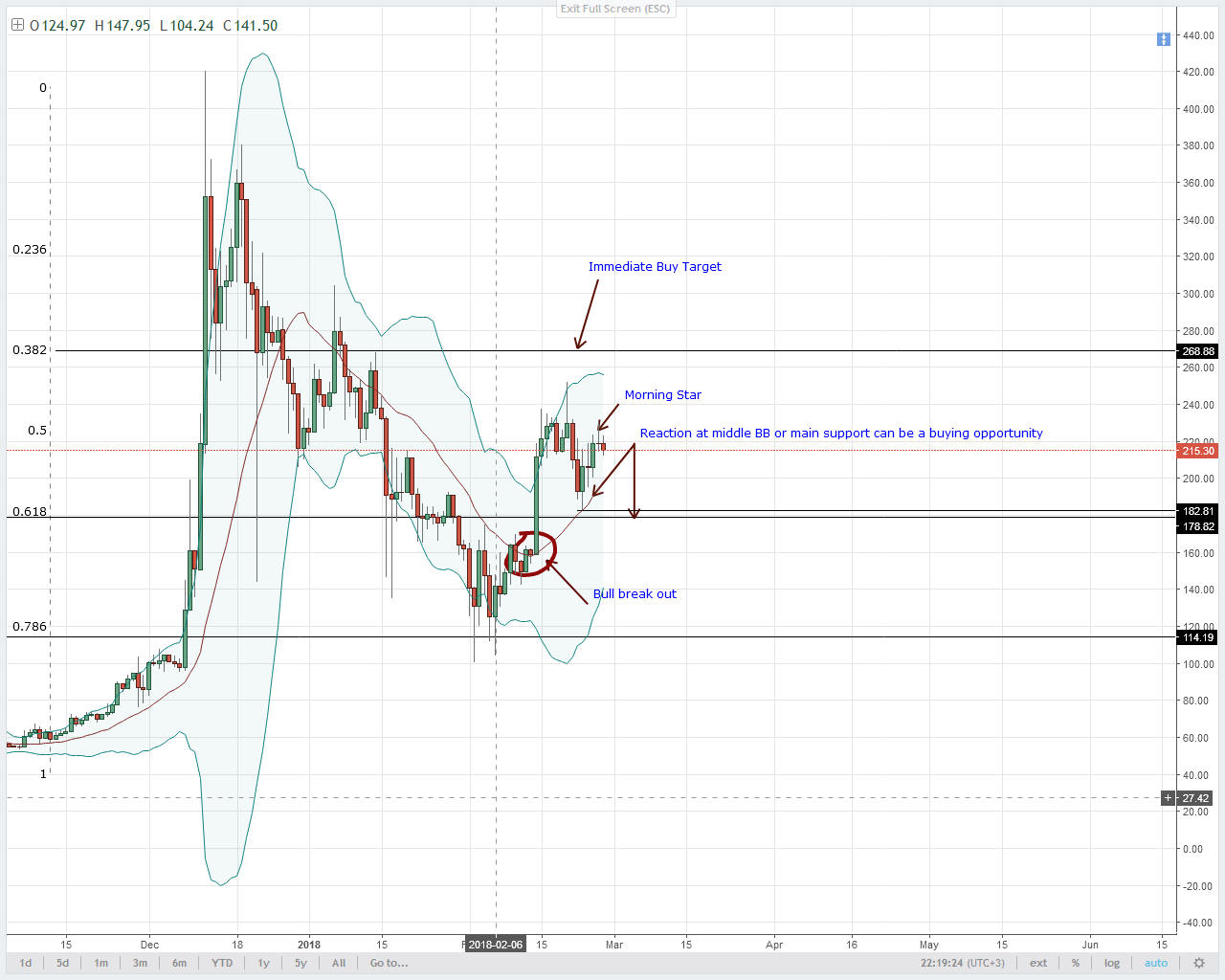 Sellers are still pushing prices lower and despite potential support at the 20 period MA at around $200 and $210 in the 4HR chart, yesterday's bearish candlestick may as well push prices lower towards $180.
Remember, a single glance at the daily chart shows a mid-range Morning star pattern after yesterday's bearish confirmation of February 26 bear pin bar.
LTC sellers should look to sell especially if there is any dip below $205 in the 4HR chart, that just below the middle BB.
NEO/USD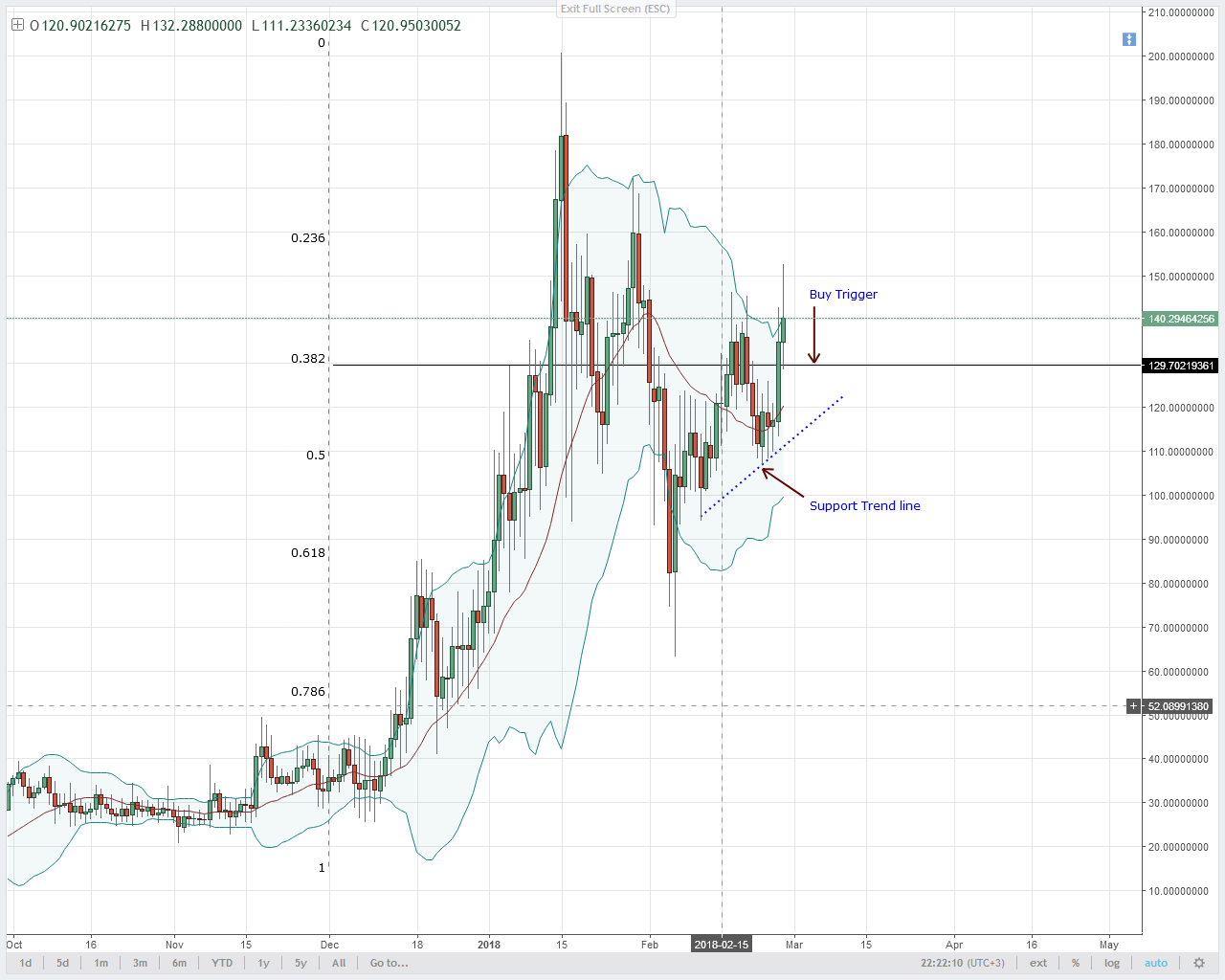 At $140, NEO buyers can as well move their stop losses previously set at $120 to $125 and wait for further appreciation.
Our target remains at $170 and any dip back to $130 is a buying opportunity for those who didn't get in earlier.
All charts courtesy of Trading View