What is visible today is usually what to expect following moves as February 26 price action.
There we saw a couple of coins breaking key resistant levels and some like EOS bouncing off break out lines signaling a new wave of buyers and a definite shift of momentum.
While this remains valid as long as previous supports remain as it is, this current retracement is a window for buyers to buy on dips.
Such opportunities exist for IOTA and EOS. LTC needs to move lower say to $180 or retest the middle BB before we recommend buys.
Let's have a look at these charts:
XLM/USD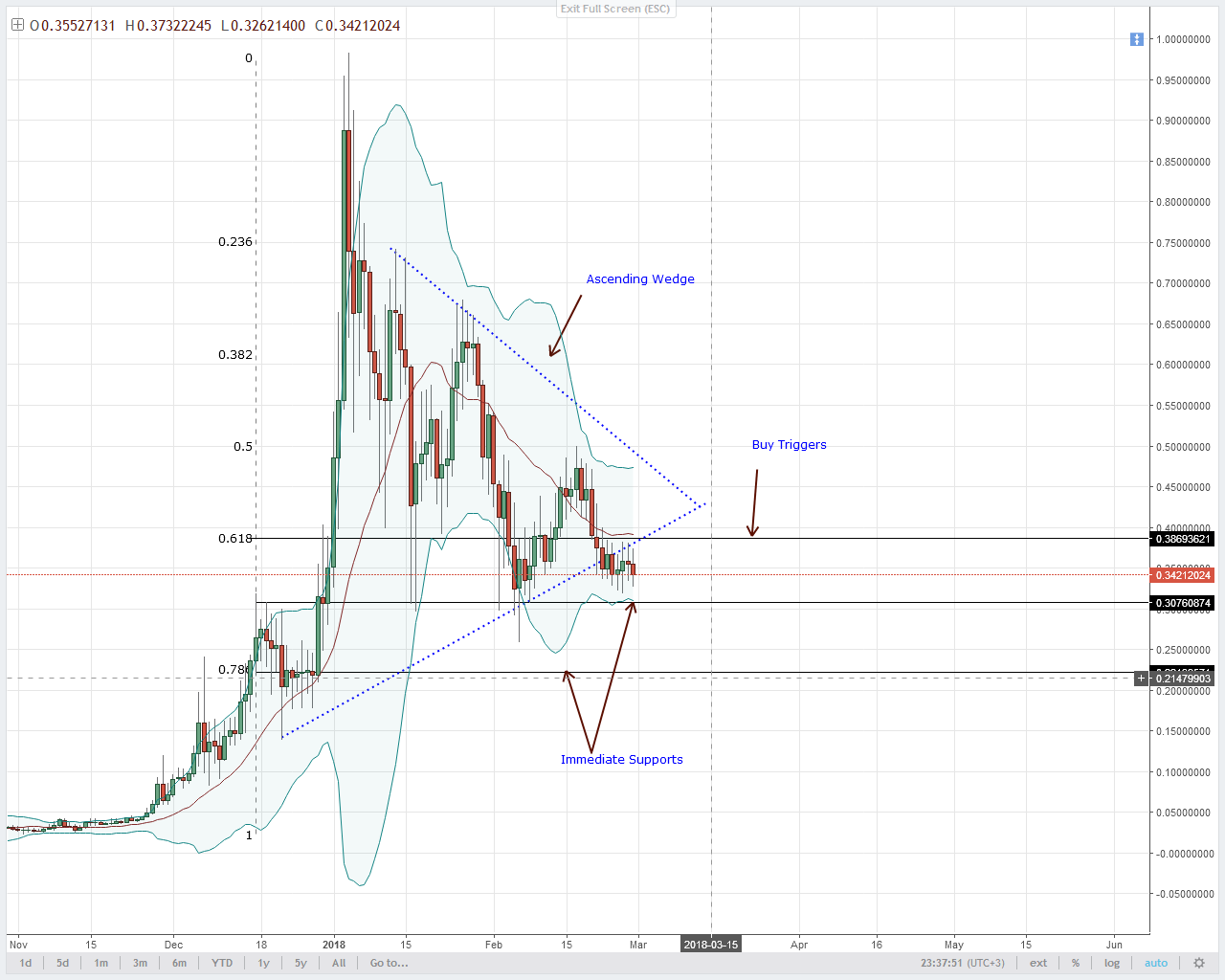 In the 4HR chart, Lumens are in an obvious range moving between $0.30 and $0.38. The upper limit, $0.38 remains our level of interest and as long as this consolidation continues, we shall remain neutral.
On the other hand, the lower limit at $0.30 is our first layer of support with the ultimate invalidation of every bullish attempt set at $0.22.
Of course, the more this horizontal movement continues, the more we should stay away from this trade especially if you view what's happening from the daily chart. Either way, patience will mean we wait for a potential break out above $0.38 as per our bullish skew.
For perspective, look at how the BB are settling and actually moving horizontally just like price action. Such moves often mean lack of price volatility and we should probably expect tepid price action in the next couple of days.
IOT/USD
Now, this retracement is not a surprise. It actually happens after every spike and after February 27 rapid move, a correction of the obvious over extension in lower time frames was inevitable.
What is important as per our analysis is how IOTA buyers react at the middle BB, our key support, in the 4HR chart.
In the daily chart, there is a duplication of the same move-as in the 4HR chart- and the middle BB at $1.87 remains a very good anchor for bulls who should be buying on dips. Any price recovery past $1.95 means buyers are back on track.
EOS/USD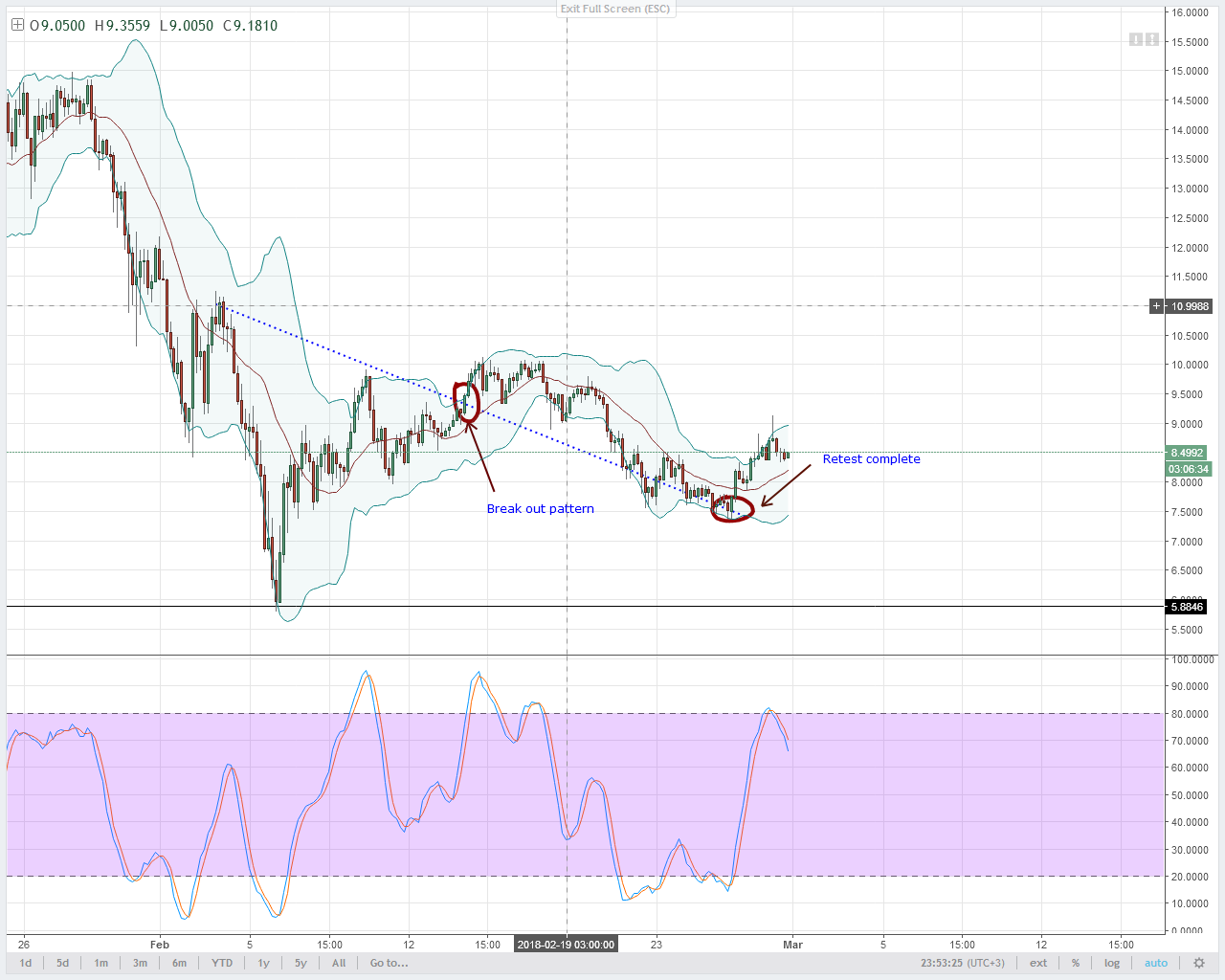 From the 4Hr chart, we can see a bear pin bar hinting of higher prices rejection and a consequent bearish confirmation slowly moving towards the middle BB.
OK, the trend is still the same-bullish- and borrowing cues from yesterday's forecast, any retracement back to $7.9 or there about-that's February 27 lows, should be a catapult for EOS buyers.
Notice that yesterday's prices were mostly horizontal and momentum missing.
If the current candlestick is bullish, then I recommend buys with stop losses below $8 or the middle BB and targets of $10 just as before.
LTC/USD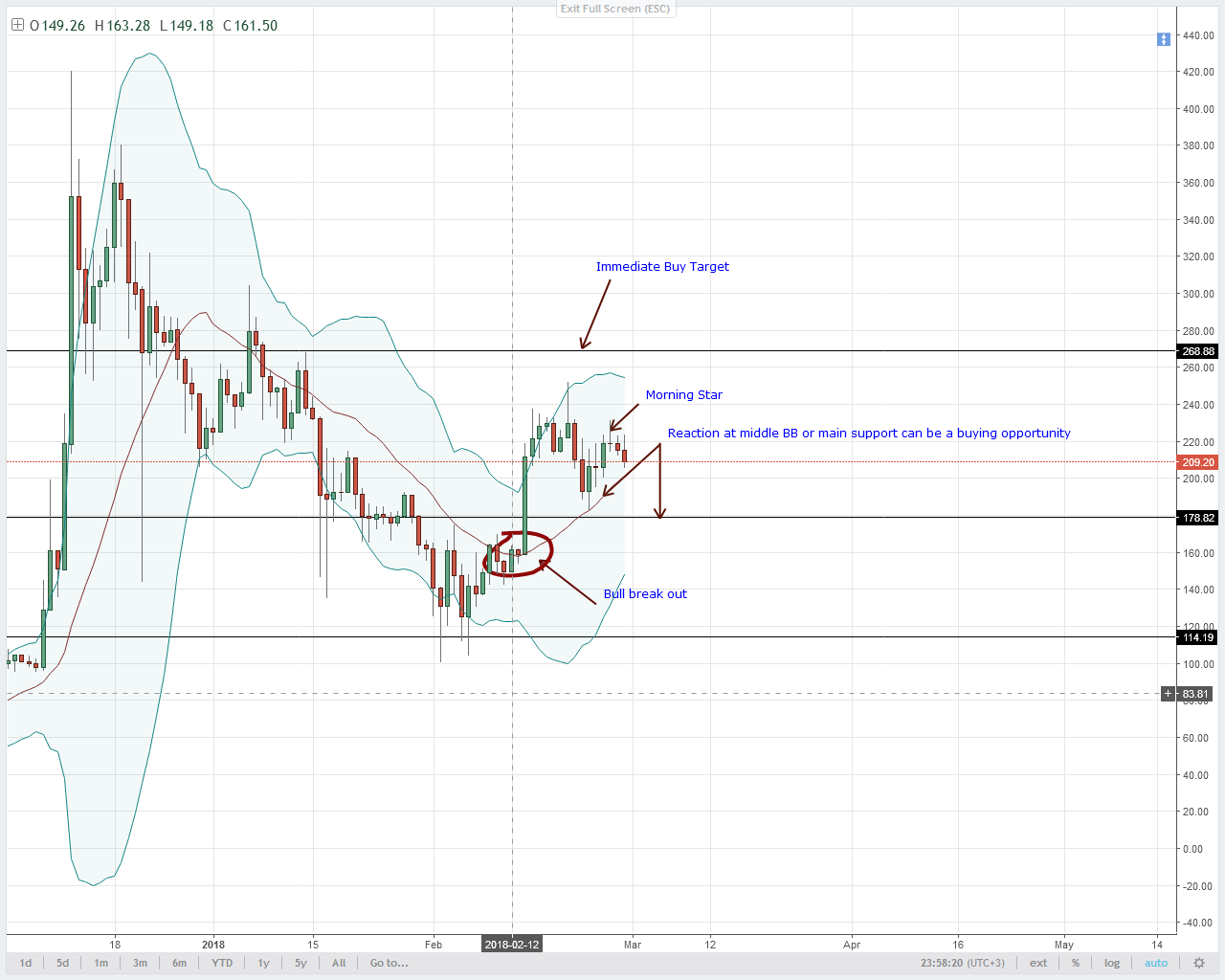 Evidently, LTC bears are still in control and so far, LTC is down $30 from recent highs.
It is likely that this trend might continue and even if there is a recovery, then it might retests highs of $220 or there about before bears step on the gas.
At the moment, buyers might have to wait until prices retest the middle BB in the daily chart before thinking of entering this trade.
If not, and say there is a spike above yesterday's highs of around $225, then bulls may resume their long entries as there will be  a shift of trend. Before then, patience remains a valuable asset.
NEO/USD
I will reiterate, unless otherwise, $130 will continue being our spring board and because of yesterdays bear moves, buyers can actually load up their longs today.
The lower limit of our support is the support trend line at around $110 which is February 26 lows and any rapid depreciation below that or even $120 will effectively cancel our bullish projection.
All charts courtesy of BitFinex and CoinBase Interactive charts made possible by Trading View .