Altcoins are recovering and even though there is a little bit of correction from key resistance levels or middle BB, prices are likely to pick up the positive momentum this week.
LTC/USD, NEM/USD and NEO/USD in particular are trending at key levels.
Let's have a look at these charts:
XLM/USD
See the influence of $0.40? That is the 61.8% Fibonacci retracement line and buyers didn't close above it on February 10.
Fact is, a doji candlestick is clear and that is where sellers are finding support as visible from yesterday's price action.
There's a little bit of buy pressure and even though the week is bullish, all we need is either a continuation of bears as prices retrace towards $0.30-or the lower limit of our consolidation or a break and close above $0.40 and hopefully the middle BB.
Of course, this back and forth movement of prices isn't helpful for trend traders and going forward, there is a high chance of prices snapping back as buy momentum pick up if we take cue from the stochastics.
XEM/USD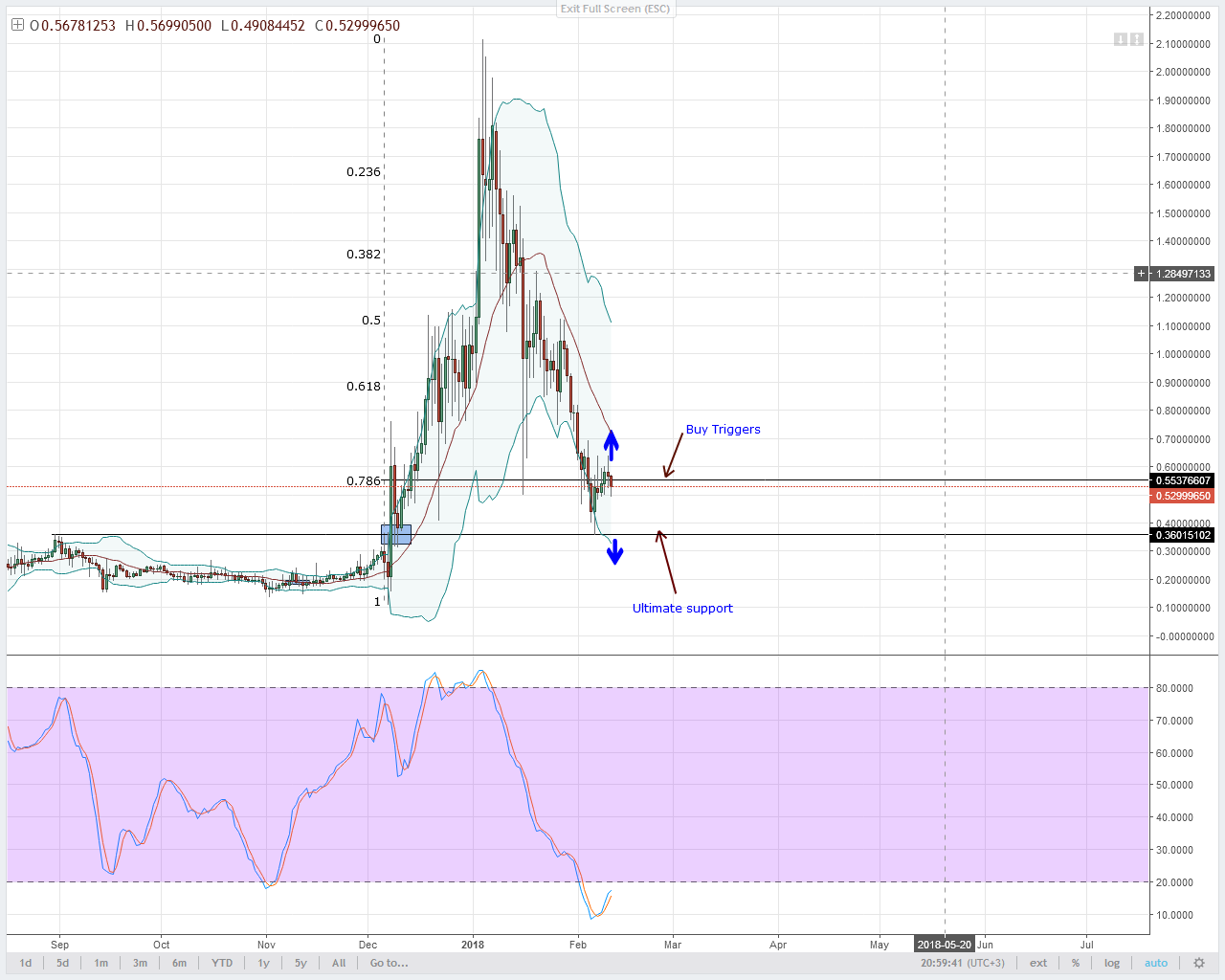 From the chart, NEM sellers found fair prices to liquidate on February 10.
That is precisely when prices momentarily trended above $0.55 and after close, sellers stepped on the gas pedal, driving prices even lower.
The thing is, as long as prices continue to range within the $0.20 range between the 78.6% and 61.8% retracement lines, then NEM will be in consolidation mode and bears are definitely in charge.
Momentum wise, bulls "appear" and set to recoup their previous losses but that is nothing if there is no strong break out above the middle BB.
EOS/USD
By end of last week analysis, it would have been desirable if EOS push and closed above $9.5.
However, judging from price action, that didn't come to pass and prices are actually reversing and heading back towards $6.5.
For buyers to bounce back from this slow down and push back above $9.5 and if not, we I recommend sell triggers below our main support at February 6 lows of $5.6.
LTC/USD
From the charts, it's clear that LTC prices are still moving below our first layer of resistance-the middle BB and that is despite the positive momentum as the stochastics shows.
Picking out tips from our previous analysis of this pair, all  we need is a bullish spike above $170 or repulsion of higher prices as bears push prices back below $100.
This $70 range is what is important for us in the short to medium term.
NEO/USD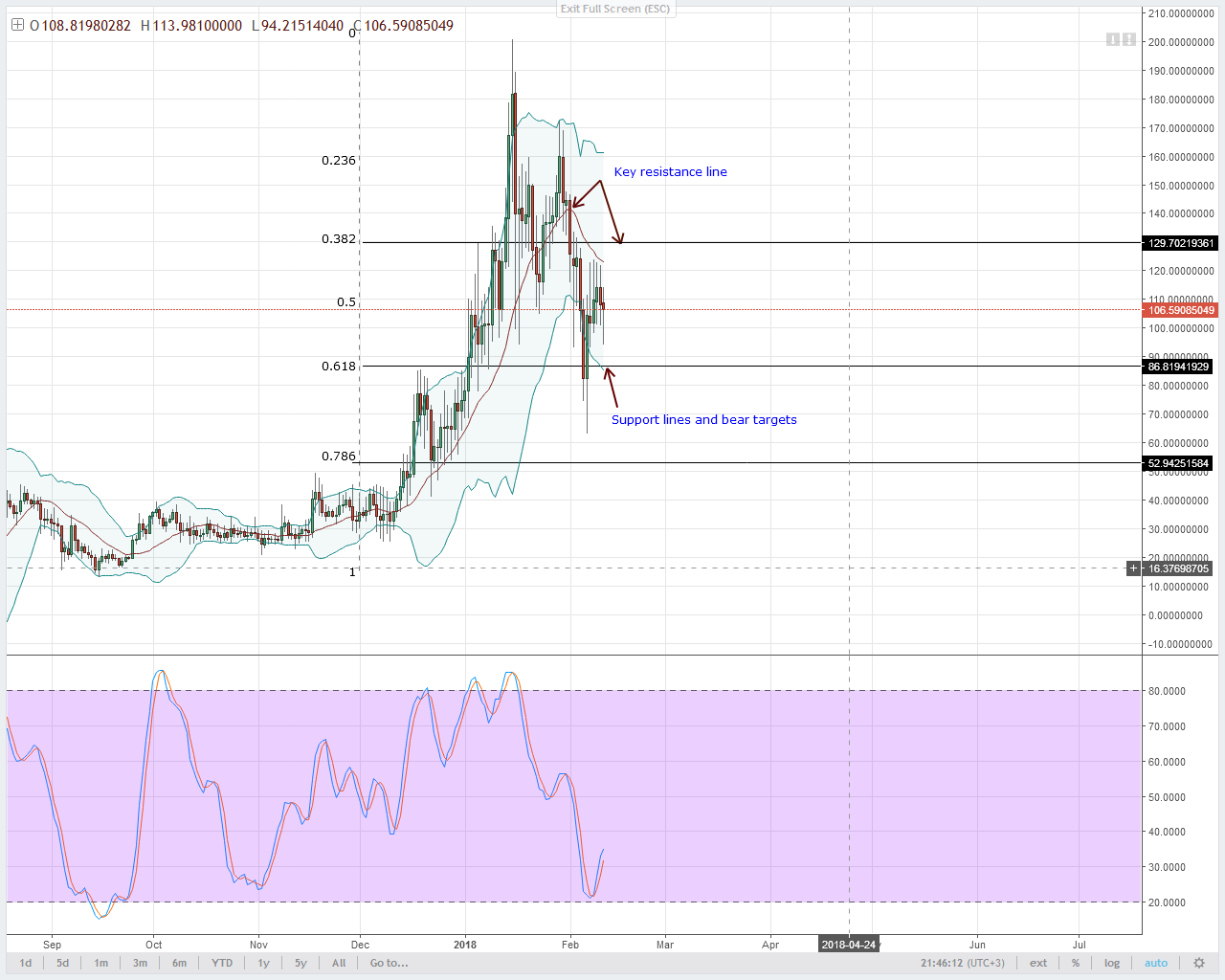 Clear price rejection above $130 is what we can see if we consider the past 4 NEO trading days.
Look at the long upper wicks before the trickle down on February 9 and 10 and the consequent bear confirmation yesterday.
The thing is, odds of higher highs would be have been higher if we had NEO above $130 and even with last week's retest of $70, all that we need is either a confirmation of bull resumption or bear pick up as per week ending February 6 bear candlestick.
In my opinion, this week's candlestick will either make or break this pair and because of this set up, I expect support at $85 in the coming days.
All charts courtesy of Trading View