Most altcoins-XEM/USD, NEO/USD and the rest faced some price bumps along the way and NEO actually ended lower despite some promising race towards the middle BB.
Lumens on its part couldn't muster a close above $0.55 and remains under a consolidation.
Today's price action might decide the short to medium term trajectories of these high cap coins especially if price action breaks below key resistance or support levels in the course of their movements.
Let's have a look at these charts:
XLM/USD
Judging from the bullish expectation surrounding this pair, there is nothing to report especially if we pull yesterday's Lumens price action into the picture.
Indeed, we can see higher highs relative to the lower BB but the move is so narrow and even close to negligible when we need to see some strong confirmations that could perhaps cancel the general bear pressure.
For one, prices are still in consolidation mode oscillating between a $0.10 between $0.30 and $0.40 as February 7 high low shows.
Besides that nothing can be said because after all, for us to see hints of buy pressure we need to see strong moves above $0.50 or the 61.8% Fibonacci retracement level which we have been reiterating over the past few days.
XEM/USD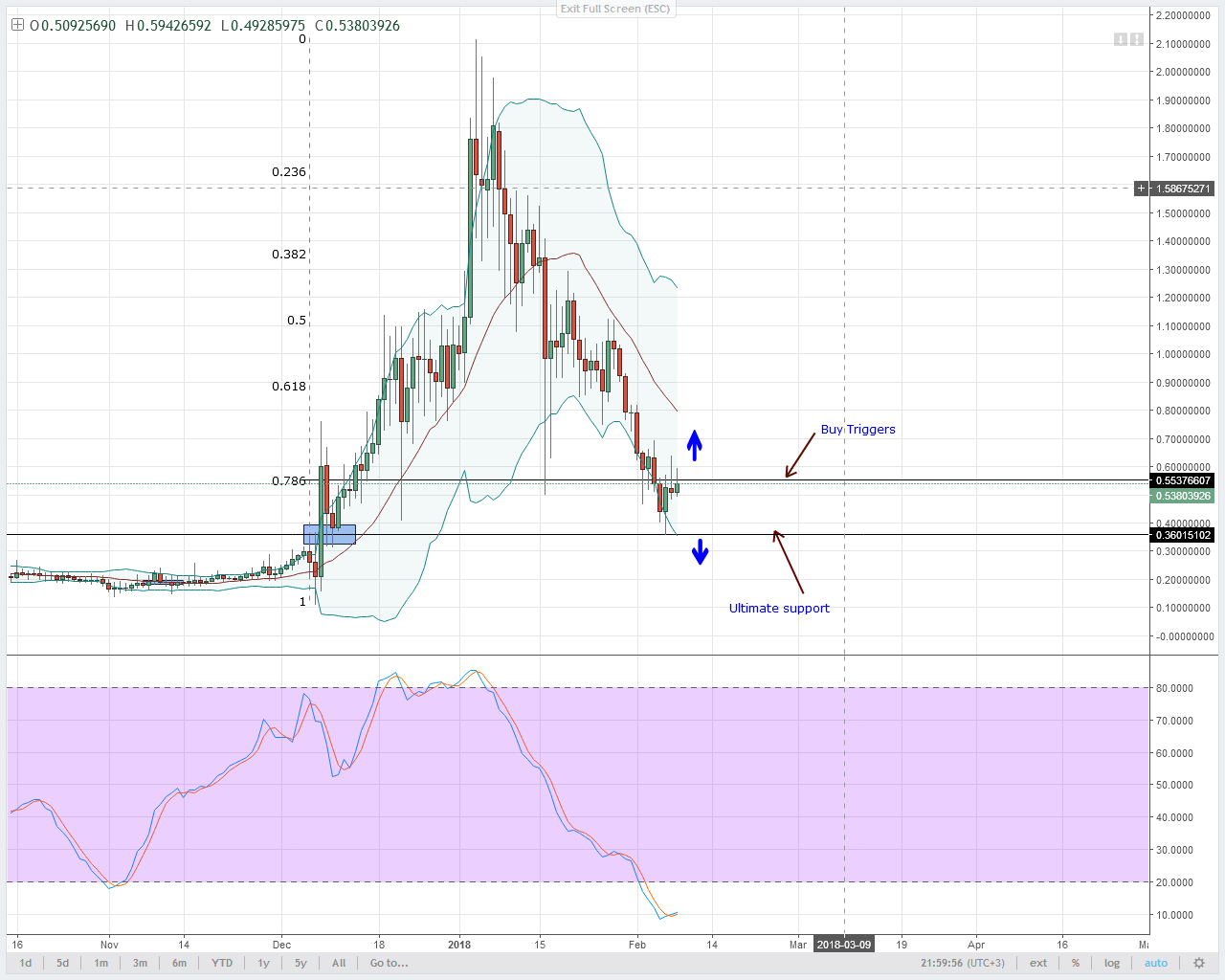 Price action wise, NEM appreciation is really facing some strong resistance from sellers.
Notice that yesterday's from February 7 and 8 candlestick, we can see these long upper wick pushing prices below our main bull trigger line at $0.55.
This is forming despite the candlestick higher highs relative to the lower BB and of course the shift of momentum as the stochastic shows in our secondary chart.
In my opinion, we cannot substantiate anything unless we see price spikes above $0.55 or below $0.35 signaling bear trend continuation.
EOS/USD
Interestingly, EOS price action is so slow.
We can actually refer to yesterday's price activity as we can see oscillated with February 7 high lows with that signature long upper wick hinting of sell pressure in lower time frames.
Referring to our previous analysis, EOS bearish view will still hold as long as prices remain below $9.5 and the main resistance line-the middle BB.
LTC/USD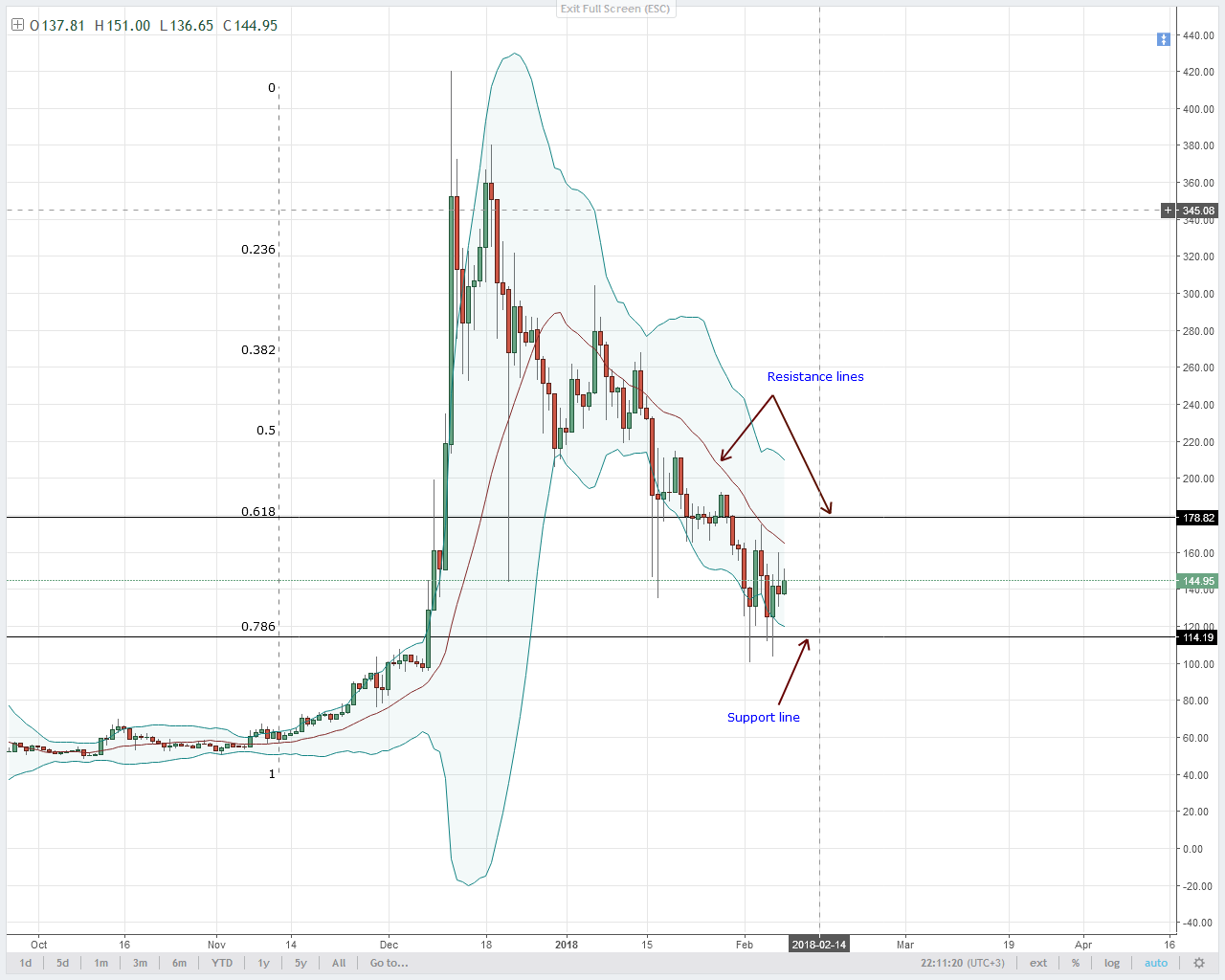 From the turn of this week, LTC prices have been all over the place and moving horizontally.
This bears all the hallmarks of an accumulation and even though it's a little bit disappointing for all those who desire fireworks, we shall have to wait for better signals before pulling our sell/buy triggers.
Of course, this rejection of lower prices is awesome from a hodler's perspective and what we need now is to trade according to February 8 trade plan and wait for close above our immediate resistance zone at around $170.
NEO/USD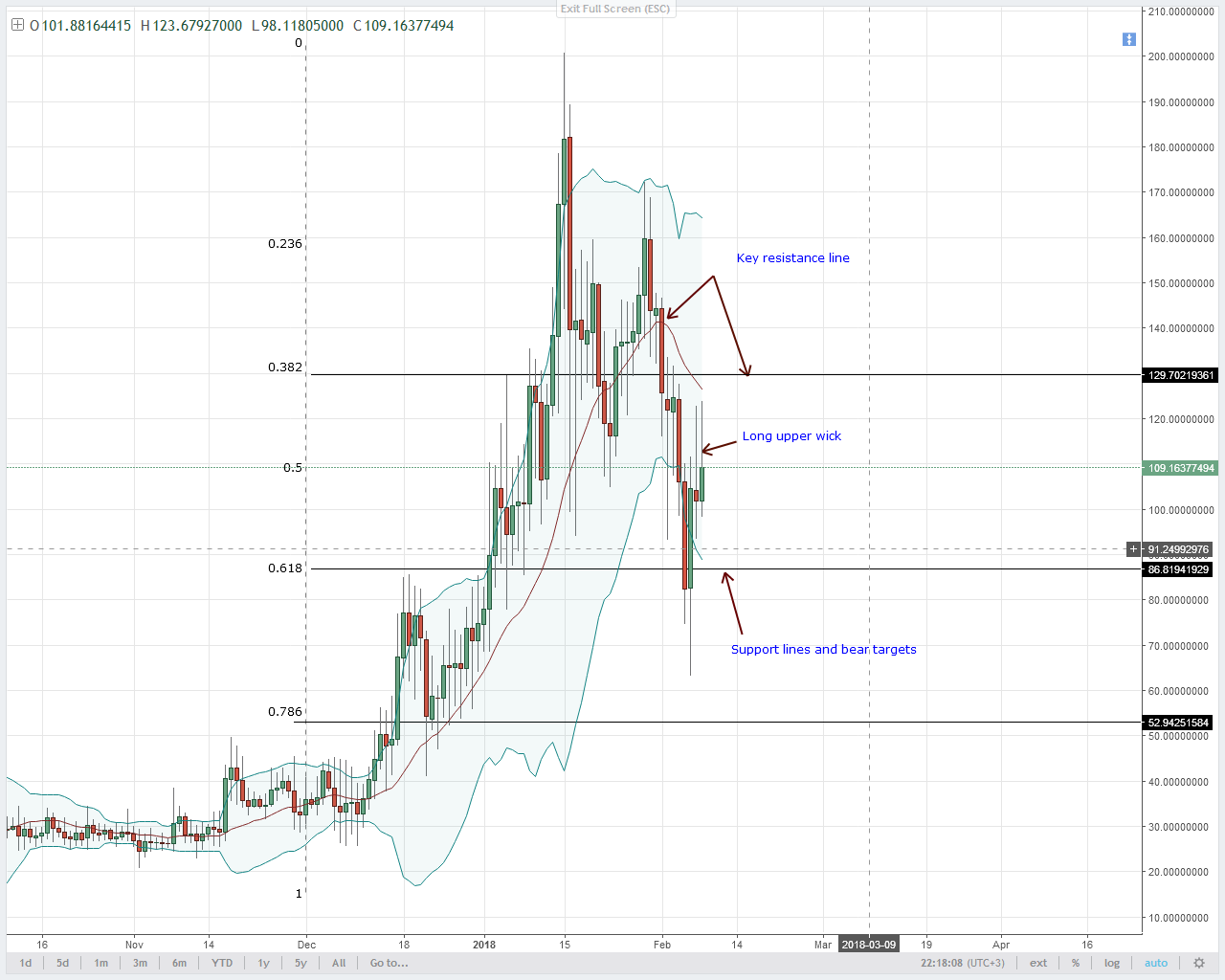 NEO got a little pump yesterday but look at how sellers descended on price the moment the middle BB was tested.
A long upper wick marks yesterday's candlestick and what remains now is if sellers will spill over from yesterday and spoil this recovery.
Well, two things are in my radar. First, this week must close as a bull and second, even if sellers dominate NEO today, then prices must not close below $85 or the 61.8% Fibonacci retracement level from our chart.
If it does happen, then we can cancel the so call price recovery and look for selling opportunities with targets at $50.
All charts courtesy of Trading View