Other than NEM, the middle BB is acting as a good support line in most altcoins. Because we were expecting Lumens and EOS to appreciate, we can see the big role the middle BB had in shoring prices.
I anticipate more buy pressure as the week comes to a close but my main focus will be on LTC and let's see what happens to that double bottoms.
Let's dissect these charts:
NEM Under-Valuation despite Close below Minor Support Trend Line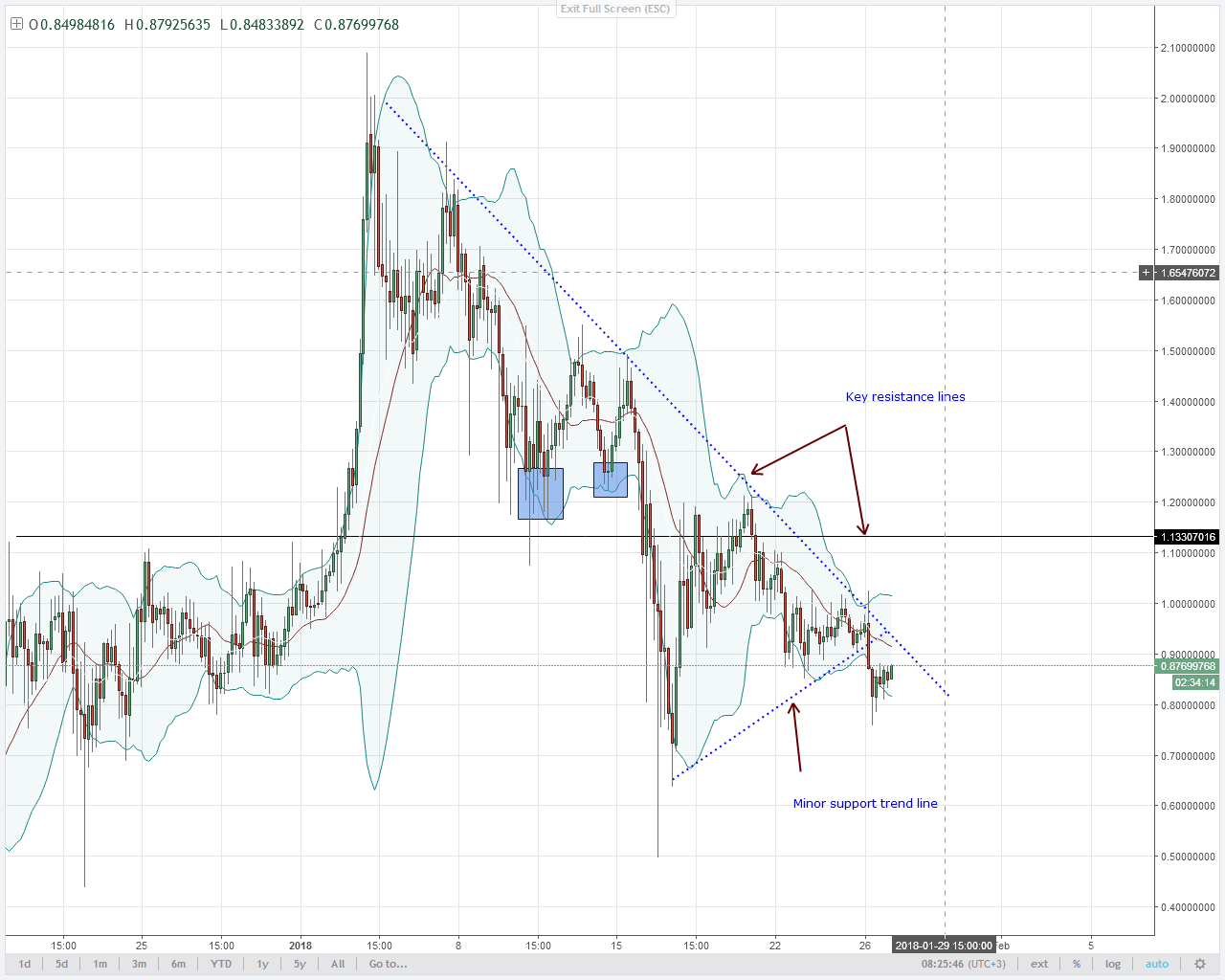 Price eventually broke below the minor support trend line but the follow through has not been impressive so far.
In fact after the trickle down, NEM found support at around $0.75 before reversing.
While it did so, notice the double bar reversal candlestick and a bullish candlestick below the lower BB? Does this hold significance in the coming sessions? Yes indeed it does.
While NEM bears would be in charge if prices close below $0.75, our attention will shift to the middle BB and the minor resistance trend line as potential ceilings. I recommend patience at current levels because NEM is trying to find bearing.
Lumens aim at $0.73
The path towards $0.73 is on and despite a tad bit of bear pressure yesterday, Lumens buyers found support at the middle BB and wriggled its way higher.
As mentioned yesterday, last week's highs will be definitive and all we have to do is what and see what price action has got up its sleeves.
If there is a shift of trend, buyers must close above $0.73 or if not, prices must at least close above the middle BB in our entry chart.
NEO Support is at the Middle BB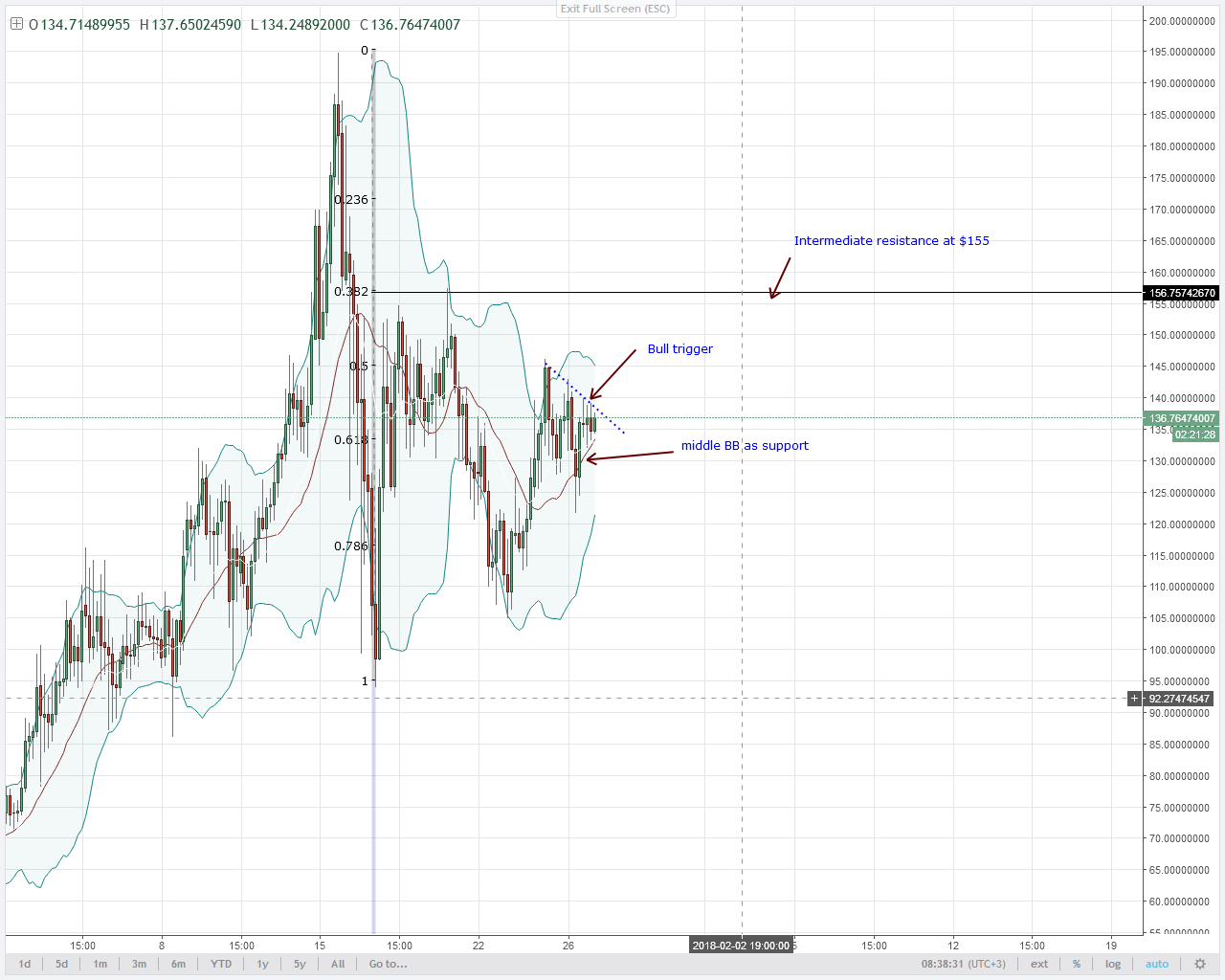 We are shifting the odds of this week closing as a bullish candlestick close to 1.
If NEO continues with their higher highs then two things must be happen:
First, prices must close above that very minor resistance trend line in our entry chart and secondly, prices must stay above the middle BB which is our short term support in the sessions to come.
Any close below the middle BB and sellers can begin loading up their positions.
Remember, prices are trending at key Fibonacci retracement level anchoring on last week's high lows and if bears drive NEO value below the 78.6% Fibonacci, we can just forget about going long.
LTC Prices Oscillating Inside a Descending Wedge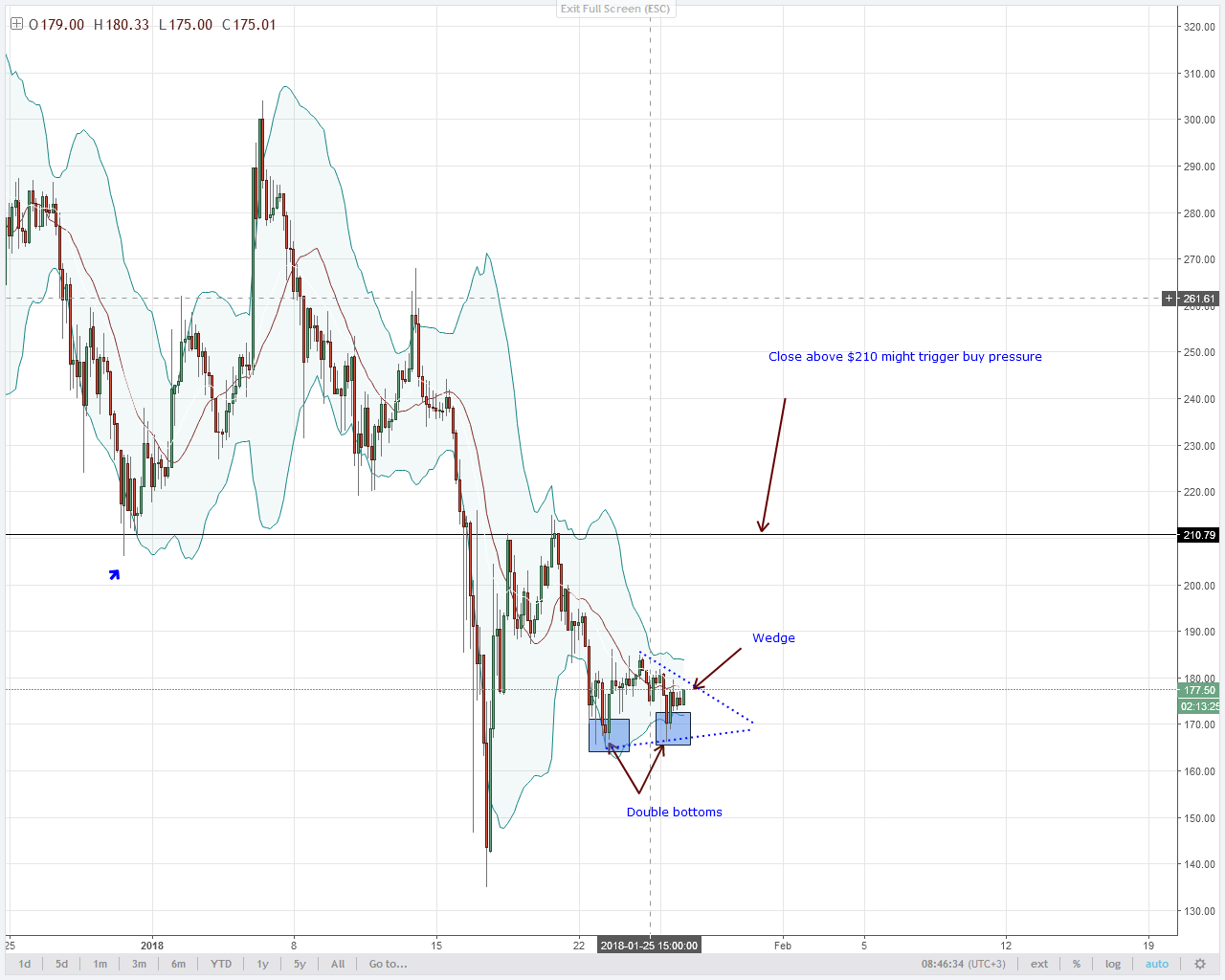 No fireworks as far as LTC price action is concerned and unless some minor but key trend lines are broken in the coming sessions, sellers would still be in charge.
As far as we are concerned, LTC price action is moving tightly within a descending wedge but after yesterday, January 23's double bar reversal pattern was confirmed as a double bottom.
Now, if we expect buy sparks, we need a convincing break above the resistance trend line otherwise we remain in a downtrend.
EOS Inches Higher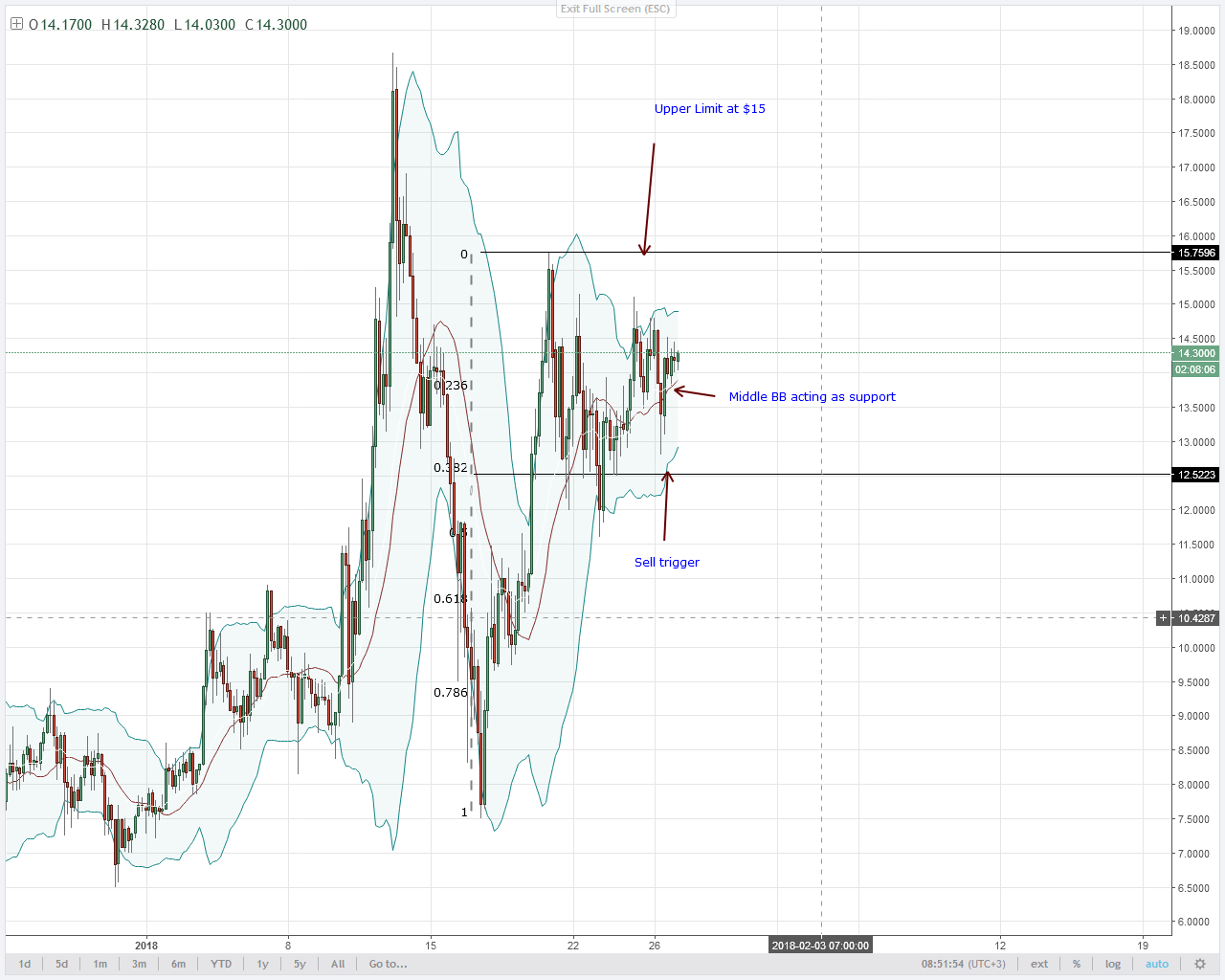 So far, so good and as we can see from the chart, EOS buyers found a trampoline at 38.2% Fibonacci level and chances are they might test $15.
Despite the move up, there have been some obstacles especially after yesterday's bearish candlestick which threatened to derail our bullish projection.
Because of last week's higher highs, the best buyers can do this week is perhaps test $15 which is pretty nice. However, chances of clearing $18 are low unless of course something trend changing happens.
All charts courtesy of Trading View