Interesting developments over the last 24 hours and one noteworthy development is how alt coin NEO and LTC buyers are slowing down.
For recovery, we need price pressures and most importantly close above middle BB in both cases.
Talking of break outs, it's only Stellar Lumens that is leading the way and XLM bulls are keen on trending above this strong resistance trend line which is awesome.
Let's dissect these charts:
NEM CONSOLIDATES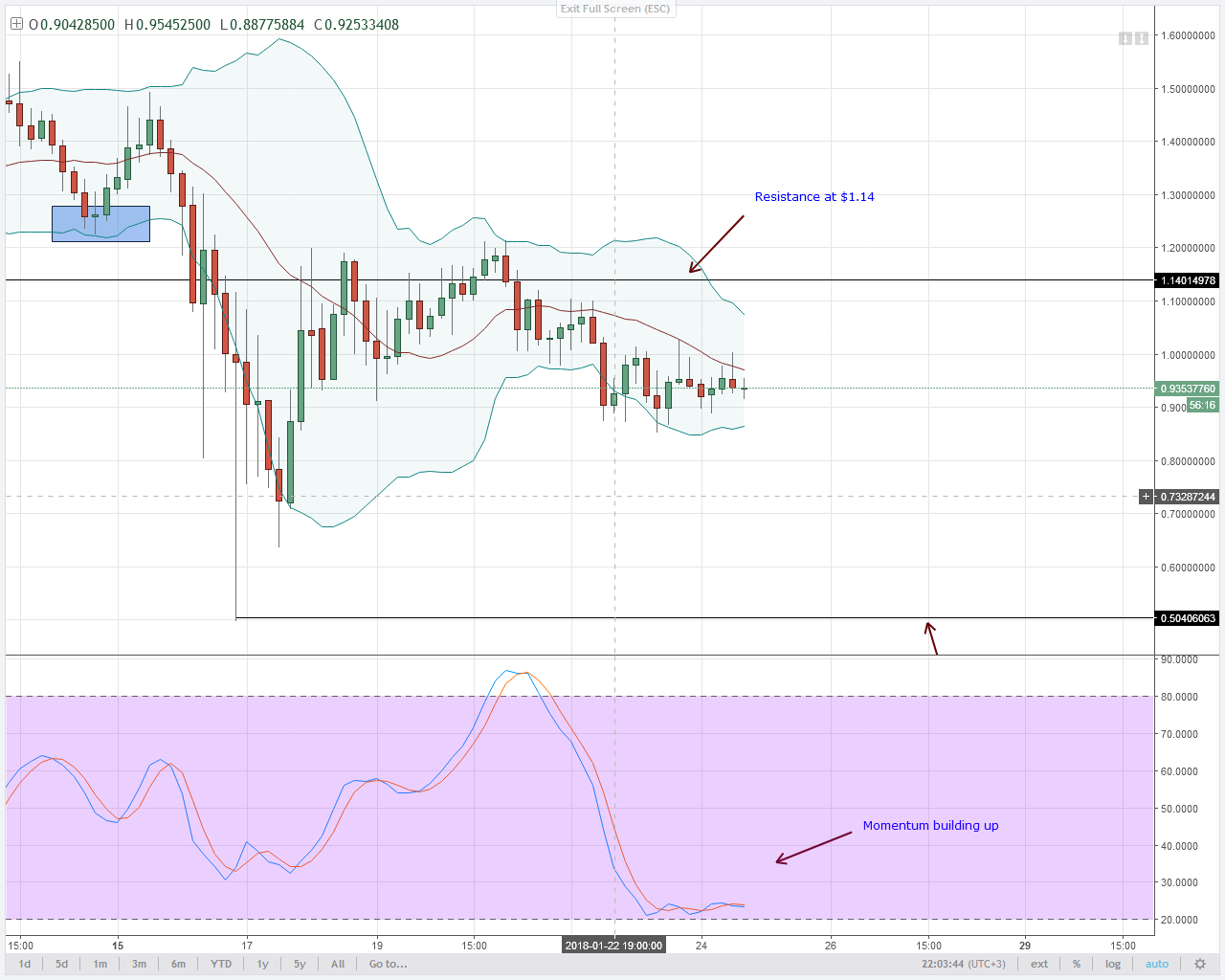 No fireworks guys, it's this horizontal consolidation we prefer to call accumulation that NEM is in as I type this.
So, here the deal: our projection remains pretty much the same as it was yesterday. We are aware of the general bear trend as pointed by the weekly chart and all we need is a strong close below $0.85 and we are game on.
The middle BB will act as our immediate resistance line in the coming sessions.
Buyers will need price to close above it but for that to happen, momentum has to diverge and print a buy signal as bulls jump in. Otherwise, the longer it stays like this, the stronger the break out.
LUMENS TRENDING ABOVE THE MINOR RESISTANCE TREND LINE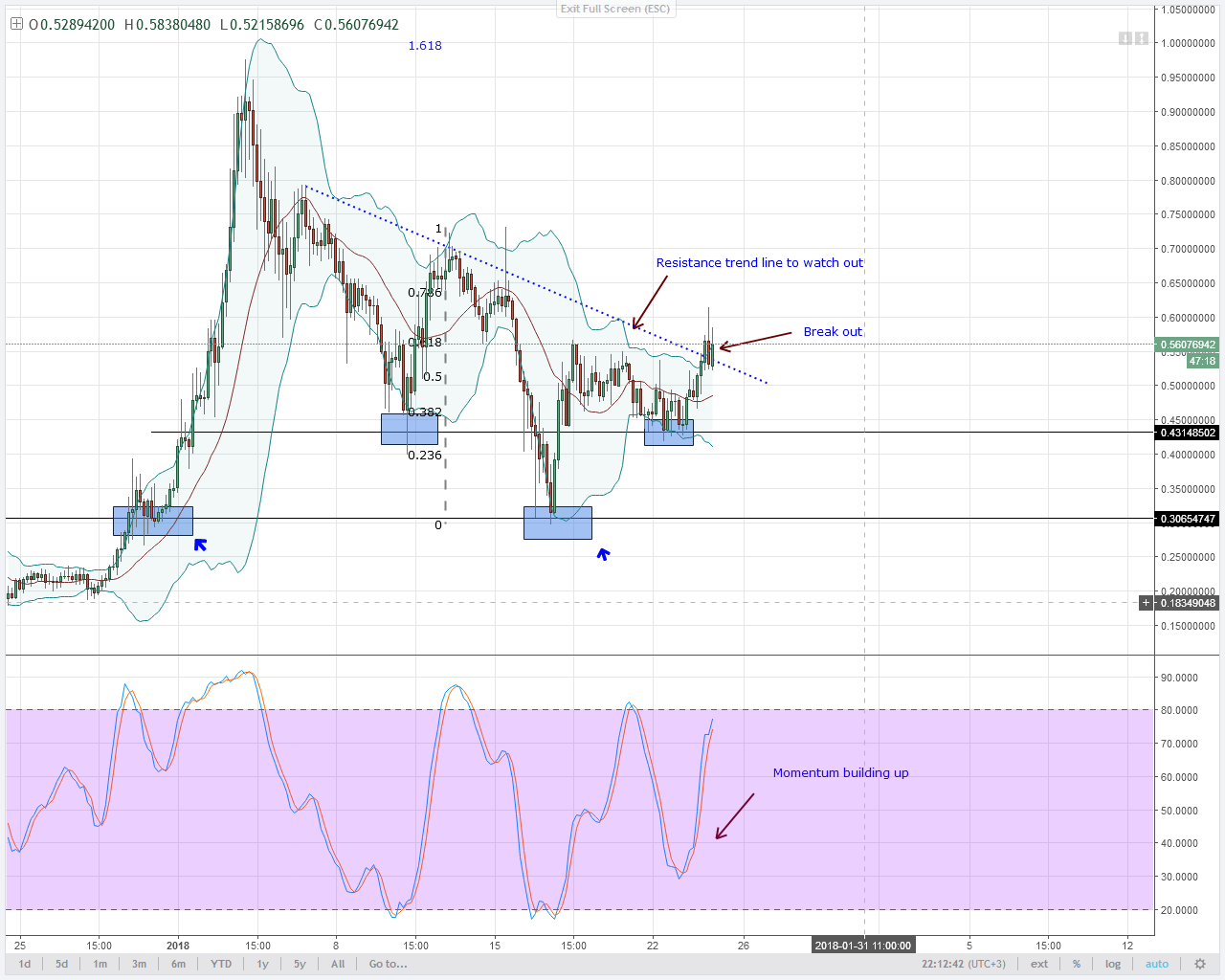 Interesting formation yesterday and the major take away is how XLM prices continued charting its way up in the midst of this deep bearish momentum.
Now, is this hinting of Lumens recovery? Hope so guys and as always, the minor resistance trend line needs to give way meaning we need buyers to push prices above the 78.6% Fibonacci at $0.63 for guarantees.
We expect that to happen today and if they do, our short term target will be at January 15 highs of $0.73.
NEO RECOVERS AS BUYERS AIM $155
Judging from yesterday's price action, we can see obvious NEO reversal from the 78.6% Fibonacci retracement level.
We had initially talked of how prices were a little bit over-extended to the downside to warrant sells and for sellers to enter at better prices, a break and close above the middle MM was needed.
That did happen and at the moment, bull scalpers should aim to take their profits at $155 or at the 38.2% Fibonacci retracement. Let's see what happens today.
LTC BUYERS NEED TO CLOSE ABOVE MIDDLE BB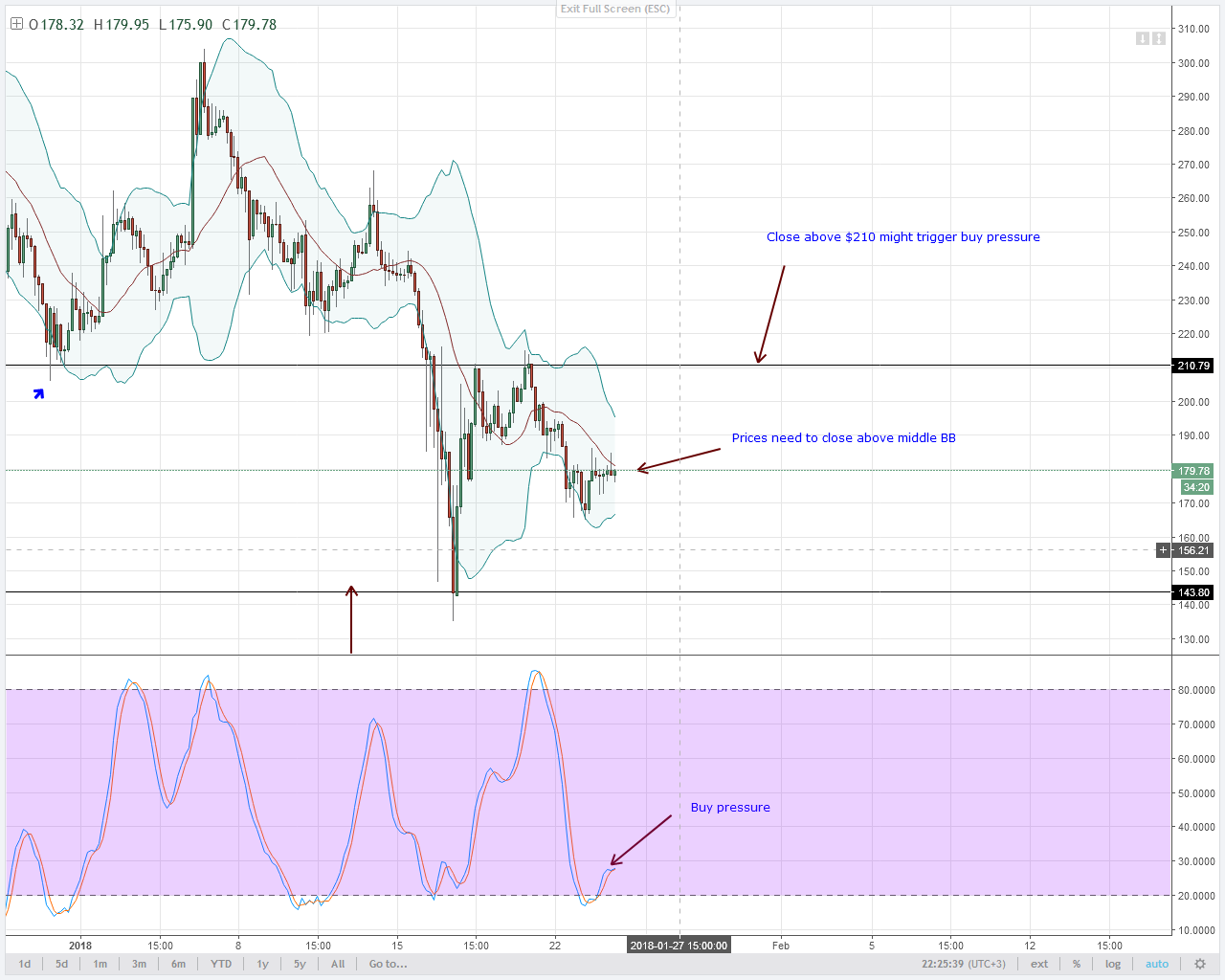 24 hours later and LTC buyers are finding stiff resistance at the middle BB.  For bulls to triumph enough momentum should build up and prices should trend above it today.
Anyhow, we shall not recommend buys unless prices break above $210 main resistance line.
Technically, remain bearish and that view will be compounded with every candle that prints and increase the consolidation period.
Just a precaution for buyers. Regardless of what our upbeat view, any close below the double bar reversal pattern at $170 invalidates our bullish view.
EOS BUYERS DRIVING PRICES TOWARDS $15
EOS buyers are revving up and keen on resuming last week's general bullish momentum.
What is important for us is not the trend-we already know that EOS value is a little bit exaggerated-but where this reversal is picking up from.
As highlighted yesterday, the importance of 38.2% cannot be ignored and that is why I recommend longs with immediate targets at $15.
All charts courtesy of Trading View