XRP has been struggling to garner any momentum in recent weeks, with its price action largely being correlated to that of Bitcoin as of late.
That being said, it has been able to recover all of the losses that came about as a result of its recent plunge down to lows of $0.25 in tandem with BTC's plunge to lows of $11,100.
The embattled cryptocurrency is now confirming that the mid-$0.28 region is heavy resistance, which could mean that this level will suppress its near-term growth.
One trader is now setting his sights on XRP plunging significantly lower in the near-term, with the price regions around $0.24 and $0.21 both being strong support levels that may slow its descent and help it rally higher in the near-term.
Analysts are noting that weakness seen while looking towards the cryptocurrency's Bitcoin trading pair may also cause it to see some further near-term downside against USD.
XRP Faces Heavy Resistance as Weakness Against Bitcoin Grows
At the time of writing, XRP is trading down roughly 1% at its current price of $0.28. This is around the price at which it has been trading throughout the past few days, as each attempt to push towards $0.30 has resulted in swift rejections.
One analyst is noting that the signs of weakness XRP has expressed against its USD trading pair may be coming about as a result of weakness against Bitcoin.
He explained that XRP/BTC is now undergoing a bearish retest as it struggles to surmount a crucial resistance level.
"The BTC Pair does look [bad] unless it manages to reclaim .000024 on the daily / weekly. For now the daily looks as though it's just a bearish retest," he said while pointing to the below chart.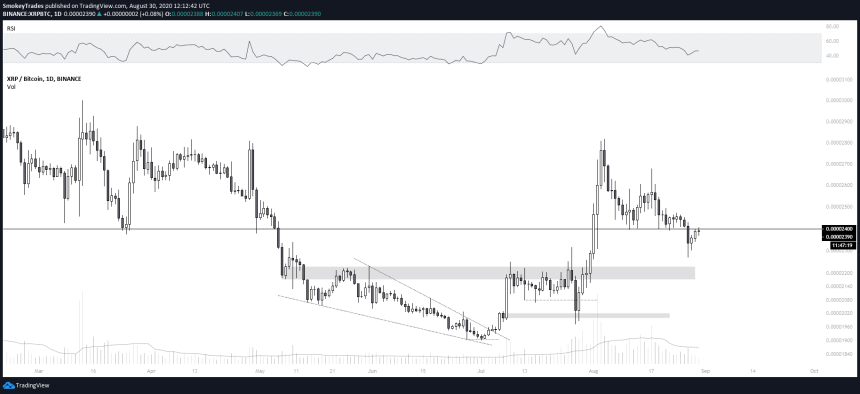 Image Courtesy of Smokey. Chart via TradingView.
Here are the Crucial USD Support Levels that Analysts are Watching
While speaking about the cryptocurrency's near-term outlook, one analyst noted that he is expecting XRP to see further downside before it can push past its macro resistance between $0.31 and $0.33.
He is specifically watching the $0.24 and $0.21 levels.
"XRP: Well, we've been saying these green zones for weeks now and we've got quite close. Patience pays. I think we'll see some more consolidation before continuation on XRP. But yes, paying some attention."
Image Courtesy of Crypto Michael. Chart via TradingView.
Whether or not XRP fails to break above the resistance that sits just above its current price region should offer significant insights into its near-term outlook.
Featured image from Unsplash.
Charts from TradingView.